We all know the delightful feeling when the air starts to feel crisp after a long, hot summer. The transition to cooler weather means that fall is here. If autumn is your favorite season, finding the best places for fall weather should be at the top of your where-to-move list.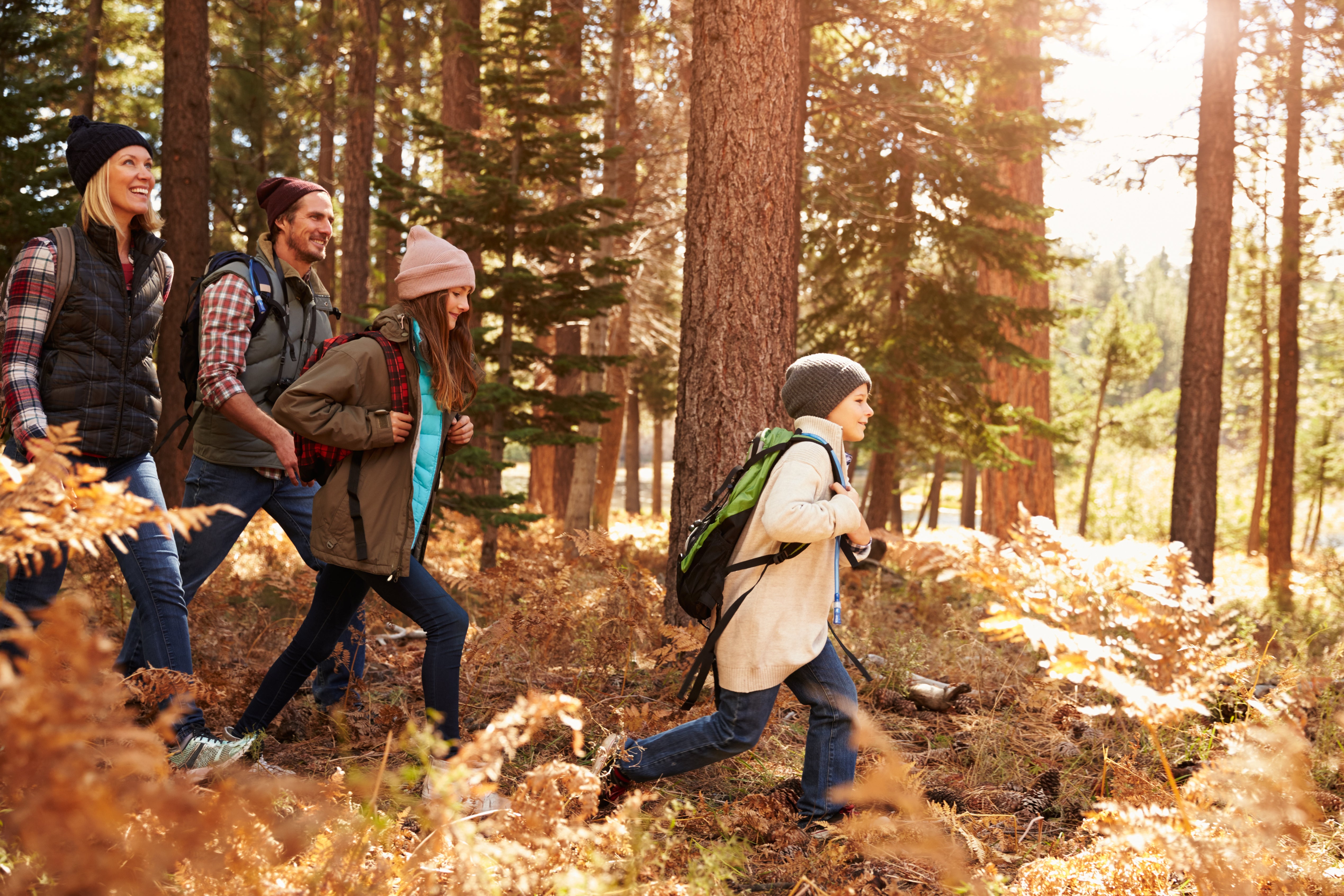 What's not to love about fall? The entire season is about comfort—snuggly sweaters, cozy boots, and warm drinks. It's the time when you get to style your home with some of the best fall fireplace décor and purchase autumn-scented candles that fill your house with pleasant aromas of cinnamon, pumpkin, and baked apple pie. However, most fall lovers would agree that the best part of autumn is the fall foliage. There is nothing like the green leaves slowly fading into a vibrant sunset of color before drifting down and making way for winter.
If you dream of viewing this phenomenon every year without traveling far, you're in luck. American Home Shield® has 19 of the best places to live if you love fall weather to set down roots and immerse yourself in the season. We've ranked these locations based on the following criteria:
Scenic drives

Outdoor spaces for viewing foliage

Outdoor activities for viewing fall colors

Fall festivals
1. Stowe, Vermont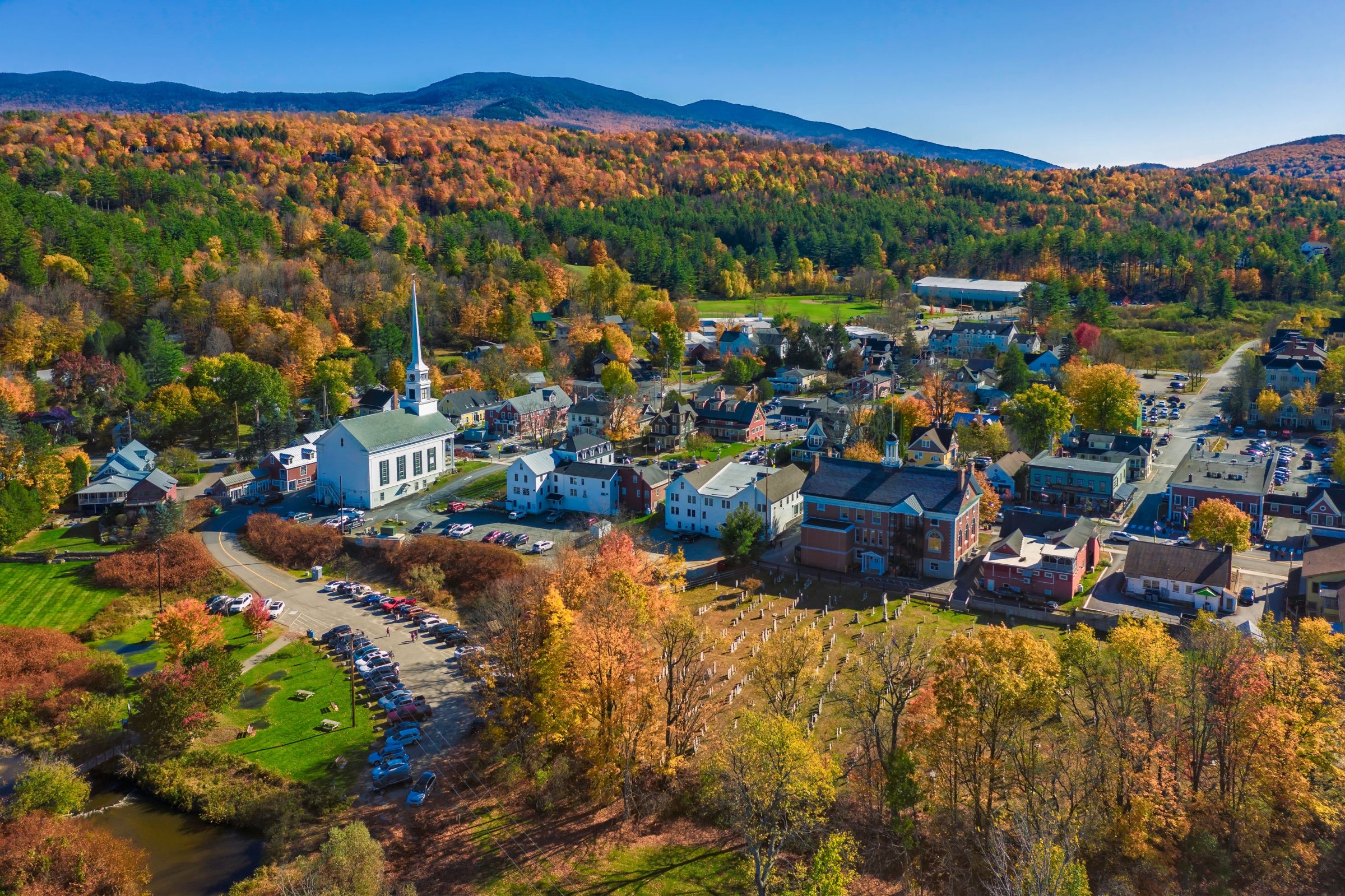 Known as Fall's Color Capital, Stowe is one of the best places to experience the Vermont fall colors. This charming New England town has a plethora of shopping and dining opportunities, and the location is a dream—it's nestled right at the base of the state's highest peak, Mt. Mansfield. For some quality autumn leaf-peeping, hike to the top of Mt. Mansfield from various trails or go on a one-mile walk to Sunset Rock.
Autumn in Stowe means leisurely car rides through the breathtaking displays of colors and guided biking, hiking, and ziplining tours to view fall colors from unique vantage points. You can even take your stand-up paddleboard, canoe, or kayak to the Waterbury or Green River Reservoirs, which offer stunning autumn views.
Round out your autumn adventure days by grabbing a glass of hard cider at Cold Hollow Cider Mill, which offers fresh apple cider, tasty cider donuts, and the famous Vermont maple syrup.
2. Springfield, Missouri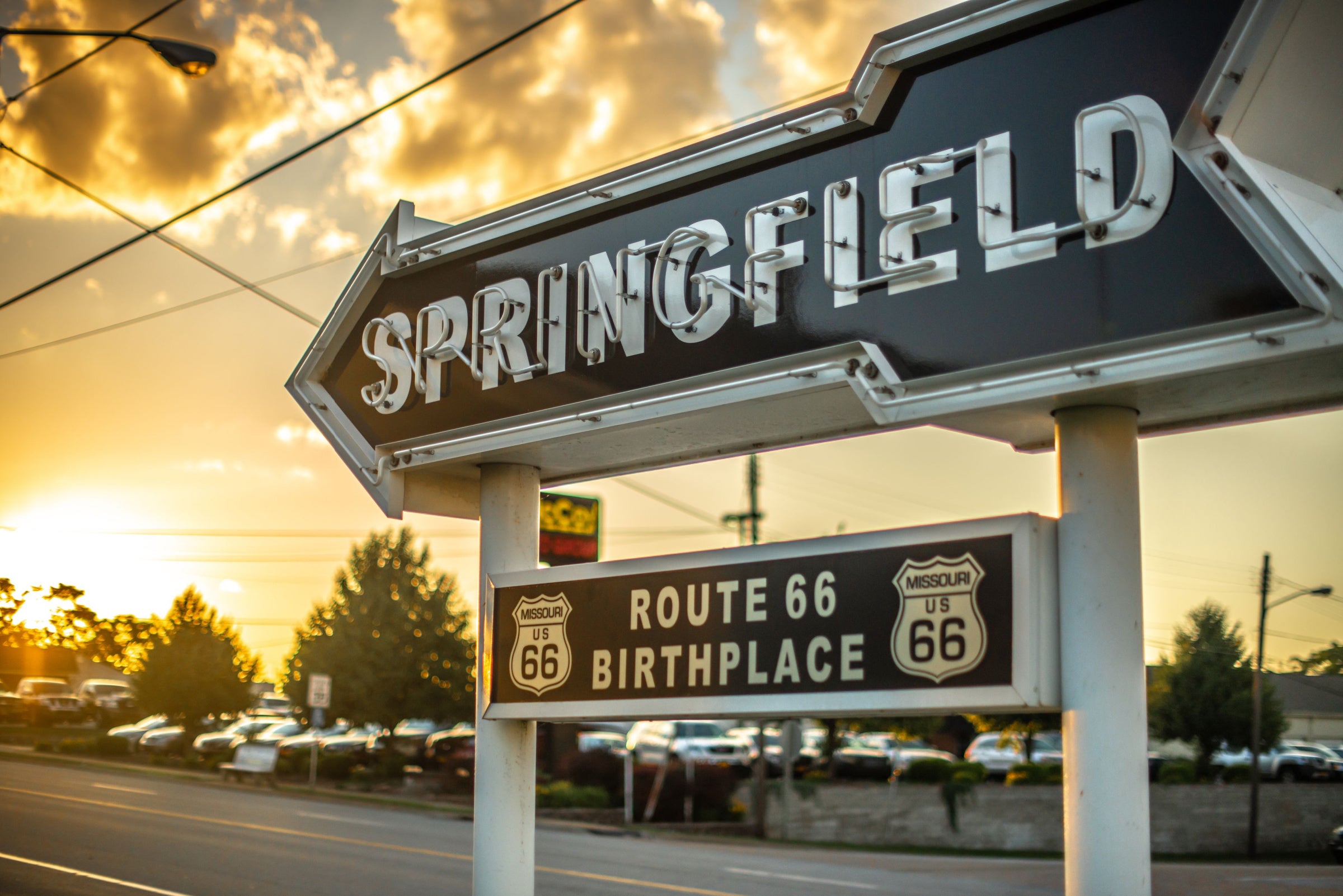 Head to Springfield, Missouri, one of the best places to experience the fall season in the USA. One of the biggest draws to Springfield is its proximity to the Ozark Mountains, which are stunning year-round but especially in the fall. Take a drive along the Boston Mountains Scenic Loop or the Ozark Highlands Scenic Byway and stop at various turnouts to view the red, orange, and yellow landscape.
The Springfield Conservation Nature Center is a great place to immerse yourself in the fall atmosphere. Enjoy the walking trails and wander to Galloway Creek for peace, tranquility, and a vivid color display.
When the crisp air hits, head to one of Springfield's several apple orchards and pumpkin patches to celebrate the fall weather. Afterward, tuck into Mother's Brewing Company for a pumpkin ale, or head to Tie and Timber Beer Co for an apple pie spice sour.
If you're raising kids in Springfield, take them on a fall leaf-gathering adventure at a local park or in your own backyard. Then, use these ideas for what to do with fall leaves.
3. Telluride, Colorado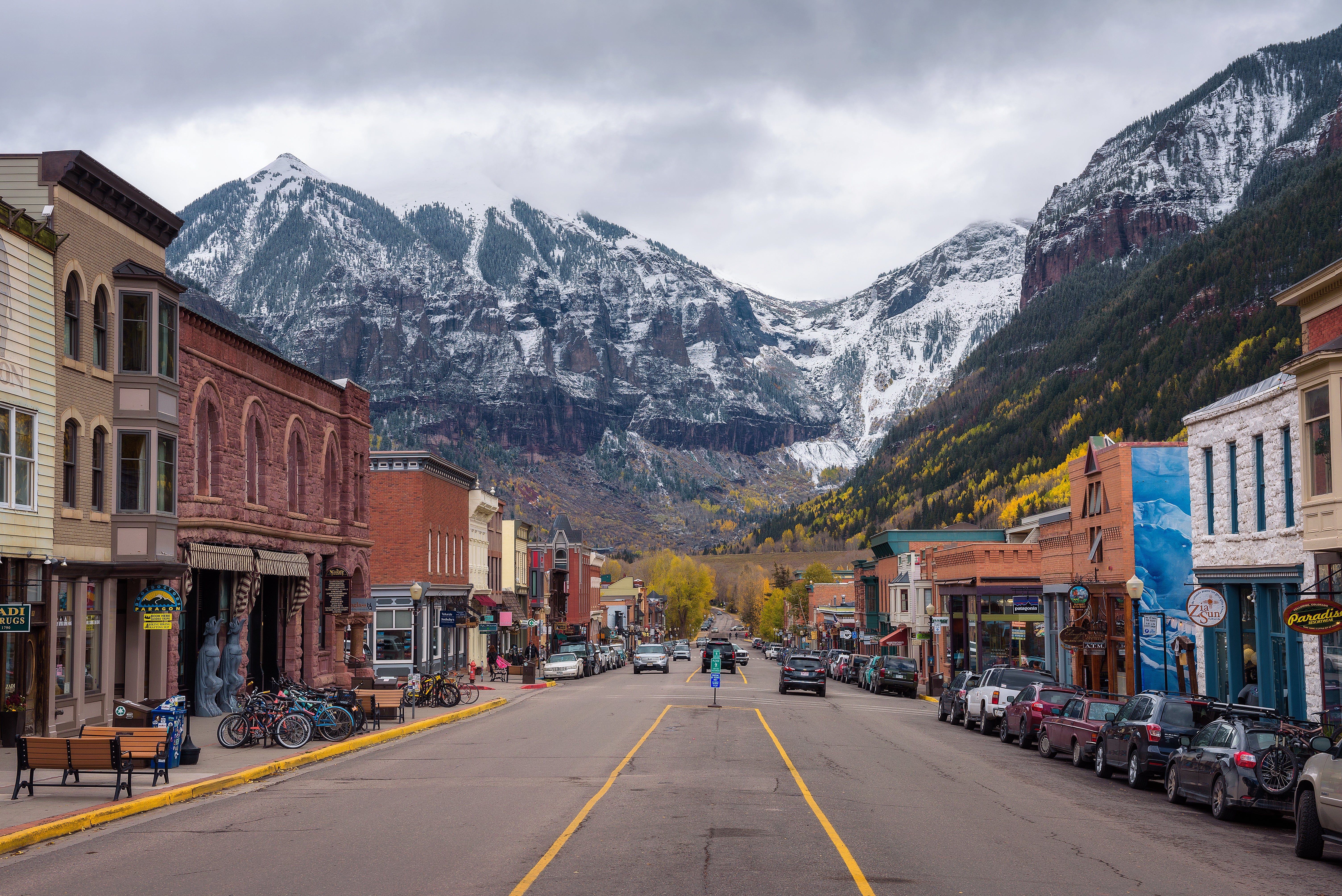 Telluride is a great city to live in if you love spending time outdoors. However, when it comes to fall foliage, Telluride has the pièce de resistance: an amazing gondola ride. Simply hop on for a free ride through the amazing reds, yellows, and oranges of the aspen and evergreen trees—what a great way to end a stressful day.
You can also book a 4x4 adventure tour to Tomboy Basin and Imogene Pass, two areas with prime fall foliage viewing opportunities. Check out these 4x4 outfitters in Telluride.
The Telluride Autumn Classic is also a huge draw for lovers of cars and the fall season. Even if you're not a vehicle enthusiast, you'll be mesmerized by the cool automobiles set against the beautiful fiery backdrop of fall leaves. It's one of the most popular festivals in Colorado and is world-renown.
If you're considering moving to Colorado, make sure you look into a home warranty to protect the hardworking items in your house. A home warranty in Colorado helps cover parts of your home systems and appliances when they break down, so your Telluride household stays in tip-top shape throughout the year.
4. Harbor Springs and Cross Village, Michigan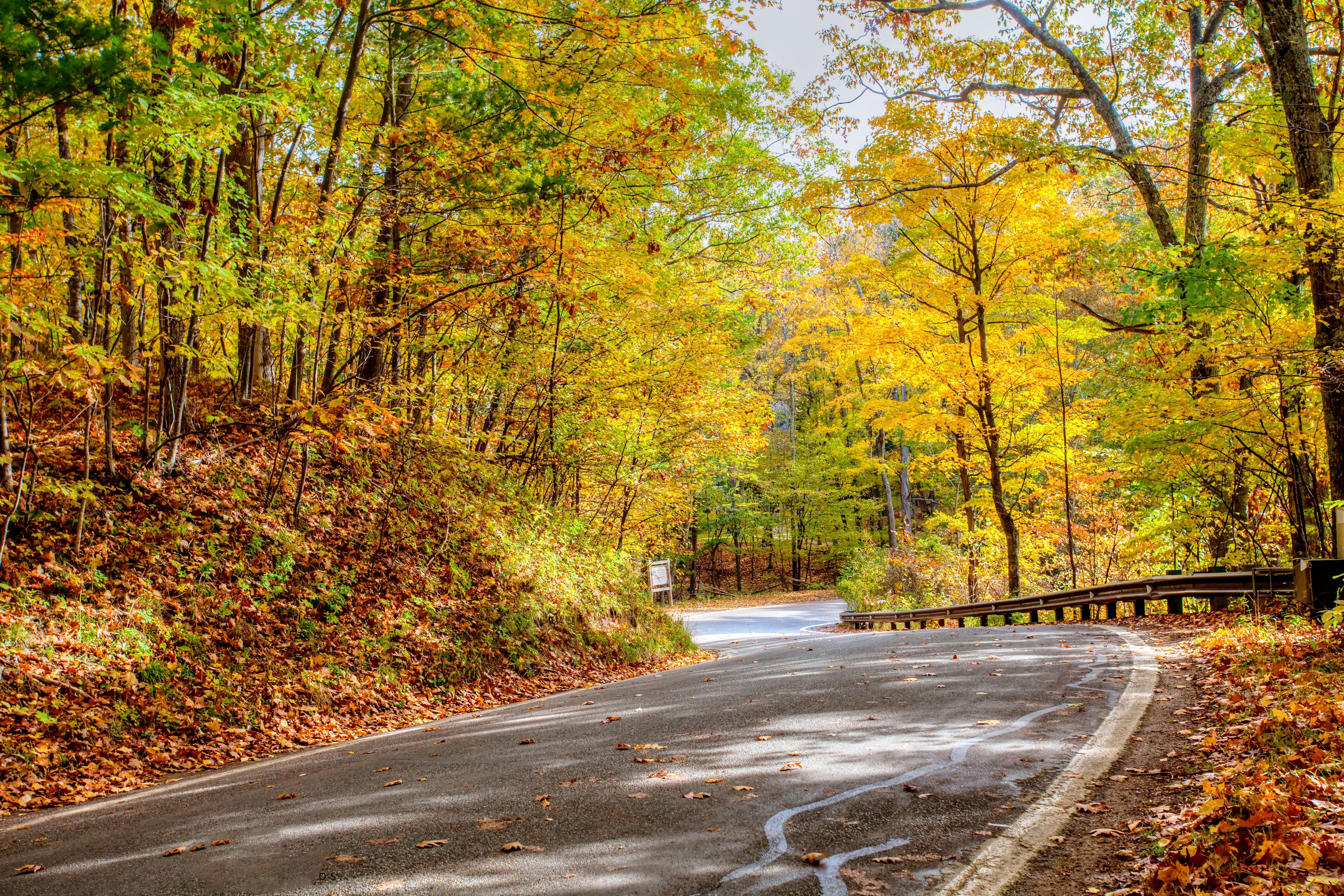 Just about every square inch of Michigan shimmers in the fall. However, one of the best places for fall foliage is Harbor Springs. This picturesque town on the banks of Little Traverse Bay serves as the starting point of a major fall attraction called the Tunnel of Trees. This long stretch on M-119 takes you north from Harbor Springs to Cross Village, which is also a charming town to call home. Pack a picnic lunch and stop halfway at Readmond Township Park to snack with a Lake Michigan view. The tunnel boasts stunning views of the lake, historical attractions, and the opportunity to see some of the best fall foliage that the Mitten State has to offer.
Once you arrive in Cross Village, stop at Legs Inn, a historic site and gorgeous place to eat dinner and watch the sunset over Lake Michigan.
Are you considering moving to the Mitten State? American Home Shield can help you be prepared with a home warranty in Michigan.
5. Boston, Massachusetts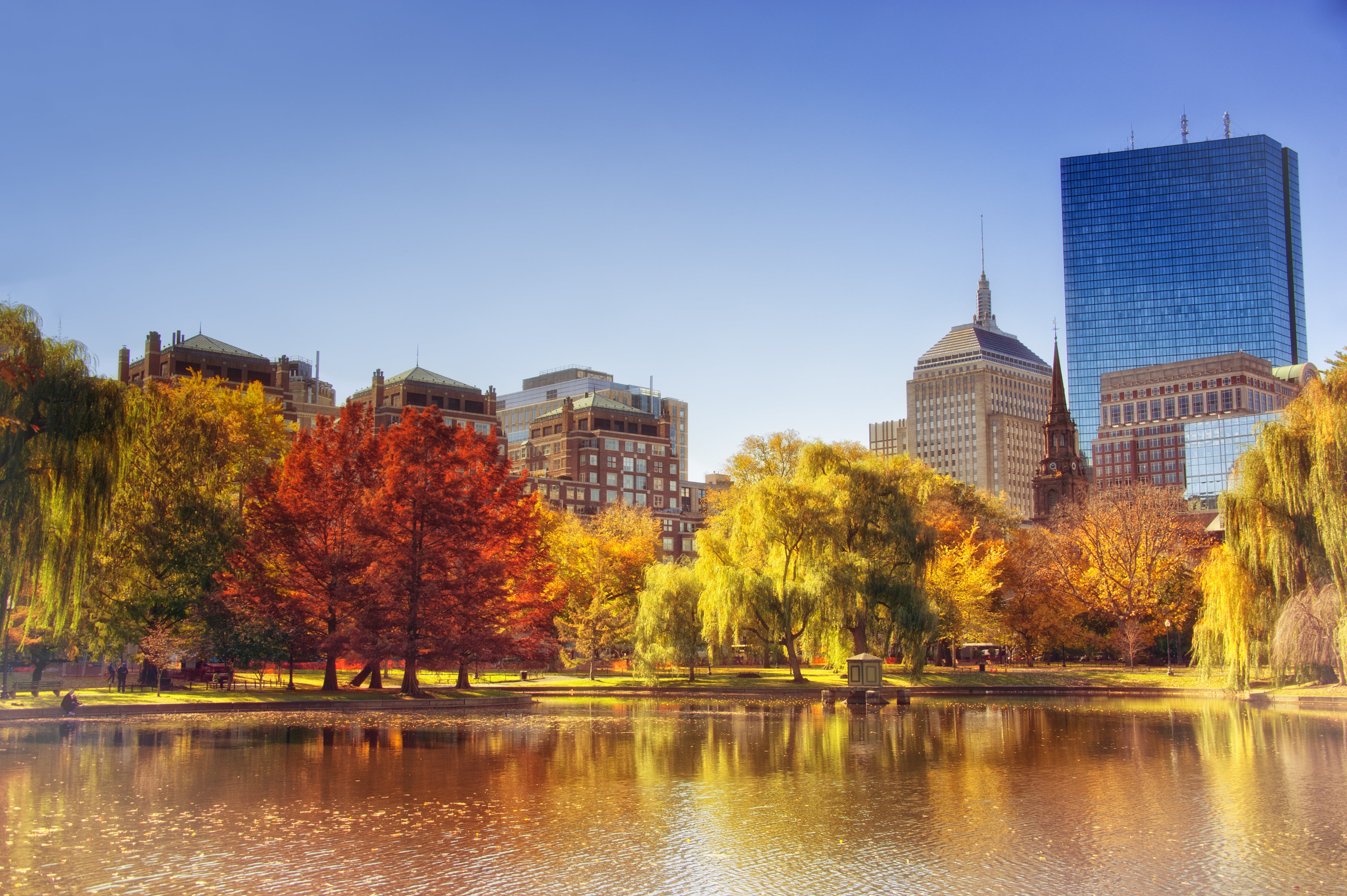 Living in an area surrounded by Mother Nature's beauty is one of the best ways to truly appreciate the fall foliage every year. What about those who want to see the pretty colors but also love the conveniences of a big city, like coffee shops, entertainment venues, and public transportation?
Welcome to Boston. This iconic city has everything: historic neighborhoods, things to do for young professionals, annual fall festivals, and stunning parks that offer a vivid view of the Massachusetts fall foliage.
One of the best ways to experience the fall weather in Boston is to stroll through the Emerald Necklace. This seven-mile walking trail takes you through nine stunning city parks featuring color-changing trees. For fall foliage in an urban setting, head to Beacon Hill, where the tree-lined streets light up in yellow and orange. Brush off the chill of the New England air by stopping in at The Paramount on Charles Street for a pastry and a hot cup of tea.
On weekends in autumn, celebrate Oktoberfest at several renowned breweries and taprooms throughout Boston. Then, wake up on Sunday and treat yourself to a lazy brunch, ending with a trip to one of the many farmer's markets to pick up hearty seasonal fruits and veggies.
6. Milton, West Virginia
West Virginia fall foliage is truly a sight to behold. Considering that it is America's third-most forested state, chances are that you'll see the changing leaves no matter where you go.
Milton, tucked into the northwest portion of the state, is the perfect place to put down roots if you're crazy about fall. There are several hiking and biking trails in the area (like River Trail and Meeks Mountain trails) with optimal fall foliage photo ops.
However, Milton's claim to autumnal fame might be the West Virginia Pumpkin Festival, which has been an annual treat for West Virginia since 1986. It's located in Pumpkin Park and has a slew of vendors and activities that celebrate all things pumpkin. Fall festivals are a great way to support your local farmers, shops, and restaurants, and Milton's Pumpkin Festival can help you connect with your community and have a ton of fun while you're at it.
7. Bar Harbor, Maine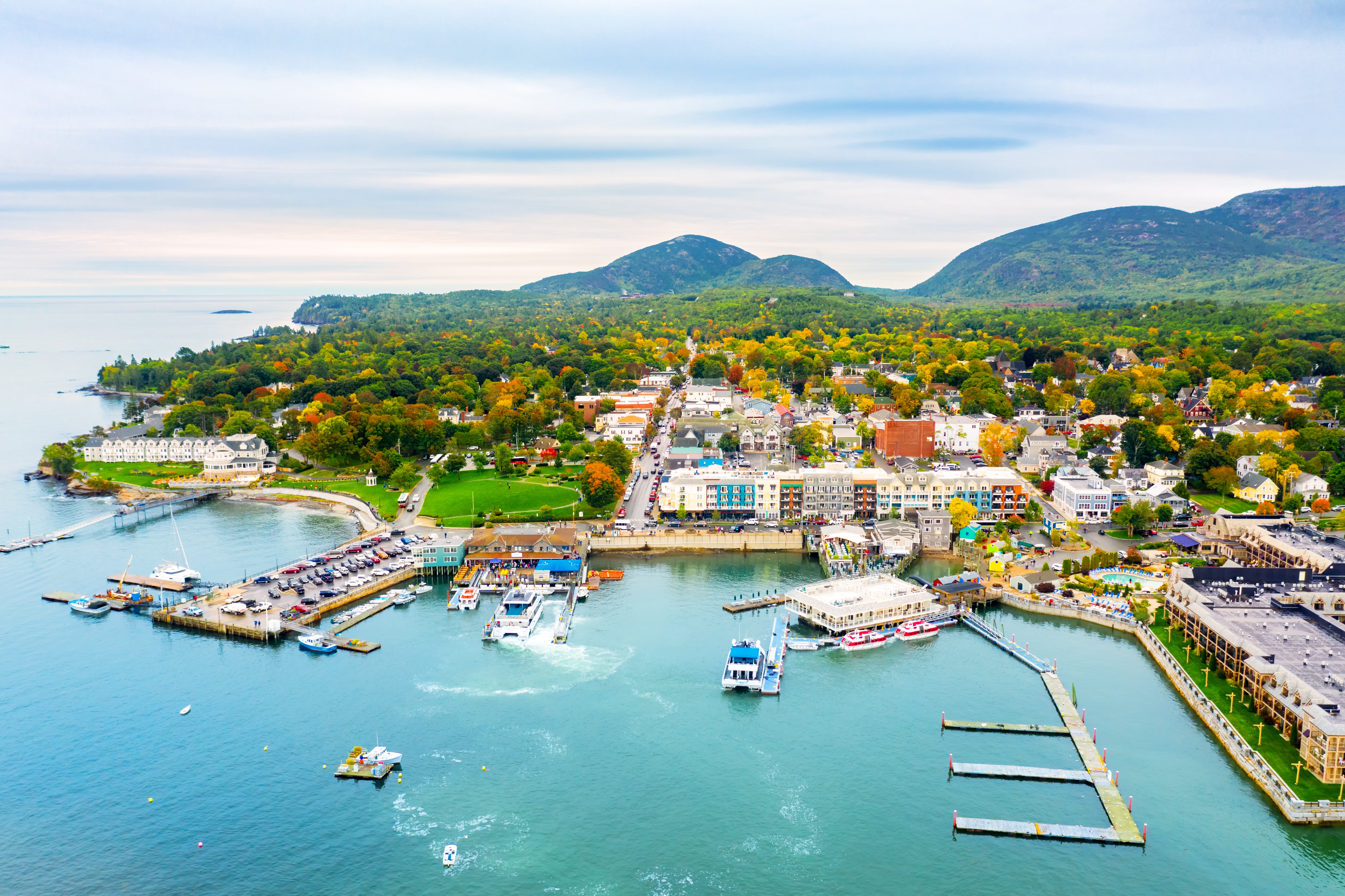 If you ask anyone which state has the best places for fall weather and foliage, Maine will most likely be on the list—and Bar Harbor is the crown jewel.
Located in the Down East portion of Maine on Mount Desert Island, Bar Harbor boasts numerous spots to appreciate autumn. Plan a day hiking in Acadia National Park (also on the island), where you can take in deep red and orange trees and spot the sunrise over the Atlantic. For adventurous sorts, push in your kayak on the waters of Frenchman's Bay, Jordan Pond, or Eagle Lake, where fiery fall colors will be best seen from mid-September to early October. Can you imagine floating in crisp Maine sea air, observing the reflection of the colorful trees shimmering on the water?
If you're a runner, sign up for the Mount Desert Island Marathon, which snakes through the island. You'll probably catch the last autumn leaves before they make way for winter.
Finish your fall celebration with a pint of Atlantic Brewing Company's Leaf-Peeping Ale, or warm up with a steaming cup of coffee at Acadia Coffee Company.
8. Saratoga Springs, New York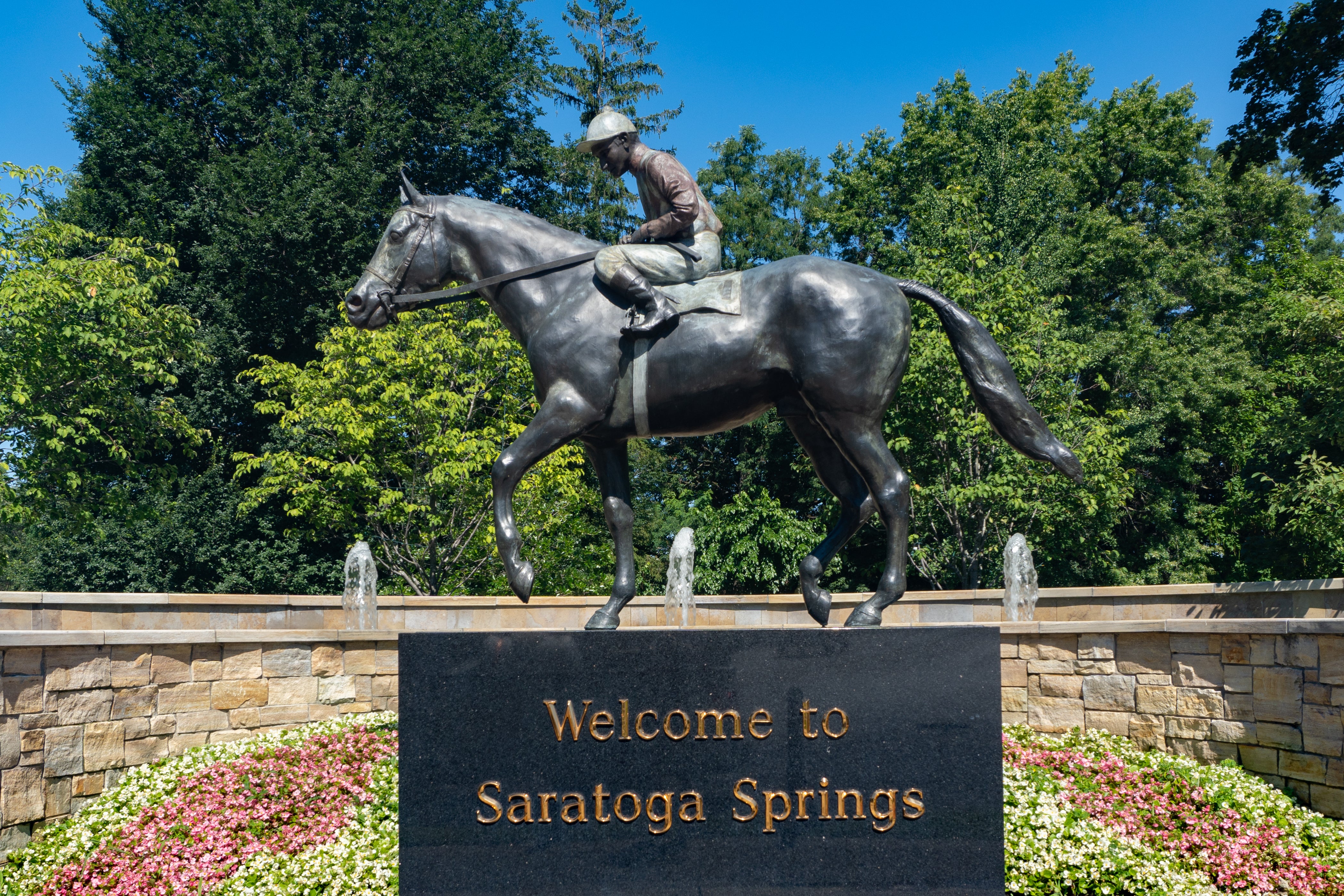 Though the entire state of New York turns into a magical place during the autumn season, Sarasota Springs is the best place for fall weather and foliage in the Empire State. Leaf-peepers can take advantage of Sarasota Springs's many outdoor spots like the Bog Meadow Brook Nature Trail, where you can enjoy birdwatching along with the changing leaves.
You should also visit Saratoga Spa State Park, which offers prime leaf viewing and breathtaking mineral springs. The water in the mineral springs was once rumored to have healing properties, so the state had to step in and take preventive measures to protect this beautiful portion of New York.
If you have kids (or are a kid at heart), Ellms Family Farm offers fun fall activities, like corn mazes for both children and adults, a jump pad, a petting zoo, and an opportunity to hop on the Pumpkin Express and get a tour of the whole farm.
Read about the top three things to know before moving to New York state and then consider purchasing a home warranty in New York to protect your peace of mind and help cover the hardworking systems and appliances in your home.
9. Litchfield, Connecticut
Litchfield is a great place to live if you love fall and desire a small-town feel but still want to be close to major cities—Boston and New York City are only a couple of hours away.
A popular Litchfield driving route for viewing Connecticut fall foliage has been coined the Litchfield Hills Ramble. It starts in Torrington, then travels through beautiful towns like Falls Village, Kent, Warren, New Preston, and East Morris.
After exploring the 100-mile route filled with colorful leaves and brilliant fall sunshine, head to the Village Restaurant to enjoy a plate of eggplant parmesan and sip a local craft beer or a crisp seasonal wine. If you want to pair autumn colors with your glass of wine, visit Connecticut's oldest winery, Haight-Brown Vineyard, located just outside downtown Litchfield.
10. Moab, Utah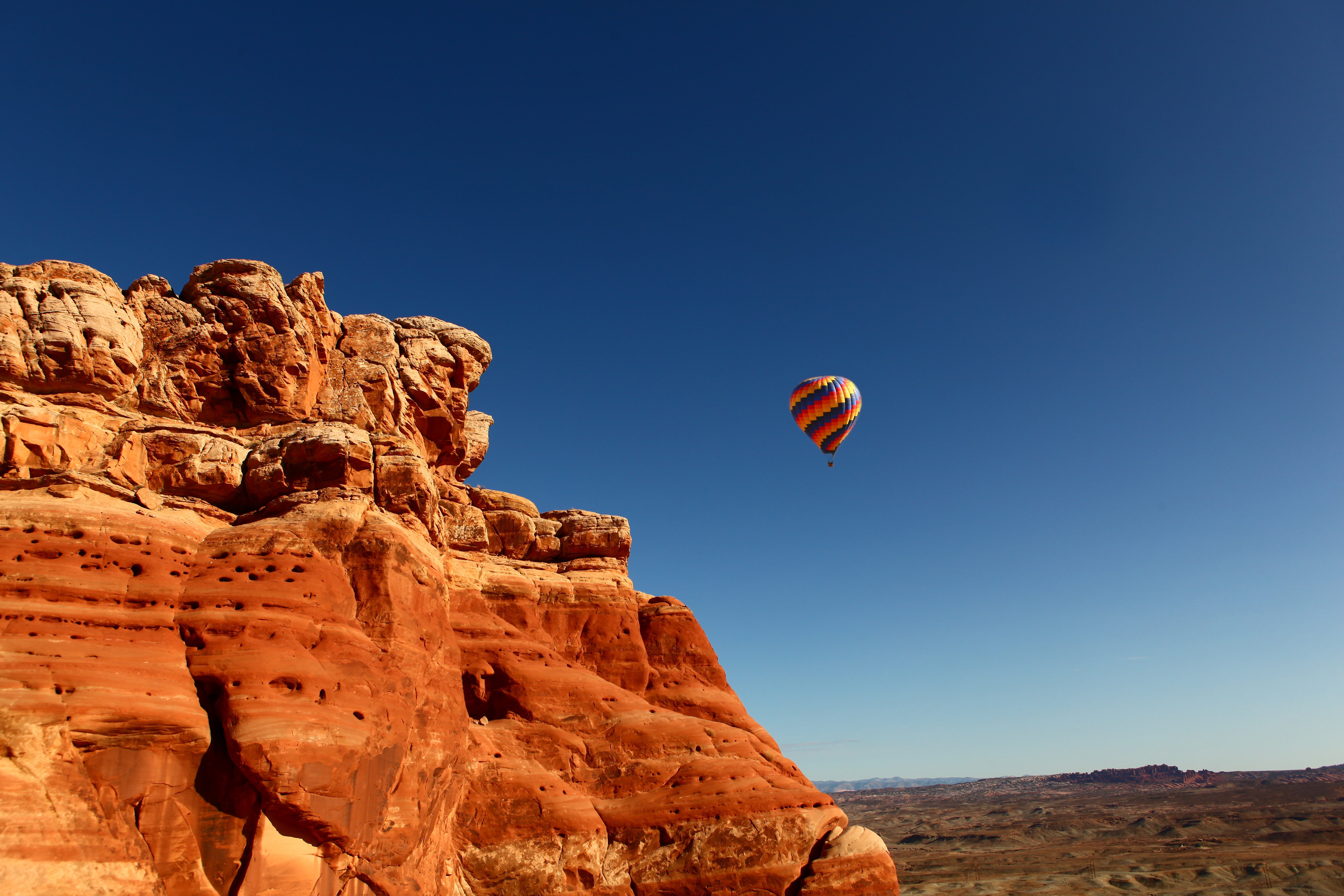 Moab is one of the best cities to see fall foliage in a high desert setting. It has a little bit of everything—miles and miles of rugged sandstone, lots of fun water activities in the Colorado River, and the amazing yellows and golds of the fall foliage rippling across the La Sal Loop.
Book a Moab sunrise hot air balloon ride to get the full impact of the aspens and evergreens against the rich red sandstone. The warm gradient of color amid the shifting light of autumn dawn is an experience you will never forget—you may even be tempted to make it an annual fall adventure.
11. Biglerville, Pennsylvania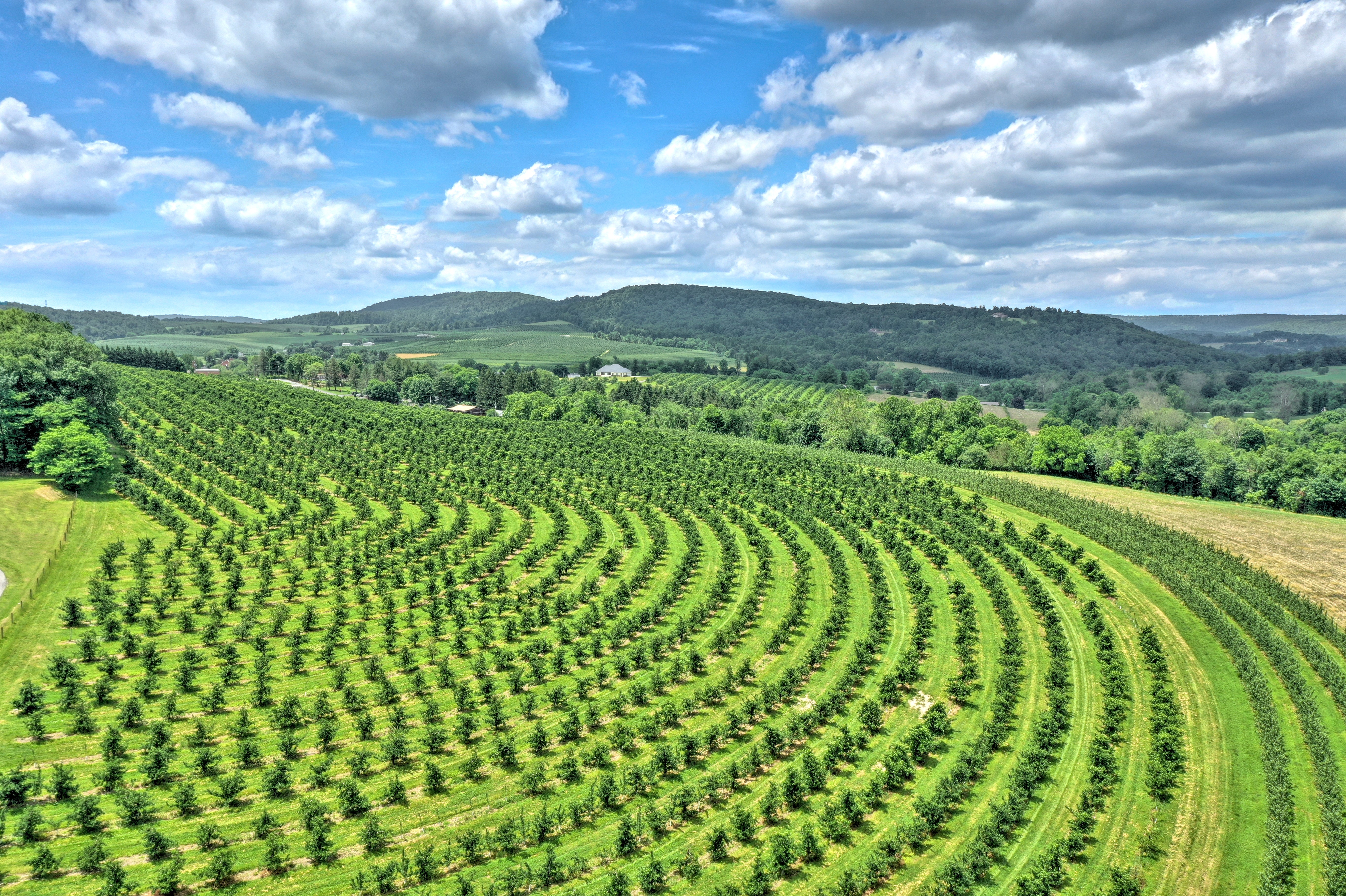 If your love of autumn weather is equal to your love of apples in autumn, the town of Biglerville is for you. Situated just north of Gettysburg in southern Pennsylvania, Biglerville is prime real estate for apple picking in the Keystone State. Biglerville is located in Adams County, which features more than 20,000 acres of apple orchards. Get ready for as much apple sauce, cider, and pie as your heart desires.
The National Apple Harvest Festival is an annual event in Biglerville, taking place during the first two weekends in October. It's jam-packed with every autumn activity you can think of—mouth-watering fall-themed food, live music, antiques, car shows, crafts, and, of course, apple picking. It's a lovely place to live for people who enjoy the fall season in the USA.
If you decide to plant your family's roots in Biglerville, add a home warranty in Pennsylvania to your household budget.
12. Lake Geneva, Wisconsin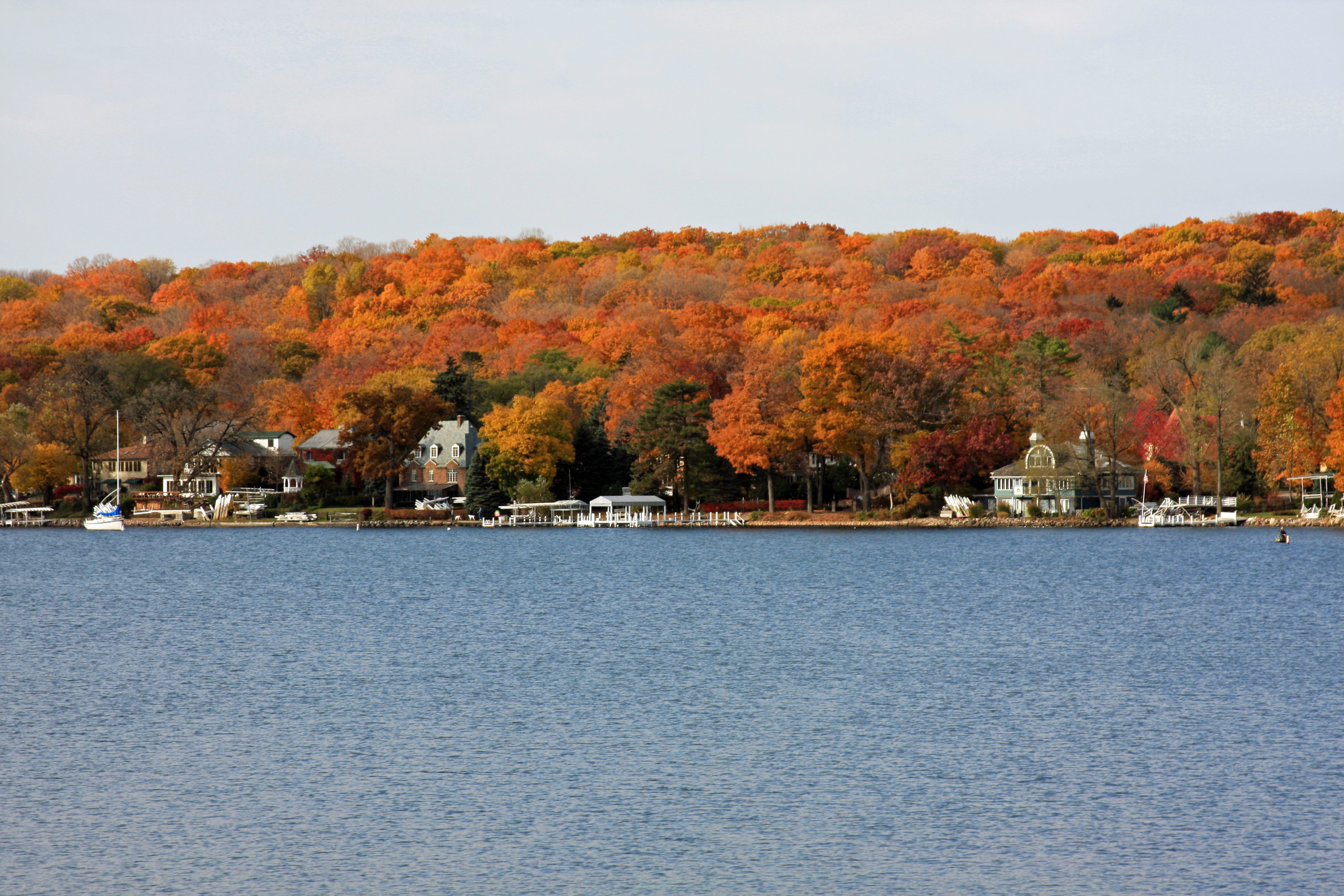 If you're looking for one of the best places for fall weather in the Midwest, head to Lake Geneva in southern Wisconsin, where you can enjoy the season near the water.
From mid-to-late-October, Lake Geneva bursts into fiery autumnal colors. For the best views, walk or bike along Lake Shore Path, a 21-mile trail that follows the perimeter of the lake. Seeing the beautifully maintained lawns around the Lake Geneva shoreline may inspire you to do your own landscaping work. Read about ways you can prep your garden for fall. Consider looking into a home warranty in Wisconsin, too.
For those who crave a heart-pumping thrill, spend a day at Lake Geneva Ziplines & Adventures, where you can whoosh through the yellow and orange trees.
The greater Lake Geneva area is also home to several orchards:
Royal Oak Farm, which allows the public to pick apples during the fall season.

Brightonwoods Orchard, which provides beautiful grounds for walking and serves up apple cider and various seasonal jams and jellies.
13. Taos, New Mexico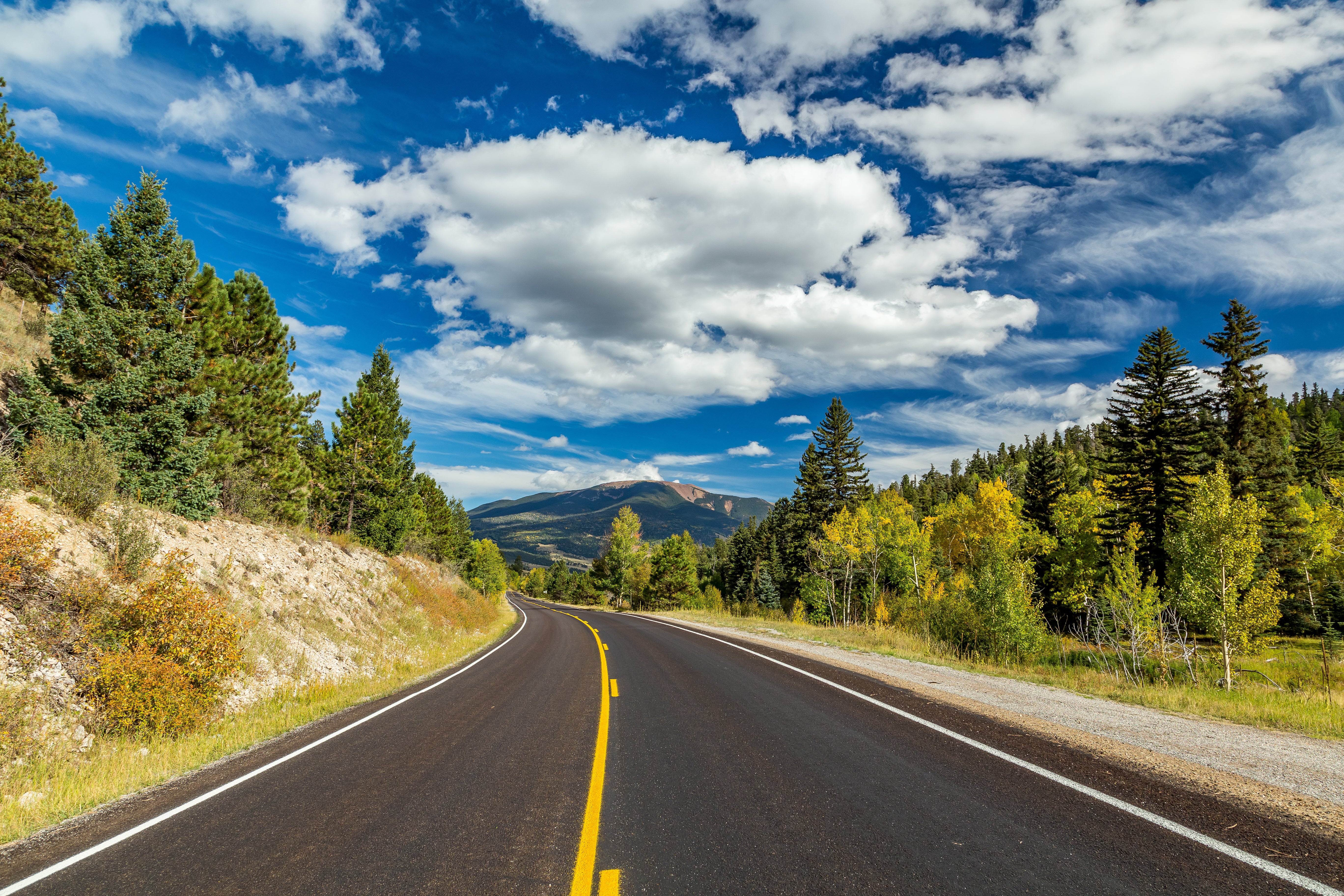 When you think of the best places for fall foliage, the Southwest may not be the first region that comes to mind. However, Taos, New Mexico, boasts a beautiful fall season each year and gives New England states a run for their money.
Though the colors usually only last about one week in the Taos area (typically in late September or early October), the gorgeous golds and oranges are well worth the anticipation. Take a trip around the Enchanted Circle Scenic Byway to discover the rugged beauty and craggy peaks of New Mexico set against vivid autumn colors. You can stop at various spots along the route to hike or go mountain biking through the trees.
Do you plan on moving to New Mexico and want to protect your home systems and appliances from wear and tear? Check out home warranty coverage in New Mexico.
14. Damascus, Virginia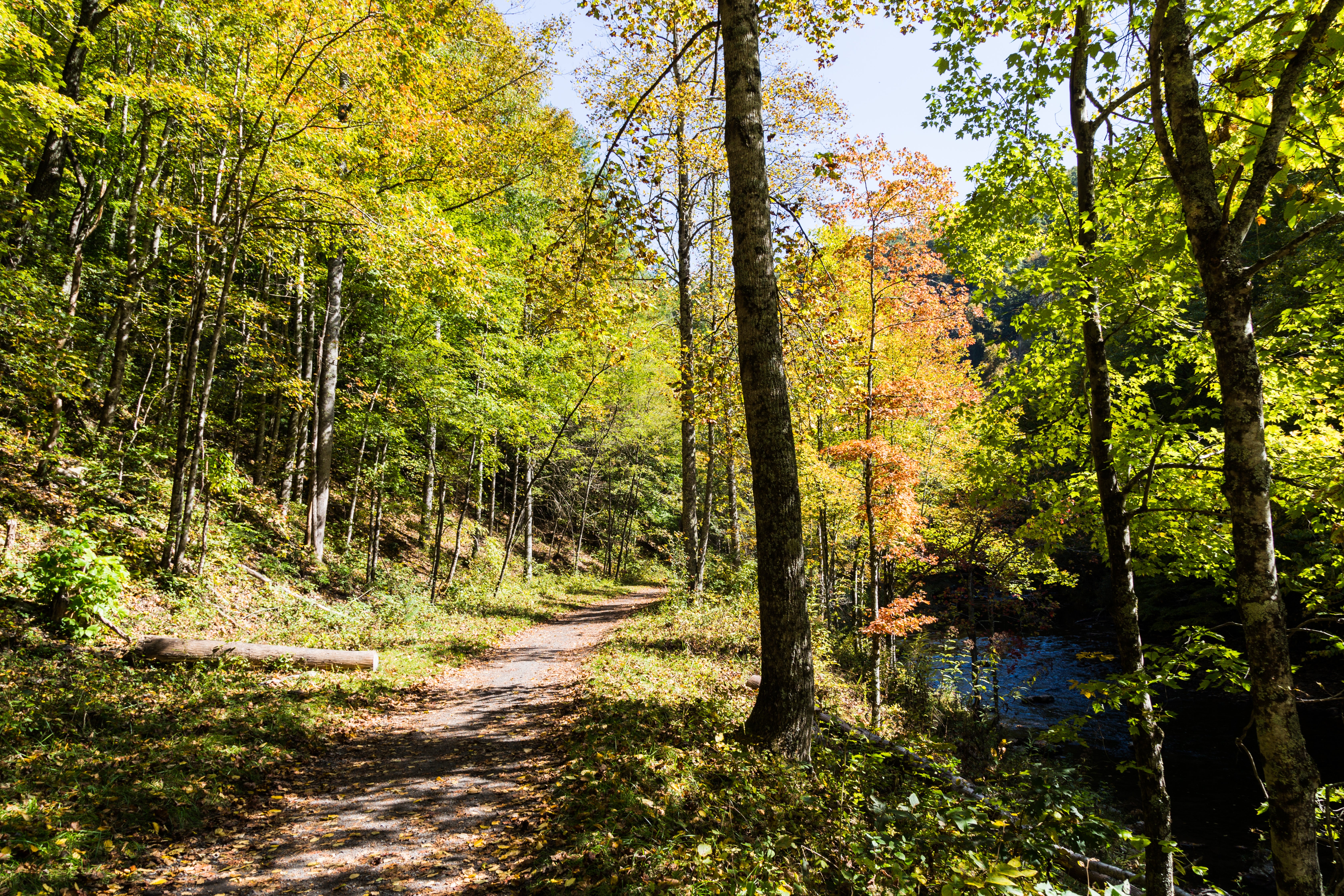 Damascus is a great city to settle down in if you have a passion for the outdoors and make hiking, horseback riding, or bike rides a priority in your free time. Damascus boasts seven different Appalachian trails to help you get in touch with nature while viewing gorgeous fall colors.
If you're looking to admire the fall foliage in Virginia and want a family-friendly biking route, The Virginia Creeper is perfect for both adults and kids. It may sound intimidating, but it's an easy, scenic bike ride with rest stops and restaurants peppered along the trail if your crew needs a break.
Damascus is beautiful year-round, but the colors of the fall season add a little bit of magic.
15. Mammoth Lakes, California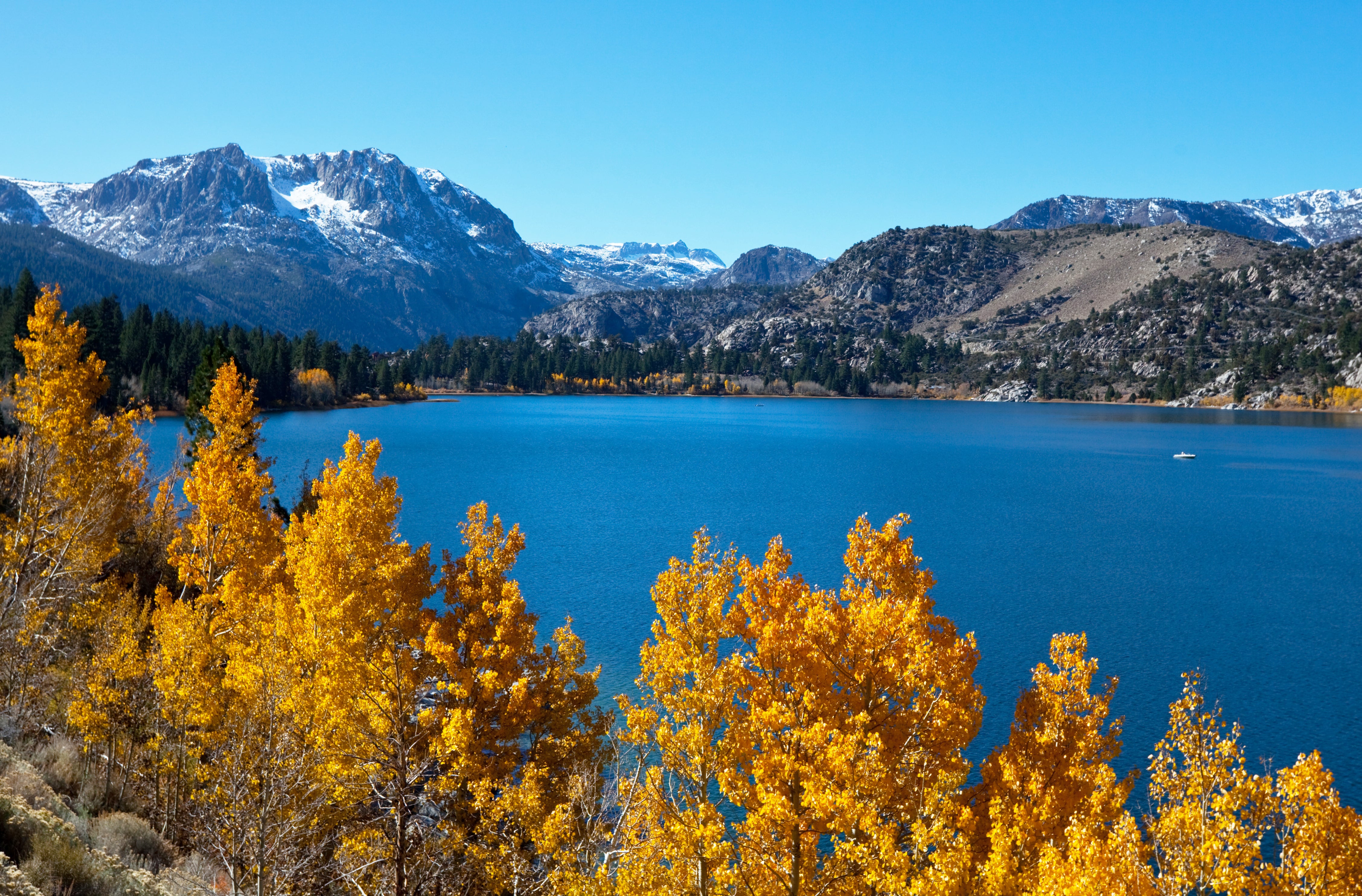 When you picture prime locations to see the colors change, California probably doesn't immediately spring to mind. Much of the state has temperate climates. However, if you're considering moving to the Golden State but still want to experience the fall season, Mammoth Lakes is the place to go.
This mountain town in the Eastern Sierras has some of the best fall color sightseeing opportunities. In the fall, explore Reds Meadow and watch the beautiful forest shed its green and shimmer with gold, or head over to Hot Creek to enjoy the crisp air intermingling with the hot springs to form a steamy mist. Some of the best places to see fall foliage in Mammoth Lakes are one of the many alpine lakes in the area.
Mammoth is also a popular ski town, so living here is a no-brainer if you love winter. Learn more about moving to California and how to buy a home warranty in California for your household.
16. Gatlinburg, Tennessee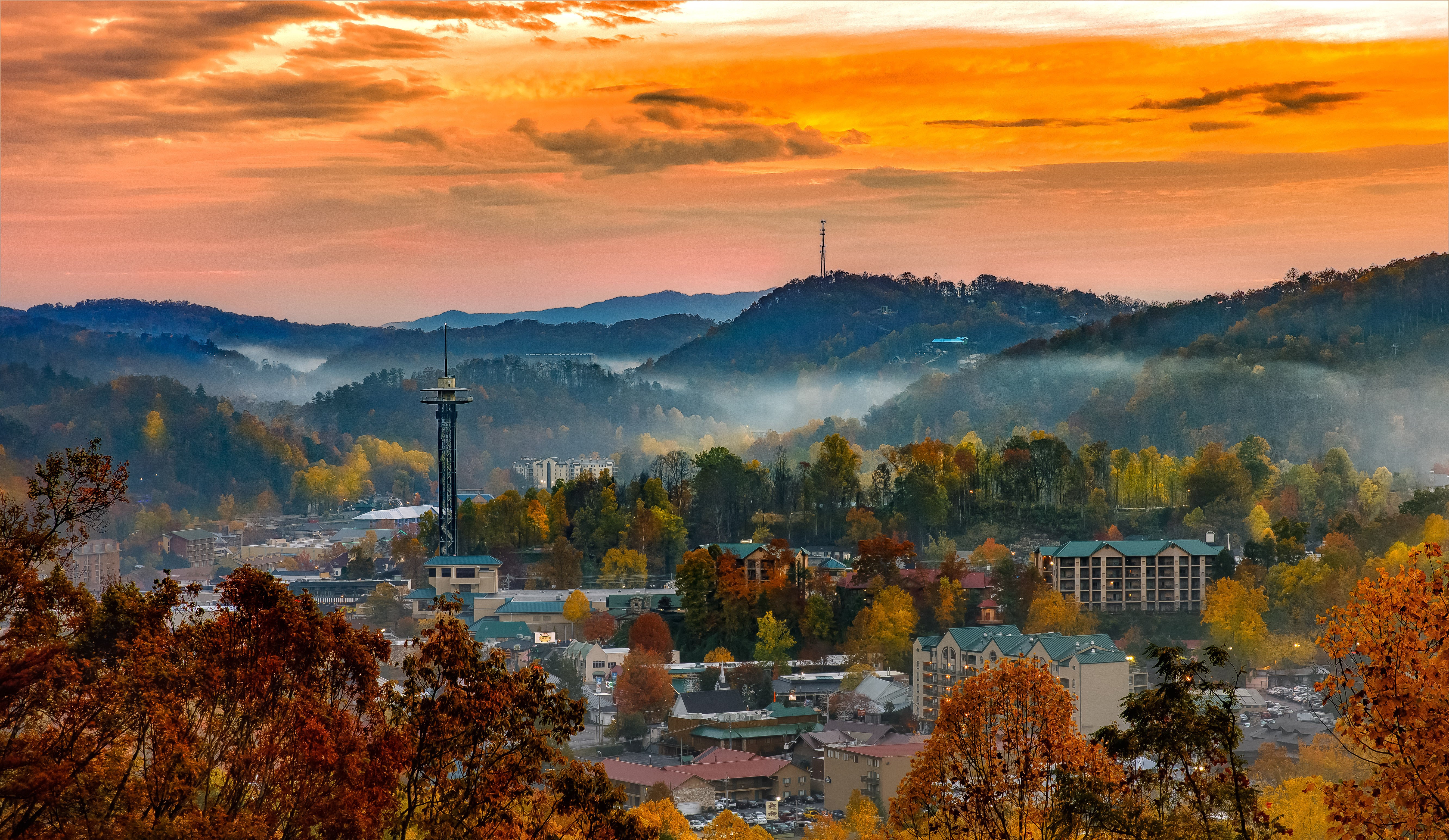 The Great Smoky Mountains make the perfect backdrop for the famous Tennessee fall colors. Gatlinburg is not only the gateway to Great Smoky Mountains National Park, but it's also a charming small town you won't want to leave. You may even consider buying a vacation home here so you can enjoy your favorite season every year. Just don't forget to cover your home systems and appliances with a home warranty in Tennessee.
In the fall, make your way into the park to Clingman's Dome Observation Tower. It sits on the highest point in the park and provides incredible vistas of the mountains beyond, especially during the fiery display of autumn. Stop in at Ole Smoky Candy Kitchen when you're back in town for some seasonal pumpkin fudge.
Don't miss Gatlinburg's famous SkyLift Park, which boasts a ski lift that takes you 1,800 feet above sea level to the longest pedestrian cable bridge in North America. Take a moment to breathe in the crisp mountain air and view the beautiful fall colors below.
17. Hanover, New Hampshire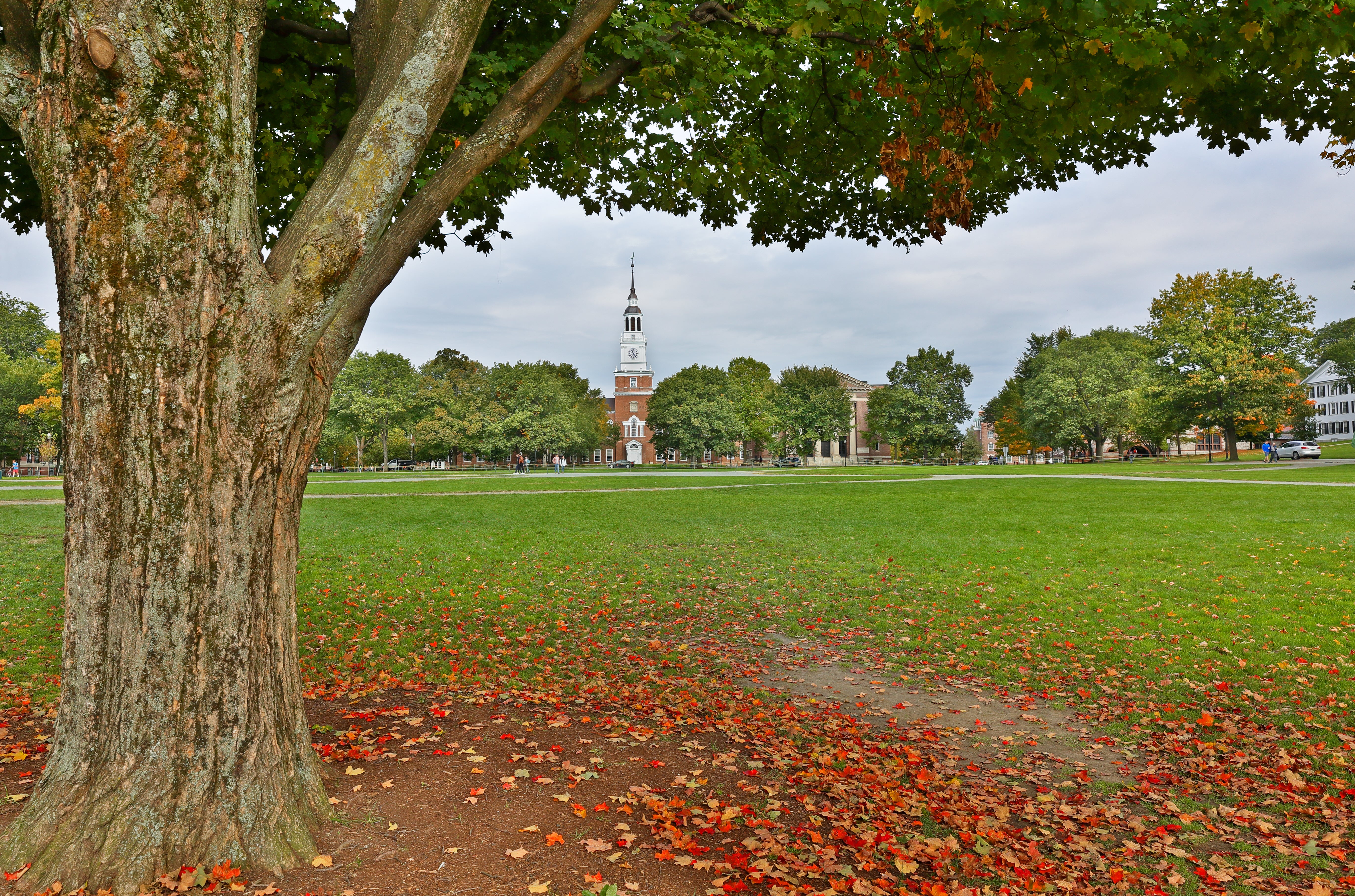 When it comes to New Hampshire fall colors, Hanover really shines. This charming town, home to Dartmouth College, has easy access to the stunning Appalachian Trail, which puts on a fall foliage show every year from the middle of September to mid-October.
If you'd rather view New Hampshire fall foliage from the comfort of your car, head north for about 45 minutes to drive along the Kancamagus Highway. You'll enjoy unbeatable vistas and spot the breathtaking reds, oranges, and golds of the trees along the route.
18. Minneapolis, Minnesota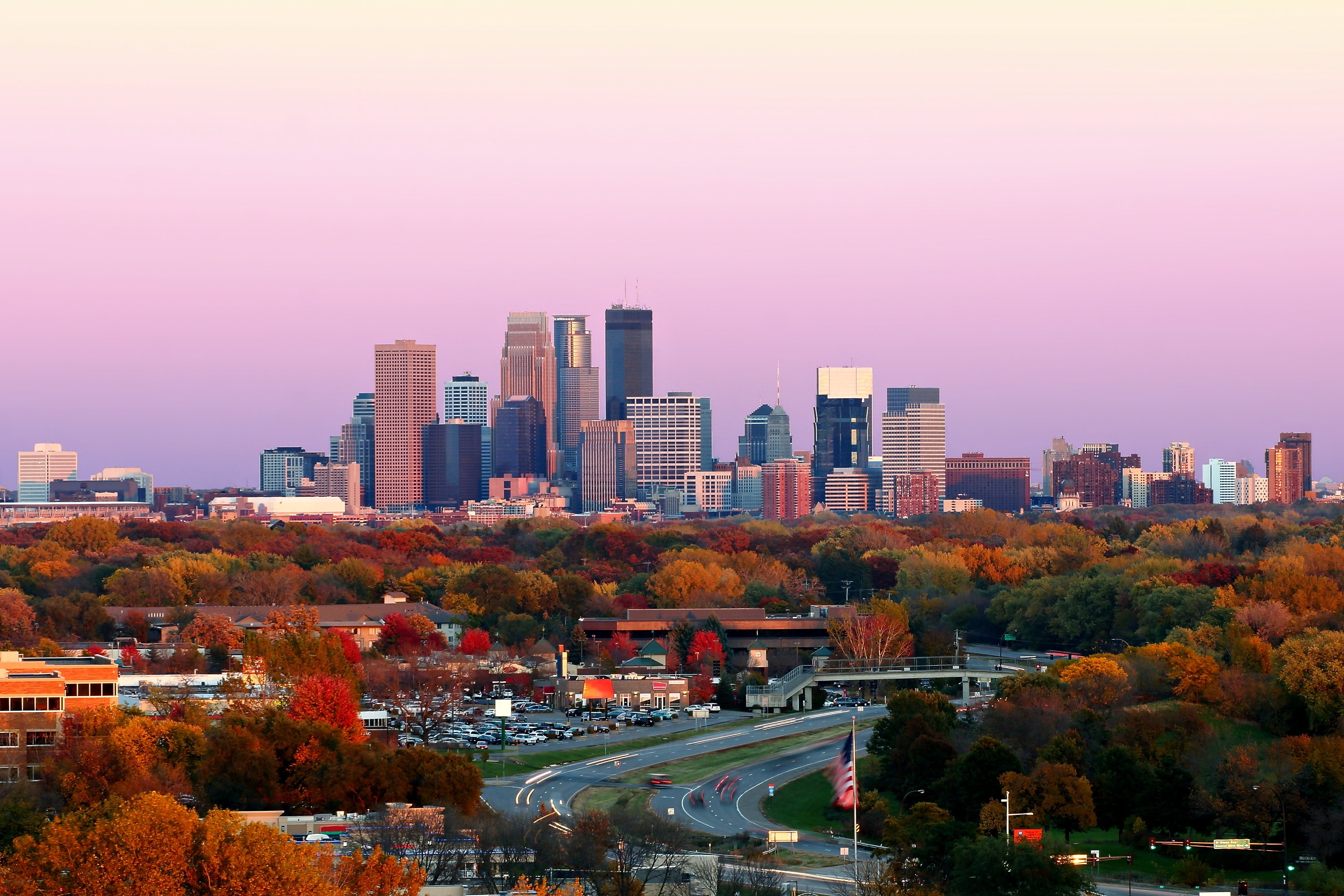 Though Minnesota is the fourth-coldest state in the U.S.—only being beaten out by Alaska, Maine, and North Dakota—that shouldn't deter you from moving here to experience its other three beautiful seasons. It does put on a lovely autumn display from mid-September to early October.
Head to Minnesota Landscape Arboretum, just outside of the city, to walk the trails and witness the changing colors of the trees. On your way back to town, stop in at Heather's Pies for a slice of delectable apple pie. You can even order a pre-shaped, frozen pie crust to whip up your own creation at home.
Breathe in the Minnesota autumn air at Fort Snelling State Park—located halfway between Minneapolis and St. Paul—where you can hike or bike the trails and view the beautiful foliage. Don't forget that the city streets offer prime autumn leaf viewing paired with historical homes.
If you decide to move to Minneapolis and purchase a home here, be sure to get a home warranty in Minnesota to cover the items in your home.
19. Troutdale, Oregon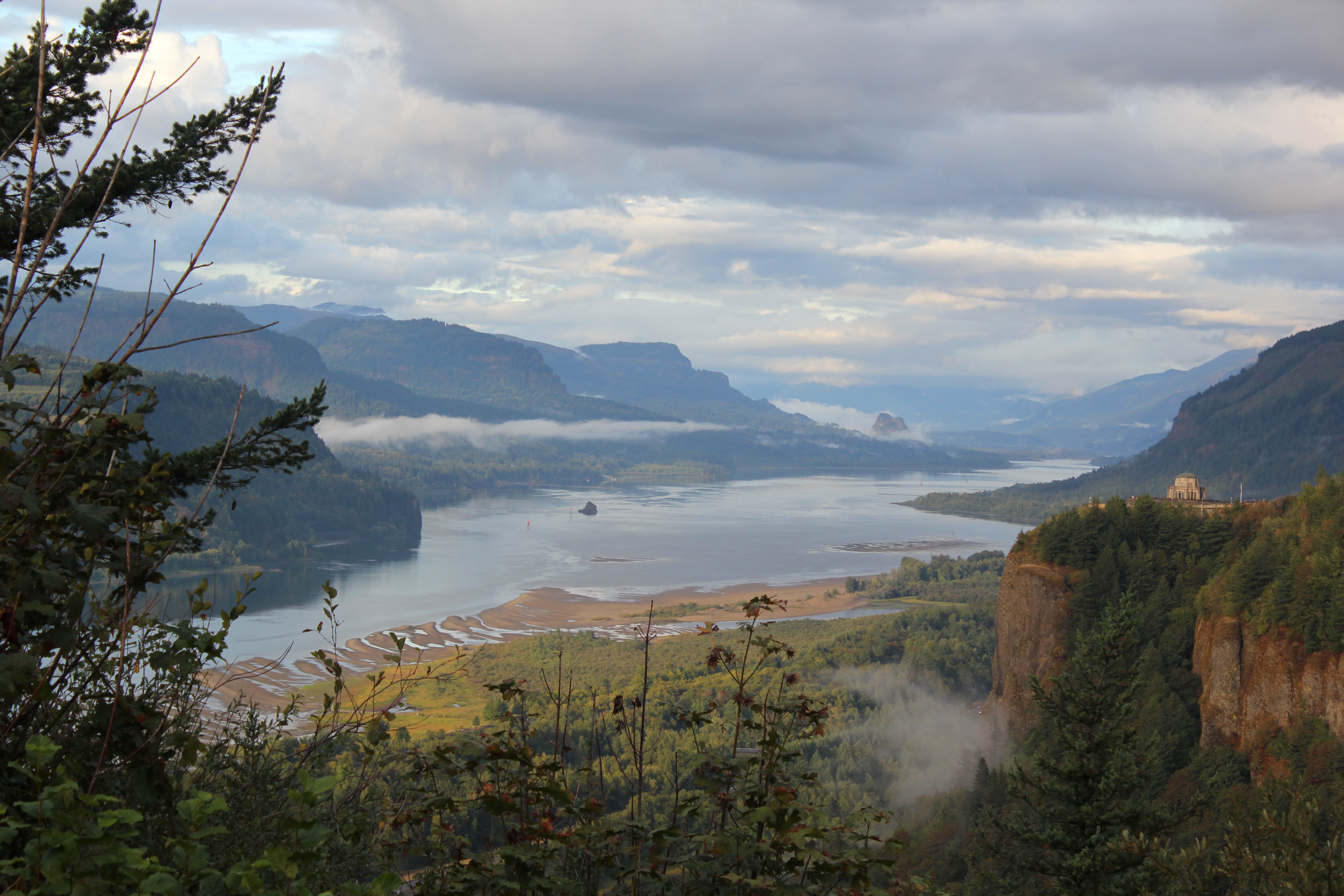 The fall season in the USA doesn't get much better than in Troutdale, Oregon. Located just outside Portland, it's the gateway to the Columbia River Gorge, which has stunning cliffs, rushing waterfalls, and prime opportunities for viewing fall colors.
It's also the perfect place if you crave the peace and quiet of nature but still need to be near a big city. Settle in and enjoy the beauty of the fall season. You won't want to miss a drive along the Historic Columbia River Highway Scenic Byway, where you can get sneak peeks of trees shimmering in yellows and reds.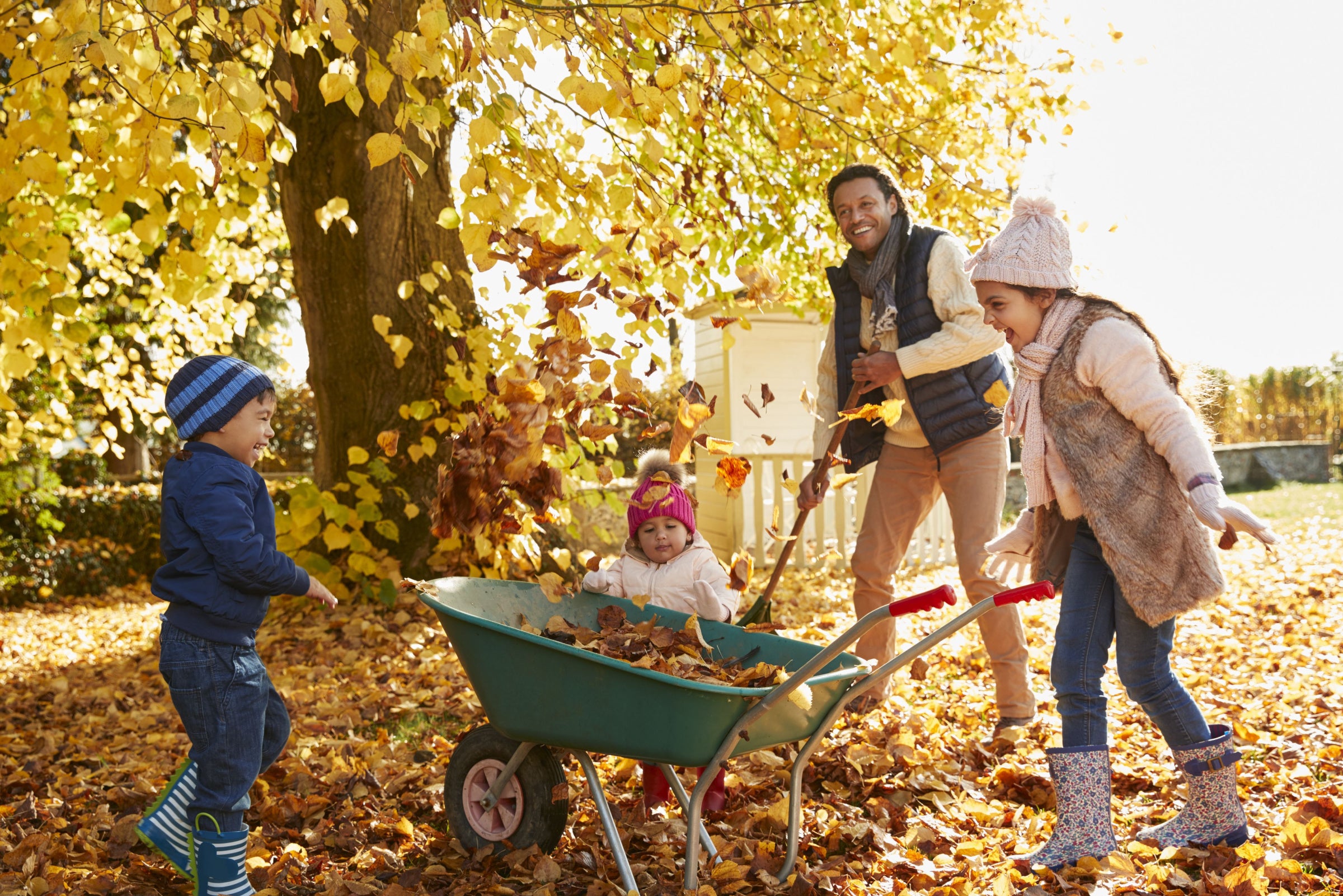 Though it often seems like the shortest season, autumn is a wonderful time of year to take advantage of cool temperatures and seasonal festivities. Living in a city with the best fall activities and the most vivid color displays can help you enjoy everything fall has to offer.
Find your perfect piece of autumn heaven; decorate for fall with all the pumpkins, fall leaves, and cinnamon sticks; and settle into your new house with a good book and your favorite warm drink. Sometimes the best part of fall can be found right at home.
After you've chosen where to settle from our list of best places to live if you love fall weather, follow these fall home maintenance tips to make sure your home stays in tip-top shape throughout the season.