You want to make sure you stay cozy throughout the colder months. Use this checklist to prepare your home for cooler temperatures.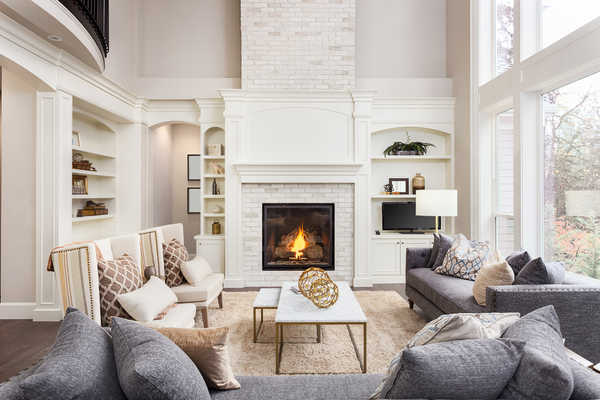 It might still be hot outside, but fall and winter are coming — and those crisp, pumpkin-latte days will soon give way to snow and ice. To make sure you stay cozy and warm throughout the cool and cold months, get started now with this checklist of home maintenance tasks.
Clean Your Gutters
You should clean your gutters in the spring and fall every year, so that they can continue to do their job of directing water away from your home's walls and foundation. When dead leaves and debris build up in your gutters, drainpipes can clog and water can seep beneath your siding, back up and saturate your roof, and eventually cause serious structural damage to your home.
You can pay someone to clean your gutters for you, or you can clean your own gutters if you're in reasonably good shape and comfortable with a ladder. While you're up there, take a good look at your roof for signs that it might need repair or replacement — worn or missing shingles, cracked shingles, and a gritty asphalt residue in your gutters are signs of trouble. Remove debris from your roof and cut back any branches growing over the house.
Drain Your Irrigation System
Even if all you have is an outdoor spigot, you should shut off the water to it and drain it before the first frost. If you live in a really cold climate, you can buy insulated sleeves or bags to further protect your spigot from freezing. Winterize your pool and hot tub, and drain your sprinkler system.
Get Your Furnace Serviced
Did you know that you can get a discount on yearly HVAC service from a local provider through your American Home Shield® home warranty plan? Schedule an HVAC service early on in the season, so you can make sure your furnace is in good working order before you need to turn up the heat. This will also help you avoid the rush of homeowners who will need to schedule last-minute service, or emergency repairs, right around the time temperatures are set to drop. Change your HVAC filter monthly and make sure the vents in your home are clear and aren't blocked by furniture, drapes or carpeting.
Have Your Chimney Cleaned
If you have a wood-burning stove or fireplace that you use in the winter, you should have your chimney cleaned yearly to remove creosote and other residue that can build up and cause fires. Hire a professional and have them check that the damper can be closed tightly enough to prevent drafts.
Flush Your Water Heater
You don't want to have to deal with your water heater going out at any time of year, but you definitely don't need a cold shower in the winter. To prepare for colder weather, flush your water heater to remove sediment from the tank and help ensure that the tank won't start leaking in the middle of the coldest night of the year.
Inspect Weatherstripping and Seal Drafts
Inspect the weatherstripping and caulk around your doors and windows for damage and replace it as necessary. Sealing cracks with weatherstripping blocks drafts, makes your home more comfortable and lowers your energy costs. You can also hang draft-blocking curtains or seal windows with window insulation film. If you have older windows, installing storm windows can make them almost as energy efficient as modern, double-glazed windows.
Get a Home Energy Audit
Minimize your heating costs this winter by performing a home energy audit to find out where the drafts are in your home before the weather turns cold. You might be able to get a free, professional home energy audit from your utility company, but hiring someone might get you more detailed, and therefore more useful, information, and you might even be able to get a rebate on the cost of the service from your utility company.
Prevent Ice Dams
Icicles hanging from your roof could signal ice dams, which can rip shingles off your roof, pull off gutters and cause water damage to your house. Ice dams occur when there's a temperature difference between the roof and the eaves, and they usually require professional intervention to fix. A weatherization professional can help you address the root causes of ice dams by adding insulation and ventilation where needed to stop ice from forming on your roof.
Cold weather is coming, and we're here in case you need help with your home this fall or winter. Look for more home improvement and maintenance tips on the Home Matters blog.
AHS assumes no responsibility, and specifically disclaims all liability, for your use of any and all information contained herein.