Fall is the harvest season, but it's also the best time to get a head start on your spring lawn preparation. Make the most of fall's ideal weather conditions by following these fall lawn care tips for a lush and healthy spring landscape.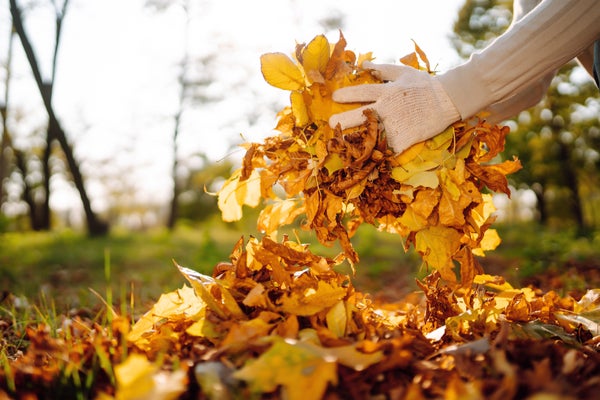 Getting your yard ready for fall can help you prepare for spring and save you time on your spring yard prep. Fall's warm, dry soil and cooler temperatures make it easier to work your garden and lawn. Turning dry soil and seedlings is less of an effort now than working with spring's heavy mud.
Here's a list of lawn repair tips to add to your fall maintenance checklist.
1. Get rid of dead refuse.
Fall lawn maintenance starts by cleaning out the remains of old annuals, dried stems, and other unsightly debris in flower beds. Getting rid of dead plants helps destroy harmful insects and helps prevent the spread of disease during the spring growing season. Remove dieback from perennials, and cut their stems to within one inch or two of the ground.
2. Plant your bulbs.
Fall is the ideal time to get tulips, daffodils, crocus, and other bulbs into the ground when it's cool but before it freezes. In the South, where you may not have a hard freeze, the Farmer's Almanac suggests planting bulbs in early November. In the northern half of the country, this should happen before Halloween.
Loosen the soil first and add organic nutrients. Check a zone chart to see when and what to plant in your region during fall garden prep.
3. Keep your grass hydrated.
Continue to water your lawn whenever it's dry. Even though grass growth is slowing down, fall lawn care includes proper hydration. It's important to make sure your lawn gets about an inch of water a week.
4. Adjust your mower blade.
Mow the lawn with the blade one to two inches lower than the usual length until late fall or early winter when the grass stops growing. This can help to prevent matting in the winter and harmful fungi and mold from forming. Just take care not to cut it too short—the cold weather can damage the root.
5. Aerate and repair.
An excellent early fall lawn care tip is to aerate your soil. Using an aerator to poke holes in the ground allows more oxygen, water, and nutrients to reach the roots. You should rake and dethatch your lawn before aeration to get all of the old debris out. After aerating, overseed.
It's also best to reseed bald patches in fall, so the blazing sun won't damage the grass.
6. Fertilize.
When it comes to fall lawn maintenance, fertilizing and feeding your grass nutrients is key. Getting your soil tested helps determine the soil pH and nutrient levels and provides you with vital fall lawn fertilizer tips, so you know exactly what your soil needs.
It's best to fertilize your lawn in September.
7. Mulch your leaves.
Sometimes nature can be the best fall lawn treatment. If you're wondering what to do with all of those leaves, shredding them with your lawnmower and spreading a two- to four-inch-deep layer over your lawn and flower beds creates a natural compost that will enrich the soil over the winter. You can also add grass clippings to the leaves.
Note: Make sure you rake and dethatch your lawn before the leaves fall.
7. Wave goodbye to weeds.
Fall is the best time to get rid of weeds like dandelions, clover, and crabgrass. Apply a fall lawn treatment weed preventer—in spray or granular form—when the soil is moist, and the air temperature is moderate. A layer of mulch also helps keep weeds to a minimum.
These simple fall lawn care tips can help prepare your lawn and garden for the season ahead.
Learn about more autumn home maintenance tips as well as the benefits of a home warranty with American Home Shield. Our plans protect your budget when your home's major system and appliance components malfunction due to wear and tear. You can also add on septic pump coverage. Get coverage on what matters most.
AHS assumes no responsibility, and specifically disclaims all liability, for your use of any and all information contained herein.