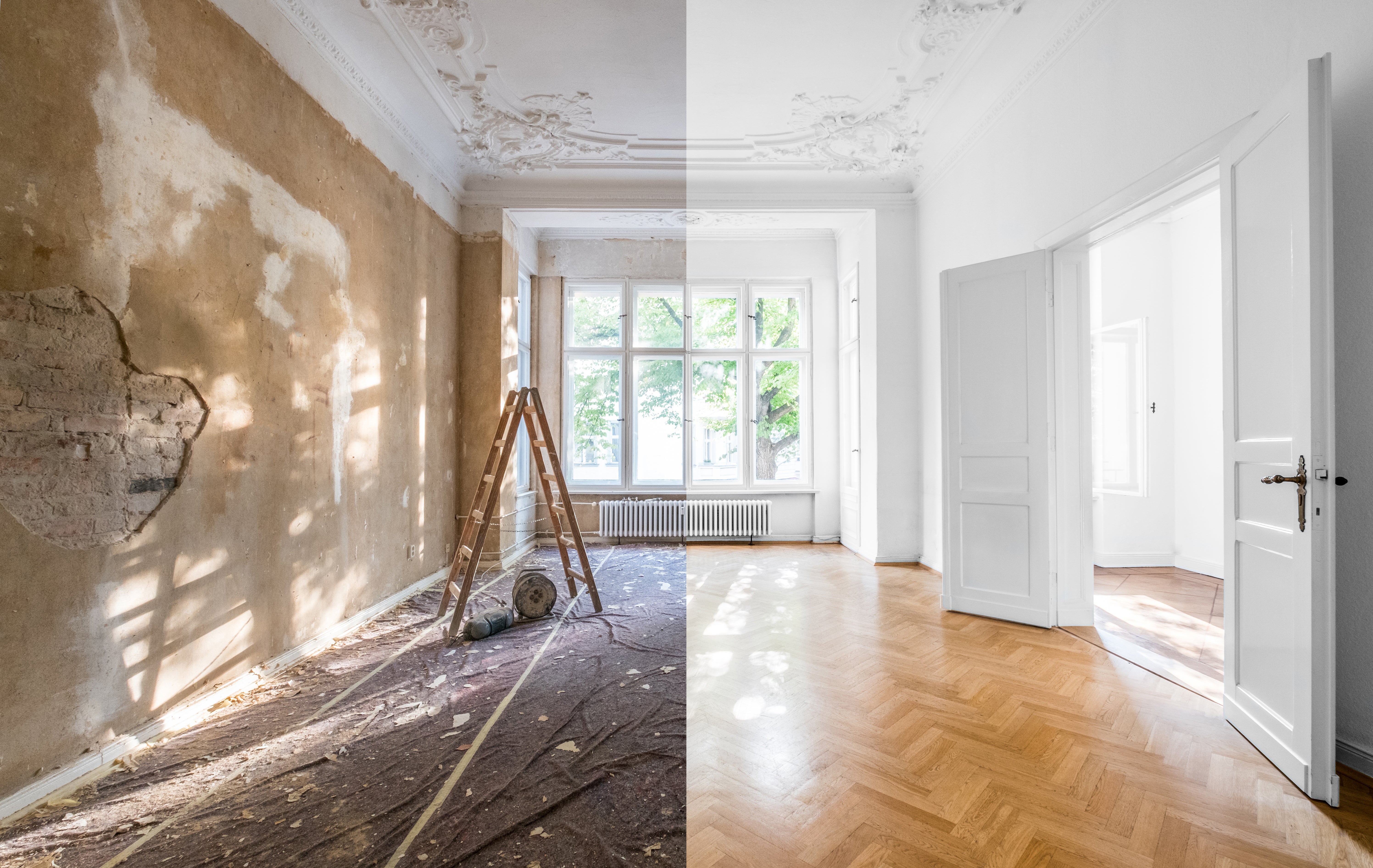 There can be something so whimsical about buying a fixer-upper house. How much fun would it be to purchase a charming older home at a discount and renovate it into your dream home? Sure, it'll require some hard work and elbow grease, but at the end of the day, the house will be customized to fit your needs and wants—and you'll save a ton of money. Right?
Buying an older home to transform is something most of us have daydreamed about in our pursuit of the perfect living space. But that dream can quickly turn into a nightmare if you're not careful.
When building or buying a home, it's essential to have a realistic timeline and a budget that allows for every cost involved in your renovation.
Here are some need-to-know tips on how to make sure buying a fixer-upper home doesn't break your budget or your sanity.
Hire a professional.
When investing in fixer-upper houses, it's important to know exactly what you're getting yourself into. An essential step in the fixer-upper home buying process is hiring a quality inspector to assess the property. They can tell you exactly how much renovation you will need. Then, you can get estimates and have your real estate agent bring this to the seller to help negotiate the price.
If most of the needed repairs are cosmetic, your fixer-upper renovation may be less expensive and a quicker process. But if your budget doesn't allow for repairs to structural damage to the home, knocking down walls, replacing electrical systems (you get the idea), then buying the house may not be worth it. Here are some potential issues to look out for:
Cracks in the foundation
Signs of water damage in the basement
Pest infestation
Strange odors (mustiness could indicate mold, or a sewage smell could mean trouble with the septic tank)
Poorly maintained roof
Old, outdated plumbing and electrical systems
Usually, an inspector will find these things during the walk-through, but if you see many of these red flags during the viewing, you may be better off declining to make an offer. Preparing a home inspection checklist can help save you time and heartbreak.
Don't overestimate your skills.
Most of us have been guilty of this. We watch hours of HGTV, successfully do one DIY project, and, suddenly, we think we can tackle any home repair with the right tools and how-to video on YouTube. But some projects require professional experience and a hefty budget to purchase the correct equipment.
What starts as a simple afternoon project could quickly turn into a whole weekend, with dozens of trips to your hardware store to fix issues. Before you know it, you've spent much more than you expected and still have to call in a professional to finish the job.
When drawing up estimates on fixing up a house, make sure you allow for the worst-case scenario situations and factor in how much it will cost if you have to hire a contractor on all projects. Hiring a professional may save you money down the road because you know the project will be done right.
Also, don't forget about the cost of permits when totaling your upfront costs for buying a house. Depending on what you need, they can add up. Some home warranty plansies—like our ShieldPlatinum™ plan—offer coverage for permits and code violations costs.
Be pessimistic.
No one likes a Debbie Downer. But in the case of buying a fixer upper, you should plan for everything to fall apart so that you're prepared to pay for any issue uncovered during renovation.
When it comes to a time frame, it may be helpful to double your initial estimate. Several factors can affect home renovation timelines, and many of them are hard to predict. Some fixer-upper home renovation delays can be caused by:
weather
construction material delays
lack of funds
contractor availability
At the beginning of the process, map out everything you want completed. Some delays are inevitable, but if you suddenly change your mind on what you want while the renovation is underway, it's going to cost you more time and money.
Invest in a quality contractor.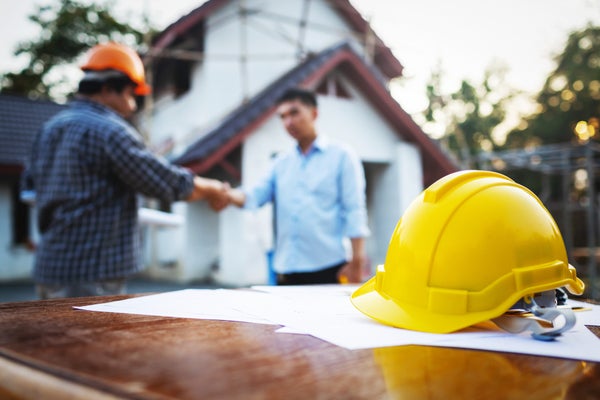 You may love a bargain, but you often get what you pay for when it comes to construction. When hiring a contractor, it's important to do your research and make sure their reputation precedes them. Know exactly what questions to ask, communicate clear expectations, and always get a written estimate. When shopping around, there are signs of quality you can look out for as well as potential red flags.
If your renovation includes major work, ask your contractor if they offer a builder's home warranty, just in case something goes wrong after the job is done.
Know where to hunt for real estate.
Whether you're fixing up an old house to live in or are looking for multiple properties to flip, here are a few ways to find them.
Look for "short sale" or "real estate owned (REO)". A short sale means the seller is selling the house for less than they own on their mortgage. REO means that the house was foreclosed by the bank. Both of these types of home sales are typically priced below market value. Just be prepared—sometimes these sales don't include inspections.
Hunt down foreclosure auctions. Foreclosure auctions are a little like playing the lottery: there's the potential of taking ownership of an amazing piece of property for dirt cheap. The problem is because it's an auction, you rarely get to see the house before buying. Another risk of auctions is they usually only take cash. If you go this route, make sure to hire a real estate agent that specializes in foreclosures.
Keep an eye on how long a house has been on the market. In many real estate markets, if a house has been for sale for a long time, there's usually a reason. This could indicate the house is a fixer upper.
If you're new to real estate and are on the lookout for finding your dream home, here are some tips for first-time home buyers.
Utilize all of your financial options.
If you want to purchase a fixer-upper home but don't have enough in your budget for renovations after your down payment, you still have options. Some lenders offer fixer-upper mortgages, which can roll the cost of the renovations and the house itself into one payment.
With a fixer-upper loan, the money for the renovations is held in an escrow account and doled out as needed. There are usually even allowances in case you go over budget. This type of loan may come with additional fees, so make sure you factor those in when deciding if buying a fixer-upper home is right for your financial situation.
Check out more information on mortgage approval and what you can do to expedite the process.
Re-think your living arrangements.
Can you live in your new home while it's being renovated? Sometimes, yes. But will it be a pleasant experience? Maybe not.
It may seem logical to live on-site during renovation—you'll be there for any questions, you'll save money on rent or avoid paying two mortgages, and you can spend your free time working on your DIY projects without having to travel back and forth. But living in a construction zone can be a nightmare. Depending on the scale of the project, you could experience days of no water, power, heat, or air conditioning.
It may be a good idea to have a secondary living option available just in case. The last thing you want is to grow to resent your new home before you've even had a chance to enjoy it.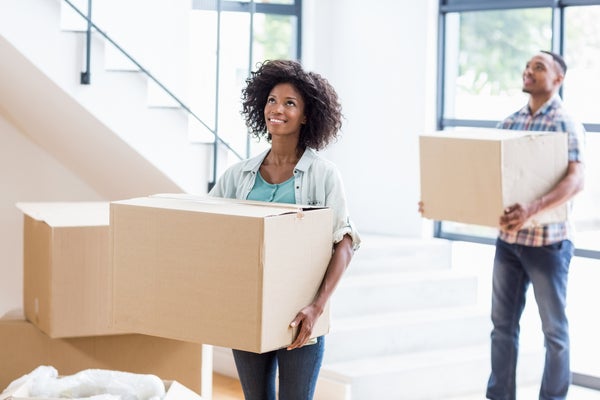 When it comes to fixer-upper homes, staying on budget and planning ahead are key. After you've purchased your home, safeguard your budget by investing in a home warranty. American Home Shield has affordable home warranties for home buyers that can be your budget safety net for unexpected breakdowns of home systems and appliances.