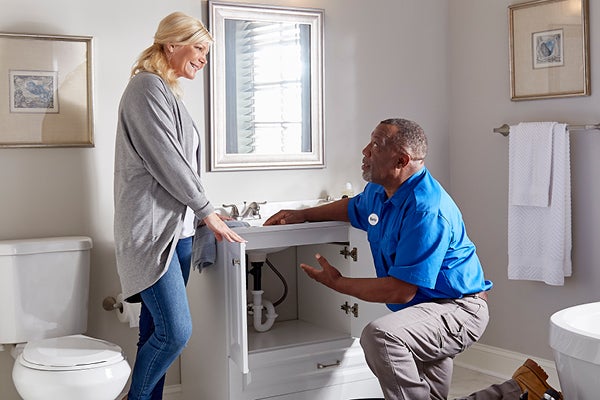 When making real estate purchases, buyers are faced with an array of important decisions that can seem overwhelming. And the questions of whether to add a home warranty plan and how to find a cheap home warranty plan are no exception. If you'd like protection for your home, then you're in the right place.  
What is a home warranty? It's a year-long, renewable home service plan that helps protect your budget by cutting the cost to repair or replace many of the systems and appliances in your home. 
We're in the peace-of-mind business at American Home Shield, and we make that and your budget our top priorities. Here's why our home warranty plans are worth it. 
Confidence and Comfort 
Your confidence and comfort are key. With an American Home Shield® home warranty plan, buyers have the reassurance that many of the home systems and appliances they use every day, like their refrigerator, washing machine, A/C, water heater, and more, are covered should a breakdown occur. If a covered item can't be repaired, American Home Shield will replace it for you. A home warranty helps you protect your hard-earned real estate investment and focus on more fun things like making memories in your new home. You can be confident in your hard-earned real estate investment.  
Our home warranty plans for buyers cover things that home insurance doesn't. Learn more about what is covered with home warranty vs homeowners insurance. 
Budget Protection 
A great reason to get a home warranty plan is for the budget security it provides. Enjoy homebuyer protection from unexpected costs to repair or replace covered breakdowns, including those related to undetectable, pre-existing conditions such as lack of maintenance or mismatched systems. Our home buyer warranty helps buyers feel empowered to invest in new and older homes, where appliances and systems may need some extra TLC. 
Not worrying about sudden expenses is especially important for buyers in low-inventory markets, where inflated housing prices may require larger down payments and leave less money in savings for unexpected repairs.  
Reliable Resource 
When covered items break down due to normal wear and tear, buyers can know that their repair is in trained hands. You'll have access to our nationwide network of more than 17,000 qualified contractors, who are thoroughly vetted and are reviewed by other American Home Shield members like you. 
Easy Access 
Members can make service requests for covered items online 24/7, 365 days a year. When we say reach out any time—we mean it! Almost 95% of the time, a service technician is assigned to a job within 15 minutes of the request. 
Affordable and Flexible 
Our home warranty plans cost you less and offer you more. The cost of home warranty plans varies depending on the coverage you choose, meaning you can choose the protection level that best fits your needs and budget. Some members may need additional coverage, so we also offer optional add-ons to base plans because the best home warranty plan is the one that serves your unique household. 
Less Worry, Fewer Hassles 
When you're surprised by a problem in your home, American Home Shield® home warranty plans will get your household up and running again. Leave the diagnosis and repair of covered items up to us. No worrying necessary. 
Peace of Mind 
What happens when a home buyer purchases a home warranty? They get complete peace of mind. We've crafted our home warranty plans for buyers so you can be less concerned about systems and appliances breakdowns and more concerned about what color to paint the walls. Our affordable home warranty plans are worth the money now to potentially save you from future expenses. 
AHS assumes no responsibility, and specifically disclaims all liability, for your use of any and all information contained herein.