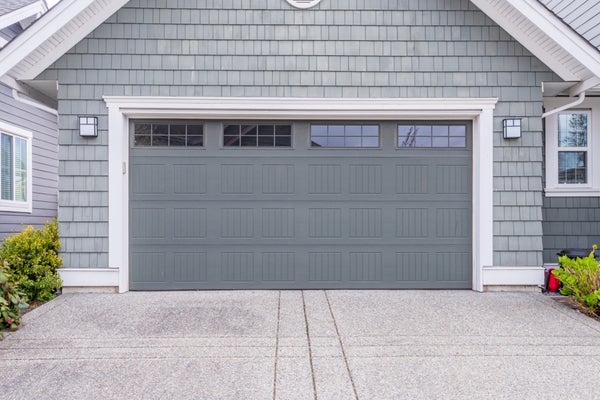 If you have an American Home Shield® home warranty, you know how convenient it is to have someone you can call for help when a covered appliance or home system breaks down. But, like many of our members, you probably have questions about what parts of your home are covered. For example, does a home warranty cover garage door repair or garage door spring replacement? Does a home warranty cover the garage door opener itself?
We'll answer these questions and explain how American Home Shield can keep you covered with a home warranty that includes your garage door.
What's Covered by Your American Home Shield Home Warranty?
Similar to most home warranties, your American Home Shield home service plan does not cover garage doors, the tracks they run on, or the springs that work to raise and lower them. Because of that, it will not cover garage door or garage door spring repair and replacement costs.
However, all of the parts and components of your garage door opener are covered.
Since the garage door opener is a home system, it is covered under all three of our home service plans, which provide coverage for up to 23 home systems and appliances that you use every day. You can easily compare the costs to determine which one meets your household's needs and budget.
The average cost to repair a garage door opener is about $150, plus parts, and the average cost to replace a garage door opener is between $300 and $500. Because our home service plans provide coverage for 14 major systems, the cost to repair or replace a covered item, such as your garage door opener, is taken care of. Other home systems that are covered include your A/C, heating unit, electrical systems and accessories, plumbing systems and accessories, water heater, and more.
Repairing or Replacing Your Garage Door
Because your garage door is not covered by your American Home Shield home service plan, you will have to repair or replace it if it breaks. In some instances, such as accidental damage to your home due to theft, storms, fire, and certain natural disasters, garage door damage may be covered by your homeowners insurance. We'll help break down some of the costs that may be associated with garage door replacement or repair so you can be prepared should you find yourself in that situation.
How much does garage door replacement cost? Garage door costs, like most things, can vary, depending on how much you're willing to spend. If you want a basic, single-size door with no insulation, you can expect to pay an average of about $200 for the door itself, with the garage door installation cost bringing your tab up to an average of $370 to $600, depending on where you live. Insulated garage doors, double-car doors, and doors made from more expensive materials, like wood, will cost more. You can spend upwards of $10,000 on a garage door based on the materials, size, and additional features you select. Rest assured there are plenty of options based on your budget and needs though.
What about the garage door springs? The springs provide the tension necessary to help raise and lower the garage door. There is quite a lot of tension in these springs, and it could be dangerous to try to repair or replace them yourself. You could be seriously hurt or even killed if you try to repair or replace your own garage door springs and something goes wrong. To stay safe, you should always have a trained professional perform any repair or replacement related to your garage door springs.
The average garage door spring repair cost is around $180, but it can go as high as $350 if the contractor has to take apart the bracketing system to get to the springs. At that point, you may be better off having your garage door springs replaced. Garage door spring replacement costs average about $200 to $300, depending on factors like the type of door and garage door spring needed, as well as the labor costs where you live.
If part of your garage door needs repairing and you're feeling handy, these DIY garage door fixes can be a nice weekend activity. You can even try these garage door keypad troubleshooting techniques. Added perk? By the end of the weekend, you'll feel very accomplished with your newly learned skills and handywork.
How to Replace the Garage Door Opener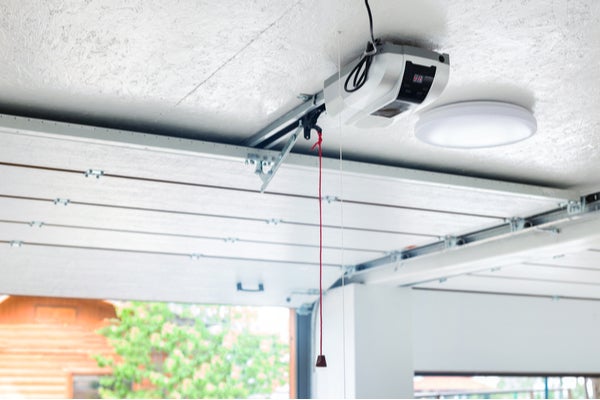 Don't let a faulty garage door opener ruin your day. We're here to help. With an American Home Shield home warranty, garage door opener repair or replacement costs, including installation, are covered. Just give us a call or go online to place a service request, and we'll send a qualified contractor to your door to assess the issue.
Remember—although garage door repair and replacement isn't covered, when your garage door opener isn't working properly, rely on American Home Shield to get it up and running again. Our trusted network of contractors will have you in and out of your garage again!
AHS assumes no responsibility, and specifically disclaims all liability, for your use of any and all information contained herein.