Learn more about garage door coverage through a home warranty. Knowing what your home warranty covers for garage door repair can save you money in the long run.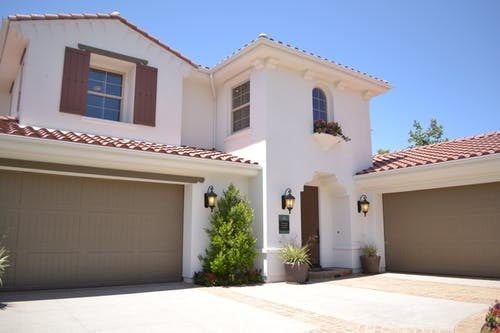 If you have a home warranty through American Home Shield®, you know how convenient it is to have someone you can call for help when a covered appliance or home system breaks down. But, like many of our members, you probably have questions about what parts of your home are covered. For example, does an American Home Shield home warranty cover garage door repair or the cost of garage door spring replacement? What about garage door openers? Read on to find out.
What's Covered by Your American Home Shield Home Warranty
Most home warranties don't cover garage doors, the tracks they run on, or the springs that work to raise and lower them, and American Home Shield is no exception. Your American Home Shield home warranty does not cover garage door repair costs or garage door spring replacement costs. This includes the door itself and the tracks it slides up and down in.
However, your garage door opener is covered by your American Home Shield home warranty. All components of your garage door opener are covered, just not the door track, door assembly or door itself.
AHS Home Warranties that Cover Garage Door Openers
Since the garage door opener is an appliance, it is covered under our Appliances Plan, and it's also covered under our Combo Plan, which provides coverage for up to 21 home systems and appliances. The cost of repairing or replacing all components of your garage door opener is covered, up to $3,000. The average cost of a garage door opener repair is about $150 plus parts. The average cost of a garage door opener replacement is between $300 and $500.
Replacing or Repairing Your Garage Door
Even though certain components of your garage door are not covered under your American Home Shield home warranty, you may still have to repair or replace it if it breaks.
How much does a new garage door cost? Garage doors, like most things, can cost as much as you're willing to spend on them. If you want the most basic, single-size door with no insulation, you can expect to pay an average of about $200 for the door itself, with installation costs bringing your tab up to an average of $370 to $600, depending on where you live. Insulated garage doors, double-car doors, and doors made from more expensive materials cost more. You can spend $10,000 or more on a garage door if you want to.
Your garage door springs provide the tension necessary to help raise and lower the door. But there is quite a lot of tension in these springs, and it could be dangerous to try to repair or replace them yourself if you don't know what you are doing. You could be seriously hurt or even killed if you try to repair or replace your own garage door springs and something goes wrong. You should always have a trained professional perform any repair or replacement of your garage door springs for safety's sake.
The average cost to repair a garage door spring is around $180, but it can go as high as $350 if the technician has to take apart the bracketing system to get to the springs. At that point, you might be better off having your garage door springs replaced. Garage door spring replacement costs average at about $200 to $300, depending on factors such as the type of door, the type of garage door spring and labor costs where you live.
Remember — when your garage door opener fails, there's no need to panic if you've got American Home Shield. The service technicians in our network will have you in and out of your garage again in no time. Go online to choose your plan now.