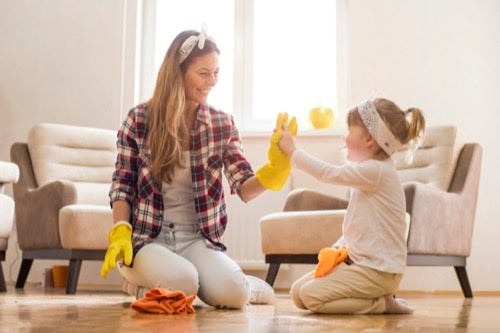 Naturally, let's begin with Marie Kondo. Just kidding, Marie Kondo's approach is primarily geared toward tidying and less so toward basic cleaning. MK wants us to learn to declutter our external spaces so we can declutter our interior lives.
Wondering how to maintain your home easily? The struggle to attain home cleaning automatization relies on our ability to train ourselves to find these tasks standard, well-integrated into our daily life, and non-intrusive. Cleaning is a necessary chore for the sake of general cleanliness and to prevent labor-intensive deep cleaning due to negligence. We know, the struggle is real.
Common Household Chores
We don't stop and think about this often, do we? There really are a great number of everyday chores we do without a second thought. Or, maybe we choose to pretend they are non-issues. Regardless, if you do not keep up with common household chores, it can eventually become an overwhelming task to tackle.
Did you know the average American spends more than 2 hours a day on household tasks? So, what are common household chores?
Meal prep
Cleaning dishes after meals or loading and unloading the dishwasher
Returning items to their "home" after use
Taking out the trash
Laundry

Bedding laundry
Towel laundry
Kitchen hand towel laundry

Wiping down countertops
Cleaning the stovetop
Dusting surfaces
Cleaning up small messes that accumulate rapidly throughout the house
Cleaning out the fridge / freezer

Throwing away food that has gone bad or is clearly not being eaten

Sweeping, vacuuming, Swiffering, mopping floors
Scrubbing out sinks, tubs, showers, toilets
Cleaning shower and bath area including tile and tub
Wiping mirrors
Cleaning areas around sinks that build-up grime
Cleaning the microwave interior
Maintaining organized cupboards for easy cooking access
Maintaining organized closets
Cleaning baseboards, tile, floor, walls, cobwebs
Watering, and occasionally dusting off, indoor plants
Automating Common Household Chores
We'd all love to know hacks for home cleaning automatization. When it comes to daily house cleaning for homeowners, there are techniques you can learn to make the age-old tiresome process much less frustrating.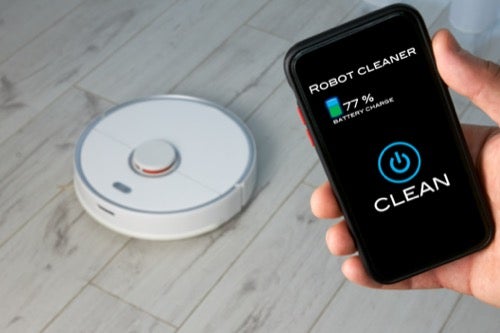 A key technique is to never let anything get too out of hand. What does this mean? This boils down to cleaning while you go.
Essential Cleaning Tips
1. Everything Must Have a Home
How do you organize your home? One key element is to establish a place for all the things you own. You can't put everything away if everything does not have a known place to go. You must establish a place where all of your things live. That way, you know where they go. In theory, you can try to keep them in their home as much as possible. This prevents having to do all the cleanup at once, which is far more of a stressor, aggravation, and source of frustration compared to organizing as you go about your daily activities.
What does this look like? It means putting things away as they are used until the next use. Don't leave items out, clean them as you go about your daily routine, and avoid letting "things to clean" pile up in various areas in spaces around your home.
2. Dusting
Few enjoy the chore of dusting. Investing in a Swiffer Duster or an old fashioned feather duster can help this process move along quicker. Look in the corners of rooms to get rid of cobwebs. Run the duster over any flat surfaces. Lightly dust decor around your spaces. Try to do this every two weeks to avoid an indoor dust storm. When you do dust, take this as an opportunity to open the windows and let in some fresh air.
3. Vacuuming
You might be surprised to learn that no one needs an expensive, high-end Dyson. A lightweight stick vacuum is, generally, all that is needed to tidy a space and get into small crevices. Paired with a handheld dustbuster, you can cover a lot of territory in a short amount of time.
4. The Utility of Cleansing Wipes and Disinfectant Sprays
Keep a small supply of cleaning wipes, such as Lysol wipes, available at all times. This gives you the opportunity to clean and disinfect surfaces as you notice the build-up of grime; especially if surfaces and the kitchen appear to be unclean in any way. Disinfectant wipes are also useful for cleaning the bathroom. That being said, if you're cleaning a large surface area, such as tile in the bathroom, or backsplash in the kitchen, you are probably better off using a spray disinfectant cleansing solution and paper towel, microfiber cloth, or even an old worn out t-shirt for cleaning.
5. Cleaning Your Microwave
You could call it a microwave cleaning hack. People often don't realize that cleaning your microwave is as easy as putting a third of a cup of water in a Pyrex measuring cup and pushing the button for "Steam Clean." The added trick is to add a couple tablespoons of baking soda to the water. You might notice that baking soda comes up often in cleaning hacks.
Go a step further and use some wet paper towel to clean off any debris that has accumulated around the sides of the microwave and inner door. The glass plate is removable and you can clean this plate in the sink using a sponge and standard dish detergent. Setting aside about fifteen minutes every month for this chore can ensure your microwave is clean and disinfected.
6. How to Best Clean a Sink
Cleaning a sink can feel like a burden. Keeping old dishwashing gloves on hand can make the scrubbing process easier on your hands. Another trick is using a combination of baking soda and detergent. A dash of vinegar will help, too. It can be difficult to get rid of built up grime as well as mineral deposits depending on your local water source.
7. Cleaning Windows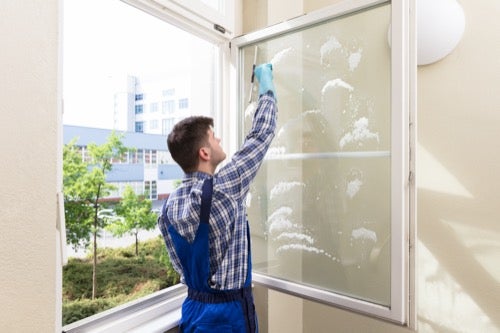 Even house cleaners, paid to clean houses, sometimes refuse to clean windows. Why might that be? It's possible the answer is no one is ever quite satisfied with the results. Windows often do not stay perfectly clean for particularly long. It can also feel like a grueling task if there are many windows in your house.
When cleaning windows, you'll do yourself a favor to use a microfiber cloth. The movements you make while cleaning also make a difference when it comes to removing dust, dirt, and grime. There are many pitfalls.
Windows don't have to be perfectly clean. All the tricks in the book will not keep them sparkling clean for all time. This goes for mirrors too (think bathrooms).
Why allow for imperfection? The reason is it's a task that is never going to be perfect. As soon as you get them clean, they will start to become dirty again. Pollen will cling to your windows. Someone will floss their teeth in the bathroom and begin the process of the mirror getting icky. It's simply a matter of time.
Staying on top of cleaning windows and mirrors prevents nasty build-up and makes the process significantly less time-consuming. That's the real way that you win this battle.
Ways to Tidy Up Your House ASAP for Guests
Ideally, the best case scenario is to have a system in place to organize your home so that it never gets too out of hand. In reality, we all get busy and end up shoving things away in what seems like a convenient location (at the time) and all too often promptly forget where we put all the items we've shoved in random locations around the house.
So you want to know how to clean your house fast? This is completely understandable. We've all been there. A surprise guest is coming over and you feel like it's been months since you've even given your home once over with the vacuum. So what do you do?
Focus on what is immediately noticeable. It can be surprising what guests do and do not notice.
A pile of dishes in the sink? Absolutely. Get those out of the way.
Trash cans overflowing? Get those out of the house.
Try to put away some of the clutter that has accumulated on surfaces such as tabletops, desks, and especially on the kitchen and dining room table. Remember to focus on areas you plan to use with your guest so you don't have to apologize for straightening up during their visit just to be able to sit down comfortably in your living room, kitchen, or dining room.
If you have pets, try your best to remove excess pet hair from all areas where a guest is likely to sit. In case your guests have allergies, you will do them a big favor by putting a fresh cover over a couch or other seating area so they do not feel awkward or uncomfortable.
Carpets can easily get caked with pet hair. When you're not in a rush, pet owners may want to consider renting a carpet cleaner, like Rug Doctor, from a local grocery store or other location occasionally to steam clean your rugs. You may prefer to use a professional carpet cleaning service to save yourself the time and aggravation.
Consider airing out rooms. Open windows and let fresh air in. Avoid overuse of Febreeze and other scented products as many people have allergies or feel that these products have overwhelming scents. If you have candles, a soy candle is a nice way to neutralize scents while avoiding affecting the air quality in the household.
Don't aim for perfection. It's obvious when someone has just spent two or three hours massively cleaning before guests arrive. Try to leave the space with the appearance of being properly kept up but without the look that you only clean when someone is about to come by.
The Truth is You Should Tidy Up for Yourself
Guests are a good excuse to clean. So is a time when it feels like a fresh start, such as New Years or Spring cleaning. Really, there is no time like the present to organize, declutter, and clean your space. It sounds a little preachy but this does more than simply help you move around easier from room to room. A clean and tidy space is well-documented to have an impact on improving mental health.
Taking control of your environment is empowering. It's worth nudging yourself to maintain a clean and tidy household so that you feel better about yourself and the way your household reflects how you wish to be perceived.
How do you maintain your home easily? Start small. Begin with little cleaning projects that feel within your power to overcome. Once you've championed these smaller tasks, you can then move on to tackle larger cleaning and tidying projects. Over time, you can expect to live in a space that feels more manageable to maintain.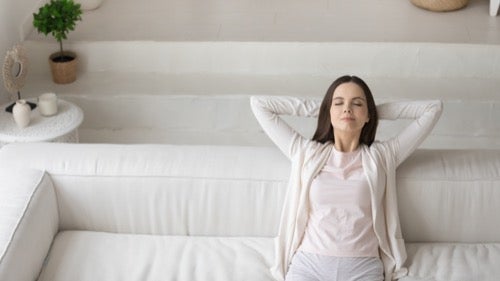 Staying on top of chores can be hard. You have the power to begin to practice and improve your skills at completing household chores that make you feel good about yourself and how you live your day to day.
Chores and Household Appliances
Proper cleaning and care of your household appliances can help these fixtures function at peak performance for longer and is likely to help prevent malfunction and other issues. Keeping that in mind, normal wear and tear on household appliances eventually catches up and a home warranty plan can help protect your budget and peace of mind. American Home Shield® offers comprehensive coverage for parts of up to 23 home systems and appliances that you use every day. Our flexible pricing and plans provide varying levels of coverage— because every home and budget is unique.