Come home to find your washer has sprung a leak? Why a washing machine drain pan could be your first step towards your home protection.
Your washer and dryer poses one of the greatest threats when it comes to flooding in the home. A burst washer hose can spill gallons and gallons of water per hour if it's not detected right away, and water damage from a washing machine can be very expensive to repair. In just a few moments, a leaking washing machine can cause thousands of dollars of damage.

---
How can you help prevent an expensive, watery disaster from your washer and dryer? Install a drain pan!
Installing a washer drain pan is an easy, inexpensive way to prevent water damage from a leaking washing machine. A drain pan slides under your washing machine and provides the first line of defense against leaks, accidental spillage or anything that might drip from your washing machine. The washer pan will catch any leaks due to washing machine overflow or hose failure, or any drips from where the hoses connect to the washing machine. The washing machine pan also protects your floor from condensation.
If your washing machine is located upstairs, a drain pan is particularly important and may be required. Check your local building code and insurance requirements.
Want to understand how a washer machine drain pain can really save you in a leaky crisis?
Discover our Home Matters home solutions experts
tutorial video
discussing the washing machine drain pan's importance in protecting your home.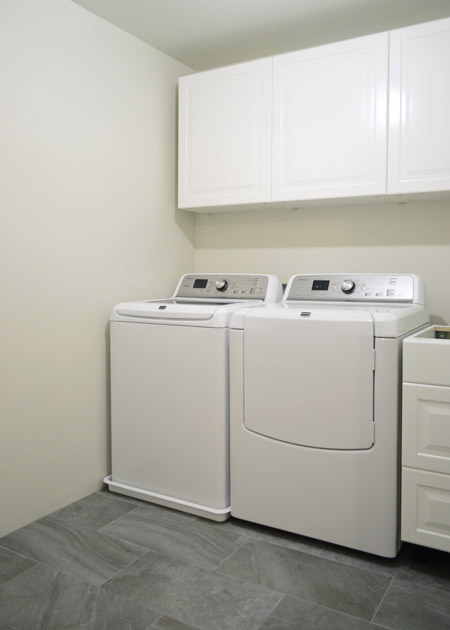 via Young House Love
How do drain pans work?
You can purchase a washer pan at a home improvement store, plumbing supply store or online. You will need a helper and possibly a dolly to gently lift the washing machine onto the drain pan without cracking it. Your drain pan must be connected to a drainpipe to move water away from the area—otherwise you'll just delay the inevitable leaky mess when the drain pan overflows. Drain pans typically use either bottom or side drains to channel water out of the pan to a floor drain. Your washer pan connects to a drain-waste-vent system via a drain fitting and PVC pipe. Some drain pans have a formed hole that you must punch out to install the 1-inch PVC fitting. Other drain pans may not have a pre-cut hole, so you will need to drill a hole for the drain fitting. You may need to hire a plumber to connect the washer pan to your floor drain.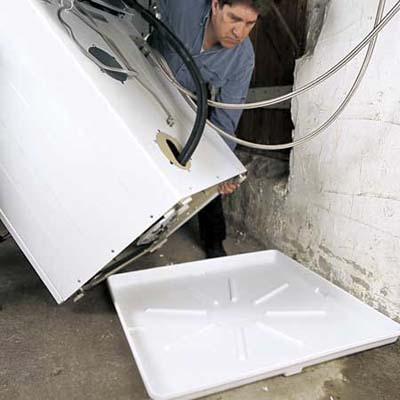 via This Old House
---
Simple drain pan maintenance can really pay off
A drain pan is usually made of plastic or another composite material that may crack or leak over time. Therefore, you may need to replace your washer drain pan to provide adequate protection against leaks. Each time you run a load of laundry, check to be sure no water has leaked out. If you notice an unpleasant smell around your washing machine, it could be due to excess stagnant water collecting in your washer drain pan. In that case, it's time to clean your drain pan. Use a wet/dry vacuum to suck up the standing water. If you don't have a wet/dry vacuum, use thick towels or old clothes to soak up the water. Then spray the drain pan with a household cleaner. Use a non-toxic, eco-friendly cleaning product. Using baking soda neutralizes odors in water and absorbs odors from the air.

Cleaning your drain pan will help increase house hold protection against future washer leaks and increase product longevity. Watch this video tutorial given by our Home Matters home solutions experts on "How to clean your drain pan."

Washing machine drain pans are an inexpensive way to protect your floors from water damage in case of leaks. Replacing the old rubber hoses with steel-jacketed hoses that can't split open is a good way to prevent leaks in the first place. These simple fixes can be the ounce of prevention that's worth a pound of cure.
Now that you have a way of protecting your floors from water damage, why not look look into a way to protect your washer. American Home Shield warranties cover a variety of home appliances, including you washer. An AHS home warranty offers peace of mind when it comes to one of your most important investments – your home.

Next > What To Do When Your Washer Won't Drain
---
AHS assumes no responsibility, and specifically disclaims all liability, for your use of any and all information contained herein.