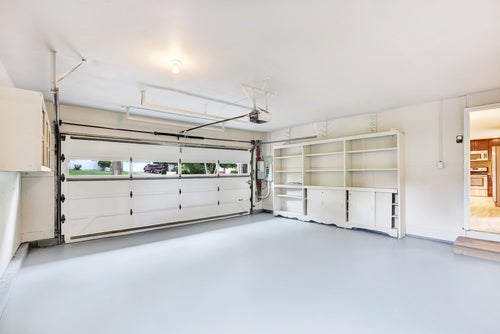 If you've ever lived in a home with a garage, you understand just how amazing that additional space can be. You don't have to scrape snow and ice off your car in the winter or stray leaves in the fall. You can store sports gear, holiday decorations, and just about anything else you don't have room for in your house.
Have you ever considered a garage remodel? Though homeowners realize the importance of garages, they are often the last area of the home to be remodeled. Depending on the extent of the work, garage remodel costs can be in the thousands of dollars. That's a lot of money for a room your car lives in, especially when you could put it toward other spaces in your home.
However, garage remodeling can go a long way toward taming the clutter, improving your resale value, and giving you extra space for activities. You can also budget wisely and use DIY tricks to help lower the cost.
Here are some garage remodel ideas for homeowners on a budget.
1. Decide whether or not to insulate.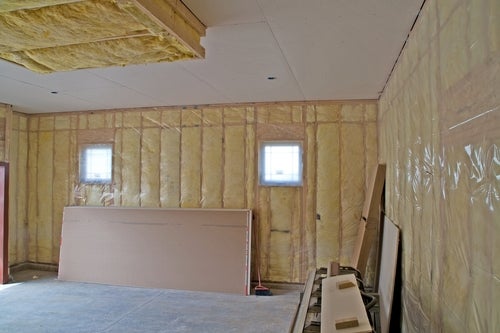 Is it worth it to insulate your garage? It depends on how you intend to use the space and where you live.
If you only want to use your garage for storage and as a car shelter, you don't have to insulate your entire garage during the remodel. Instead, think about only insulating the parts of your attached garage that can inflate your energy bill—mainly the attic and adjoining walls to your house. Just make sure you do your research when deciding; it's much easier to insulate while remodeling a garage than after.
Insulating is a great idea if you're planning on remodeling the space into an area that you'll be in often or plan on storing items that could warp in humidity. If you live in a cold climate, having your garage insulated when you climb into your car makes freezing temps a little more bearable. Insulating if you have running water in your garage is also imperative because not insulating could cause your pipes to freeze. Insulation also helps block out the heat in the summer.
Learn how to insulate a garage door.
2. Choose affordable but practical material for your walls.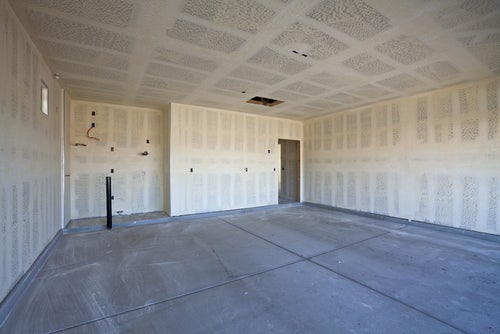 Having a finished garage can attract buyers when you eventually resell your home. Going with the most inexpensive material may seem like the best option if you're on a budget. However, it's important to consider how much wear and tear your garage goes through. Here are some pros and cons of the most common wall materials used:
Drywall. Drywall is a fantastic option if you want to turn your garage into a room. It blends with the rest of the house, it's easy to paint, and some drywall is fire-resistant. On average, drywalling a two-car garage can cost anywhere from $1,300 to $3,400.

However, drywall can be fragile. If you bang something against it (like a car door or sports equipment), it can be easy to scuff it up. Drywall is inexpensive compared to other materials, but you may have to patch or replace it often due to wear and tear.

Shiplap. Shiplap is a popular wall material to match a farmhouse aesthetic; plus, it is very durable and can be affordable for your budget. It's also easy to install, so you may be able to do it yourself to save money.
Oriented strand board (OSB board). OSB is also a highly affordable option. If you want a workshop look, the rough finish of OSB or plywood will suit your garage nicely. It can also be painted. When choosing your OSB board, make sure you select a fire-resistant option.
Hybrid options. There's also the option of putting durable sheathing like shiplap or wood on the bottom half of the garage walls, then drywall on top. That way, the areas susceptible to the most wear and tear are protected. You can also use sheets of metal on the bottom half to add an antique look to your garage. These can be expensive, but you may be able to find repurposed metal sheets for a more affordable price.
3. Skip the finishing and line your garage with storage.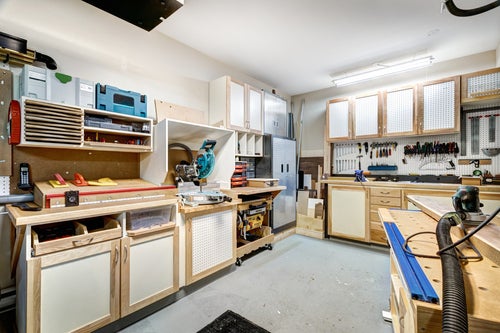 If finishing the garage is out of your budget, another garage remodel idea is to create a storage system that helps remove clutter and creates a finished look without adding drywall or another wall material.
Here are a few DIY garage storage ideas:
Add a pegboard wall. Ladders, power tools, sporting equipment, bikes—with a pegboard, the possibilities are endless. Plus, pegboards are relatively easy to hang. This is one of the easiest garage remodeling ideas for adding storage.
DIY shelving. When it comes to garage organization ideas, installing DIY wood shelving is easy and affordable. Shelves are perfect for storing seasonal items; they're out of the way throughout the year but are easy to reach when needed.

When buying wood for your project, pick up some large plastic bins to line the shelves for storage. Then, if you have the hardware store do the cutting, they can make the shelves the same width as the plastic bins, making your project look like it was done by a design professional.

Add heavy-duty cupboards. The shelves and pegboards are nice, but sometimes you have clutter to store that needs to be hidden away. Adding a row of DIY cabinets is a great solution.
4. Upgrade your floor in your garage remodel to make it look like new.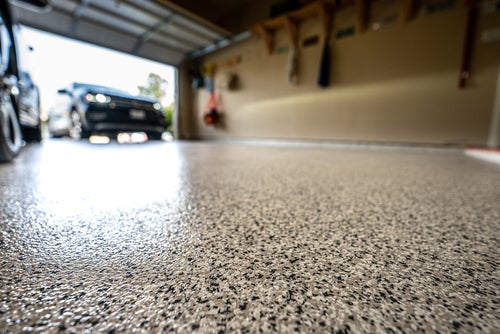 If your garage floor is in good shape, give it a remodel by painting it. Epoxy paints come in a variety of colors and are a great option if your floor is stained from oil and grease. If the cement in your garage is in good shape and stain-free, a concrete sealer or stain will add a beautiful finish to help bring out the natural look of the concrete.
If you use your garage as a workshop, you may want to use rubber mats or tiles to cover your floor. These help with leg fatigue if you're standing for long periods, and they are softer to lay on if you have to crawl under your car. It's also a great addition to many garage man cave remodel ideas.
Thick rubber mats are ideal if you're planning to set up a play area in the garage for your children or are designing a place for a home gym. If someone trips and hits the ground, these options will serve as a cushion from the hard cement floor. Rubber mats are also visually appealing and give your garage a softer look.
5. Turn your garage into a multipurpose area.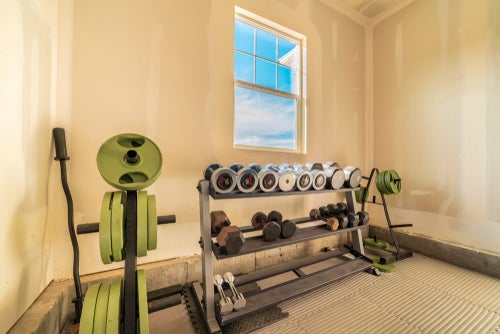 Remodeling a garage doesn't have to be an all-encompassing project. If you have a lot of garage space, consider using one corner for an extracurricular room, such as a workshop, gym, or hangout area.
Create a place to practice yoga or meditate. Lay down the thick rubber tiles and a yoga mat, and place candles or soft lighting and a minifridge for water. Do a relaxing yoga session or meditate away from the chaos of the household.
Make a space for your older kids to hang out with friends and watch movies. Throw a few bean bag chairs in the corner, stock the minifridge with drinks and snacks, and set up a TV or even a projector they can watch on the wall. Your kids will feel like they have their own little apartment, and you can watch your TV shows in peace.
6. Revamp your garage door.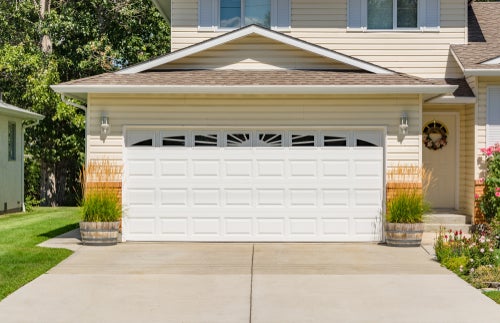 If you want to add pizzazz to both your garage and the front of your home, give your door a glow-up. Make sure you choose your paint carefully—you'll want a quality primer and the type of paint suitable for the door's material. You can also add faux windows, a great solution if you love the look but want the security of having a solid door so no one can assess your valuables.
However, if your door is more than 30 years old, it may be time for a replacement. When choosing a door for your garage remodel, make sure you opt for one best suited to your climate and needs.
7. Invest in a loft.
Do you have a large garage or pole barn and a little extra in your budget? Consider remodeling the garage to include an attic loft. While adding a loft is a serious investment, it may be worth it if you need an extra guest room, recreation room, or office.
Final Thoughts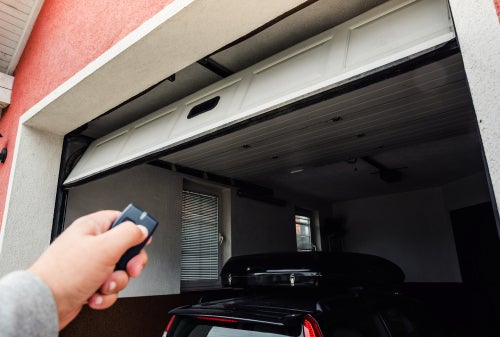 Choosing how to remodel a garage is ultimately up to your budget and household needs. Once the garage remodel is complete, consider getting a home warranty to protect your investment. While an American Home Shield® home warranty does not cover the garage or garage door itself, it does cover all parts and components of garage door openers, subject to the limitations and exclusions of your contract. All three of our plans include a garage door opener warranty that helps minimize your out-of-pocket costs when it comes time to repair or replace these important household items.
Is your garage attached to your house? If so, our roof leak repair coverage applies to your garage's roof. Check out our pricing and plans to learn more.