We would all love to have a little extra living space in our homes, right? Before you consider moving to a larger house or hiring a contractor to create additional space, think about how you're currently using your garage. Yes, your garage is great for storing extra stuff, but have you ever thought of converting it into a room? You can convert your garage into an office, extra bedroom, kids' playroom, or even a man cave. Turning your garage into an apartment is a great idea too. The options are almost endless.
You might be wondering if turning your garage into a living space will add to the value of your home. The short answer is that it usually doesn't. However, if you need more room, a garage renovation will be cheaper than adding a brand-new addition. The average cost of an addition is $46,480 as of 2021. The cost to convert your garage into a living space is a much more affordable option—anywhere from $10,000 to $15,000.
Let's take a look at some garage conversion ideas and the garage conversion costs that you'll need to keep in mind as you design and budget for your renovation.
Maybe you already know exactly what type of garage conversion you have in mind. Perhaps you're interested in converting your garage into living space, or maybe you want to convert the whole garage into a mother-in-law unit that you can rent out to generate some extra income. Or maybe you're tinkering with the idea of turning your garage into a gym, a bedroom, or a home office. Dream big!
Whatever garage conversion ideas you have, remember that some types of garage conversions are less expensive than others. Let's take a look.
Typically, the cheapest type of garage conversion will just involve blocking up the garage doors and finishing out the walls, floors, and ceiling with insulation, drywall, carpet, or other flooring material. Think of a bonus room, family room, playroom, game room, or man cave. Converting a garage into a bedroom costs less than, say, a full apartment with a bathroom.
What if you want to take your garage renovation up a notch? Any garage remodel that requires installing additional plumbing, data cables, or expensive fixtures will be more costly. A home gym may not be costly in terms of converting the garage itself, but filling it with exercise machines may drive up the price. Likewise, a home movie theater might be nice, but the chairs and projector screen are going to be pricey. Other expensive garage conversion ideas include converting the garage into an apartment for rent, a lounge with a full wet bar, an art studio, a music room, a billiard room, or a library.
Finishing Your Garage
Turning your garage into a living space means you'll need to make other plans for storage, so consider installing shelving or cabinets to stow items in your new space.
To turn your garage into a room, you'll also need to consider what goes into making the space livable, such as adding insulation to ensure that it stays cool in the summer and warm in the winter. If your walls are unfinished, you'll need to finish them with drywall, paneling, or plywood. If your garage conversion budget is on the smaller side, cheaper materials like shiplap or sheet metal are good alternatives. Flooring can be as simple as applying an epoxy-based concrete paint to your concrete floor, or as complex as building out a well-insulated wooden subfloor and installing carpeting. Other flooring options include tile, vinyl, laminate, and wood.
Flooring, insulation, and even finishing the walls are fairly simple DIY projects, although you may want to hire an electrician to run any additional wiring and install light fixtures, switches, and receptacles, or to change existing ones.
You may be able to use your current HVAC system to heat and cool an attached garage after its conversion. An HVAC technician can tell you whether this is feasible for your system and garage, or if you'll need additional ductwork and vents. If you can't expand your current HVAC system to cover your garage turned living space, you may need to use space heaters and window A/C units, or install a wood-burning heater or ductless heating and cooling system.
If your garage doesn't have any windows, or only has one or two, you may need to add more to let in all that natural light. If you're removing garage doors, you can add windows to this wall fairly easily. When shopping for new windows, make sure to buy modern, energy-efficient ones to cut the costs of your utility bill.
What to Do With Your Garage Door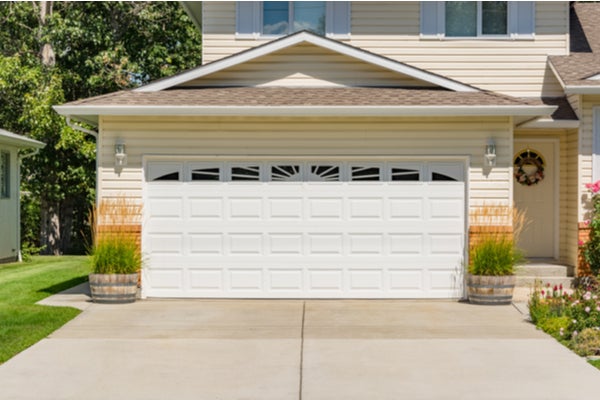 Perhaps the biggest, and most obvious, concern when turning a garage into a living space is removing the garage door. If you want a garage conversion but you're interested in keeping the door, there are some DIY garage door fixes, like using a DIY garage door insulation kit to maintain comfort without sacrificing the flexibility of turning your converted space back into a garage someday. You can also buy garage door veneers that go over metal doors, changing the look of the door itself to match the rest of the décor in your conversion. If you're converting your garage into an apartment, bonus room, or other permanent living space, you may want to hire a contractor to remove the garage doors entirely and build out the exterior wall to fill the space.
Whether you have a two-car garage, a large garage with vaulted ceilings, or a single-car garage, turning your garage into a living space can increase your home's square footage significantly for a much lower price than building a new addition from scratch.