A new garage door can enhance your home's curb appeal; however, a garage door replacement can be costly.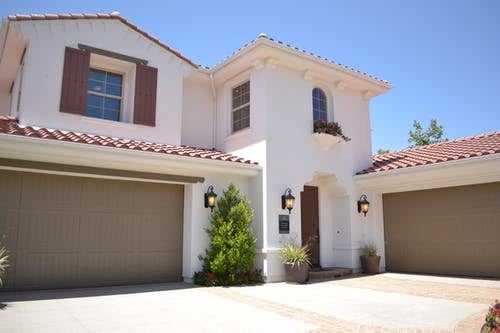 Many homeowners are asking, "How much does it cost to replace a garage door?" The answer to this question varies depending on the type and style of door you buy, whether you need to repair or replace the hardware that allows the door to open and close smoothly, and whether you need to resize the doorway or reframe the exterior.
Let's look at the main variables in garage door replacement costs so that you can budget for this important home improvement project.
What Does a Garage Door Replacement Cost?
According to Forbes, the average garage door installation cost is about $1,200. Garage door prices range in cost depending on:
Garage door size

The materials that the garage door is made of

The workmanship involved in crafting and installing the garage doors

Local labor costs in your area

Any prep work that must be done before the new door can be installed
Additionally, garage door costs will vary significantly if you are replacing an entire garage door or if you're just in need of a garage door panel replacement.
Pro tip: If you live in a community with a homeowner's association, you may be required to install a specific kind of garage door to comply with the bylaws. It's wise to check with your homeowner's association before undertaking a garage door replacement project.
How Do Different Styles and Materials Affect Garage Door Installation Costs?
You can choose from several types and styles of garage doors that best fit the look of your home and fit your budget. Here are the most common options:
Swing-up or tilt-up doors. These doors are one solid piece that swings up from the floor and pulls into the ceiling:

Swing-out doors. These doors open outwards from the center, much like a gate.

Roll-up or sectional doors. Roll-up doors may be the most popular type of garage door. They open from the bottom and slide into a track along the ceiling.

Sliding doors. These doors open to the side by sliding along a track.
More expensive styles include carriage doors, French doors, and walk-through doors, while roll-ups and tilt-ups are typically less costly.
Garage doors can be single-layer, or they can have multiple layers with insulation inside. Single-layer doors are the cheapest, but they're also the least durable and offer the least amount of insulation against the elements. Insulated garage door costs—including double- and triple-layer doors—are more expensive to buy and install. Still, they'll typically last longer and can provide much more insulation, which is a key consideration based on your location's climate. If your garage is detached, insulation may not be a concern for you. But if your garage is attached to your home, a well-insulated garage door can help reduce energy costs and potentially save you money on your utility bills.
Pro tip: If you need a garage door replacement with insulation, look for its R-value—the higher the R-value, the better the insulation. A typical attached garage needs a door with an R-value of 12 or higher.
The materials that are used can also significantly impact your overall garage door replacement cost:
Other features that may increase your door price include pinch resistance, which can keep you or your children from getting fingers and other extremities caught in the door, and tamper resistance, which can help prevent break-ins.
Other Factors that Contribute to Garage Door Installation Costs
Labor Costs: Most contractors will need three or four hours to replace a garage door, and garage door repair costs will depend on the local labor costs in your area as well as the complexity of the services needed. For example, if you need to bring in an electrician to wire up a new garage door opener, that can increase the cost.
Inventory: Garage doors contain materials that are experiencing shortages due to global supply chain issues: spray-foam insulation, steel, and polyurethane. According to John Burns Real Estate Consulting (as reported by The New York Times), "garage doors have a more complex supply chain than windows, HVAC systems, and plumbing fixtures" due to the number of components and customization options. This is not only creating a shortage of garage doors throughout the United States, but it is also increasing the price of your door. According to The New York Times, for a North Carolina custom home building company, the cost of a three-car garage used to be "about $3,200. Now the cost is running about $6,000." Homebuyers and homeowners may incur more costs—and delays—when installing or replacing garage doors.
What Parts Need Replacing: Other factors that can increase your garage door replacement costs include the cost of replacing the tracks, springs, brackets, or metal cables that allow the door to open and close smoothly. If you need to resize the doorway or reframe the exterior, that can boost the cost, too.
Disposal Fees: Most contractors will dispose of the old door, but some may charge a fee for this service, so be sure that you are on the same page with your contractor before they begin work.
How Often Do Garage Doors Need to Be Replaced?
No matter the price, a garage door should last around 30 years or more with the proper maintenance. Your door may encounter some issues throughout its life span, which is why we've put together tips on how to manually open a garage door and troubleshoot the garage door keypad.
Do You Also Need a New Garage Door Opener?
Replacing your garage door opener might not be necessary if your current garage door opener still works and the weight of your garage door replacement is comparable to your existing door. However, if your new door is heavier, then you should get a new garage door opener. Installing a garage door opener will cost between $200 and $500, on average.
If your garage door opener breaks down due to wear and tear, an American Home Shield® home warranty plan will have your back. Avoid the high cost of replacing your garage door opener with our home warranty coverage for garage doors. If we can't repair your opener, we'll replace it. American Home Shield offers complete home protection that helps your household stays up and running.
Can You Replace a Garage Door Yourself?
Home improvement stores sell garage doors that you may be able to install yourself. You may even be able to solve your problem by looking into DIY garage door fixes. However, don't fall into the trap of thinking that a full garage door replacement is an easy DIY job that you can squeeze in between errands.
Replacing a garage door can be dangerous because the springs and wires in garage door hardware are under a lot of tension, and they can cause serious injury if not handled properly. The door itself is also heavy and unwieldy, and you could easily hurt yourself (or others) trying to maneuver it properly. Additionally, installing your own garage door can easily take you all day unless you have experience with the task and the right help. It's a good idea to leave garage door installation to the pros. It'll save you a lot of time and protect you from getting hurt.
Broken Garage Door? Need a Pro Now? Book a qualified, local home repair Pro with American Home Shield ProConnect in just a few clicks. Click here to book now. *Available in most major markets. Services vary by market.