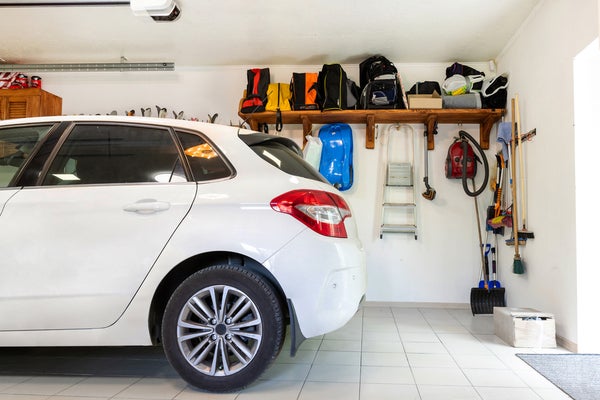 Looking for crafty and cheap garage organization ideas? We have some great garage makeover projects on a budget.
The garage can be an all-too-neglected area of the home often used as overflow storage for all that extra stuff. But with a little elbow grease and some clever garage organization, your vehicle's home has endless possibilities.
There are a number of garage overhauls that make the most of every inch of the space, so that you can get back to parking your car and actually storing your belongings inside the garage.
1. Utilize a Pegboard System
What can't you do with a pegboard? It's the ultimate garage wall organizer. You can hang individual tools, baskets, shelving, and even coils of rope on this versatile vertical storage miracle.
You can even go big and customize an entire wall storage system to hold everything from bikes, the garden hose, extension cords, and seasonal decorations.
You can find a number of complete garage shelving and storage bin pegboard systems at local home improvement and organization stores.
2. Set Up Garage "Zones"
Consider setting up zones for specific items. This way, you won't disrupt your clean garage by pulling down every shelf and box when you need to find something. For instance, items you use often should stay close to the door. Harder-to-reach shelves and cabinets can be a great place for storing your holiday décor, since they're not used often. Meanwhile, lawn mowers, hoses, work clothes, and sporting equipment (items that are often dirty) should be stored near the garage door to avoid tracking dirt and mud into the house.
Need small garage organization ideas? Just remember that keeping things off the floor is key. The more you can hang on the walls and ceiling, the better. Sticking to zones and making use of garage wall organizers can help make even the smallest area open and airy.
3. Upgrade the Flooring
Another garage makeover idea is to upgrade the flooring. From a simple acid wash to a more sophisticated epoxy coating, there are a number of easy-to-clean garage floors in an assortment of styles and colors. Vibrant flooring can really make the space pop and give it personality.
Heavy duty interlocking rubber tiles are a cheaper garage makeover idea. You can get creative and make patterns with the colors, and as a bonus, they're soft and squishy, so they're a great option if you're also using your garage as a home gym.
4. Paint Cabinets and Shelves
Consider painting your garage tool cabinets and garage shelf organizers for a more polished look. After all, there's no law that says garages must be decorated with unfinished wood. Have fun with it! If you create storage zones, consider painting each zone with its own color to visually reinforce the storage system. Talk about the epitome of garage tool organization.
If you're really feeling ambitious, you could even make DIY garage cabinets and shelves a weekend project for the whole family. For shelves, all you need is two-by-fours, plywood, measuring tape, an electric screwdriver with screws, and a circular saw. Cabinets are a bit trickier, since they require hinges and thicker wood for the countertop and doors, but it's still a great project for beginners. The best part of DIYing your own cabinets and shelves is the ability to customize them to suit your exact needs. And it's usually more affordable.
5. Install a New Garage Door
The garage door is one of the first things people notice when passing your house, so why not make it shine? This upgrade can be as lavish as installing a custom wood door for extra curb appeal or as simple as painting a faux finish on the existing garage door.
6. Transform Your Garage
Finally, if you don't need the area for your vehicles, consider turning your garage into a living space. The open layout would be perfect for a workout room, man cave, or she-shed. You could even turn it into a mini apartment for your teenager or an in-law suite.
Let these garage storage ideas and garage organization plans help you be confident in taking care of your household needs in a budget-friendly way. Making over your garage can be so fun and satisfying.
AHS assumes no responsibility, and specifically disclaims all liability, for your use of any and all information contained herein.