While your den or living room is nice for relaxation, there's nothing better than having a space that's completely your own. Enter, the man cave. But what if you don't have a room in your house for such hallowed ground? Why not turn your garage into a man cave?
If you've been considering converting your garage, now is the time to let your imagination run wild. From a sports themed man cave to a hunting themed man cave, no two are alike. We've rounded up some of the most creative man cave design ideas to help you turn your garage into the ultimate escape.
1. The Two-Car Garage Man Cave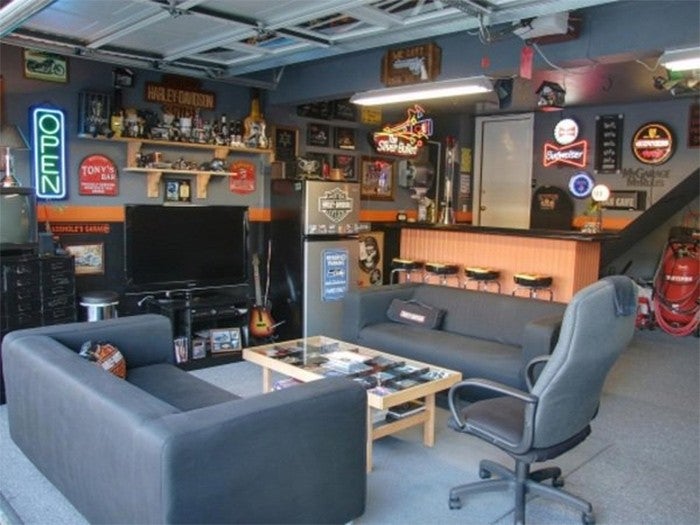 Consider dividing the garage into sections. Create a tool area in one corner for those moments when you want to tinker; furnish one area with a comfy couch, TV, and minifridge; put a pool table or air hockey table in another corner; and add your personal weight room in the remaining area. With this much space, the garage man cave ideas are almost endless!
2. The Memorabilia Man Cave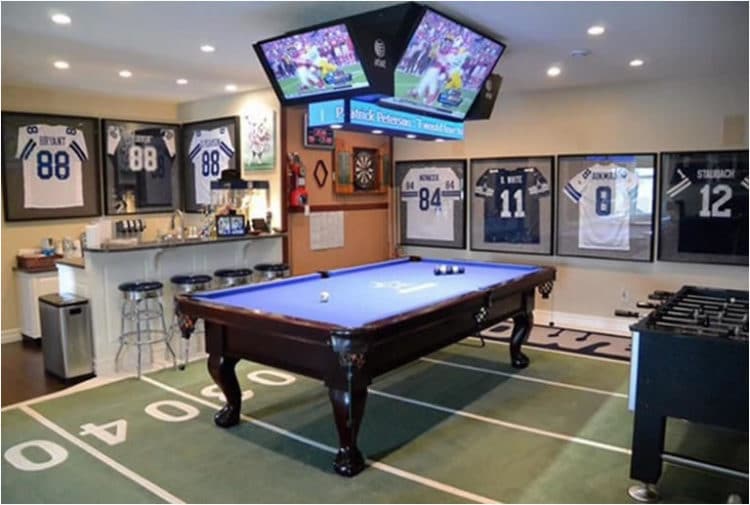 If you're a die-hard fan of any local or national sports team, chances are you've got a decent collection of memorabilia. You might as well show it off. Turn your garage into a sports man cave that spotlights the team you'd drop everything for. Frame those prized jerseys, put up shelves for home-run balls, and paint with your team's colors.
3. The Football Cave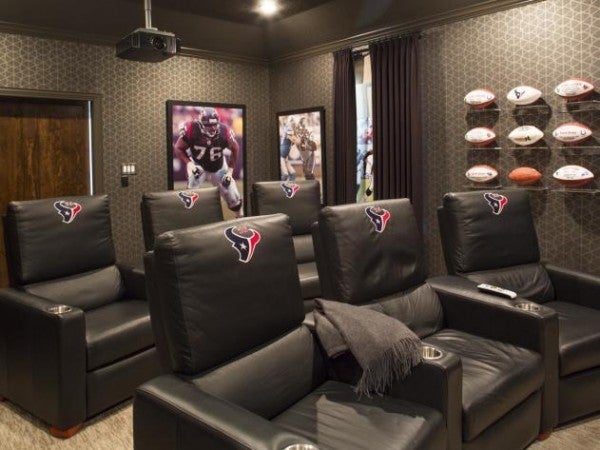 Another sports man cave idea is the football cave—the ultimate spot to catch Monday night games and get comfy for a Sunday bowl. This cave is all about the television, so make sure you set it up for the best viewing experience. Want to take your football room ideas up a notch? Keep one wall blank and put in a ceiling mount projector to make every game the event of the season.
4. The Retro Cave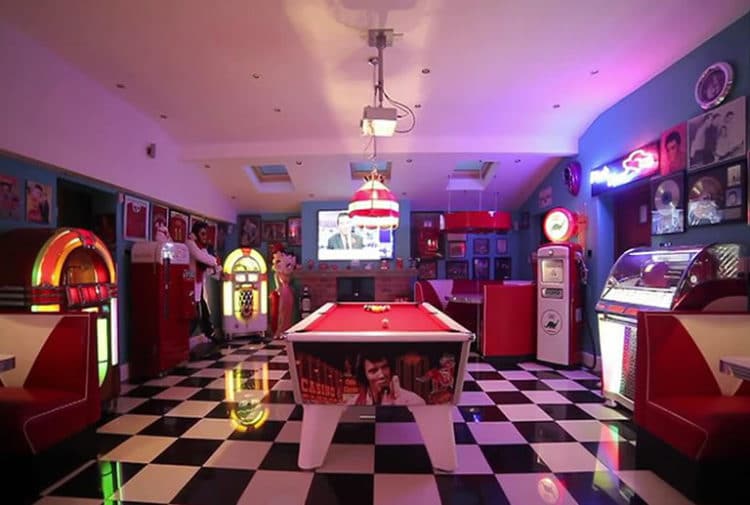 Get in touch with your retro side with this man cave inspired from another era. Snag some themed man cave seating in the shape of a classic car and hunt for old Route 66 signs at your local flea market. Even if you have a small garage, you can still start the party with a retro jukebox.
5. The Rock'n Roll Cave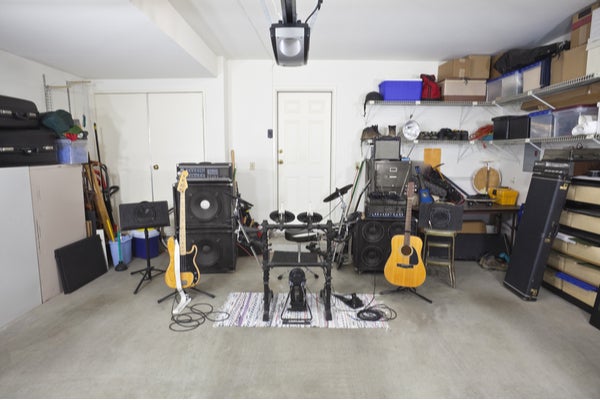 Channel your inner rock star with this music-themed man cave, great for jam sessions and band practice. Musical ability not required. One music man cave design idea is to add rugs and soundproof panels to mute your guitar solos. The whole family will thank you.
6. The Lights, Camera, Action Cave
Calling all movie lovers! When awards season comes around, you will be set up perfectly with this movie-themed man cave. With luxury leather seating, a home theater-sized screen, and surround sound, this movie watching paradise is ready for its walk down the red carpet. Choose clean lines, canister lighting, and understated décor to elevate this humble garage man cave to a studio executive screening room. This design works double-duty as a sports man cave because it's perfect for taking in your must-see ball games, too.
7. The Wine Cave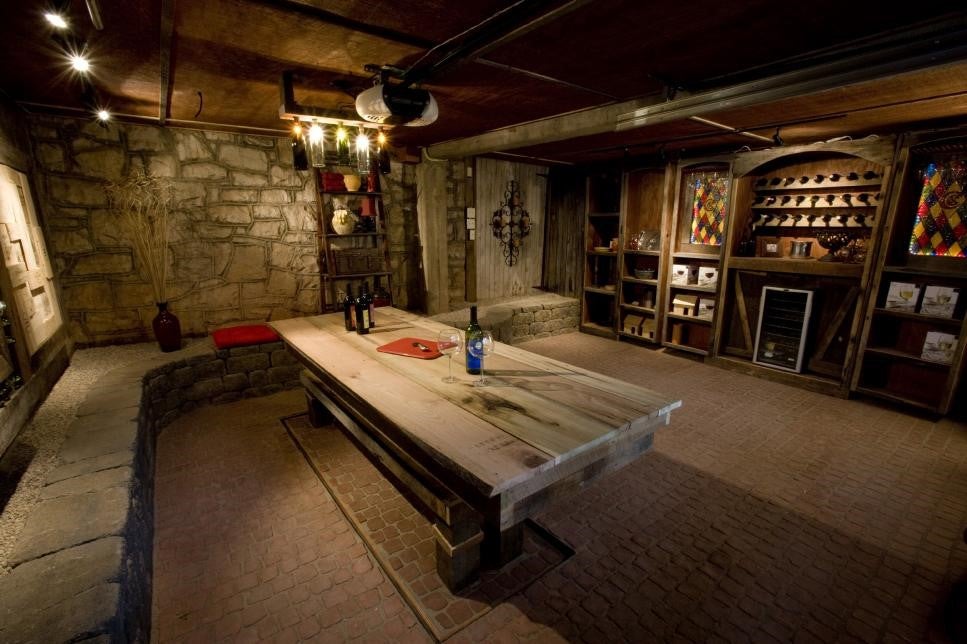 Do you love sipping aged Pinot Noir in the comfort of your own space? Sip in sweet silence in this garage man cave designed with wine in mind. Poured concrete walls shaped and painted to look like rock surround a cozy nook that gives new meaning to the term "man cave." Uncork some choice selections from your wine collection, and wine and dine on your own terms.
8. The Car Cave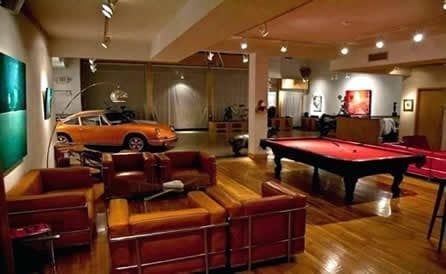 Whoever said garages have to be grease-stained sweatboxes? This car lovers' retreat boasts ample space with leather couches, flat-panel TVs, and a pool table—as well as enough room for your vintage car, parked in a pristine climate-controlled environment. This is the perfect man cave idea if you have more garage space than you know what to do with.
9. The Collector's Cave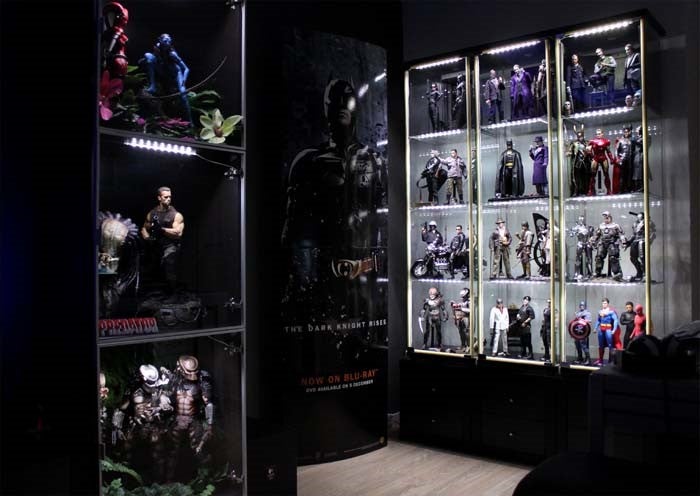 No need to deny your inner geek. Let your nerd flag fly. This utopia acts as a display room with built-in shelving for all your favorite action figures. No, the shelves don't have to be backlit, but if you want to get fancy, have at it! Some simple garage man cave ideas for your comic book heroes could include shelving to put them on display and garage storage for your vintage comic books.
10. The Golf Cave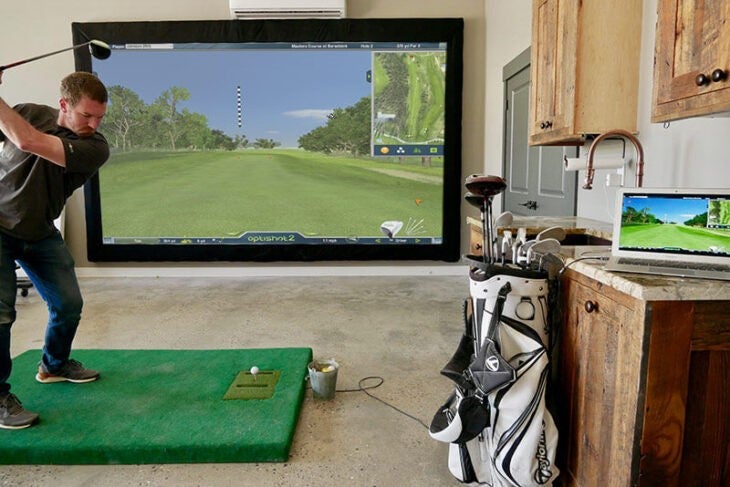 Making your tee time has never been easier. Hit the links in the comfort of your own space with a sports man cave dedicated to golf. Need golf décor inspiration? Roll out your own putting turf or install an elevated putting green with holes to practice that ace shot. You might even set up a projector and connect with a golf simulator to bring the course indoors.
11. The Motorcycle Cave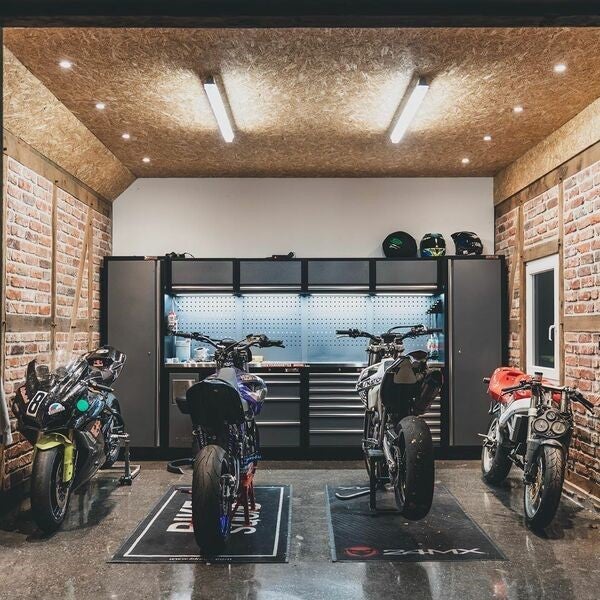 Get your engines revved up in this room decked out with everything you need to take care of your motorcycles. This is a great, low-budget garage man cave design because all it needs is a shelving unit with room for your tools and helmets and enough space to park your two-wheeled toys.
12. The Sports Paradise Cave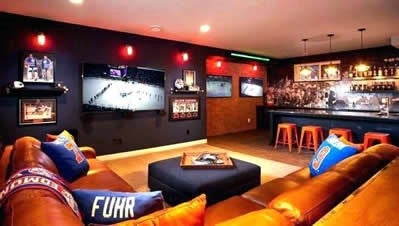 Any respectable armchair quarterback and impromptu soccer commentator knows that watching just one game on any given weekend is like eating just one potato chip (i.e. impossible). With multiple screens, memorabilia lining the walls, and comfortable leather chairs for you and your friends, this elevated sports man cave is truly an MVP.
13. The Hunting Lodge Cave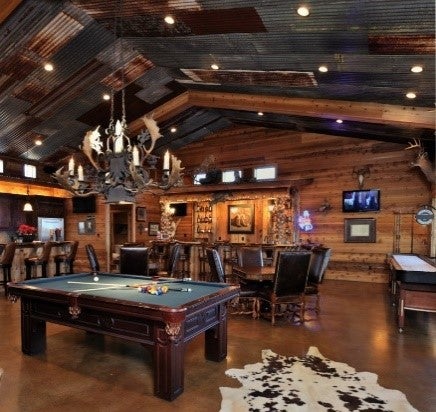 A shot of whisky, a good hand at poker, and running the billiards table are all things that can be found in this Western-themed refuge. Use leather man cave seating to create a luxury lodge feel.
14. The Batman Bat Cave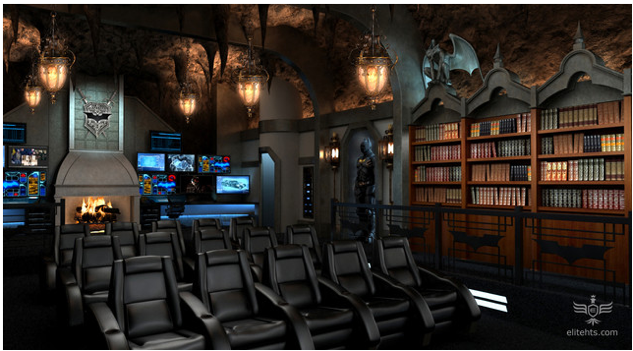 This comic superhero-inspired cinema room takes your man cave to the next level with faux stalactite formations and a telltale logo screen cover. There's plenty of room for friends and family in the plush theater seating of this batman garage man cave, which is perfect for settling in for a Batman movie marathon.
15. The Video Game Man Cave
Get into gamer mode in a garage game room complete with soundproof panels, a multi-screen setup, a gaming chair, and high-quality speakers. This is a great design idea for a small garage man cave—all you need is one corner of the garage.
16. The Game Room Cave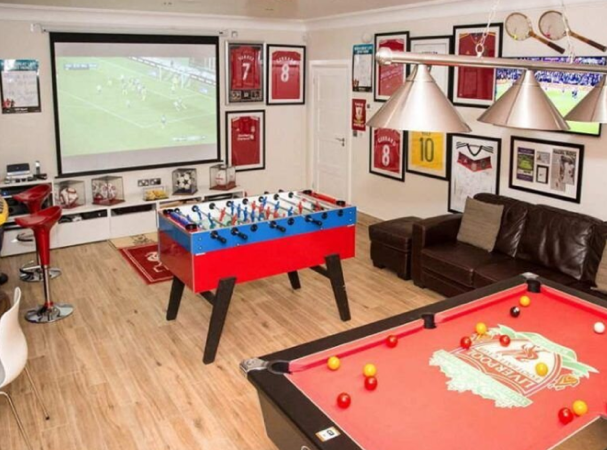 Turn the garage into a man cave dedicated to all your favorite games—from pool to foosball to tabletop games. This is the ultimate garage game room setup with a projector or TV showing the sports game while you and your buddies play to win.
17. The Liquor Cellar Cave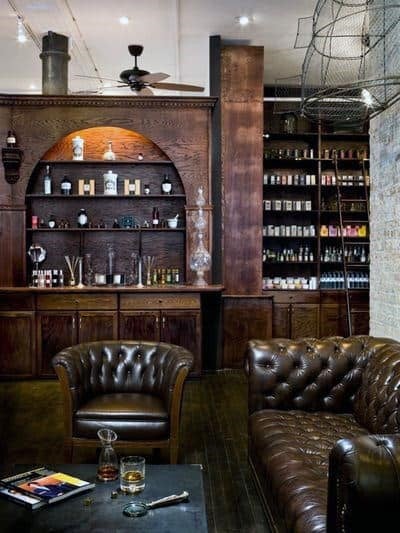 Dark wood paneling, floor-to-ceiling shelving filled with ornate glassware and ample bottles of premium liquor, and a ladder to reach the top-shelf spirits make the perfect entertaining space for the dapper gentleman. Strike up a game of backgammon or chess and clink glasses with your guests. This is the perfect garage man cave idea for enjoying the finer things in life.
18. The Pub Cave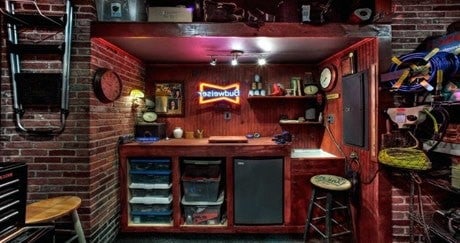 Bring the pub to you by building your own bar in the garage. This idea even works for small garage man caves because you can fit a small bar into just about any space. Grab a neon sign or two, a minifridge or kegerator, and some pint glasses for the ultimate bar experience.
19. The Trophy Cave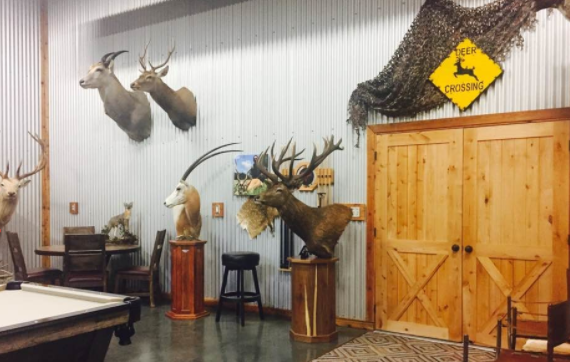 When you need a place to put your hunting prizes, let these hunting man cave ideas inspire you. Some simple garage man cave ideas could be incorporating wood elements for a rustic feel and decorating with some of your hunting memorabilia. Consider framing your hunting permits and photos of all your outings.
20. The Music Listening Cave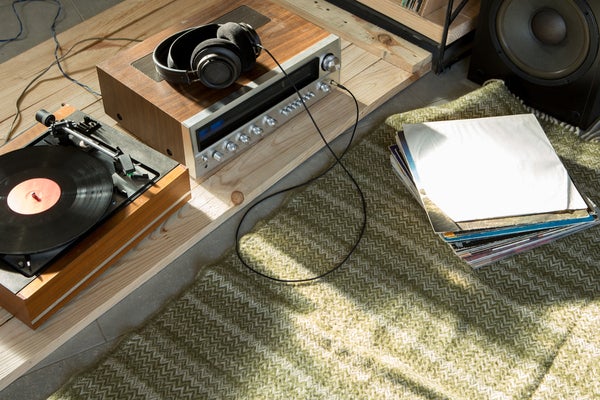 If you are a record collector, this is a great opportunity to turn your garage into a music listening room complete with a record player or multiple turntables, stereo equipment, luxe headphones, and a comfy seating area. You could also add your favorite concert posters and memorabilia, music books, and some shelving for record storage (as long as your music listening cave is temperature controlled!).
If you come across any issues with your garage door opener while designing your dream garage man cave, consider taking on some of these garage door DIY fixes. Our home service plans also include a garage door opener warranty, so if you're an American Home Shield® member, you can request service easily when your garage door opener breaks down. As long as your home warranty covers the repair or replacement, we'll take care of the rest.
Other home systems covered by home warranty include A/C, heating, electrical, and plumbing. With American Home Shield, your appliances and systems will be protected from any wear and tear. Determine which of our home warranty costs and plans work best for you based on your household's needs and budget, so you can get ahead of breakdowns before they even occur. Happy man caving!