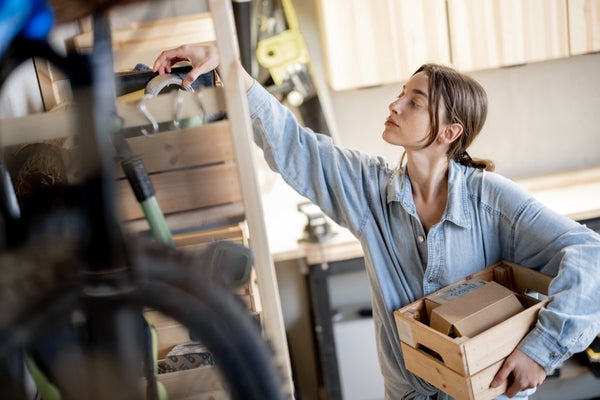 Ever have to park outside in your driveway because of a messy garage? Somehow, no matter how hard you try, the garage can turn into a vortex for shoes, sports equipment, and random hobbies that you've sworn you'll take up again someday. It can be almost impossible to complete any sort of project when you have to dig around for your tools and supplies. And having to hunt for everything like it's buried treasure definitely puts a damper on any fun activities you were planning. We understand how easy it is to become overwhelmed with the clutter—that's where garage storage comes in.
That's why we've put together these helpful ideas on how to organize your garage. Keeping your garage neat and organized can help you make the most of your storage space. You'll be able to store more items in your garage—along with your car—and it'll be so much easier for you to find what you want when you want it.
Garage storage solutions can help you keep the supplies and tools you need for every project close at hand. These DIY garage space ideas can help you get your garage in order, easily and cheaply.
1. DIY Loft Storage
Do you have an unfinished garage with overhead ceiling joists? If so, take advantage of that extra space! It may be easy to add lofted DIY garage storage. Just attach a large piece of half-inch or three-quarter-inch plywood to the ceiling joists to create a DIY loft space that you can access with a ladder. It can be a great option for storing your holiday decor.
2. PVC Pipe Tool Storage
This garage storage tip helps keep you organized, and it allows you to upcycle items creating clutter. If you've got some extra lengths of PVC pipe lying around, you can use them to create cheap and easy storage for large, long-handled garden tools, like shovels, rakes, and hoes. Cut the PVC pipe into sections and mount them to a board that you can attach to your garage wall. Make sure the sections of pipe are vertical, so you can put tool handles in them, and hang the board high enough that tools have room to dangle. Voila! No more stepping on rakes.
3. Bike Hooks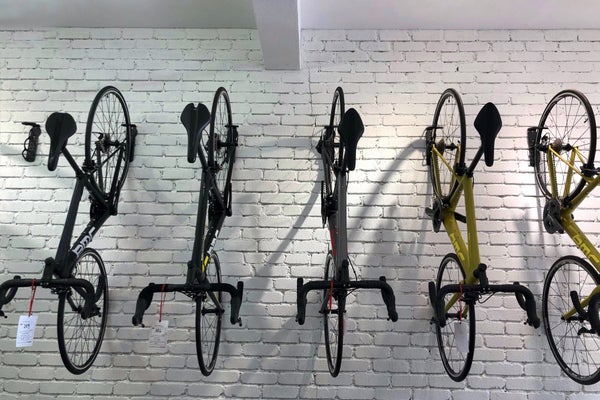 Bike hooks are an easy way to get bikes out of the way and free up storage space on the floor of your garage. Mount them on the overhead joists to hang bikes from the ceiling. Don't have much ceiling room? Hang bikes vertically up the wall instead. The hook and hanger versions of the bike rack can even be used to store other items, like fishing poles or pool cues.
4. Stud Grabber Hooks
If you have an unfinished garage with exposed studs, stud grabber hooks are a great garage storage idea. Stud grabber hooks wrap around and dig into the stud, providing a sturdy hook that can be used to hang tools, extension cords, or hoses. Line up multiple stud grabber hooks to hang planks of scrap wood or other long items from the wall. This garage tool wall idea also adds a rustic charm to your unfinished garage.
5. Pegboard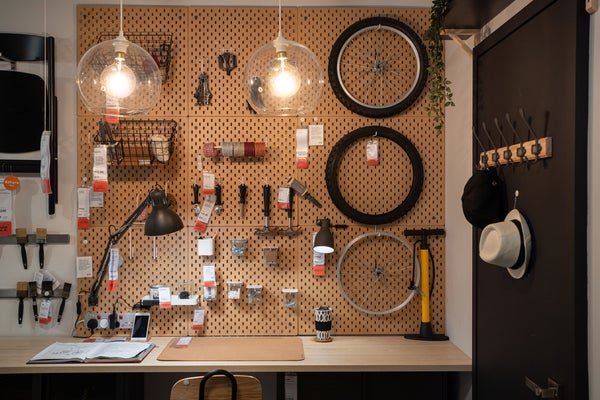 Pegboards are a garage organization staple, and for good reason. The DIY garage storage ideas are endless with these perforated sheets. You can use the vertical space the pegboard provides to really customize your workstation. Whether you opt for hanging tools individually or putting up shelves and buckets—or both—everything you need for a project will be at the ready, and not cluttering up your shelves or floor. Hang your section of pegboard from the studs and add pegs as needed.
6. DIY Shelves
If you're feeling crafty, DIY garage storage shelves are a pretty easy weekend project. (However, if you need a quick fix, you can also buy garage storage systems to add space.) Use a long level to hang wooden shelves from your wall studs or install wire shelves where you need them. For bonus organization, build your garage storage shelves large enough to accommodate plastic storage bins, where you can stow your stuff out of sight.
7. High Cabinets
While you're making the most of your limited garage storage space, don't forget the wall space near the ceilings. Hanging garage storage cabinets high on the wall adds storage space for items you don't use often: like décor for a future garage man cave. This will reserve the area on the lower walls for the items you reach for more frequently.
8. Ceiling Bin Storage
Have a finished garage with a proper ceiling? This DIY garage storage space idea can really free up some room. Screw wooden flanges to lengths of two-by-four to create overhead hanging storage for plastic bins. Use three-quarter-inch plywood or one-by-fours for the flanges, and attach them to the ceiling so that storage bins can easily slide on and off the racks. Pro tip: Label the bottom of each tote so you don't have to spend a Saturday morning figuring out which tote you put your fishing gear in.
9. Magnetic Tool Hangers
Magnetic tool hangers are also a great garage tool wall idea for organizing screwdrivers, hammers, wrenches, and files over your workbench or wherever you need to keep them handy.
10. Nail and Screw Storage
Screw the lids of baby food jars, or other small jars, to your exposed studs and use them to store nails, nuts, bolts, and other small items. You can also attach the baby food jars to a board and mount the board to the wall or affix them to the underside of your wooden shelves.
Don't have any baby food jars handy? Attach hooks to the lids of soda bottles and cut holes in the top or sides of the bottles to make it easy to get screws and nails in and out. Hang the bottles from your pegboard. Reusing items that could potentially end up in a landfill is a win–win. There's nothing like helping the environment and saving some cash at the same time.
11. Over-the-Garage-Door Storage
While you're making the most of overhead garage storage space, don't forget the garage door. The space above the garage door is the perfect spot for some DIY shelves that will expand your garage storage for items that you don't use often. You could even keep these shelves if you plan on converting your garage into another living space someday.
Rely on American Home Shield for tips and tricks to manage your household and help protect the key components of your home systems and appliances. We're there for the big things—our home service plans cover items like your washer and dryer, kitchen appliances, and heating/cooling units—and the small things, like your garage door opener. Check out a complete list of our warranty pricing and plans, each designed to give you peace of mind in your home (and in your garage).
Don't let a messy garage get you down. Be inspired to tackle the clutter with these garage storage ideas.
AHS assumes no responsibility, and specifically disclaims all liability, for your use of any and all information contained herein.