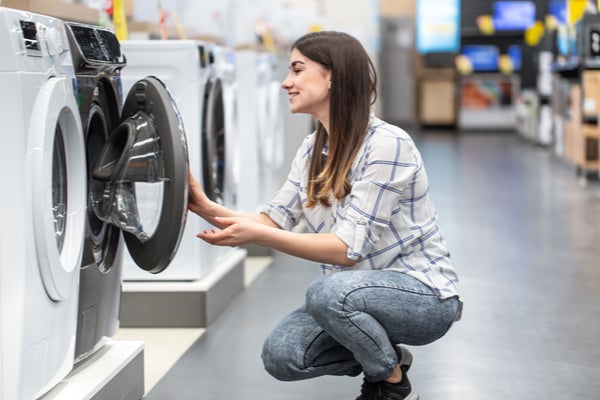 You may have noticed recently that it's taking a bit longer to receive packages or that the piece of furniture you've been eyeing is backordered for weeks. As a homeowner, there are also product shortages for new appliances and systems, as well as their parts, which you need sooner rather than later to keep your home running smoothly. Even simple materials required for maintaining your house may seem scarce.
You're not alone. Consumers and companies worldwide have been experiencing issues related to the global supply chain—and it looks like these issues will be here through 2022.
We're here to talk about everything related to the current supply chain management issues: why it's happening, who it's affecting, and how American Home Shield® is doing everything in our power to keep your household up and running.
What is the supply chain?
At its core, the global supply chain is the worldwide system of businesses providing goods and services to customers—and the logistics involved in doing so. The individual supply chain definition may change from company to company, as the supply chain process is affected by employees, location, regulations, demand, the types of goods or services being produced, and more.
Why are there supply chain issues right now?
There are a few reasons why the global supply chain experienced issues in 2021 and looks like it will continue to through 2022:
A limited number of workers. When the COVID-19 pandemic hit, manufacturers limited how many employees could be on site to limit the spread of the virus. This meant that fewer products were being made, or it took longer to produce them. This is still continuing today with Shanghai lockdowns, for example. Then, there's the labor shortage. Fewer truck drivers, warehouse workers, and other roles also contributed to the supply chain disruption and are continuing to.

Consumer demand. Homeowners are spending more money on household products, like home systems and appliances, to upgrade their space. This high demand, paired with limited labor, has created a major bottleneck in the system.

Shipping problems. In 2021, there were severe backups at important ports—from Southern California to China—that strained shipping times. Though the shipping outlook seems better for 2022, uncertainties still exist. Closer to home, the U.S. Postal Service announced that it will stop shipping certain packages by air and instead ship by truck. Pair that with a truck driver shortage, and quite a few delays are inevitable.

Production challenges. There have been global manufacturing challenges for raw materials, like copper, steel, lumber, resin, semiconductors (chips), and plastics. Constrained supply of these materials is due to high consumer demand, limited staff, and pandemic-related factory shutdowns. Read more about the microchip shortage, lumber shortage, and steel shortage.

Booming real estate market. Migrations from expensive cities to states with lower costs of living and a housing supply shortage have contributed to skyrocketing real estate markets across the country—and it shows no signs of stopping in 2022. Homeowners are experiencing considerable increases in home equity, which is allowing them to start renovation projects. Buyers are trying to snag homes before the mortgage interest rates rise even higher and are also upgrading their new homes. This, again, all leads to high consumer demand for construction materials, appliances, and more—putting a strain on the supply chain.
How are supply chain disruptions affecting my service requests?
When a covered issue is diagnosed by a service technician, the next step is getting the covered appliance or home system repaired or replaced as soon as possible, which often requires the technician to order new parts. But with current supply chain disruptions, you may experience shipping delays and inventory shortages that could impact your repair time or item replacement. Although it won't impact your home warranty membership or Trade Service Call Fee, there are also price increases for professional household projects right now, too.
Here's a quick explanation of why this is happening:
Slow delivery speeds: The issue with slow deliveries stems from consumer demand for residential appliances paired with the labor shortages of 2021 and production delays. This is creating a shortage of appliances and replacement parts for essential household items.

Product shortages: Smart appliances, plumbing pipes, electrical fixtures, siding, and more all use raw materials like microchips, plastics, and lumber. When these materials are low in supply (and expensive), production levels decrease. Some manufacturers are prioritizing high volume production of only a couple products, so there is less for consumers to choose from. This is why some household items are backordered or simply unavailable for the foreseeable future.

Price increases: Prices for commodities like steel, oil, and copper have shot up in the past year, which has forced some companies to increase prices. Nickel, which is used to make some types of batteries, stainless steel, and more, has also increased in price due to the war in Ukraine. Plus, with recent gas price hikes, trucking companies may add surcharges to deliveries. All of this means that consumers may have to fork over more cash to upgrade parts of their homes.
How is American Home Shield® tackling supply chain problems?
Dealing with a broken air conditioner, electrical issue, or other essential home appliance or system is difficult under normal circumstances. Unplanned delays with servicing these issues can be even more frustrating. We understand.
American Home Shield is working with our vast network of suppliers to attempt to get your covered items up and running as soon as possible, and we continue to expand our strategic supplier relationships.
Amid these global supply chain disruptions, we're doing our best to maintain the highest standards of service and affordability for our valued American Home Shield® members, so you can get back to doing what you do best—taking care of your home. Even when prices soar, a home warranty can help protect your budget from expensive out-of-pocket costs. A home warranty from American Home Shield is peace of mind.
AHS assumes no responsibility, and specifically disclaims all liability, for your use of any and all information contained herein.