Investing in a fixer-upper home can be a great way to build the house of your dreams. Doing your own home renovations is a bit more time-consuming than buying a move-in-ready property, but fixer-uppers can be more affordable to purchase. This means you'll be able to take the money you saved and invest it in upgrading your home to your liking.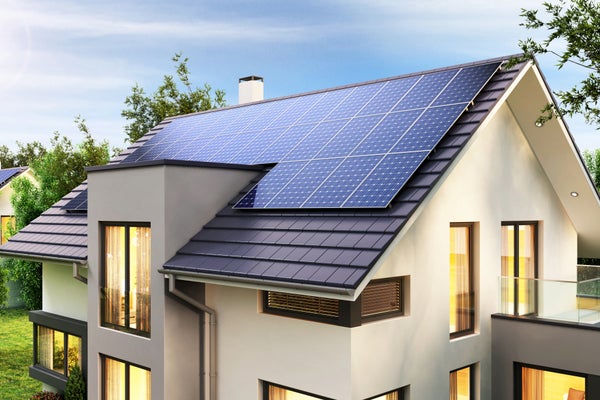 Investing in a low-cost home that needs work can also save you money in the future. You may purchase a move-in-ready home that looks shiny and new on the outside but find out down the road that the previous owners "flipped" their home as cheaply as possible to make it look good for reselling purposes. If you tackle the renovations, you'll be able to make sure the job is done right by picking quality materials and well-reviewed contractors.
Eco-friendly home improvements and sustainable renovation are the smart choices when renovating your new home. What is sustainable renovation? Simply put, sustainable home renovation is opting for upgrades in your home that save energy or reuse existing materials. Choosing to renovate your home sustainably can:
Save you money in the long run

Reduce your carbon footprint

Make your home unique

Increase your home's resale value
Here are some eco-friendly home renovation ideas to help the earth, protect your wallet, and make your new house feel like home.
1. Upgrade to eco-friendly systems and appliances.
Fixer-upper homes sometimes come without major appliances or have systems that are older than you are. If you have to buy new equipment, choosing energy-efficient items is the way to go. ENERGY STAR-certified purchases may be more expensive initially, but the investment will pay for itself with future energy bills. You can get almost anything in an energy-efficient version, from major appliances to lightbulbs.
It's important to go the green route with the equipment you use daily, like:
Upgrading your water heater to an ENERGY STAR-certified tankless version is also a great option. It saves energy and provides you with an unlimited amount of hot water by only heating what you need when you need it.
Sustainable home renovation can potentially help during tax season. Investing in energy-efficient systems and appliances may earn you tax credits when April rolls around.
If you'd like to make greener choices but don't have the funds to invest in new equipment, fear not. Here are some affordable options to reduce your energy consumption.
2. Enter the magical world of thrifting.
Thrifting is one of those green home renovation ideas that's often overlooked because there are seemingly countless home design and home goods stores offering brand-new items. However, creative home buyers on a budget realize what a treasure trove thrift stores and online resale shops can be.
You can find an array of gently used furniture, décor, and even fixtures that need facelifts to fit perfectly into your new home—and fit your budget. You'd be amazed at what new paint, upholstery, and hardware can do to an old piece.
Finding vintage items also helps to give your home character. When someone asks you where you got pieces of your décor, you can take pride in saying "I made it" or discussing the thrifting treasure hunt where you found the dreamy item. Plus, you can customize the items to fit your color schemes perfectly.
If you love the idea of thrifting but aren't so in love with the "used by strangers" part, don't be shy about asking family and friends if they have anything they want to sell. They may have old stuff they've wanted to get rid of and may give them to you for free if you haul them out. It's a win–win.
Eco-friendly home improvements don't stop at furniture and décor. You can also buy gently used cabinets, faucets, lighting, tubs, sinks, and even repurposed wood.
3. Insulate your home.
Is your house drafty in the winter? Whenever a cold breeze wafts through your home, it's almost as if your hard-earned dollars are floating through the air and out the door. Having an energy-efficient heater or air conditioner won't do much good if it has to work continuously. Properly insulating your home helps you save money in the winter and makes a good summer renovation project to help cut air conditioning costs.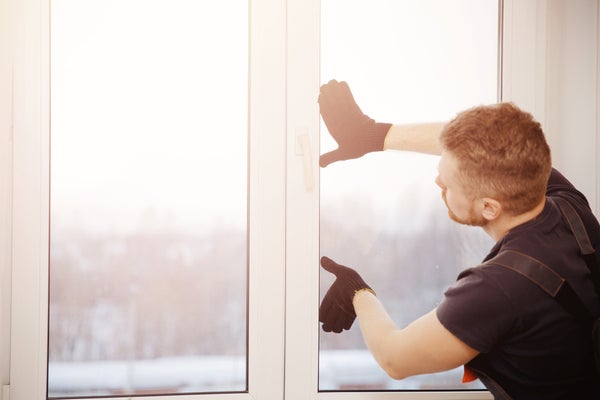 Here are some home renovation tips for insulating your house:
Upgrade your doors and windows. According to Energy.gov, 25 to 30 percent of residential energy use goes to making up for heat gain and loss through windows, which means you're paying more to keep your home comfortable.
If you live in a region with icy winters, you can buy double-pane windows insulated with argon gas to help reduce heat loss. There are even windows with thermal coatings to repel heat if you live in a warm climate. It's a good idea to hire a professional installer when replacing your windows to ensure they are sealed properly.
If new windows aren't in the budget right now, you can make small eco-friendly home improvements by purchasing thermal curtains to reduce drafts or investing in an ENERGY STAR-certified external door.
Search your home for sneaky gaps and cracks. Take a quick trip to your local hardware store, pick up some caulk, then thoroughly analyze both the inside and the outside of your house for any gaps where air may be escaping. Pay special attention to:
If you still feel a breeze and can't find the crack, a low-tech hack is to light a candle or a stick of incense. Hold it carefully in front of the areas in the list. If your candle starts to flicker or smokes more than it should be, you have yourself an energy drainer. You can also hire a professional to come and assess your home for hidden energy drainers.
To mitigate gaps or cracks, you can weatherstrip windows, install draft stoppers on doors, apply caulk around vents and doorframes. For air escaping through a crack in the foundation or its ducts, chimney, or siding, consult a professional to repair it.
Insulate your attic and basement. Proper attic insulation can help control drafts and prevent ice dams from gathering on your roof. Insulating your basement can help reduce energy costs, too.
Finding all of the tricky areas that may need insulation in your home can help save your HVAC unnecessary wear and tear and reduce your energy usage. A great budget saver is having a home warranty from a trusted company like American Home Shield®. When your HVAC or other home systems and appliances encounter a covered issue due to everyday wear and tear, our local, professional service technicians will help diagnose the problem and repair or replace your covered item. Check out our plans and pricing information, and choose which plan works best for your household.
4. Consider going solar.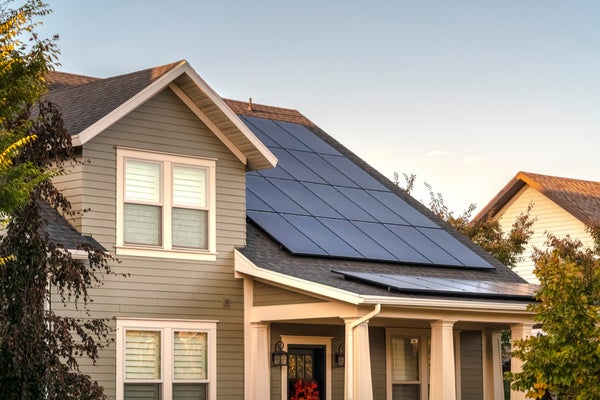 When it comes to sustainable home renovations, you can't get much greener than solar power. It's one of the cleanest sources of renewable energy, and it's becoming more and more popular. In fact, the solar market has risen 42 percent each year in the last decade, according to the Solar Energies Industries Association.
If you're not quite ready to invest in or your property isn't suitable for solar panels, no problem. There are other green home renovation options that don't require as big of a financial commitment, like purchasing energy from community solar farms via a power adapter.
You might be thinking, "What if there are no solar home renovations near me for my particular house?" Fear not; you can find other small ways to use solar. For people who like to explore the outdoors, there are solar-powered bikes, plugs, and handheld devices. You can also use solar energy to power the lights in your yard and on your deck.
5. Install ceiling fans.
You may think you don't need fans if you have an air conditioner, but they do a great job circulating the cooling breeze throughout your home. Just make sure the fan is moving counterclockwise, so the cool air is pushed down.
This ceiling fan method works well in cold weather, too—simply flip the switch on your fan to make it turn clockwise and set it on low. This pulls the cold air up and pushes the hot air back down.
6. Invest in a green roof.
Investing in a green roof is a great eco-friendly home renovation solution. There are two types of "green" roofs: cool roofs and vegetation roofs.
Cool Roofs
The first type uses energy-efficient materials to help with temperature control. If you live in a warm climate, you may want to invest in a cooling roof. These are designed with materials to help reflect the sun's rays, which helps keep the interior cool. Some models can even help to cool the air around your home, which benefits your neighbors, too.
Cooling roofs can also help decrease power emissions, prevent power outages, and reduce the contribution to smog. According to Energy.gov, they can even help offset global warming. This home renovation idea can help you save money now and save the earth for future generations.
If you live in a cold climate, metal may be a great material for your cool roof. It's very durable, is often made with a portion of recyclable materials, and can be recycled again when no longer in use. It also absorbs heat from the sun, which will help heat the home in the winter. The slick metal also allows snow and ice to fall off easily. Asphalt, slate, and composite shingles can be sustainable options, too—make sure to research which material is the best option for your region, home, and budget.
Vegetation Roofs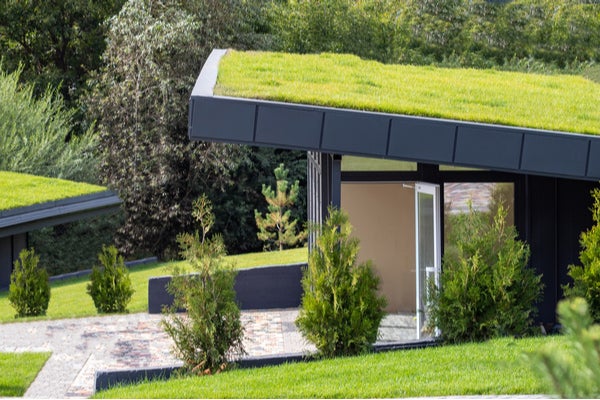 Do you want to literally go green with your roof? You can opt for a green roof, or vegetation roof, if you have a flat-topped building. A roofer will waterproof the top of your home, then layer vegetation on top. Besides being the neatest roof in the neighborhood, vegetation gardens can:
Improve air quality

Act as insulation to retain heat in cooler months and dispel it in warmer months

Last a long time

Allow you to have a garden in an urban setting

Help to control stormwater runoff
Vegetation roofs can vary, depending on how often you want to tend to them. If you choose the right kinds of plants, they can thrive with just rainwater, and you won't have to do a thing. If you have a green thumb and enjoy gardening, the sky (and the weight capacity of your roof) is the limit.
Installing a vegetation roof is a wonderful way to welcome more Mother Earth into your area. Talk about a green home renovation.
Pro Tip: If you live in a neighborhood with a homeowners association, run the green roof idea by the association before installing a garden on your roof.
Final Thoughts
Sustainable home renovation is a great way to upgrade your house while protecting the environment and your budget—and it's often easier and more affordable than you'd think! With these tips, your home will be more energy-efficient and your conscience will be happy.