Ahh, the great outdoors. Poet Walt Whitman once wrote that the "secret of making the best person" is to "grow in the open air and to eat and sleep with the earth." Here at American Home Shield, we are inclined to agree; there's something special and sacred about communing with nature. That's why we've put together a list of the best outdoor cities in the U.S.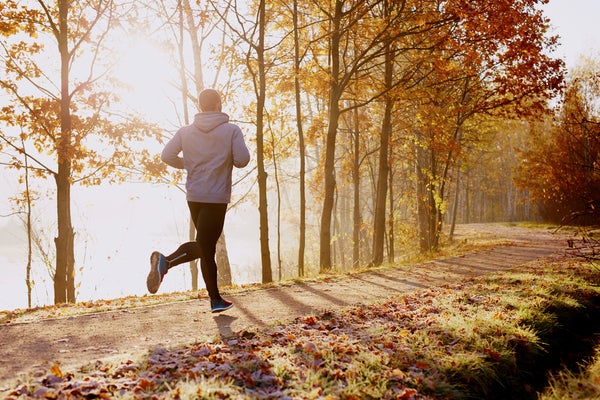 People who love the outdoors are probably aware of the many benefits of spending time out in nature. From stress and anxiety reduction to improved vision and brain function, being outdoors is simply good for your body and soul. Studies even show that being outdoors can reduce inflammation and the cortisol levels in the body and improve your memory. These restorative capabilities give a quantifiable view of what outdoor enthusiasts already know: being in nature is—literally—a breath of fresh air.
It can be helpful to know the best places to live for outdoor activities, whether you're into adventure recreation such as hiking and camping; outdoor sports including disc golf, snowboarding, and surfing; thrill-inducing activities such as skydiving or spelunking; or simply enjoy having the ability to take a walk in the woods.
Living in a city that allows you to have the outdoors right out your door means more time spent in Mother Nature doing what you love. If you're trying to find what city to move to and you love the outdoors, check out this list of the 15 best cities for outdoor activities.
1. Carmel-by-the-Sea, California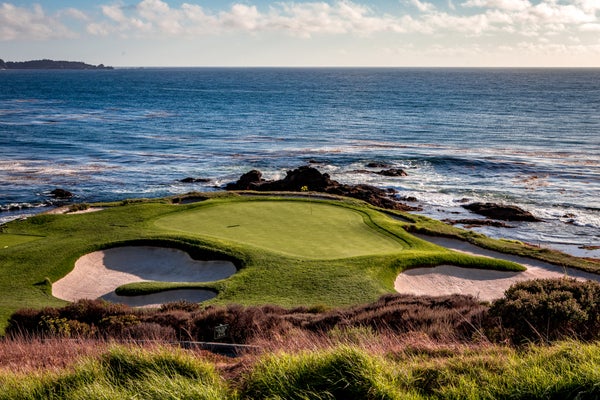 The city of Carmel-by-the-Sea (also known as Carmel) is renowned for its arts and culture community of painters, performers, writers, journalists, and crafters. It's also one of the best small towns for outdoor enthusiasts—not only in California but also in the U.S.
For outdoorsy types who enjoy hiking for a rewarding view, the majestic Waterfall Overlook of McWay Falls is only an hour's drive away from Carmel-by-the-Sea. One of only two waterfalls in California to fall directly into the ocean, the 80-foot-tall McWay Falls provides an awe-inspiring view. The area also offers extensive camping opportunities in Plaskett Creek, Kirk Creek, and Limekiln; nearby hiking trails in Point Lobos or through the Pine Ridge Trail to the Ventana Wilderness; and a multitude of state parks just minutes away.
However, Carmel isn't just for campers and hikers. If you are into golf, you can play like the pros at the famed Pebble Beach Golf Links. With sweeping views of the coast and a history of great golfers like Arnold Palmer and Tiger Woods competing here, it's no wonder that Pebble Beach is rated one of the best golf courses in the country.
Carmel is also just a short drive away from the rugged, winding coastline and pristine views of Big Sur, considered by many to be one of the natural wonders of the world. Land and sea sublimely meet on the cliffs of Big Sur, making it a sure hit for anyone who loves the outdoors.
2. Fort Collins, Colorado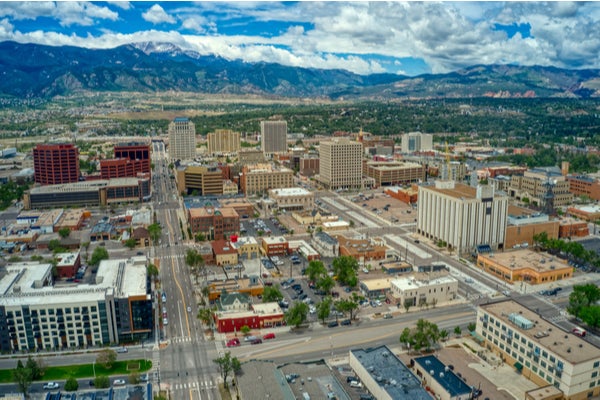 Just an hour away from Denver, the college town of Fort Collins is one of the most outdoorsy cities on our list. You can park your RV or tent camp at Stove Prairie Campground, canoe down the Cache la Poudre River, catch some rays while tubing or swimming in the Horsetooth Reservoir, or enjoy nearly 300 miles of hiking and biking trails. Fort Collins is an outdoor-lover's paradise with 966 acres of developed parks and 45 miles of paved trails.
Natural hiking and trail running areas include the Bobcat Ridge Natural Area, Coyote Ridge Natural Area, Gateway Natural Area, and Reservoir Ridge Natural Area. The city even provides up-to-date webcam views of these areas so that you can see trail conditions before starting on your trek. Talk about easy adventure prep.
For those interested in witnessing the animal life of the great outdoors, be sure to have your binoculars ready: elk, moose, bison, and mountain lions call this area home. Top places to observe the wildlife of Fort Collins—from a safe distance, of course—include Soapstone Prairie, Pineridge, and Cottonwood Hollow.
3. Everglades City, Florida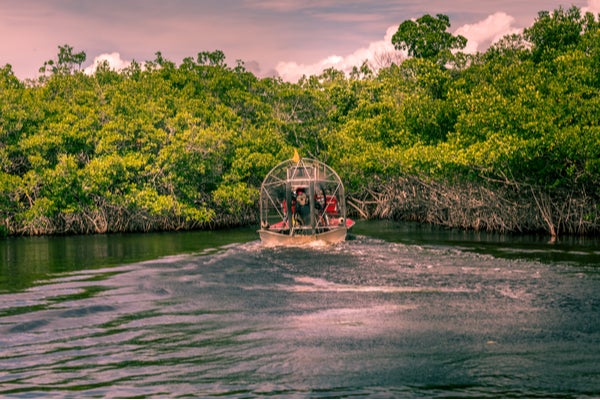 Home to Everglades National Park, Everglades City's tropical savanna climate creates a unique ecosystem unlike anywhere else in the world. Many people compare the Florida Everglades to the Galapagos Islands, made famous by Charles Darwin's study of animal evolution. The area boasts exceptional wildlife in diverse habitats like the murky, brackish mangrove swamps and slow-moving sawgrass marsh. Everglades City's nickname of the Gateway to the 10,000 Islands is fitting; Everglades National Park and Big Cypress Swamp include 10,000 islands zoned for conservation efforts.
So, why is this one of the best places to live for outdoorsy types? Activities for outdoor enthusiasts in Everglades City include boating, hiking, birding, fishing, crabbing, and animal-watching—to name a few. The Everglades is home to various wading birds, including the highly recognizable roseate spoonbill, the wood stork, and the white ibis. It's also home to manatees, alligators, and even the American crocodile.
People will often try to view the extensive wildlife of Everglades City from the vantage point of a kayak or airboat; or for the braver of heart, you can always take a swamp-walking tour—just be sure to load up on mosquito repellant and to do the sting ray shuffle to try and avoid a Bluntnose sting.
When you're ready to make the move to Florida, make sure to secure a home warranty to protect your investment. With air conditioner coverage and add-on pool coverage, the necessities in your home can be protected.
4. Portland, Oregon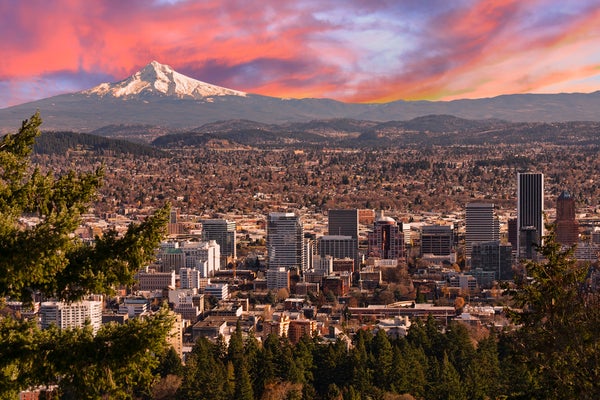 Portland is more than a hipster's paradise; it's also one of the best places to live the outdoor lifestyle. Located only a short drive from both the Pacific Coast and the Cascade Mountains, Portland stretches along two rivers—meaning you can hike, kayak, and visit The Gorge all on the same day. Bicyclists and hikers can explore the lush flora and fauna of the 5200-acre Forest Park, home to more than 80 miles of trails and a native wildlife refuge.
Snow sports enthusiasts can ski, snowboard, and sled down Mt. Hood, while thrill-seekers can go whitewater rafting down the White Salmon River or Husum Falls. For those who prefer urban outdoor attractions over the call of the wild, the City of Roses has 275 public parks and gardens to explore.
If you're planning on moving here, first get a home warranty in Oregon to protect household items like your air conditioner and heater, kitchen appliances, and more. Then, consider ditching your car and opting for two-wheel transportation. Portland is one of the most bike-friendly cities in the country, with 6.3 percent of workers commuting on 385 miles of bikeways.
5. Concord, Massachusetts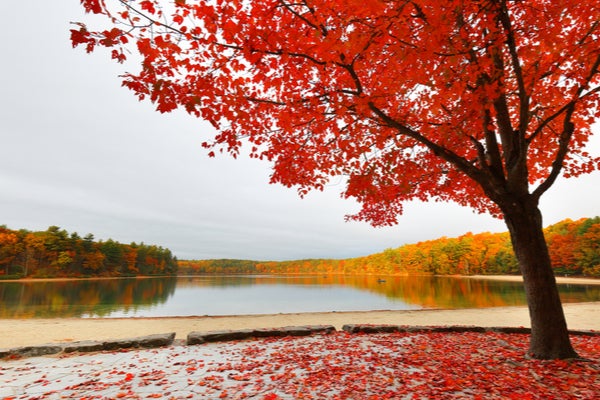 Any true outdoors-lover is familiar with Walden, Henry David Thoreau's transcendentalist treatise of wildlife, individualism, and living simply. In honor of Thoreau's writing, Concord, which is home to Walden Pond, is considered by many to be one of the best outdoor cities in the U.S. This historic city is a beautiful place to live for those who wish to commune with nature.
Walden Pond itself offers lots of recreational activities—from hiking, swimming, and boating to self-guided walking tours. You could also grab your canoe or kayak and venture out into one of Concord's three rivers for a dose of adventure.
The nearby Great Meadows National Wildlife Refuge is another place where you can take a break from the hustle and bustle of everyday life and witness the majesty of uninterrupted nature. See if you can spy all 220 recorded bird species in the refuge.
6. Boise, Idaho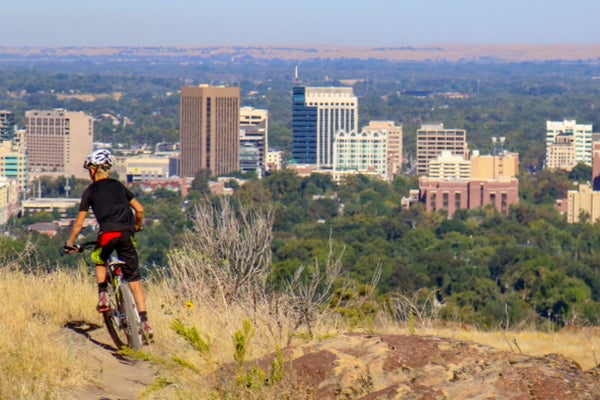 When a town's nickname is "The City of Trees," it shouldn't be a surprise that it's one of the best places to live for outdoorsy folks. You'll have your pick of hiking and mountain biking opportunities. The Ridge to Rivers trail system connects downtown Boise to nearly 200 miles of trails, some of which land you in Boise National Forest. Find the perfect path for your skill level, then afterward, cheers your accomplishment at one of Boise's 15 breweries.
Beyond hiking and biking, Boise offers a wide array of camping, fishing, paddling, and winter sports opportunities. From kayaking down the scenic Boise River and rock climbing in Treasure Valley Black Cliffs in the summer to skiing and snowboarding in the Bogus Basin ski area in the winter, Boise has something to offer anyone who loves the outdoors—no matter the weather.
7. North Conway, New Hampshire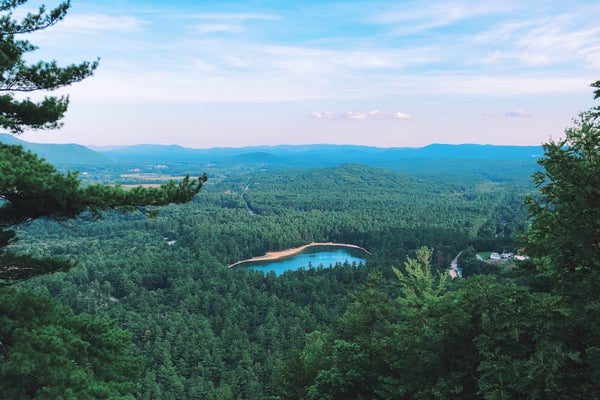 A charming mountain town that gives meaning to the word "picturesque," North Conway is one of the best adventure places in the U.S. The Mount Washington Valley area is surrounded by more than 1200 miles of protected hiking trails. On any given day, you can hike to the majestic Diana's Bath Waterfalls and take a dip in its wading pool; swim and hike in Echo Lake State Park; or explore the dramatic views of the Kancamagus Scenic Highway.
North Conway's White Mountains serve as a gorgeous end to northbound Appalachian Trail hikers or an inspiring beginning to those heading south.
This quaint small town also offers more than 20 miles of mountain biking, horseback riding, and skiing trails at the Attitash Mountain Resort. For something more unusual, you can take a quick drive over to Jefferson for year-round dog sledding adventures.
When you decide it's time to move to the Granite State, make sure to research home warranties in New Hampshire to protect your new home investment. American Home Shield offers coverage for your heater and air conditioner, electrical and plumbing systems, and more—all the essentials in your home that you need to keep in working order.
8. Sedona, Arizona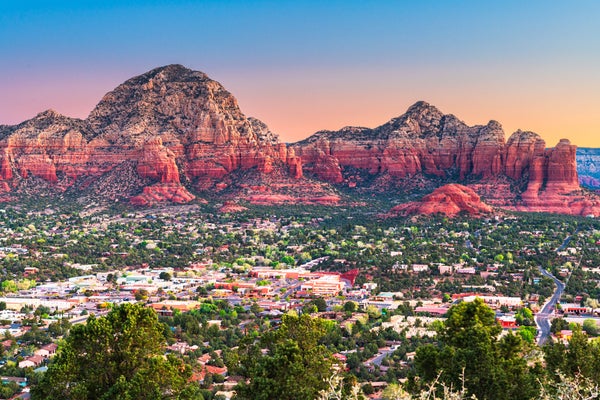 Flanked by 1.8 million acres of national forest land, Sedona deserves its place as one of the best small cities for outdoor enthusiasts. The city's mix of rock formations, spectacular mountain views, and regular sunshine make it a great place to explore mountain biking, hiking, or even hot air ballooning.
The city is home to some of the more unique natural wonders in the nation. With its majestic rock buttes, monoliths, and spires, Sedona has a nearly extraterrestrial beauty—many of its visitors and residents compare the landscape to images of Mars. Each rock formation has its own name, so you can spend your weekends sightseeing in an open-air Jeep or hiking through the dusty crimson trails to see how many formations you can knock off your Sedona Bingo card.
Whether you're checking out Antelope Canyon and Horseshoe Bend on foot, taking a horseback ride through nearby Verde Valley, or charging down hilly red terrain on an ATV, Sedona is sure to show you a good time.
9. Highlands, North Carolina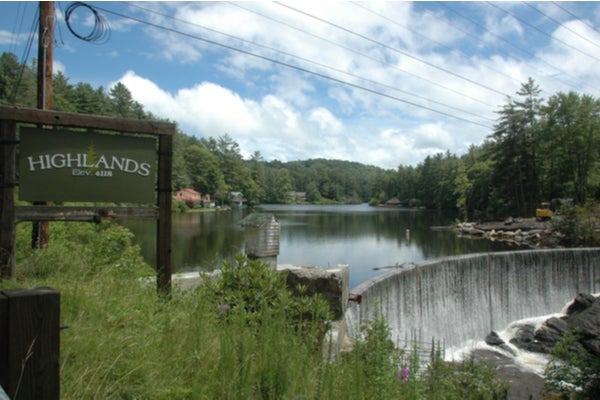 Animal encounters, cool mountain breezes, and waterfall views: the small mountain town of Highlands—just a short drive from Asheville—oozes with charm and is one of the best places to live for hiking opportunities. Hit the trails on iconic Whiteside Mountain, Sunset Rock, or near Bridal Veil Falls and Cullasaja Falls. These Highlands natural wonders offer glorious cliffside and waterfall views.
Highlands is also home to the largest of North Carolina's four national forests. The Nantahala National Forest is an idyllic escape that includes several areas of old-growth forest and multiple waterfalls ripe for viewing.
One of the highest and wettest towns east of the Mississippi River, Highlands's mix of extensive rainfall and copious sunshine means lush greenery as far as the eye can see. The nearby Sapphire Valley offers some of the highest mountain peaks in the county.
Beyond hiking, you can canoe or paddle-boat in one of the town's many lakes; embark on a zipline tour at Highlands Aerial Park; take a turn down Sliding Rock in the Chattooga River; or see if you can make the swim through churning water to the sitting rock underneath the nearby Silver Run Falls. Whatever your outdoor fancy, chances are that Highlands has it.
10. San Diego, California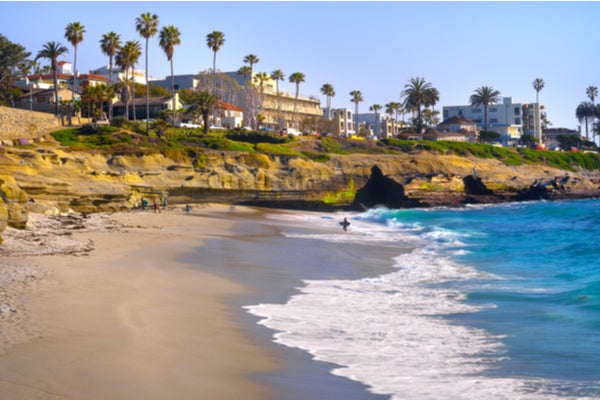 When you think of San Diego, surfing, saltwater, and sunshine probably come to mind. With 70 miles of stunning beaches, year-round sunshine, and enviable waves, San Diego truly lives up to its nickname, "America's Finest City." California is considered by many to be one of the best states for nature lovers; for outdoor enthusiasts who enjoy the sun, sand, and surf, San Diego is one of the best places to live for outdoor activities.
With a whopping 31 bay and ocean beaches to choose from, San Diego provides ample water sports opportunities. Scuba diving, boating, snorkeling, whale-watching, and surfing are available no matter the season. For the adventure-minded, take a jump into nature by paragliding or hang-gliding at Torrey Pines Gliderport in La Jolla, which offers panoramic views of the Pacific. While you're in the neighborhood, kayak through the La Jolla Sea Caves and see if you can spot sea lions and seals.
If vegetation is more your domain, the historical, cultural Balboa Park provides 1200 acres of trails, gardens, and open space for walking, viewing, and recreation—smack dab in the middle of the city. Check out the rose and cactus gardens, and round out your day with archery or disc golf.
Once you've completed the home buying process in San Diego, don't forget to purchase a home warranty in California, which will give you peace of mind and budget protection if your covered items like heater and air conditioner, pool components, or laundry appliances break down.
11. Sarasota, Florida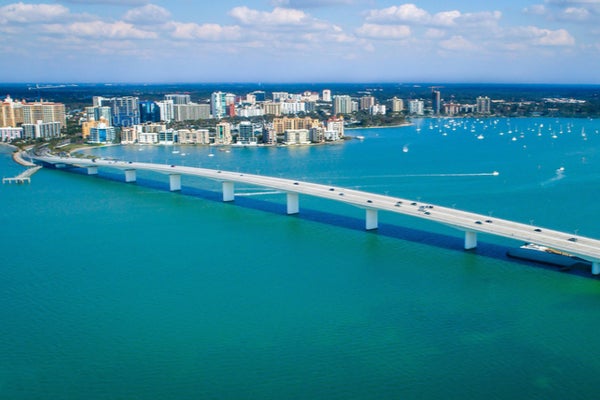 Sarasota is another fantastic beach city on the opposite coast for people who love the outdoors. Just south of Tampa Bay, Sarasota is home to multiple keys, including Lido Key, St. Armands Key, Bird Key, Longboat Key, and Siesta Key. Siesta Beach on Siesta Key is often named one of the top beaches in the world due to its miles of pristine white sand.
Sarasota is situated on the Gulf of Mexico, whose waters are temperate and calm—so you can jet ski without worrying about the waves taking you down. If you're into fishing, Sarasota is famous for its inshore, offshore, fishing spin, and fly-fishing charters.
You can also rent a canoe and float through Myakka River State Park's 37,000 acres. The park provides diverse views and experiences (be sure to watch out for gators!). If you don't want to get sea legs, take a stroll through the Marie Selby Botanical Gardens for a glimpse at native Floridian plant species.
Don't miss an opportunity to pick up and move to Sarasota, one of the best outdoor cities in the U.S.
12. Wellesley, Massachusetts
A small town in Greater Boston, Wellesley offers plenty of recreation activities for those who love nature, making it one of the best small towns for outdoor enthusiasts. You can hike along Lake Waban or around the Long Fellow Pond Trail, learn about plants and wildlife while bicycling at the 36-acre Elm Bank at Massachusetts Horticultural Society, play at Warren Park's outdoor climbing gym, or sail down the Charles River.
Make sure to visit the Wellesley College Botanic Gardens, which showcases flora from around the world. You can even take a city-sponsored wilderness survival course to test your outdoor survival skills.
Whatever you choose as your outdoor hobby, Wellesley most likely offers it. If you're considering a move here, get a home warranty in Massachusetts to safeguard your home purchase. With coverage for your heater, as well as other home systems and appliances, you can have peace of mind that your budget will be protected.
13. Bemidji, Minnesota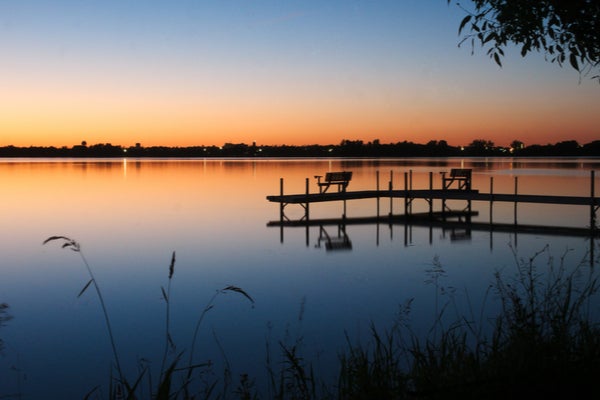 The alleged birthplace of Paul Bunyan, Bemidji is inherently linked to the outdoor lifestyle. In the summer, you and your family can attend one of Bemidji's famed summer camps, waterski on glassy Bemidji Lake, or enjoy the sun and cool breezes at the annual Art in the Park outdoor festival.
If you're a snow bunny, Bemidji is for you. Located in northern Minnesota, this town gets its fair share of snow. Bemidji boasts 500 miles of snowmobile trails and 99 miles of cross-country ski trails. It's truly one of the best places to live if you love winter.
14. Kapa'a, Hawaii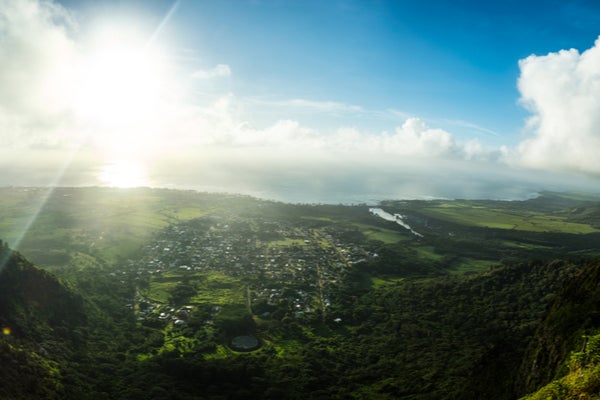 If you're moving to Hawaii, consider living in the city of Kapa'a on the island of Kauai. Kauai is considered one of the most beautiful places in the world—and with good reason. It's the most ancient of the main islands at around five million years old, and it boasts canyons with majestic waterfalls, a year-round tropical climate, and extensive river systems.
The city of Kapa'a on Kauai's East Side is one of the best places to live for outdoor activities. It's so gorgeous that we'd wager you'll never go indoors again. Take a coastal bike ride with majestic ocean views down the Ke Ala Hele Makalae bicycle path, hike the famous Sleeping Giant Trail of Kuilau Ridge, and swim or surf at any of Kapa'a's fabulous beaches.
You can also take a short drive to Fern Grotto and kayak up the Wailua River, tour Kauai's Hindu Monastery or Kadavul Hindu Temple, or try some outdoor drinking at the Nani Moon Meadery. If you love the outdoors, Kapa'a is the place for you.
15. Cody, Wyoming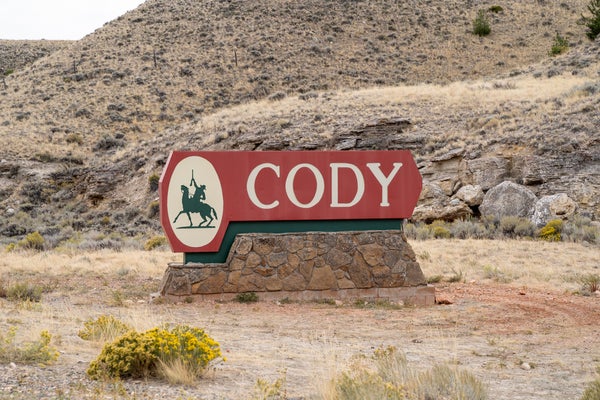 Named after "Buffalo Bill" Cody, this Wyoming city is one of the most outdoorsy cities in the United States for its prime location near the glorious and rugged Yellowstone National Park. From off-roading excursions to biking and camping, Cody will make you feel the power of the natural world. You can fish at Buffalo Bill Reservoir or in Yellowstone's more than 2,000 miles of rivers, including Madison Lamar, Gibbon, Firehole, and, of course, Yellowstone River. Hiking or mountain biking through the Greater Yellowstone Ecosystem will make you feel one with Mother Nature.
The first national park and first national forest in the United States are both located in Cody Country. Beyond the vast wonders of Yellowstone National Park, Shoshone National Forest in the northern Rocky Mountains boasts 2.4 million acres of protected land. The area is home to fauna, including the American cougar, Grizzly bear, moose, elk, and bighorn sheep, and rich, biodiverse flora including spruce and fir forest and sagebrush plains. To see it all, try backpacking through parts of the forest. Backpacking, or "dispersed camping," is free in remote areas of the forest.
If you're feeling adventurous, you can embark on a private safari in Yellowstone to watch wild mustangs, bison, and bears in their natural habitats or go whitewater rafting down Red Canyon River.
When you're an outdoorsy type, you want your home to be a well-maintained, comfortable place to return to. Make sure Wyoming household essentials—like heating and air conditioning—are protected from wear and tear with a home warranty in Wyoming.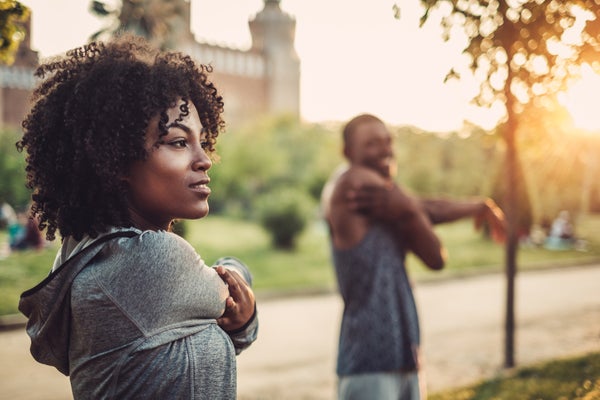 Choosing a place to live isn't just about your home itself, it's also about the things that bring you joy. If nature is your happy place, this list of the most outdoorsy cities in the country can help you decide where to settle down. No matter which of these cities you choose to reside in, rest assured that you'll find ample opportunities for just about any outdoor activity.
Check out tips for first-time home buyers like advice on what to look for when viewing a home and how to navigate real estate markets.