There is something exciting about having the power to control your home's systems and appliances from afar. WiFi-enabled fixtures—from smart blenders to smart ceiling fans—are the new cutting-edge home trend. The options are almost endless.
Of this multitude of smart devices, one of the most worthwhile is the smart thermostat, also known as a WiFi thermostat. Smart thermostats regulate your home's temperature based on feedback from occupancy, temperature, and proximity sensors—making them a great energy-efficient home improvement. They allow you to manage your home's heating and cooling systems remotely using smart displays and smart speakers such as Amazon Alexa, Google Assistant, and Apple's Siri-enabled HomePod.
Since smart thermostats can be pricier than traditional ones, it's helpful to know the various benefits of a smart thermostat so you can be confident that you're getting the best price.
Benefit 1: Smart Thermostats Help Save Money
One of the top benefits of a smart thermostat is that it can save you time and money.
With a smart thermostat, you can schedule your HVAC to run less while you're out for the day with a simple swipe of a finger. You can also program your smart A/C thermostat to start cooling your home just before your family is scheduled to arrive. These features will allow you to use less energy by cooling your home only while you're in it.
You may be wondering how much you can expect to save by installing a smart WiFi thermostat. Although different manufacturers boast different levels of savings, a report by Google Nest claims you'll save 15 percent on cooling costs and 10 to 12 percent on heating costs with its smart thermostat. The ecobee smart thermostat manufacturers claim customers can save 26 percent on combined heating and cooling costs.
Benefit 2: Smart Thermostats Let You Track Your Energy Usage
A smart WiFi thermostat allows you to track your energy usage using real-time data. With a smart thermostat for the home, you can create a home energy profile that tells you how your energy usage has changed over time, how that may affect your energy costs in the future, and how you can adjust your heating and cooling preferences to decrease energy costs even more.
Benefit 3: You Can Control Your Smart Thermostat Remotely
Installing a smart thermostat means that you can control the thermostat and alter your home's temperature from afar—whether you're on the couch, on the train home from work, or even on vacation.
If you're coming home early and want your home set to the perfect temperature before you arrive, all you need to do is simply log into your thermostat app and adjust your cooling and heating schedule for the day. If you're going on vacation, you can change your cooling schedule to keep the house warmer while you're gone. Use these recommended thermostat settings to save money.
Do you own a second home that you rent out to tenants or use as a vacation property? You'll be glad to learn that you can have your thermostat send alerts to let you know if the interior temperature in your home has fallen below or risen above your set limits. This allows you to monitor whether your HVAC is working properly, even from a distance. Learn more about getting a home warranty for your rental property and the best places to buy a vacation home.
Benefit 4: Smart Thermostats Make It Easy to Schedule HVAC Usage
Some homeowners resist installing a smart thermostat because they assume it will be difficult to program. Smart thermostats for homes make it easy to schedule heating and cooling usage—it's as intuitive as using a smartphone.
Most smart thermostats have movement detectors so that they can sense when members of the household are home and active. Over time, the thermostat can learn when the house needs to be cooled or heated based on your family's movement patterns. It can even use this data to adjust a heating and cooling schedule to account for seasonal changes regarding how you use your home. A smart home thermostat can also monitor the weather and regulate your home's temperature accordingly.
Benefit 5: Smart Thermostats Are Easy to Install
Installing a smart thermostat is easy if you have the right thermostat wiring. Remove the current thermostat cover to look at the wiring. If you see a wire marked with a C and other wires marked with R, W, Rc, or Rh, you should be able to install a smart thermostat according to the manufacturer's instructions.
From there, cut the power to your old thermostat and remove it. Connect the wires to your new thermostat, install the new thermostat faceplate, restore the power, and follow any remaining programming instructions in your manufacturer's instructions. Learn more about how to install a smart thermostat.
What is the Best Smart Thermostat?
With hundreds of smart thermostats out there, finding which one is the best for your home can be a daunting task. According to experts, some of the best WiFi thermostats are models with wireless sensors, such as the ecobee SmartThermostat; that use AI learning to regulate your home temperature, such as the Google Nest Learning Thermostat and Amazon Smart Thermostat; and that can connect to smart speakers, such as the Honeywell Programmable Thermostat.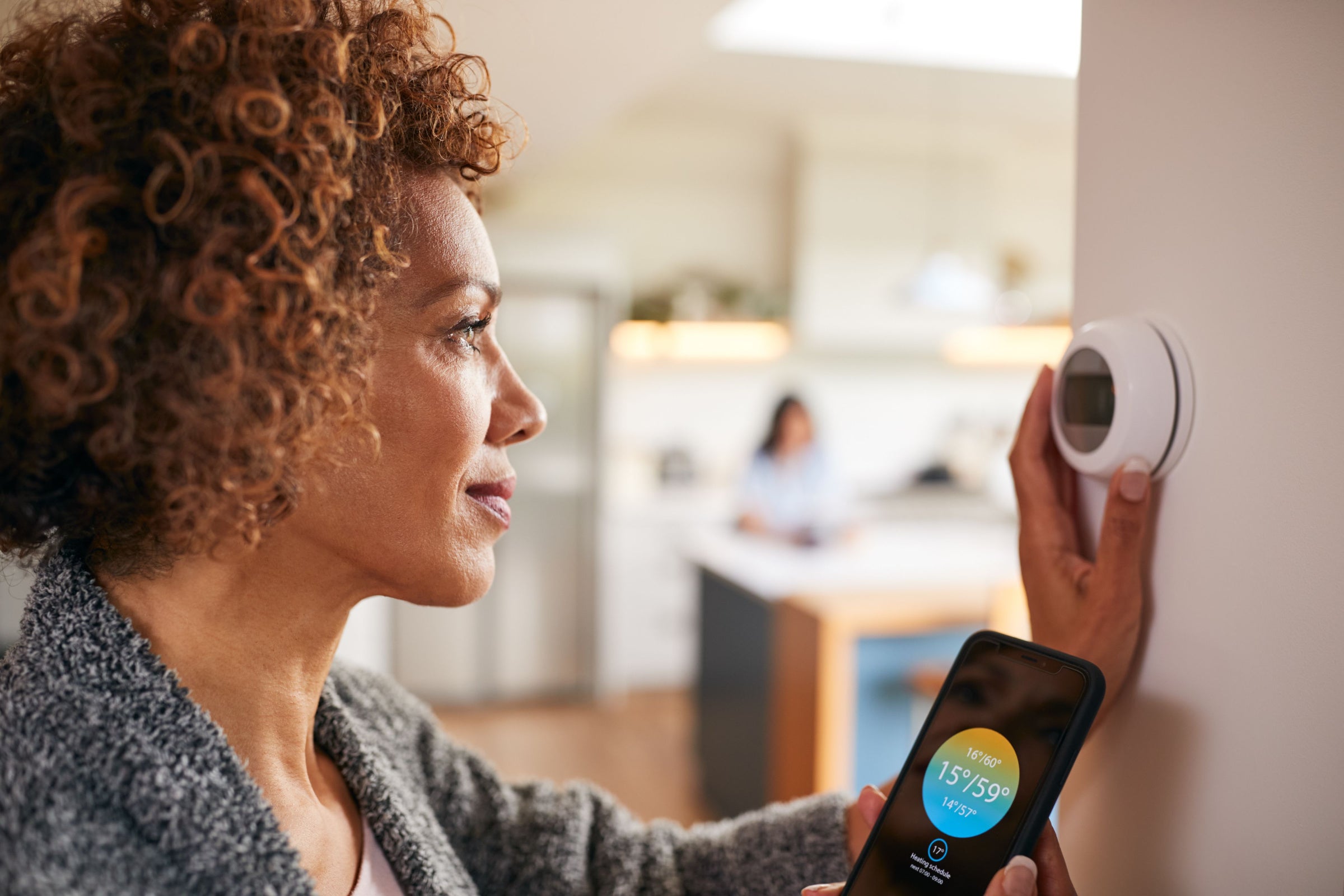 Once you have installed your smart WiFi thermostat, consider signing up for a home warranty plan that includes an air conditioner warranty. All American Home Shield® base plans include warranty coverage for the major components of your heating and cooling systems. With comprehensive coverage and flexible pricing and plans, a home warranty with American Home Shield means peace of mind that your budget is protected.
AHS assumes no responsibility, and specifically disclaims all liability, for your use of any and all information contained herein.