Ever considered dressing your cat up like a baby? Or disguising your large dog as a small cat?
Finding a rental that accepts your kind of pet is no picnic. With rental prices rising by up to 40% and a fur-baby boom of 23 million pandemic pets, Americans face a reduced pool of homes from which to choose. And many have become all too familiar with the sinking feeling of following a 'Pet Friendly' lead only to find that their cat or large dog does not fit the landlord's definition of an acceptable furry friend.
Some online real estate platforms such as Zillow make the process a bit easier by allowing users to conduct an advanced search. Here you can specify a letting that allows cats, small dogs, or larger hounds as individual categories (although landlords may have their own idea exactly how many pounds makes a large dog).
To give you a clearer idea of the pet-friendly landscape, the home warranty company American Home Shield ® analyzed Zillow listings and identified the cities and states with the most rentals that accept cats, small dogs, or large dogs.
Key Findings
North Carolina is the most dog-friendly state with 77.6% of rentals allowing small dogs and 58.6% allowing large dogs.
Cat owners should head to Georgia where 70.7% of rentals allow cats, the largest share of any state.
The most dog-friendly city - for both small and large dogs - is North Las Vegas.
Three of the top ten cat-friendly cities are found in Texas. However, Jacksonville, FL has the largest share of any city with 83.3% of all rentals allowing cats.
There are only 15 states where the share of rentals allowing cats outweighs the share allowing dogs.
North Carolina Landlords Most Tolerant of Dog Tenants
First up, these maps show landlord friendliness towards big dogs, small dogs, and cats from state to state. The bolder the shade, the more pet-friendly that state's landlords.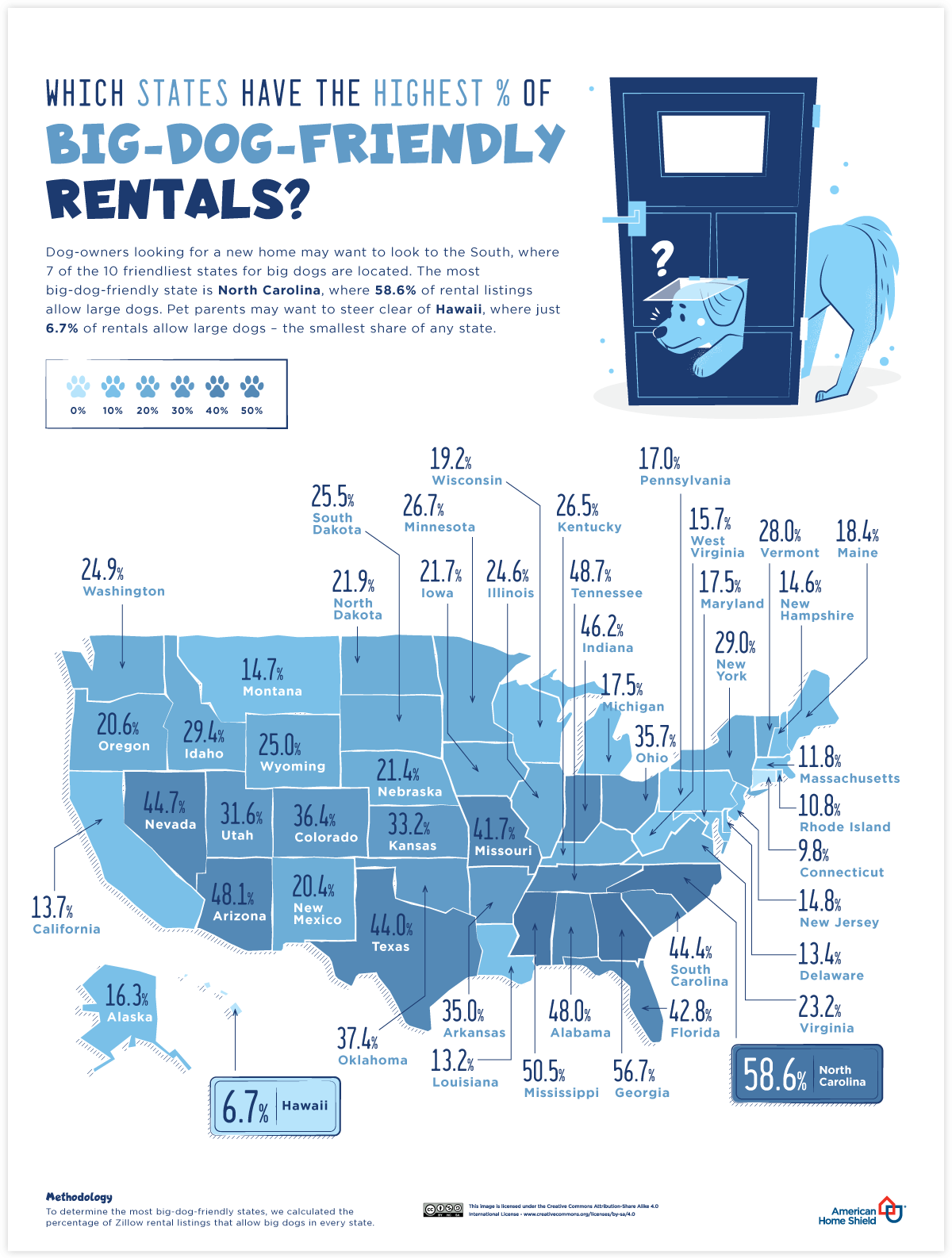 If you catch your pet dog sniffing at a North Carolina landlord, it's probably because they have a treat in their pocket. North Carolina landlords are the most dog-friendly, coming out on top for allowing both large and small category dogs to reside in their properties. By contrast, the state is ranked only #16 for cat friendliness. North Carolina is very much a dog state, with two-fifths (41.3%) of households boasting a canine, against just a quarter (26.5%) with cats, according to the World Population Review.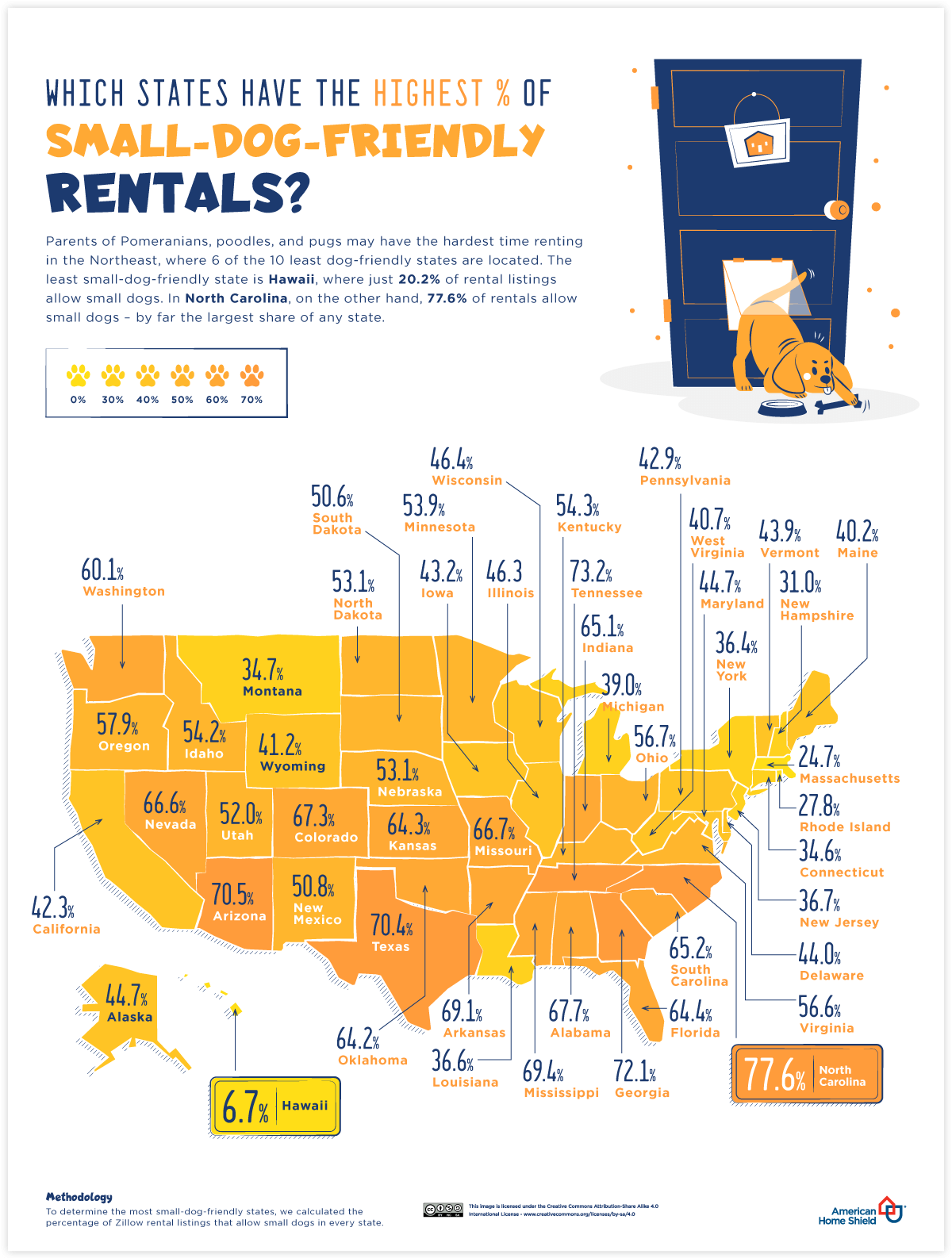 Arkansas and Missouri climb into the top ten when tolerance towards small dogs, rather than large ones, is considered. In fact, you're twice as likely to find an Arkansas landlord to accept your small dog (69.1%) than one who'll allow a whopper (35%). This is an issue for Arkansans, who consider the mid-large Labrador and German shepherd the best dogs to own.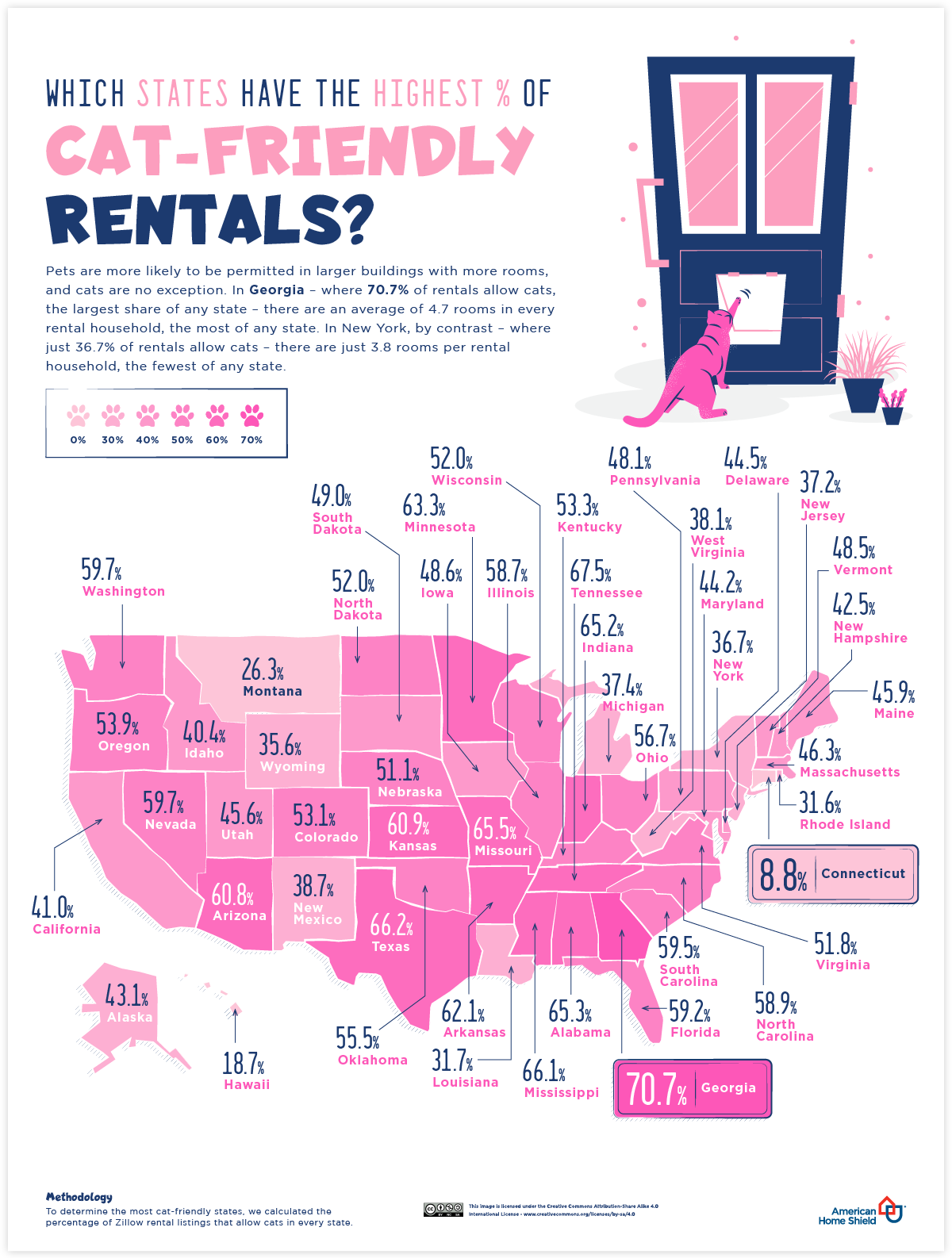 Georgia ranks #1 for cat-friendly landlords, #2 for large dogs, and #3 for small dogs. Of course, it depends on the cat – an African wildcat escaped an Atlanta home last year, making its way into a neighbor's bed, where it was most unwelcome. The cat was later confiscated from its owner due to Georgia law rather than landlord unfriendliness (monkeys, elephants, hawks, crocodiles, piranhas, and cobras are also off-limits in Georgia).
North Las Vegas is Top City for Dog Renters
Next, we identified the ten cities that are most lenient towards large dogs, little dogs, and cats, respectively. Between 73-85% of landlords in these top cities allow cats and small dogs, but the figure drops very sharply for large dogs. Large dogs in #10 city Aurora are one-third less likely to be permitted than those in #1, North Las Vegas.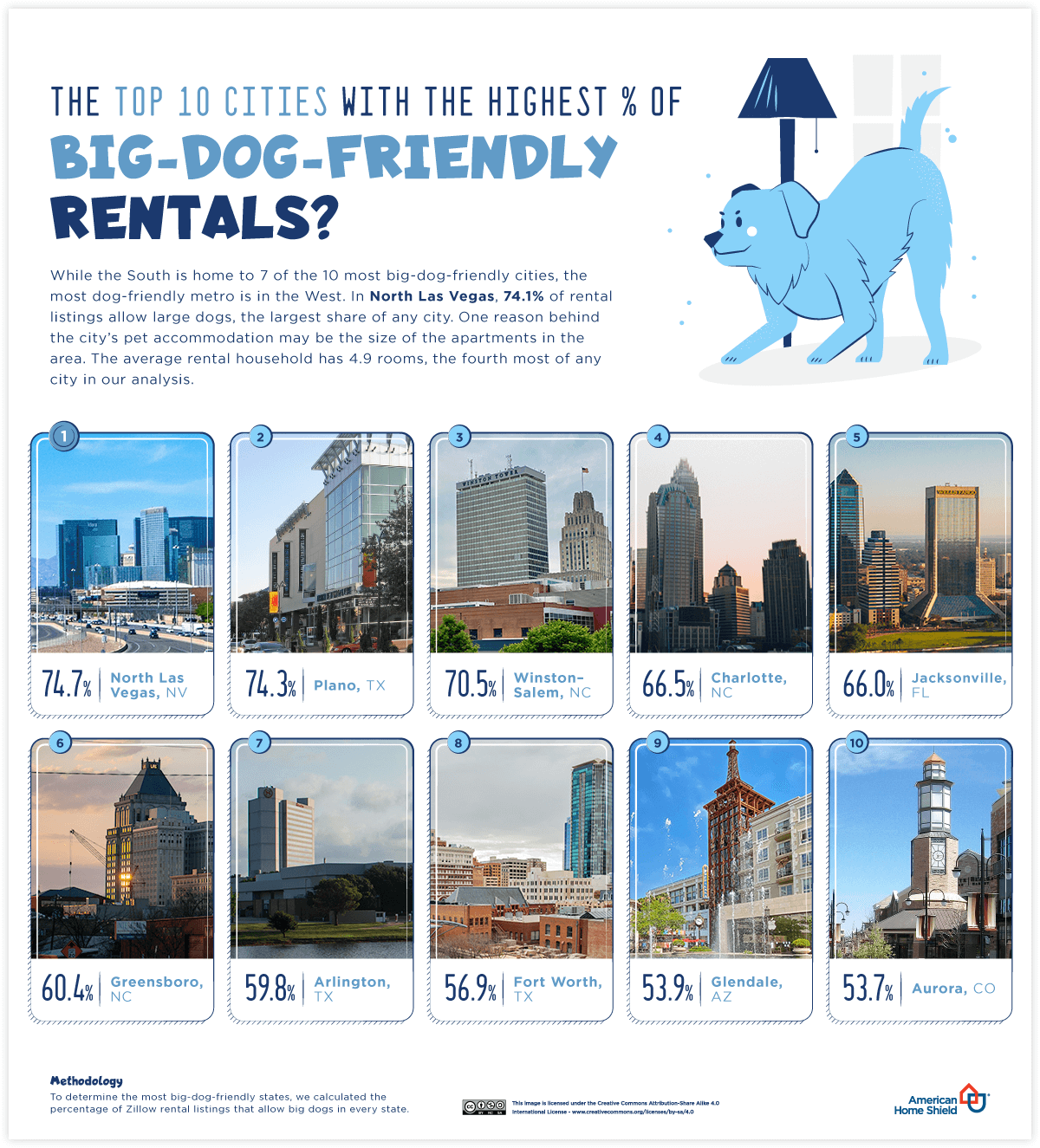 The big dog top ten is dominated by Texas and North Carolina cities. Not only is Plano, TX, the second easiest place to rent with a large dog, but it has residential complexes with fully-equipped dog parks and even a dog-friendly cinema with a canine-themed program. Clearly, Plano is the place to go if your large dog enjoys the comforts of home and an active cultural life.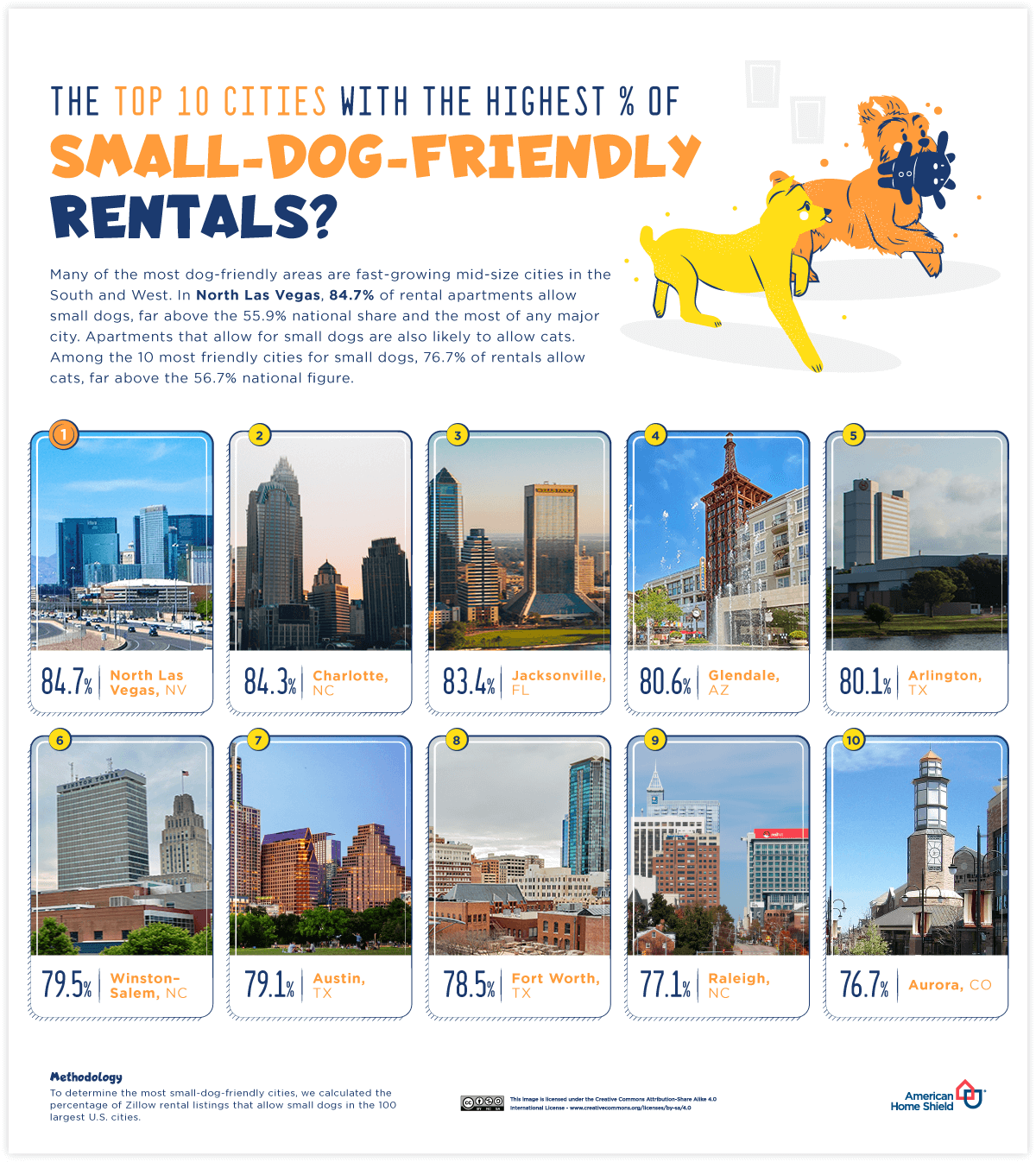 North Las Vegas, NV, is the number one city for both small and large dogs to rent. It's also #2 for cats. In the city of North Las Vegas, unlike much of the surrounding Clark County, pet owners are themselves required to own a license – raising the likelihood that their pets will be responsible tenants. Plus, there is a city limit of three dogs or cats (or ferrets) at any North Las Vegas address. For pot-bellied pigs, the legal limit is two.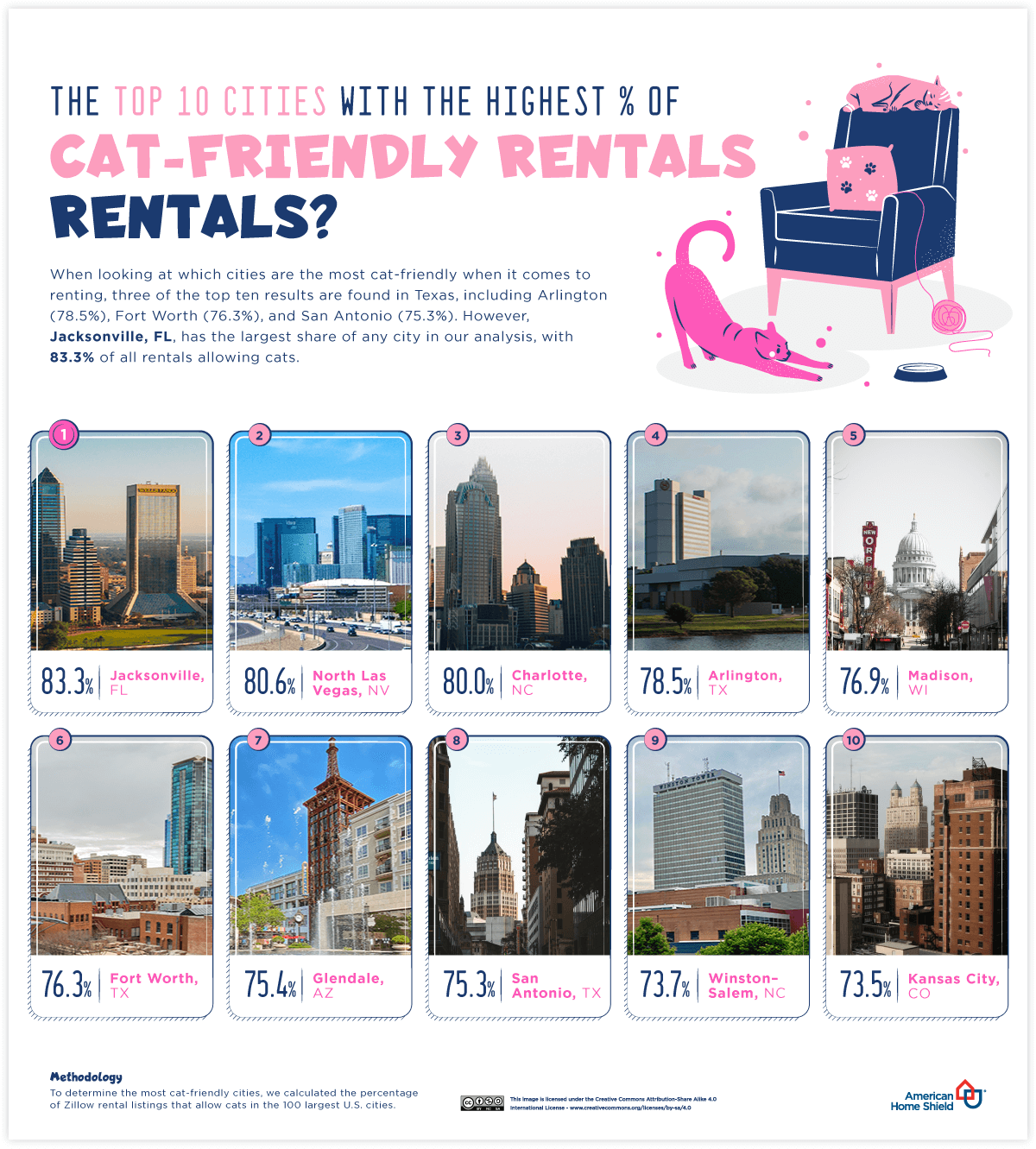 Three cities enter the top ten when we switch from small dogs to cats: Madison (WI), San Antonio (TX), and Kansas City (MO) are significantly friendlier towards cats than cat-sized dogs. However, Madison's dog people appear to be more responsible pet owners, with an estimated 30% of the city's dogs having the right legal papers, compared to just 3% of local cats. Cat ownership is a controversial political issue in Madison, where officials suggest your cat should be subject to the same control outside the house like a pet dog – including cleaning up their poop and not allowing them beyond your home's perimeter out of your control.
Cat Landlords Vs Dog Landlords in U.S. Cities and States
Let's face it, your decision to home a cat or dog is down to the gut preferences of two people: you and your landlord. For your ease of reference, we have mapped the states and ranked the top cities where landlords are most tolerant of one critter or the other.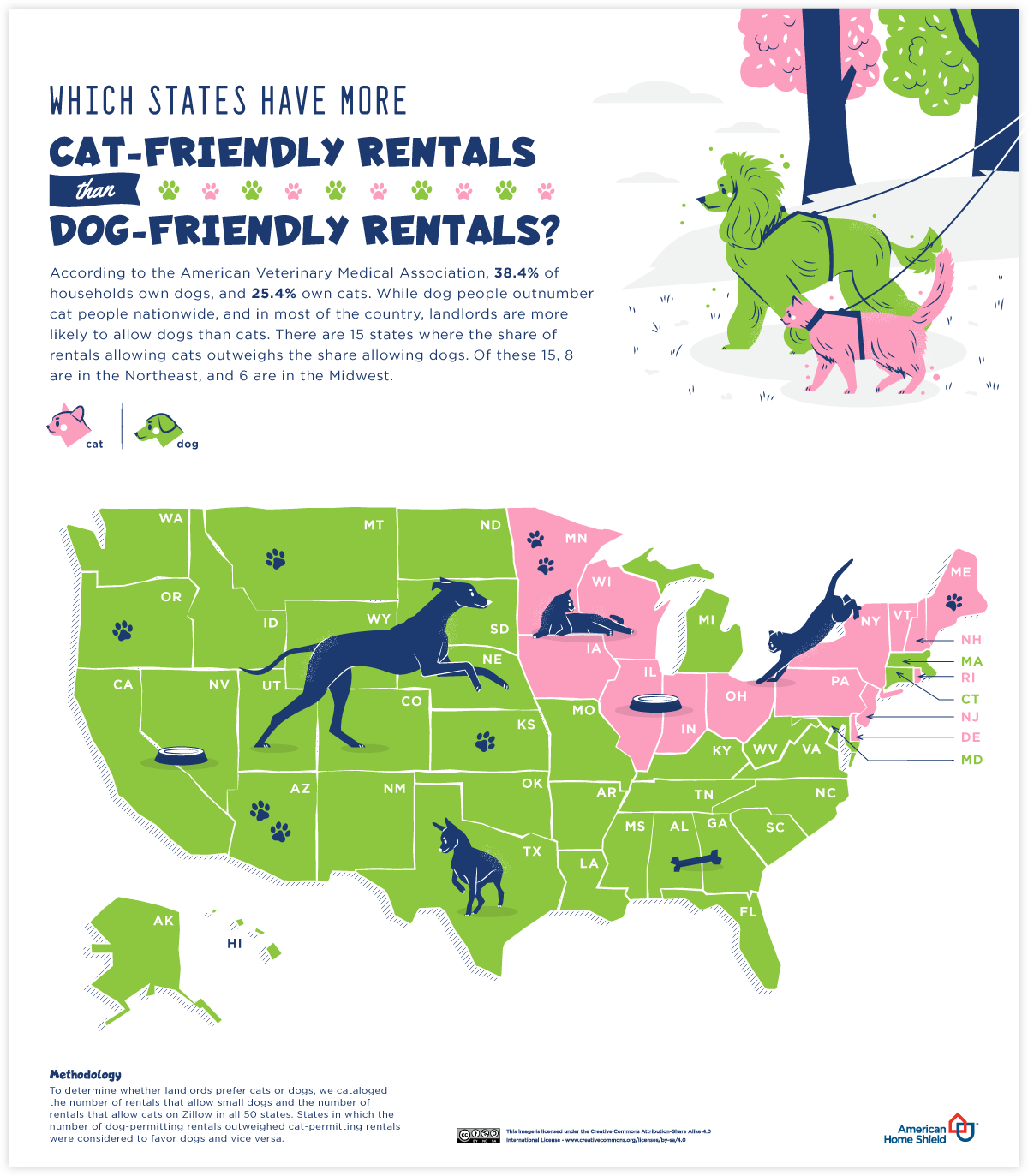 Landlords in states towards the north-east are most tolerant towards cats, while the rest of the US is friendlier to dogs. This region has long been associated with higher rates of cat ownership. Potential reasons include denser urban living, less domestic space for dogs, and a lifestyle/landscape that is less conducive to dog-walking. Thankfully for cat-owning renters in the region, landlords have their back.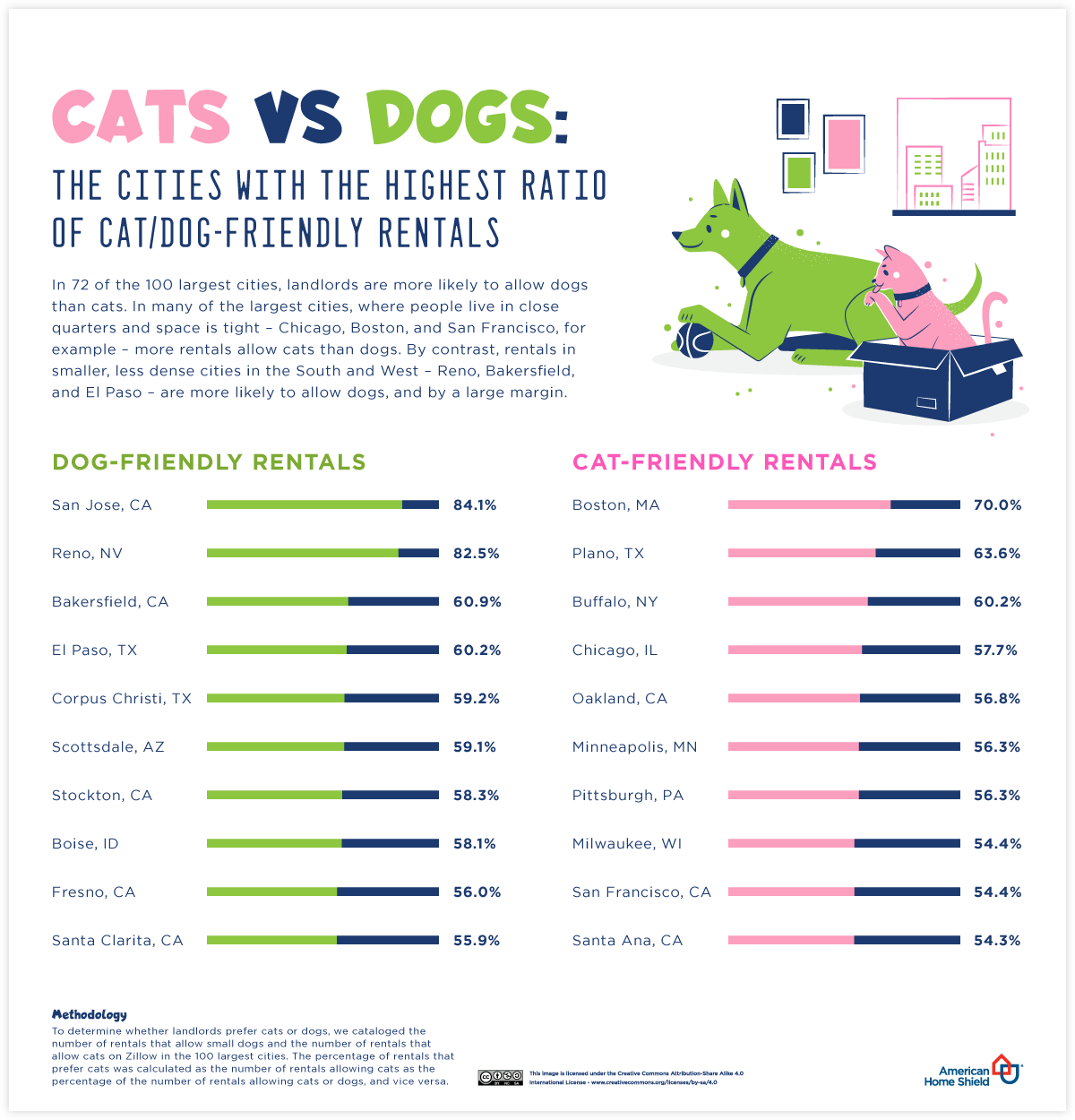 The ratio of dog-friendly:cat-friendly landlords is largest in San Jose, at around 84:16. In other words, your dog is more than five times as likely to be accepted in a San Jose home. San Jose is well-served with parks, woods, and open wilderness to exercise your dog – reducing the chance that they'll scratch the furniture or cause other damage from boredom or an excess of energy at home.
Pet Policies
Whether you're a landlord or a potential tenant, choosing whether dogs or cats are suitable for your home requires thought and sensitivity.
A bored or poorly-trained dog may chew things up, bark loudly, or leave yellow patches on the lawn. On the other hand, the right dog for the space will make it feel like home and improve the family-friendly profile of the area.
A cat's litter box can leave a lasting smell in a property. With twice as many people suffering from cat allergies, the cat's lingering memory may spook later potential renters. Bored cats can be just as destructive as dogs when they put their mind to it – but on the whole, they make a more laidback roomie or tenant.
As a landlord, then, you'll need to tailor your pet policy to suit the size and scope of your apartment without excluding too many local pet owners. As a tenant, consider your lifestyle and present space before welcoming a pet into your life. Are you likely to move frequently in the next decade? If so, hold off on buying that quadruped – a furry pet may lead to heartache every time you come to relocate.
METHODOLOGY & SOURCES
To determine the cities and states with the most pet-friendly homes, we calculated the percentage of Zillow rental listings that allow big dogs, small dogs, and cats in the 100 largest U.S. cities and all 50 states.
The percentage of rentals that allow each type of pet was calculated as a share of all rentals listed on Zillow. Data on the ratio of cat-friendly rentals to dog-friendly rentals was calculated using the number of rentals that allow cats and the number of rentals that allow small dogs as numerators, and the total number of rentals that allow either cats or small dogs as the denominator.
The data was collected in February 2022.