Some of America's most expensive neighborhoods have the best scenic views in the country. New York's Upper East Side overlooks Central Park. Beverly Hills has stunning views of Los Angeles. Miami boasts golden beaches and Malibu lies just a stone's throw away from the Pacific Ocean.
But are these iconic locations more desirable to homeowners because of their scenic views? And can a stunning backdrop make a house more valuable?
The global pandemic has caused millions of Americans to reconsider where they live. Working habits have changed, and an increasing number of people are seeking out a change of scenery. As a consequence, house prices hit record highs in early 2022.
With this in mind, home warranty company, American Home Shield® wanted to find out how a property's view can affect its value. We've analyzed house prices in all 50 states to discover whether particular scenic views add a premium to the cost of a home, highlighting the locations where you will pay the highest premium for your outlook.
Key Findings
A waterfront view increases the value of a property by an average of 78.1%, with a 225.2% surge for lakeside views in landlocked Wyoming.
Homes with a city view divide Americans, adding to the value in 21 states but decreasing in 22. The largest increase was in Arizona (102.5%).
Homes overlooking nature have an average premium of 44.2%, with views of Wyoming's stunning scenery costing buyers an average of 140% more.
Looking for a Home with a City View? Choose Wisely
With house prices surging at record rates, can Americans still afford to live in cities? Across the country, our data reports an average cost of $504,711 for homes with an urban vista. However, five states have a premium of more than $1m. California is the most expensive of these, with a mean of $1,624,585.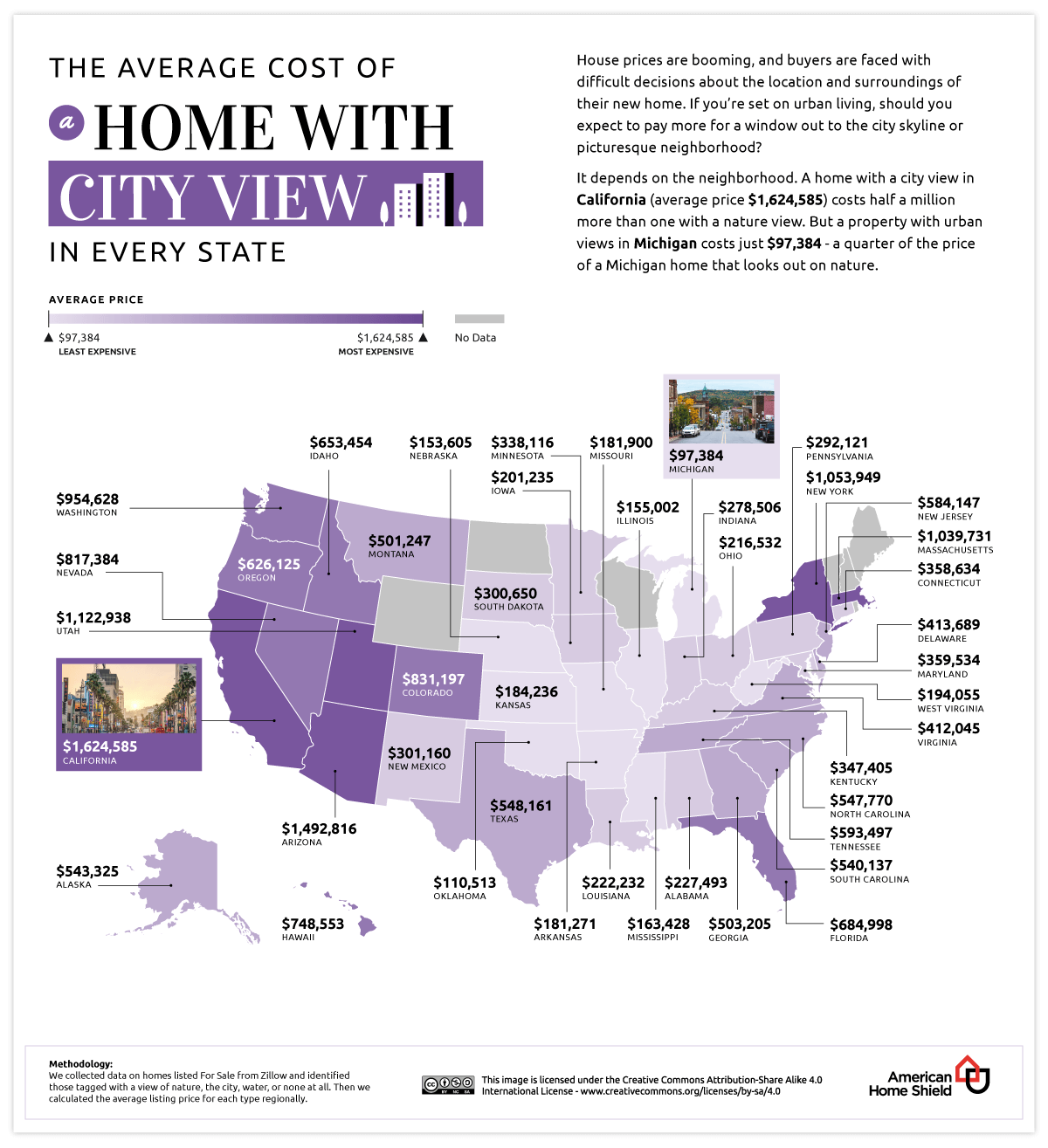 House prices in California continue to rise, with the median value hitting $758,990 across the state in 2021. You can expect to pay double if purchasing in a San Francisco zip code, where prices sit at over $1.5m.
Meanwhile, house buyers looking for a city view on a budget should consider investing in Michigan. With an average home costing $97,384 with a city view, according to our data, there are certainly some bargains to be had in the Mitten State.
Homes Overlooking Nature Cost a Third More than Urban Views
A recent Gallup poll found that 48% of Americans would prefer to live away from cities, up 9% from 2018 before the pandemic.It's no surprise then that our research found a premium on homes with a view of nature. Properties cost an average of 33% (or $167,340) more than those overlooking a city. Those wanting affordable green space should look at Indiana, where the mean value of homes in nature was $281,457.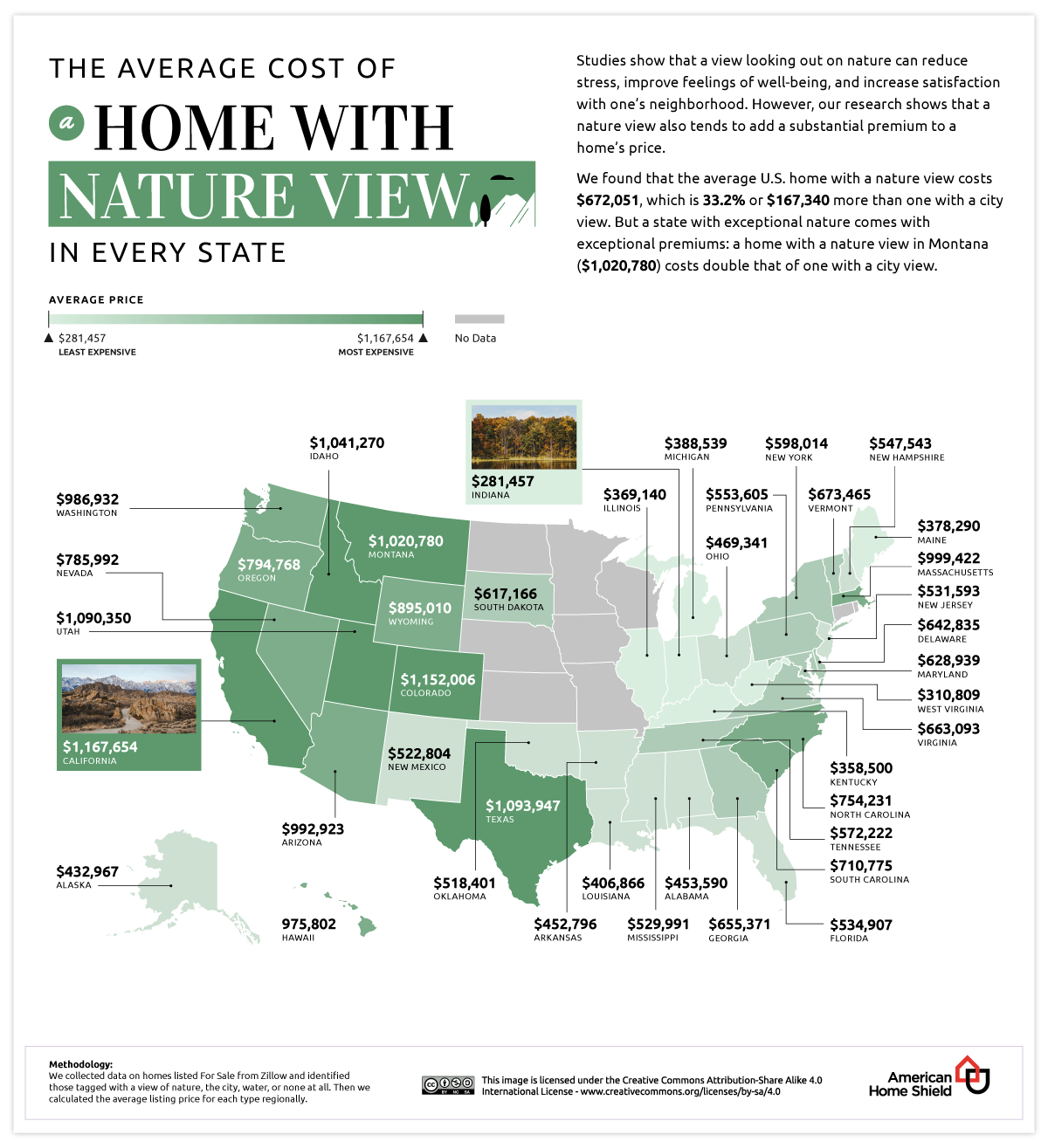 A growing body of research supports the idea that immersing yourself in natural surroundings can have long-term health benefits - including stress reduction, increased self-esteem and calmer emotions. Following the global pandemic, property experts have noticed a shift in buyer interest towards rural homes, with searches for out-of-town zip codes surpassing urban ones.
A home with a view of the great outdoors can hugely impact a property's value in some states. Our research shows that house prices in Montana doubled when in nature ($1,020,780) compared to a city view ($501,247).
Waterfront Homes Surpass $2m Average in Wyoming and California
A waterfront property can feel like a permanent vacation. With views overlooking the lake, harbor or ocean, these homes are among the most desirable on the market, and buyers pay a premium for them.
Two states, Wyoming and California, have homes by the shore averaging higher than $2m. With stunning views of the Teton Mountains and acres of open space, Wyoming's houses ($2,733,918) surpass those of California ($2,359,912) and Nevada ($1,890,821).
Despite having the least amount of water-covered land of any US state, shorefront properties in West Virginia have the cheapest mean value, costing just under $300,000 per home.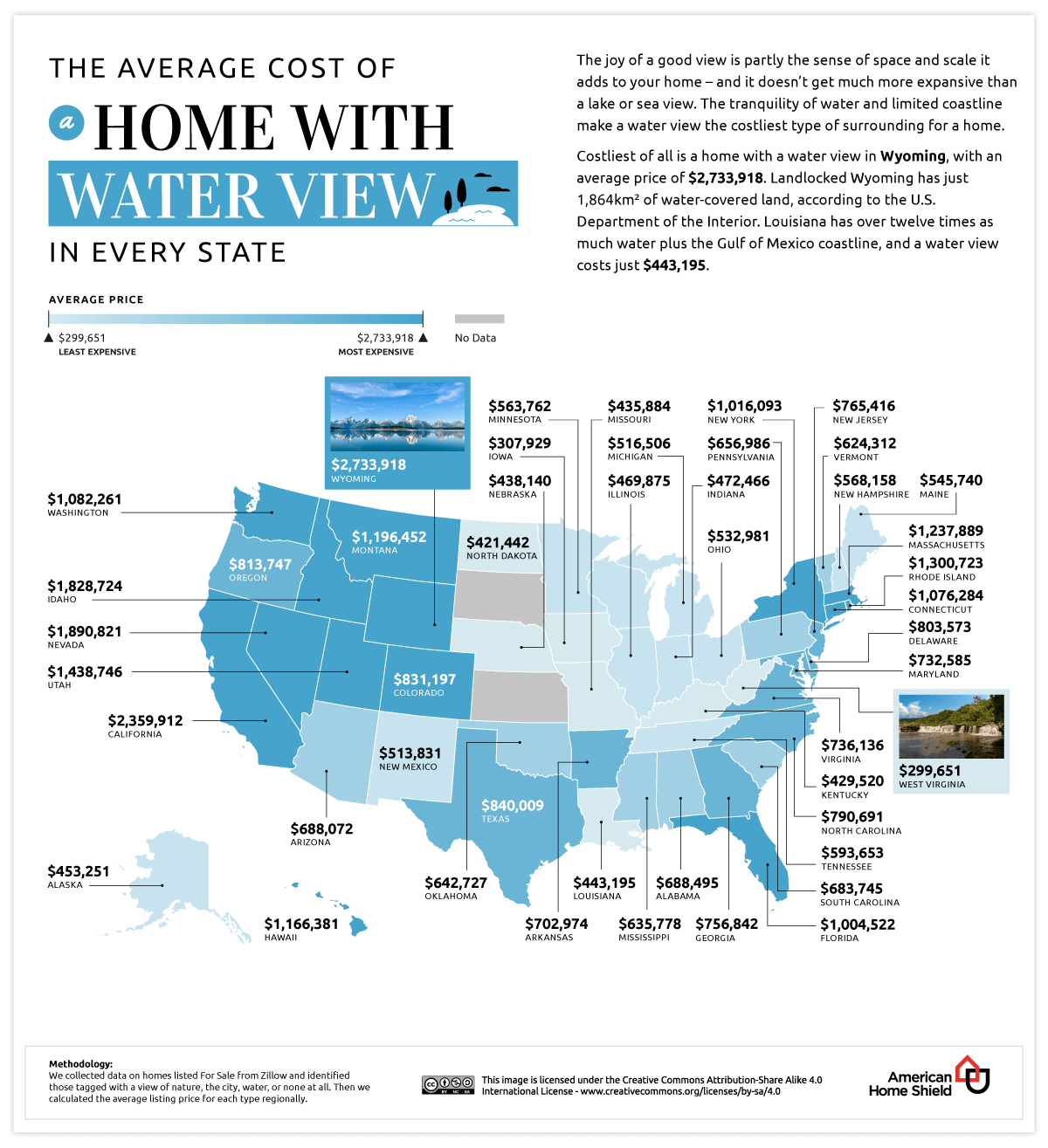 Homebuyers naturally pay a premium for properties with a water view. Some bring with them the added expense of boat mooring fees, and insurance premiums can be higher if a flood risk is evident.
Wyoming has seen a surge in luxury homes in recent years as affluent developers and buyers flock to its pristine natural environment. A 55-acre property in Jackson, WY, recently became the state's most expensive listing, worth $65m.
City Views in Arizona Double the Value of Homes
When looking at the average premium placed on a home with a particular view, our research shows that a city view increases the value of a property in 21 states but decreases it in 22 others.
Homebuyers searching for an urban outlook in Arizona will have to pay more than double (102.5%) the average house price. The state's largest city Phoenix has among the fastest-rising property values in the country.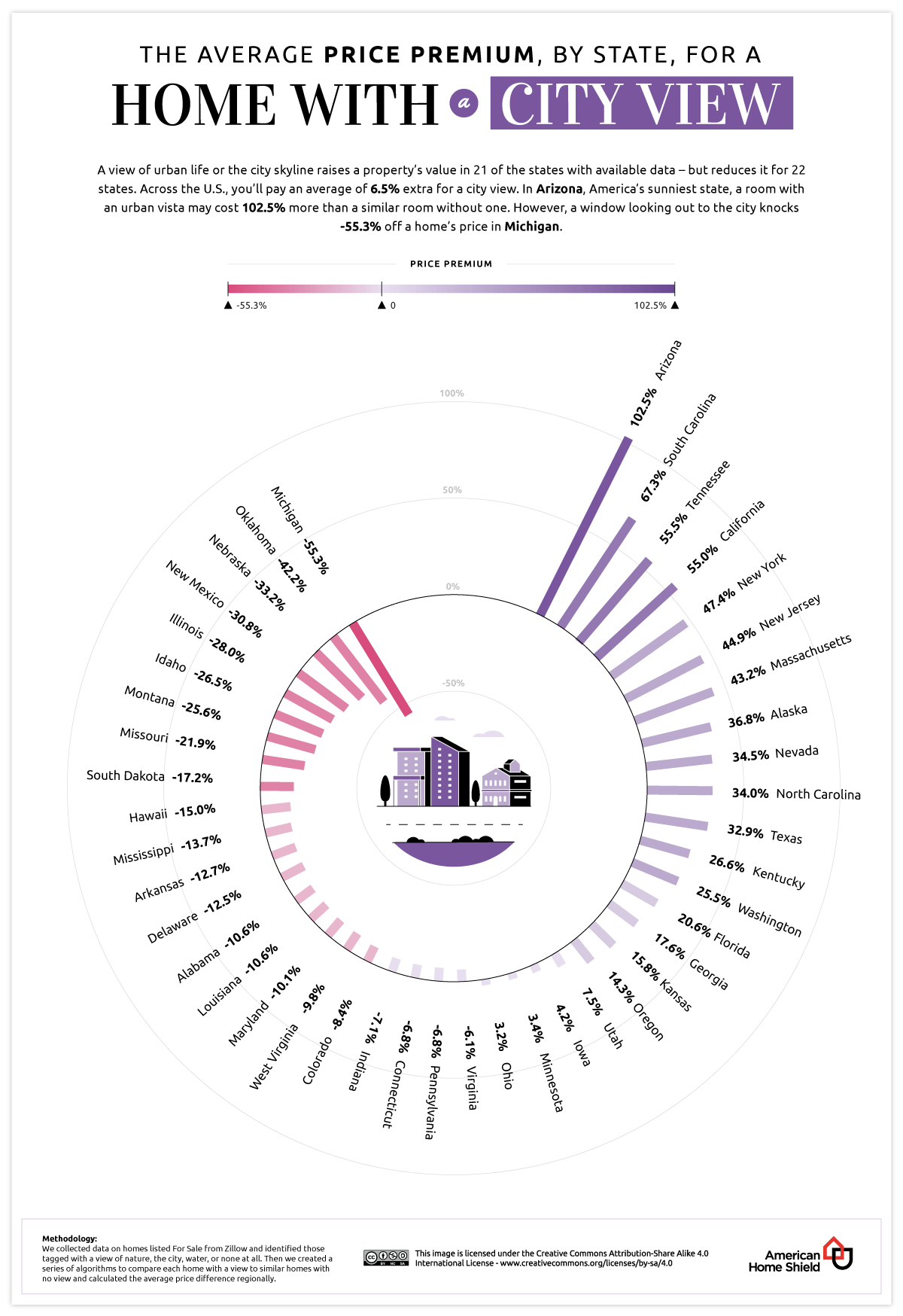 However, a city view in Michigan significantly decreases a property's value, lowering prices by 55%. While homes are the most expensive they've been since 2003, buyers in the state are evidently put off by urban living. Oklahomans are similarly dissuaded from city life, with a 42% drop in prices in the state.
Wyoming's 'Green Premium' Causes House Prices with Natural Views to Soar
While buyers can expect to pay more for homes with a natural view than in urban areas, residents in the NYC metro area are clearly put off by green space, as prices in New York (-14.4%) and New Jersey (-8.2%) are slightly lower in this case.
However, 29 states place a premium on a botanical outlook, with house prices in Wyoming almost one and a half times higher (140%) than the average property. Home to some of the country's most breathtaking scenery, with Yellowstone National Park in the northwest corner of the state, it's clear why buyers place such a premium on Wyoming's views.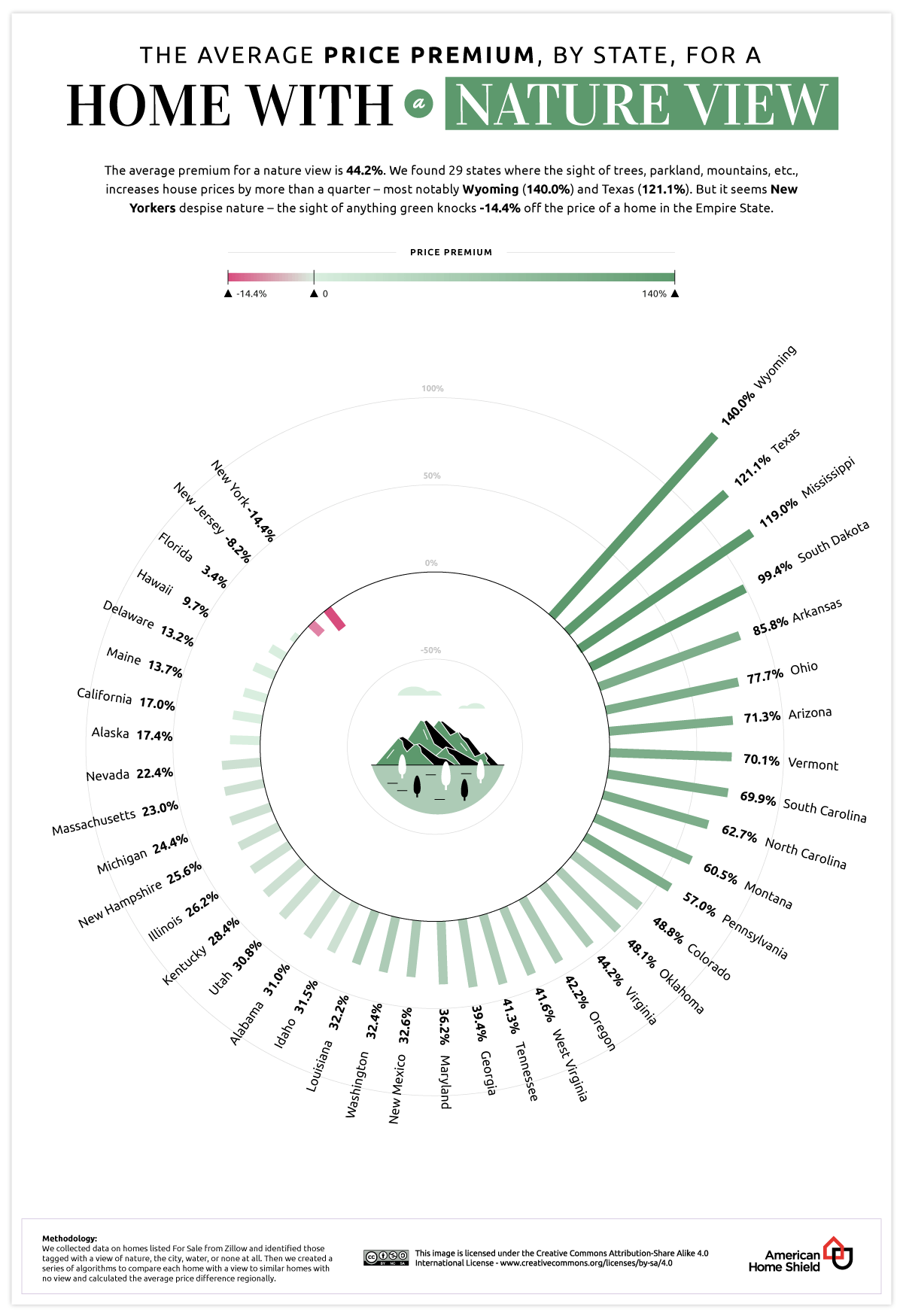 REALTORS® in the Lone Star state also place a higher valuation on natural surroundings, as average prices increased by 121% across the state. With the land split between the lush greenery of East Texas, the Chihuahuan Desert to the west of the state and the Gulf Coast, buyers have plenty of choices if a view of nature is what they are looking for.
Waterfront Views Add Almost 80% to Property Prices in America
Many of America's most desirable properties overlook the water, from luxury townhouses on Miami Beach to the palatial mansions of the Hamptons on Long Island. Our research shows that a 78.1% premium is added to homes across the country if they have a waterfront view.
In landlocked Wyoming, you can expect to pay more than three times as much (225%) for a home with a lake or river in view. Properties in Nevada have similar premiums, with a 192% surcharge on lakefront houses, most notably in luxurious Lake Tahoe in the north of the state - where lavish mansions can exceed valuations of $100m.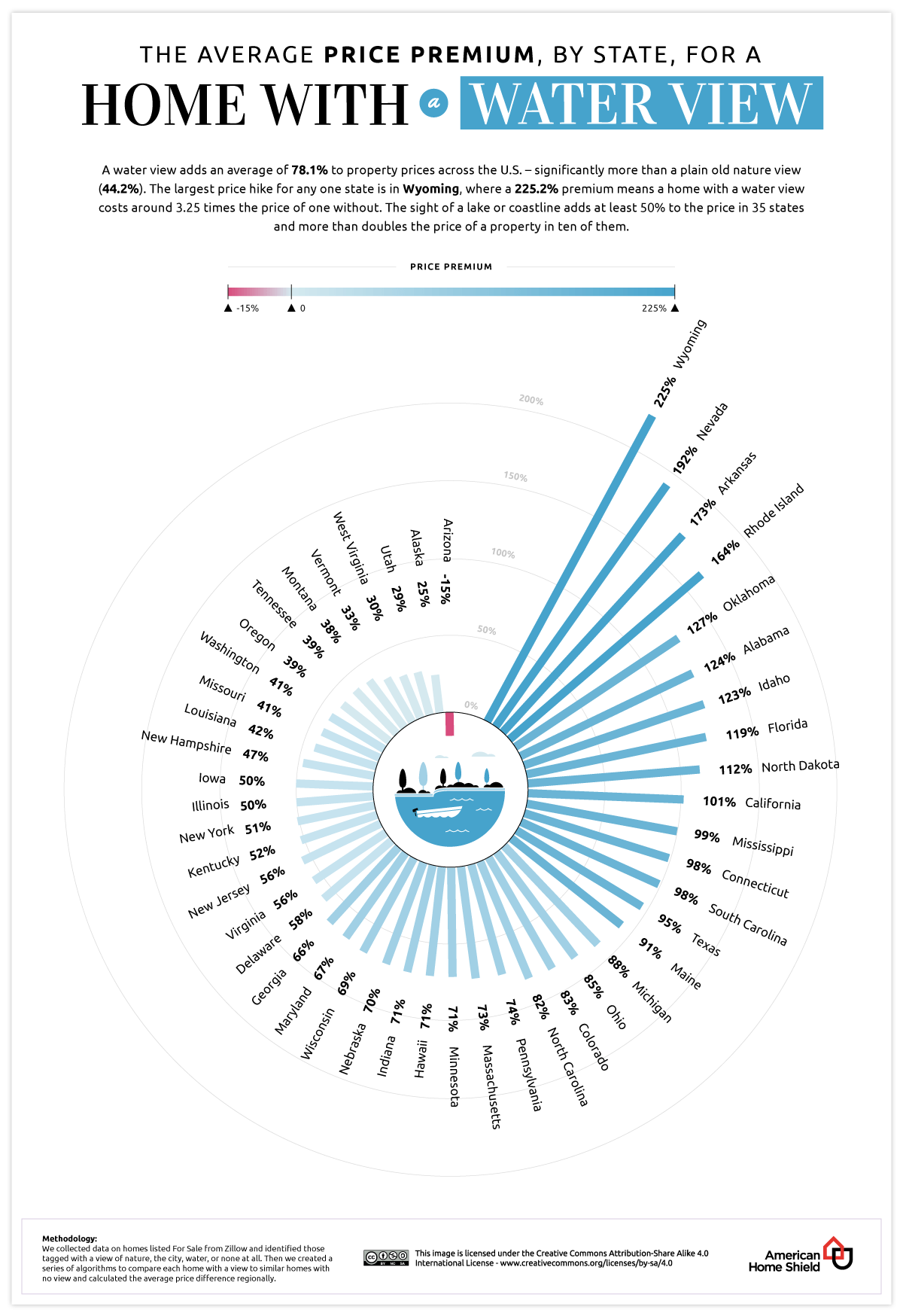 Only one state, Arizona, had lower average prices (-15%) for waterfront properties. This contrasts with our data showing a 102% premium on city views. Six of the ten states with the highest average premium are landlocked, suggesting lakes and rivers are just as commodified for buyers as an ocean view.
Similar studies on a global scale reveal that real estate agents place similar value on waterfront properties. Research from Knight Frank estimates that harbor-side views increase a property's value by up to 40% in the largest cities around the world.
Paying a Premium for the Best Views
For REALTORS®, the outlook of a property can be hard to quantify, as views are subjective and can mean different things to people. In New York, for example, unobstructed views are increasingly rare and considerably increase a home's value.
Beauty is in the eye of the beholder, but clearly a house in the perfect location with unobstructed views of a natural wonder or iconic skyline will be more desirable for buyers. It doesn't just add economic value or resale value but can also inspire residents and improve their physical and mental health.
Click through the HTML table below to discover where in the states you can get the best view for your buck.
Overall, our research shows that if you're in the market for a home with a view, be prepared to pay that little bit extra. Whether 6% for an urban vista, 45% to immerse yourself in nature or a whopping 78% for a waterfront home, the location can affect price.
Methodology & Sources
First, we extracted the listing links for all U.S. states from zillow.com. Then, we extracted all "for sale" listings from Zillow.com. We excluded Lot/Land' and "Manufactured" from home type. We recorded the price, address, footage, number of bedrooms, number of bathrooms, home type and property subtype, year build, appliances included, parking, lot size and view description.
To determine views, we collected all view descriptions from each listing of the entire database and isolated unique ones from them. After manually reading and analyzing the most common unique view descriptions, we identified three main categories of interest for research: Nature, City and Water. Then we calculated the average listing price for each type for every state and the top 100 most populous cities in the U.S.
Based on the analysis, we developed the optimal log-linear regression model, with a price as a dependent variable. The target variables were Nature, City, Water and the control variables: log(age), log(footage), log(n_bedrooms_per_footage), SINGLE_FAMILY, TOWNHOUSE, MULTI_FAMILY, APARTMENT, CONDO, has_garage, kitchen_appliances, laundry_appliances.
Next, we performed a regression analysis using the model described above for each state and then for each of the top 100 cities. In both cases, for the correctness of the regression results, any of the seven views were excluded from the regression model if the number of listings with this view in the given location were fewer than 10.
In the final table, we presented a price premium with a high statistical significance (at the level of 95%). For each state and city from the top 100, we calculated the average price in the form of a geometric mean.
The data was collected in February-March 2022.
SOURCES
Biggs, C. (2019) Rooms with a View (and How Much You'll pay for Them). nytimes.com
Knight Frank. (2019) Global Waterfront Report - 2019. knightfrank.com
Bahney, A, (2022) Home prices hit another record high in March. cnn.com
Saad, L. (2021) Country Living Enjoys Renewed Appeal in U.S. gallup.com
Hoeven, E. (2021) California home prices hit record high. calmatters.org
Robbins, J. (2020) Ecopsychology: How Immersion in Nature Benefits Your Health. yale.org
Bedo, J; Speianu, S; Vivas, J. (2020) Housing Market Rankings in Suburban Communities Outpaced Urban Areas in May. realtor.com
Stoddard, T. (2021). One-Of-A-Kind Camp Teton, In Trendy Jackson Hole, Lists As Most Expensive Property In Wyoming At $65 Million. forbes.com
S&P Dow Jones Indices. (2021) S&P CoreLogic Case-Shiller Index Reports 19.1% Annual Home Price Gain in October. spglobal.com
Moore, L. (2021) Michigan home prices highest since 2003. mlive.com
Macias, T.J. (2022) Priciest property for sale in Nevada is jaw-dropping $100 million Lake Tahoe estate. sacbee.com