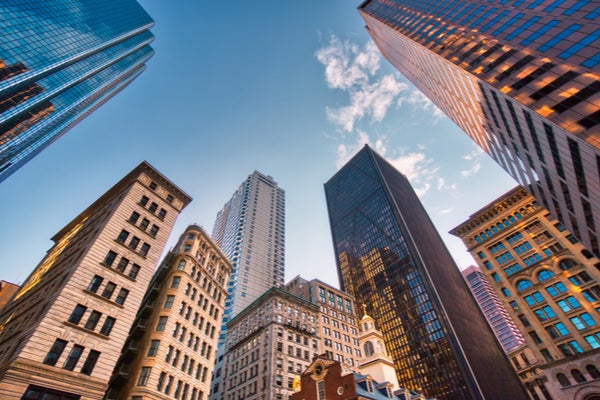 Downtown is often the heart of a city, whether it's an urban metropolis or a quaint town square. The nation's best downtowns offer great attractions, a robust and diverse list of things to do, tasty food options, and a high walk score.
If you're interested in visiting or moving to the best downtowns in the U.S., this list—brought to you by American Home Shield®—has you covered.
1. Boston, Massachusetts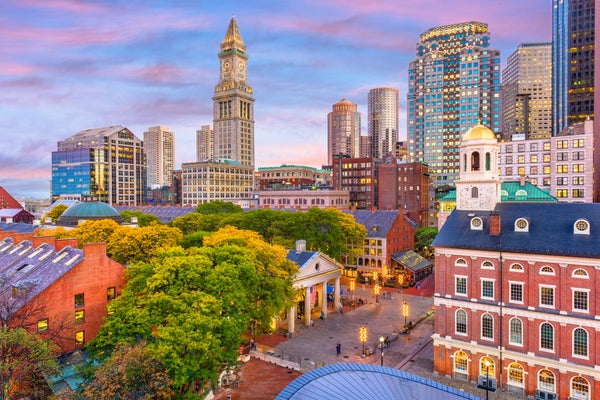 Centrally located, action-packed, and filled with enough architectural attractions and freedom sites to please even the staunchest history buff, Boston is arguably the best downtown in the USA.
Attractions
Old State House: The home of the Massachusetts General Court from 1713 until the end of the 18th century, the Old State House is a National Historic Landmark, a Boston Landmark, and one of the oldest public buildings in the nation. Today, the Old State House is a museum and a stop on the Boston Freedom Trail.
Faneuil Hall Marketplace: Just a quick walk from the waterfront, Faneuil Hall is where to go if you want to be entertained. The Hall's cobblestone streets are lined with jugglers, musicians, and circus performers, and the shopping scene is robust.
Boston Common: The Boston Common public park was designated a Boston Landmark and a National Historic Landmark in 1987. The site includes the Central Burying Ground, the Boston Common Frog Pond, multiple war memorials and victory columns, the Parkman Bandstand, and the iconic Boston Common Tablet and the Declaration of Independence Tablet.
Public Garden: The Boston Public Garden offers both beauty and history as the first public botanical garden in America. Take a ride across the pond on a Swan Boat or embark on a romantic stroll through the garden's hundreds of flowering plantings and structures, such as the bronze statues paying tribute to the children's book Make Way for Ducklings.
Things to do
Where to eat
Fill up on some of the city's famed clam chowder at the Boston Chowda Co in Faneuil Hall or oysters at the historic Union Oyster House. Wash down your meal with a glass of one of haley.henry's rotating wines or a beer at the Beantown Pub.
Walkability
With a walk score of 98 and a bike score of 86, downtown Boston is fantastic for pedestrians and cyclists alike.
2. Nashville, Tennessee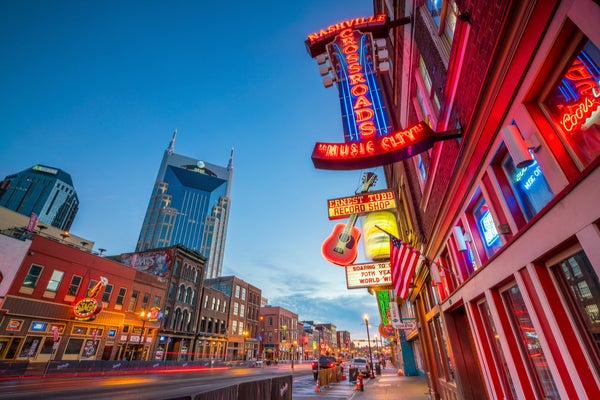 Also known as Music City, downtown Nashville's scene is filled with music studios, concert halls, bars, and restaurants, making it one of the best downtowns in America.
Attractions
Cumberland Park: There is much to do at this riverfront play space. Gaze over the Cumberland River, let your kids jump around in the splash pad, catch a show at the amphitheater, or get up close and personal with nature at the butterfly gardens.
Ryman Auditorium: This performance venue is on the National Register of Historic Places and is a National Historic Landmark due to its past and ongoing contributions to the country music world. The Ryman hosted the Opry debuts of many country music greats, including Dolly Parton, Hank Williams, and Patsy Cline.
Country Music Hall of Fame: This Nashville delight was moved downtown in the early 2000s. Visitors can explore the museum's many galleries, the Country Music Awards Theater, and the country's oldest letterpress print shop.
Things to do
Visit one of the honky-tonks on neon-lit Broadway.
Take a tour of Music Row, Nashville's most famous street home to the city's oldest surviving recording studio, RCA Studio B.
Be wowed by the contemporary visual arts exhibits at the Frist Art Museum.
Buy freshly baked bread, homemade cheeses, and unique crafts at the Nashville Farmers' Market.
Listen to music at the Bicentennial Capitol Mall State Park.
No trip to Nashville is complete without visiting the Grand Ole Opry, located right outside downtown Nashville.
Where to eat
There's nothing like hot chicken from Prince's Hot Chicken or Hattie B's or barbecue from Jack's Bar-B-Que. Cool off your tongue with some homemade Mike's Ice Cream & Coffee Bar before heading to the Bourbon Street Blues and Boogie Bar to dance off the sugar rush.
Walkability
With tons of sights to be seen closely packed together, downtown Nashville has a walk score of 86 and a bike score of 66.
3. San Diego, California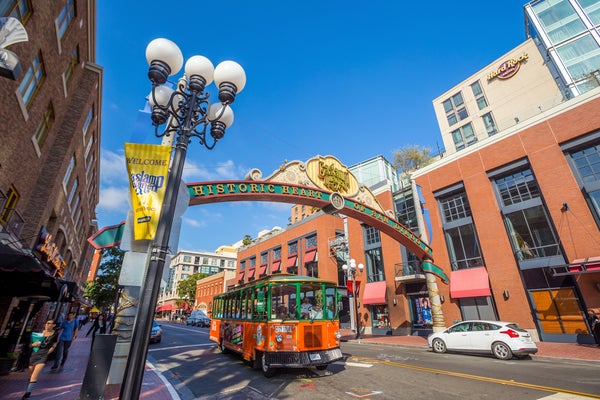 From the buzzing nightlife scene to marina views, downtown San Diego has a little something for everyone. Its unbeatable location along the San Diego Bay makes it one of the most beautiful downtowns in the USA.
Attractions
The Star of India: The iron-hulled sailing ship is the fourth-oldest one of her kind still afloat in the United States.
Seaport Village: This retail strip offers waterfront views, delicious dining experiences, and various shops where you can purchase perfect San Diego mementos.
Balboa Theater: This 1920s gem was originally a vaudeville theater but now showcases performances from comedy to orchestral accompaniments to popular movies.
Gaslamp Quarter: The aptly named Gaslamp Quarter gets its moniker from the gas lamps lining its streets. Meander through the boutique shops by day and experience the Gaslamp's trendy restaurants and bars by night.
Things to do
Take a trolley tour to catch some views of the Pacific and learn about San Diego's history.
Visit the Maritime Museum's antique military ships and submarine.
Take the kids to The New Children's Museum for hands-on fun.
Catch a Padres game or musical performance at Petco Park.
Take a boozy brunch harbor cruise on the Hornblower.
Where to eat
Slurp some oysters at The Fish Market while gazing at the ocean at sunset. Grab a burger and beer at Werewolf, street tacos at La Puerta, or all-night treats at Brian's 24.
Walkability
With a walk score of 97, downtown San Diego is the perfect spot to wear out your sneakers.
4. Athens, Georgia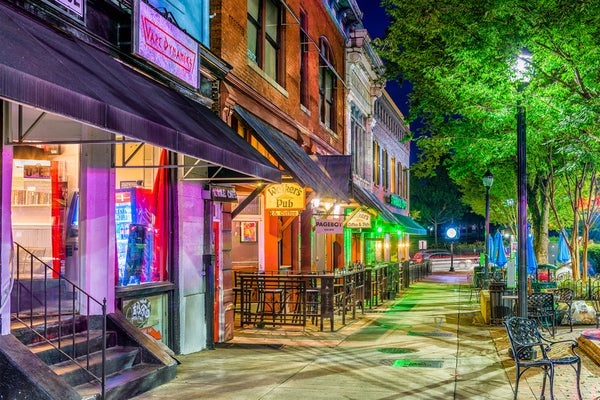 Historic downtown Athens is the oldest commercial and residential center in the city, but don't let its age fool you: It is one of the best downtowns in Georgia and is bursting with Southern charm, college life, and live music venues. Named on the National Register of Historic Places, this district includes multiple architectural styles, the Franklin House, the Clarke County Courthouse, and multiple historic churches and buildings.
Attractions
The Tree That Owns Itself: This historic white oak at the corner of Dearing and Finley was deeded full possession of itself and all the land in an eight-foot radius. Visit the tree to see its famous plaque and stately branches.
The Double-Barreled Cannon: The only one of its kind, this double-barreled cannon preserved from the Civil War was retired in Athens.
Bulldog statues: The town has dozens of bulldog statues scattered down its streets. See if you can find them all!
Morton Theatre: One of the oldest-running vaudeville theaters owned and operated by Black Americans, the Morton Theatre offers as much rich history as it does contemporary performances.
Things to do
Where to eat
Many people consider Athens one of the South's best food destinations. Nosh on a Bayou Burger at Clocked, traditional Southern cuisine at The Place, or a true Southern homemade breakfast at Mayflower Restaurant.
Walkability
A walk score of 66 and a bike score of 44 make this downtown a bit less pedestrian-friendly than other cities on our list.
5. Chicago, Illinois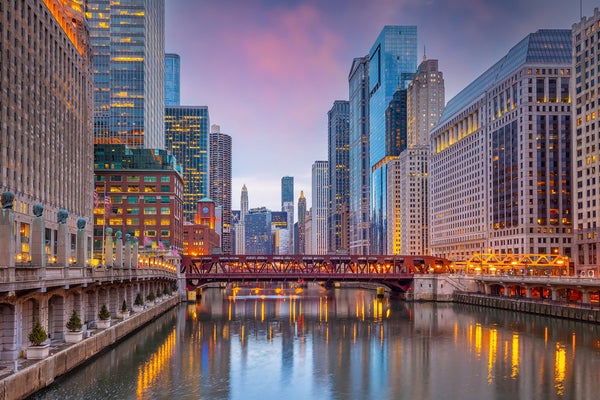 Otherwise known as The Loop, downtown Chicago is known for its vibrant arts and culture community and historic architecture.
Attractions
Things to do
Appreciate the city's architecture from the water on one of the Chicago Architecture Foundation Center River Cruises.
Walk along the Chicago Riverwalk to fine-dining spots and art galleries.
Catch a show at the Theatre District's Cadillac Palace Theatre, Nederlander Theatre, or Auditorium Theatre.
Get your adrenaline rushing at the Skydeck Chicago.
Where to eat
Downtown Chicago is one of the best downtowns due to its incredible food choices. Grab a Chicago-style, seven-topping hot dog at Relish Chicago Hot Dogs stand near Millennium Park, eat a slice of deep-dish pizza at Giordano's, and pick up an early morning coffee at Dollop Coffee Co.
Walkability
Downtown Chicago has an excellent walk score of 94 and a bike score of 81.
6. Boise, Idaho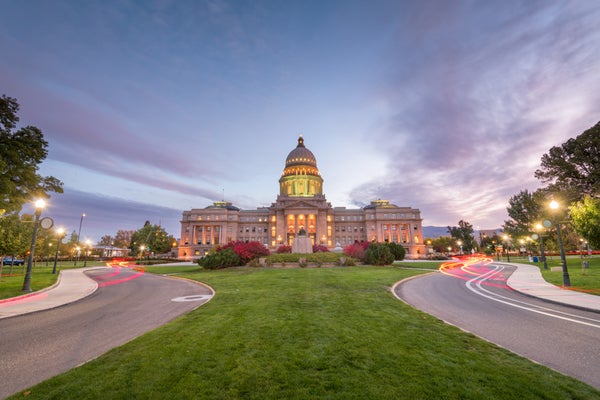 There's a reason why people have been migrating to Boise: It has one of the best downtowns in the country, and the area boasts arts, culture, dining, and outdoor beauty.
Attractions
Idaho Black History Museum: The oldest African American museum in the Pacific Northwest, the Idaho Black History Museum's collections include African American art, artifacts of Boise State University athlete Aurelius Buckner, and a history of Black Americans in Idaho.
Basque Museum and Culture Center: The Center is dedicated to the preservation of Basque history and culture.
Julia Davis Park: Wander through this expansive riverfront park, which includes a rose garden, Zoo Boise, playgrounds, a riverfront trail, and the Gene Harris Bandshell that features outdoor concerts.
Idaho State Capitol: Situated in the middle of downtown Boise is the Idaho State Capitol, where visitors can take free, guided tours.
Things to do
Bike along the Boise Greenbelt for beautiful views of the Boise River.
Catch a live music show at the Pengilly Saloon.
Walk through Capital City Public Market, Boise's largest market filled with local farmers, artists, and craftspeople offering their wares.
Where to eat
Nibble on various snacks at the Warehouse Food Hall's plethora of food establishments, order a hearty breakfast at Goldy's Breakfast Bistro, and grab a pint at Boise Brewing.
Walkability
Downtown Boise has a walk score of 88 and a bike score of a whopping 99.
7. Alexandria, Virginia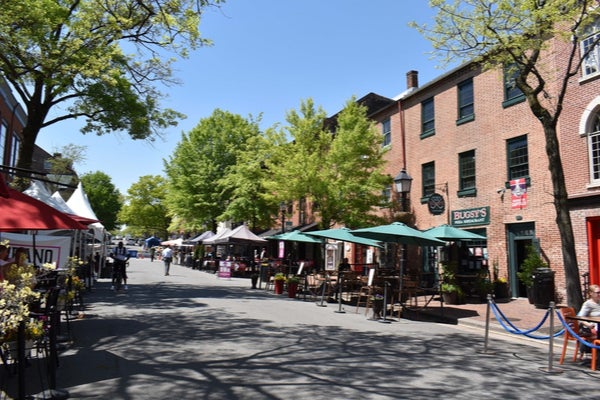 Historic downtown Alexandria, or Old Town, is a nationally designated historic place with waterfront views, historic architecture, and picturesque brick-lined streets.
Attractions
King Street: One of the "Great Streets" of America, this stretch of road is all cobblestone and light displays. Walking down this street is like stepping into the past.
Carlyle House Historic Park: This Georgian manor house built in 1753 now hosts tours and historical reenactments.
Gadsby's Tavern Museum: In the 1700s, the Tavern was the social and political center of the city. Today, it's part of a larger museum commemorating Alexandria's history.
Spite House: The Spite House is renowned for only being seven feet wide—the skinniest historic house of its kind in the nation.
Stabler-Leadbeater Apothecary Museum: If brews and potions interest you, then you'll want to visit this historic apothecary that opened in 1792.
Things to do
Take a Monuments Sightseeing Tour on the Potomac River. You'll cruise past the Thomas Jefferson Memorial, Arlington Memorial Bridge, the Kennedy Center, and more.
Visit the Torpedo Factory Art Center, home to the nation's largest publicly accessible artists' studios—all under the same roof.
Shop Old Town's more than 100 independent boutiques.
Take a self-guided architectural walking tour through Alexandria.
Find organic fruits and artisanal goods at the Old Town Farmers' Market.
Bike along the Potomac River on the Mount Vernon Trail.
No visit to Alexandria is complete without taking a quick 15-minute drive to George Washington's Mount Vernon. The mansion and its Pioneer Farm will steep you in U.S. history.
Where to eat
Feast on baby back ribs and cupcake cornbread at Myron Mixon's Pitmaster Barbeque, fire-roasted flatbread at Blackwall Hitch, or a clambake and oyster po'boy at Hummingbird.
Walkability
Downtown Alexandria has a walk score of 98 and a bike score of 87. The city is renowned for its bike lanes and paths.
8. Burlington, Vermont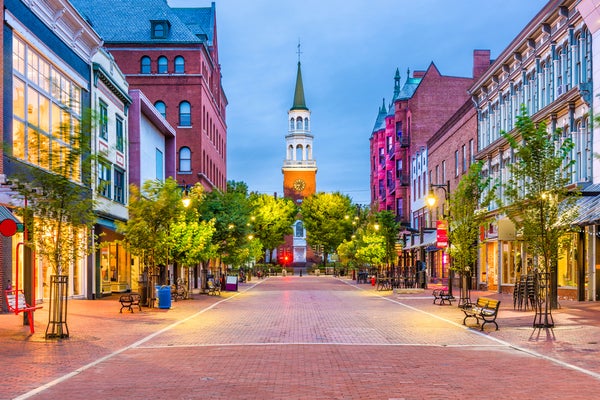 The perfect mix of contemporary culture and history, Burlington's downtown has a quaint small-town feel with gorgeous views of Lake Champlain: It gives the other cities on this list a run for their money as one of the best downtowns in the U.S.
Attractions
Ben & Jerry's: The downtown location is where Ben and Jerry originally opened their ice cream shop. Ben & Jerry's is sure to be a treat for any ice cream fanatic.
Burlington Waterfront Park: From ferry crossings to a long walking and biking path, the park is a great place to spend a sunny afternoon.
Church Street Marketplace: This outdoor mall has several historic buildings, boutiques, and eateries.
Things to do
Take a tour of the Lake Champlain Chocolate Factory and indulge in some chocolate delights.
Explore downtown Burlington's many vintage shops.
Listen to a symphony orchestra performance at the Flynn Theater.
Take a dinner cruise on the Spirit of Ethan Allen on Lake Champlain.
Where to eat
Book an upscale dinner at Hotel Vermont's Juniper or dine on vegan poutine and aged gouda mac and cheese at Deep City, the sister restaurant of Foam Brewing next door. Don't miss the breakfast crepes at The Skinny Pancake near Waterfront Park.
Walkability
Downtown Burlington has a walk score of 96 and a bike score of 87. The city is covered in snow for several months out of the year, so be sure to bundle up if you're visiting in the winter!
9. Santa Monica, California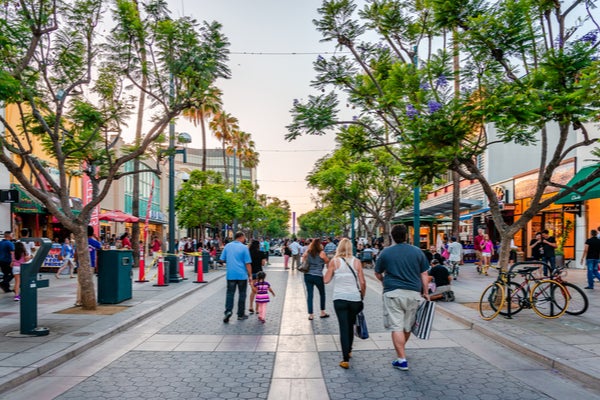 Downtown Santa Monica is a dream for shoppers, street performers, and foodies. It is also one of the best downtowns to live in because of the number of residential buildings, its access to a large city (Los Angeles), and its proximity to the Pacific Ocean. If you're considering moving to California, make sure you look into getting a home warranty in California from American Home Shield.
Attractions
Third Street Promenade: The Promenade has hundreds of quality retail and food shops as well as whimsical dinosaur topiary sculptures and fountains.
Santa Monica History Museum: The museum, situated in the Santa Monica Public Library, explores Santa Monica's indigenous roots and exhibits millions of artifacts.
Santa Monica Pier: This famous Southern California pier opened in 1909, and attractions were added in subsequent years until it collapsed in 1919. The city reconstructed the pier and transformed it into an amusement park by the 1990s.
Things to do
Watch musicians, magicians, clowns, dancers, and circus acts perform at the Third Street Promenade.
Shop your heart out at the open-air Santa Monica Place mall.
Take a short walk to the iconic Santa Monica Pier and the Original Muscle Beach.
Catch an improv show at Westside Comedy Theater.
Where to eat
Start your day with a MacArthur Park pastrami sandwich at Wexler's Deli, and finish with a banana split at Mel's Drive-In. Round out the night at Canary, a tropical-themed cocktail bar.
Walkability
Downtown Santa Monica has a walk score of 89 and a bike score of 84.
10. Walla Walla, Washington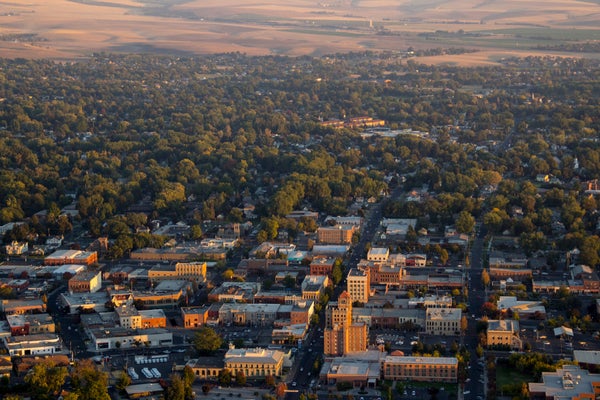 Besides having a fun name to say out loud, Walla Walla has a downtown ripe for exploring. The downtown core is dog-friendly, meaning you can feel free to bring your pup almost anywhere.
Attractions
Main Street: Tree-lined and filled with boutiques and public art, Main Street is the hub of Walla Walla.
Wineries: Downtown Walla Walla boasts more than 20 wineries and tasting rooms from the lush Walla Walla wine country.
Things to do
Catch a Shakespeare play at the Gesa Power House Theatre.
Visit the art galleries and studios, like The Refinery, Telander Gallery, and Kingfisher Gallery.
Where to eat
Grab a glass of wine and tapas at the Kontos Cellars or order a cut of steak at Walla Walla Steak Co.
Walkability
Walla Walla, Washington, has a walk score of 87 and a bike score of 68.
11. New York City, New York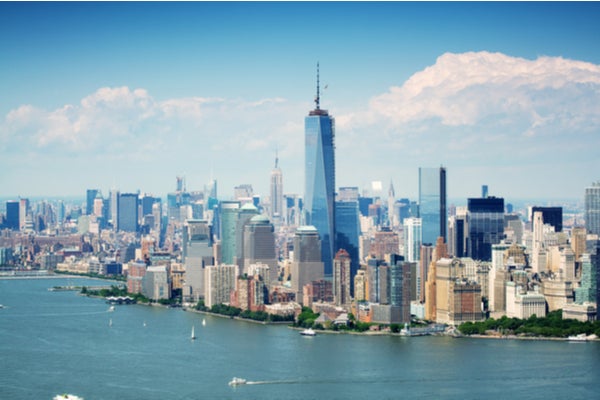 Any list of the top downtowns in the U.S. would be incomplete without including the Big Apple. One of the biggest downtowns in the U.S., Lower Manhattan is like no other. Though it is a nice downtown city to live in, it's no secret that Lower Manhattan's real estate is quite expensive. Read these tips on moving to New York state and how to get a home warranty in New York.
Attractions
The Brooklyn Bridge: It's worth taking the hour-long trek over the nation's oldest hybrid cable-stayed/suspension bridge for the pictures alone.
9/11 Memorial & Museum: This memorial provides a somber yet beautiful experience for visitors who want to commemorate this event in U.S. history.
Wall Street: This is where all the money magic happens in New York; it serves as the heartbeat of the Financial District.
Things to do
Walk around Greenwich Village, situated in the northern portion of Lower Manhattan. This neighborhood is a hub for cozy cafés and jazz clubs.
Visit the New Museum to view contemporary art.
Stroll along The High Line, an elevated park that features art installations, native plants, and seasonal events.
Rent bikes and meander through the four-mile Hudson River Park, which provides stunning river views and ample green space.
Where to eat
Taste the legendary pastrami sandwich at Katz's Delicatessen, order dim sum at Nom Wah Tea Parlor in Chinatown, and settle in for a hearty breakfast at Clinton St. Baking Company.
Walkability
Manhattan has a walk score of 99 and a bike score of 92.
12. St. Augustine, Florida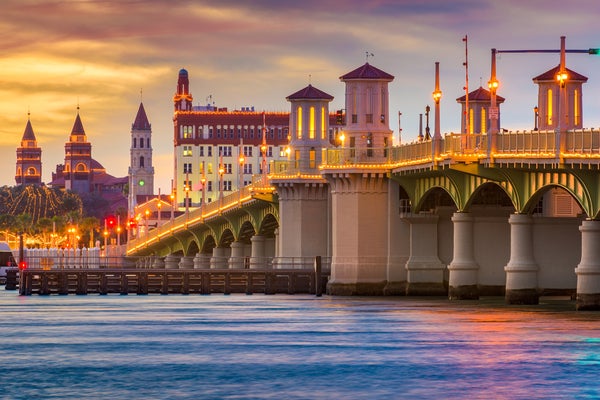 Known as "America's Oldest City," St. Augustine's downtown historic district is the oldest European-established settlement in the contiguous United States. If you're on the lookout for the best downtowns to visit, don't miss St. Augustine.
Attractions
Castillo de San Marcos National Monument: This 17th-century fortress is the oldest masonry fort in the continental United States. The drawbridges are great fun, and the monument offers sweeping views of the Matanzas River.
Ponce de Leon's Fountain of Youth: Explore the archaeological park's 15 lush acres, and find the well claimed to house the fountain of youth.
Things to do
Where to eat
After visiting St. Augustine Distillery, head next door to the historic Ice Plant Bar for skilled fried chicken and hoecakes. Other can't-miss delicacies are the fried green tomatoes with fish dip at The Floridian or the house-made burrata at Collage.
Walkability
Downtown St. Augustine has a walk score of 65 and a bike score of 79.
If you love your visit so much that you decide to move to Florida, consider getting a home warranty in Florida to protect your budget. Our homebuyer's guide can help you navigate the house-buying process.
13. New Orleans, Louisiana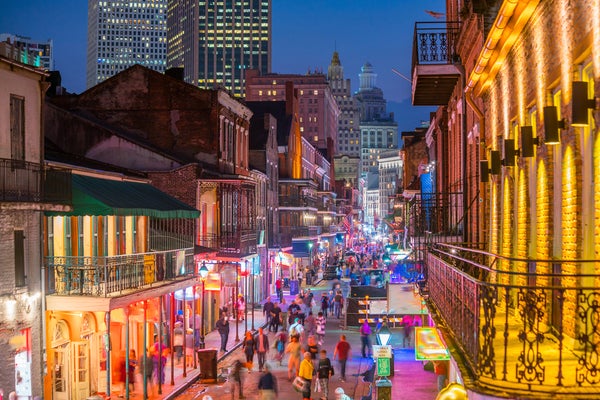 The French Quarter of New Orleans is renowned for its festivals, Creole heritage and food, and centuries-old French-influenced architecture.
Attractions
Bourbon Street: There's no other place quite like the Bourbon Street strip. It has everything from live music and dancing joints to first-class restaurants and bars.
Court of the Two Sisters: Just one of downtown NOLA's many notable older buildings, the Court now hosts regular jazz brunches.
Jackson Square: Situated in the middle of the French Quarter, Jackson Square provides beautiful views of the Mississippi River and features gorgeous greenery, sculptures, and the St. Louis Cathedral. The Square served as the site of the Louisiana Purchase acquisition.
Things to do
Take a horse-drawn carriage tour through the French Quarter.
Book a dinner jazz cruise along the Mississippi River on the Steamboat Natchez.
Head over to Frenchmen Street to hear live jazz at various venues.
Embark on an airboat swamp tour through the bayous.
Get spooky with one of the famed ghost and cemetery tours.
Where to eat
Any visitor to the French Quarter needs to have a beignet from Café du Monde, a po'boy from Johnny's Po-Boys on St. Louis Street, and the Hurricane cocktail from Pat O'Briens.
Walkability
Downtown New Orleans has a walk score of 97 and a bike score of 95.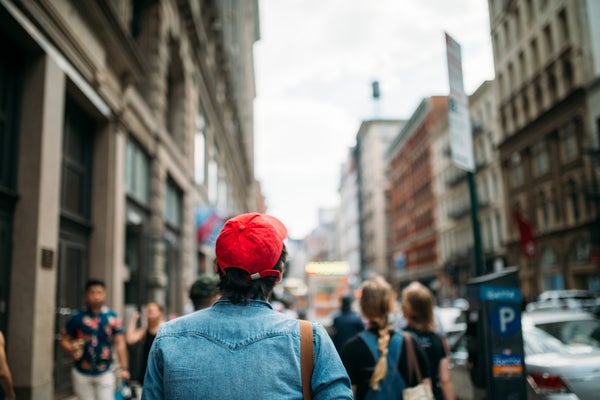 Now that you know the best downtowns in America, it's time to travel! Enjoy all of the culture, food, and experiences that each downtown offers. Find more cities to explore, including the top cities with historic neighborhoods, the top cities to live for young professionals, or the best places to live if you love outdoor activities.
Once you find your dream city, check out our tips for first-time homebuyers and advice on moving into a new home.