Are you looking for specific features in a house or location that might otherwise be out of your price range? Buying a foreclosed home could be financially beneficial and can also be a relatively similar process to buying a typical non-foreclosed house. There are still some risks and considerations to keep in mind, but if you're in the market for a new home, foreclosure properties just might be the right solution for you.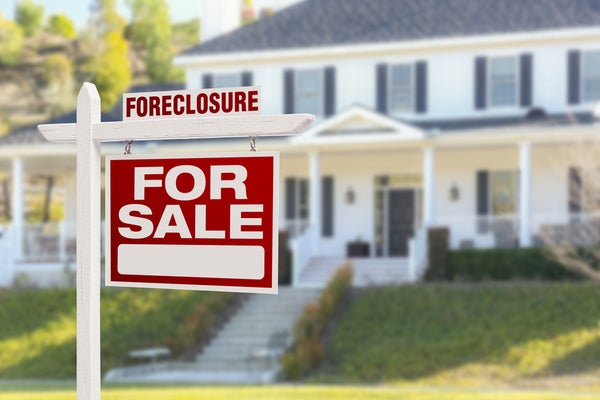 A foreclosed home is one that is typically owned by a mortgage lender or bank due to the previous owner falling behind on their monthly payments and defaulting on their mortgage. Once ownership transfers to the bank or lender, these bank-owned foreclosed homes are put up for sale, often for a below-market price.
This lower price is the main reason why buying bank foreclosed homes appeals to many home seekers, especially if the residence is in a desirable neighborhood or location. The process of buying a foreclosed home is similar to buying a home through regular means. However, there are some differences that might not make sense for your specific financial situation.
If you're considering buying a foreclosure, let's take a look at some of the benefits, as well as some of the risks and considerations that you'll want to keep in mind throughout the process of buying a foreclosed property.
How Do I get started with buying a foreclosure?
Whether you're planning on buying a foreclosed home or not, you'll need to figure out your budget and hire a real estate professional.
It's a good idea to learn more about the home buying process in general so that you can understand all of the options available to you (there are a lot!). Putting in the time to do some initial research should be your first step in the home buying journey so you can make the most informed decisions related to your financial situation and long-term goals. Once you're able to determine if buying a foreclosed home is right for you, you can start the process of turning your dream into a reality.
Figure Out Your Budget
This step often goes hand-in-hand with learning about the home buying process, since you need to determine how much you're willing to spend on a new house and, more importantly, the home loan amount that you're able to qualify for.
Once you nail down a budget, you will want to get pre-approved by a lender, which will go a long way in buying a bank-foreclosed home. If you were to put down an offer on a foreclosed home, your offer will likely warrant greater consideration since it would show the bank that you're less of a risk than someone without a pre-approval letter. Most pre-approvals require a good credit score and other factors that show you are in a positive, healthy financial situation. This makes you an attractive buyer to banks who are looking to off-load the foreclosed property to a homeowner that they can trust.
There are a few things to keep in mind when getting pre-approved, specifically for foreclosed properties. For instance, although you should definitely shop around for the best rates and lowest fees with different lenders. Buying a foreclosed home directly from a bank may require you to go through the bank's designated lender (or through the bank itself). You don't necessarily have to go with the bank or its lender as your loan servicer, though. This is often just an additional check by the bank to confirm your purchasing eligibility.  
There's a lot that goes into the mortgage approval process and understanding the home buying process in general. But you don't have to tackle it all on your own. There are plenty of real estate professionals that can guide you through this journey.
Hire a Real Estate Professional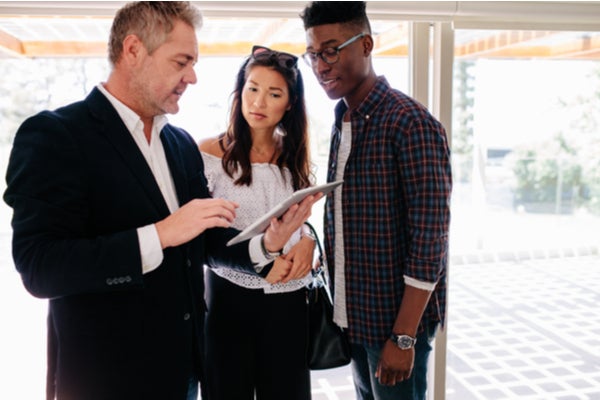 Unless you have a firm handle on all of the ins and outs of the real estate industry, you should consider hiring a real estate professional. If you are specifically interested in buying a foreclosure, look for a real estate agent that specializes in foreclosure properties.
Your real estate professional should know everything from how to buy a foreclosed home from a bank to what makes buying a foreclosed home risky, and everything in between to help you make the most of your home buying experience. In addition to making sure your real estate professional has plenty of experience in dealing with buying foreclosed properties, here are some other suggestions as to what to ask your REALTOR® to make sure it will be a good partnership.
Once you're lined up with a real estate agent and have your budget and pre-approval, you should be all set to start looking at foreclosed homes and putting in offers.
How Does Buying a Foreclosure Work?
When it comes time to actually put an offer down, there are a few different methods for actually buying a foreclosed home. 
How Do I Buy a Foreclosed Home at an Auction?
During an auction, homes are put up for auction by third-party trustees who are selling foreclosed homes on behalf of the banks or lenders who now own the homes.
Buying at a real estate auction is the most typical way to buy a foreclosed home. Auctions are a quick way for buyers to purchase homes, typically coming in at cheaper or below-market prices. One home buyer tip to note, however, is that at these auctions, many buyers have cash on hand to purchase the homes immediately—making it all the more important to at least show up with your pre-approval letter.
How Do I Buy a Home Directly from the Homeowner?
Also called "short sales," these are situations in which the current homeowner and lender have agreed upon a sale amount that will allow the owner to sell for less than what they actually owe on their mortgage loan.
Buying a home directly from a homeowner before the house is actually in foreclosure is known as pre-foreclosure. In these situations, lenders are willing to eat a monetary loss on the loan if it means the mortgagee doesn't end up being defaulted on. Similarly, sellers in this situation hope that they can sell the house at a lower rate before they fall too far behind on their mortgage payment, effectively keeping a default off their record.
This method can be a bit tricky since several parties are involved. Ultimately, the lender has final say in whether or not they want to accept an offer. So, you may want to reconsider your strategy if you're hoping to come in with a low-ball offer that falls too far below a home's market value. If your real estate agent is a foreclosure specialist, they should be able to help you put together a realistic and enticing offer.
How Do I Buy a Foreclosed Home Directly from a Bank or Lender?
You'll be buying a bank-owned foreclosed home from the bank or lender instead of from a homeowner. This method is similar to the typical home buying process, allowing you to go through the standard appraisal and inspection processes.
Buying bank-owned foreclosed homes or those from other lenders generally involves the bank or lender having already done most of the heavy lifting. While browsing home listings, you may come across a home listed as "real estate owned" or "REO." This means that the bank has evicted the previous tenants and cleared any liens (like credit liens) that may have been lingering against the house. After purchasing the home at auction, the bank now officially owns the home and has listed it on the market to recoup both its purchase amount and any outstanding debt that was lost from the previous defaulting owner. 
How Do I Buy a Government-Owned Foreclosure?
Similar to bank- and lender-owned properties, government-owned foreclosed properties are homes owned by government agencies who have taken ownership of homes in which the previous owners defaulted on federally insured government loans, such as an FHA loan.
Whereas bank-owned foreclosed homes generally go through standard home buying practices such as inspections, government-owned foreclosures are typically sold in "as-in" condition. This means that you'll be buying the home in its current state, so any repairs that may need to be done to bring the house up to code—or to make it livable—will be up to you. This also means that you may be putting your offer down on the home before scheduling a home inspection. This is part of what makes buying a foreclosed home risky.
The up sides? There are some exceptions in which the government agency may repair certain elements of the home. Just be sure to have your REALTOR® communicate any and all stipulations before you buy.
If you do buy a foreclosure without an inspection, be confident in your new home with a home warranty by American Home Shield, which covers parts and components of your home's systems and appliances regardless of their age or condition. We'd call that a major perk.
How do I Make an Offer on a Foreclosed Home?
When you're ready to make an offer, your foreclosure real estate professional can help guide you through the process, whether you are buying directly from a homeowner or lender, or at an auction.
Just be mindful of your offer. Although foreclosed homes typically sell at cheaper prices, you'll still want to come in with a competitive offer—one that is at least in the ballpark of a foreclosed home's market value.
What Makes Buying a Foreclosed Home Risky?
While there is some level of risk in any home buying endeavor, there are a few things that make buying a foreclosed home a bit riskier than purchasing a traditional non-foreclosed property.
In some cases, foreclosed homes can be sold in an "as-is" state, meaning that you are buying the house with any issues that might come along with it. If your offer on a foreclosed home gets accepted and allows for a home inspection, great! Here's a home inspection checklist that can be used as a reference during the inspection process.
Although most foreclosed homes are often available at lower prices than more traditional listings, you'll often be required to pay cash, especially in a competitive market and when bidding at auction.
If you're purchasing a foreclosed home from an auction, there is also a risk of the house coming with any liens that are currently being held against the house—such as missed property tax payments—making you the party responsible for getting the liens removed.
If you're willing to put up with some of the hurdles that might come with purchasing a foreclosed home within your budget, it could be a smart move. Your REALTOR® or foreclosure specialist will be able to fill you in on some of the other, more nuanced, risks—and benefits—that can come with buying a foreclosed home. 
Final Thoughts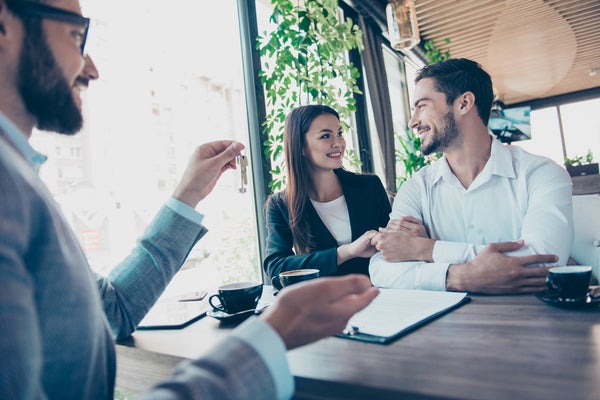 If you're in the market for a new home and looking to stretch your dollar as far as it can go, buying a foreclosed home might be the perfect solution, especially if you are handy and can make any necessary repairs or upgrades to the home yourself. Buying a foreclosure can open up a world of options for you and your budget—whether you've found a house in a popular neighborhood or one that has all of the features that you're looking for in your next home.
It's not without its risk, but as long as you do your due diligence and understand what buying a foreclosure might mean for you and your financial situation, it's certainly an option that's worth exploring.