If you're an avid fan of home renovation shows and moon over design magazines, you've most likely fantasized what it would be like to build and design your own dream home. When you build your own house, every single thing can be custom-built exactly the way you want it. Just think of the possibilities! Do you need a craft room for all your hobbies? Go for it. Have your kids been begging you for a lofted hideaway with a ladder? You can do that, too.
Designing your own living space and watching it come to fruition is an achievement like no other. And it may be more affordable than you think.
Here is a step-by-step guide on building a custom home.
1. Figure out your budget.
When starting your plans for building a new home, you need to establish how much money this venture will realistically require. Unfortunately, many building projects go over budget. Building your own home is a very intricate process. Any construction, materials supply, or design issue can throw off the timeline, slow production, and affect your budget.
Poor time management and lack of communication are two big culprits of going over budget. You have some control over the latter, but time management is all up to your contractor and their team.
When drawing up your budget, put an emergency fund of about 10 to 15 percent of the project right into your plan. That way, you'll be prepared if anything unexpected happens and you need to spend more than you had initially thought.
According to HomeAdvisor, the average cost to custom-build a house is between $118,073–$448,794, not counting the cost of land. See where your budget falls, and then start planning from there. Want to make the most of your money? We have ideas on how to build your dream custom home on a budget.
2. Plot out your home's elements.
One of the hardest parts about building a custom home is narrowing down your options, especially if there are numerous opinions to consider in your household. Creating a "wish" list and a "need" list is essential: figure out must-haves first, then have a backup wish list of luxury features you'd love to incorporate if the budget permits.
Remember to be practical. Sure, you love the look of a granite kitchen sink and are willing to splurge—until your teenager throws their plate in it after dinner and the dish shatters on impact. A cast-iron clawfoot tub may look incredible in your bathroom, but the unyielding shape may turn out to be pretty uncomfortable. If you take baths to wind down and relax at the end of the day, choose one that fits your lounging needs.
When it comes to your home, comfort always wins over style. Make sure your selections suit everyone's needs in your household, including pets. For example, if you live in a temperate climate, you may not prioritize an HVAC system. However, having one can come in handy to help filter pet dander.
When figuring out your desired aesthetic, print out pictures and themes to show to your building team later. They can help you figure out if that walk-in closet placement or large front door opening is a good idea structurally. Remember, lack of communication can cost you money in the long run. The clearer you can be about your wants, the better. If you're planning on using an interior designer, you may want to bring them in now to help you decide.
Don't feel like you need to have anything set in stone. When creating your building-a-house checklist, have alternates just in case something doesn't work out or isn't in stock along the way.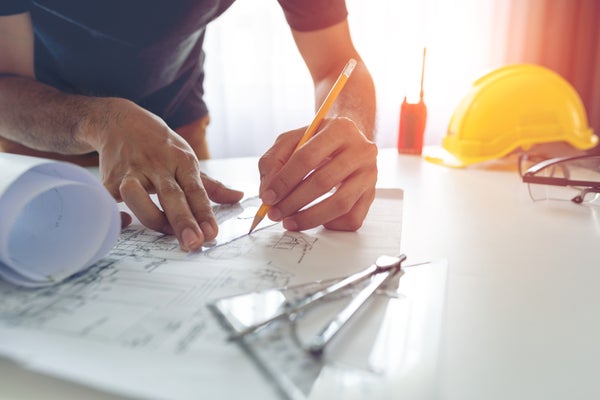 3. Assemble a team you can trust.
After you figure out what you want, it's time to find professionals who will make it happen. You may be thinking, "Shouldn't I find a plot of land before I get builders involved?" It seems logical, but you'll want to find your custom home builder team first. Once they work with you and establish what you're envisioning, they can help you find the perfect property to suit your home.
When you build your own house, hiring both a contractor and an architect may be in your best interest. Having a team you can trust is the most important step in the process of building a house. An architect works with you to determine precisely what you want and figures out ways to make it work while adhering to building codes and zoning laws. Choose an architect who has ample experience and can help you change the design to increase your comfort or expand on your ideas.
A contractor gathers necessary equipment, purchases supplies, and hires subcontractors to build a home. You'll most likely be working closely with the contractor for the duration of the build.
Get both an architect and a contractor at the very beginning of the project. If you're using an interior designer and planning on hiring a landscape architect, get them involved as early as possible. All parties can work together to make your dream home become a reality.
Architects may have contractor recommendations and vice versa, but you should research every member of your team and make sure they are backed by stellar reviews and results. When looking for building specialists:
Meet with them in person.

Ask for referrals.

Request to see their portfolio.

Make sure they specialize in residential design.

Ask for estimates.

Inquire about subcontractors—ask about their experience, if they've used them before, and if they do background checks.

Inquire about their suppliers and the quality of their materials.

Make sure contractors have workman's comp and general liability insurance.

Ask about builder's home warranties.
Remember, you will be employing these individuals and investing quite a bit of money in this project. Interview and hire accordingly.
4. Be decisive.
Know what you want before the contractor breaks ground. Being decisive is especially important if you're building a house on a budget.
Mapping out everything in advance and sticking to the plan will also give you a clearer look at the final cost of the build. It also gives you or your contractor more time to order materials in advance. We're talking about everything from fixtures to flooring and lighting—the more you're sure about, the more your designer and contractor can plan. If you change your mind at the last second, they may have to order materials that could take a while to come in or rebuild something they've already done. Remember, time is money.
5. Make sure your alternate living arrangements are long-term.
According to Sims Builders, it can take anywhere from 10 months to two years to build a custom home—and that's after blueprints are drafted and the contractor breaks ground. If you're planning on selling your house before the new home is built, this means you'll have to find somewhere to stay—whether in a rental unit or with friends or family.
Make sure whoever you're staying with is aware of how long the home building process may take and that both you and the other party are comfortable with the situation if it takes longer than planned. Building your own home can be stressful at times, which can add household tension to the mix. You don't want to lose relationships with loved ones, especially if they were generous enough to open their home to you and your family.
6. Choose your land carefully.
When you design your own house, it's important to remember that land plays a huge role in how much the entire process will cost and what you can and cannot build. Are you planning on planting a big garden in the future? Or what about installing a swimming pool or investing in solar lighting? Talk to your architect and contractor about the best plots of land to suit your needs.
7. Be available to your contractor during the build, and check in often.
If someone on your building team sends you a message, try to respond as soon as possible. The quicker you answer or make a decision, the quicker the team can continue working.
It's also a good idea to check in often and make sure everything is going smoothly. Visit the building site frequently to make sure everything fits your vision. That way, if something doesn't look right or veers from the original plan, you can let them know before too much work has been done.
If you decide to change anything, put it in writing for the contractor to clarify the communication. This is also a good practice from a legal standpoint so that there's documentation of any contract changes. Your contractor may require a modification in writing to protect themselves.
8. Be flexible.
Part of the draw of custom-built homes is the personal touches you can dream of and incorporate. But remember that you hired building professionals for a reason. If they express concern about something in your design or suggest changing it, be receptive to their advice and consider their expertise.
Don't let yourself get talked into something you'll hate, but if they have concerns for safety or budget reasons, you might want to change it. Most contractors and architects need referrals for their business to flourish, so they want you to be happy. They won't suggest changing something unless they see potential problems in the future.
9. Hire an inspector after the build is complete.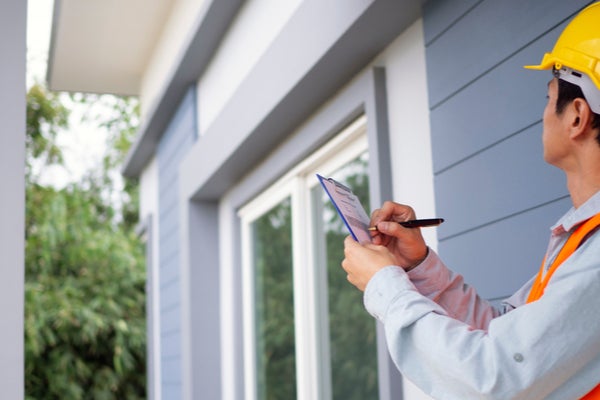 Even though contractors are experienced professionals, building defects and mistakes can happen. Hiring an architect goes a long way toward making sure code violations and design flaws don't happen during the build, but the best thing to do is hire an inspector to make sure everything is pristine.
10. Purchase a home warranty.
Finally, protect your home with a home warranty. Even though your builder may have provided a builder's warranty, it only covers select items for a set period. An American Home Shield® home warranty can give you peace of mind and confidence that your investment is protected, and it covers a variety of houses. Building a tiny home? Not a problem. Investing in a historic home? We've got you covered. Check out our pricing and plans today.
Transform the process of building your own house from overwhelming to just plain exciting with these helpful steps. Handle it like a pro—with the help of a few pros along the way. Your dream custom home awaits!