If you want to build your own tiny house, you probably have a lot of questions, like "How much does it cost to build a tiny house?" Or even more simply, "How do I get started?"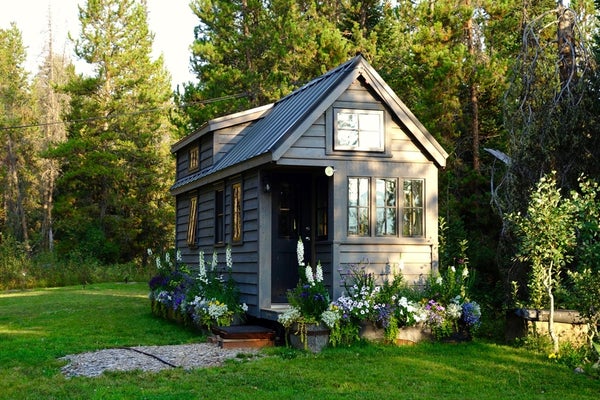 Proponents of tiny living believe that a minimalist lifestyle gives them the flexibility to have more fulfilled lives. However, building a small house, like building a custom home, can be an arduous process—if you're not prepared. Navigating from planning to building to organizing your new tiny home can be complex. With any new-build process, you'll likely encounter some obstacles along the way. It's essential to have as much information as possible about how to build a tiny house.
Use these tips on building your dream tiny house so you can stay confident in your home-building journey.
Where Should Your Tiny House Go?
The first step for building a small house is to decide where to place it. Here are some important factors to consider.
Portability. If you want freedom with your tiny home, consider building one on a trailer so that wherever you go, your tiny home can come along, too. However, this option means that you will be limited to RV hookups for your water, gas, and electricity, so that freedom may come at the cost of convenience. A permanent option is to build on concrete slabs. A tiny home built on a permanent foundation will likely appreciate better than a tiny home built on wheels. However, in general, tiny homes do not tend to appreciate at the same rate as more traditional real estate.
Local permitting. Permitting rules come in the forms of zoning laws and building codes. If you choose a permanent foundation for your tiny home build, you will likely need to either buy the land you want to keep it on, build it on an already-zoned tiny home lot, or add it as a second dwelling on your current property. Alternatively, you may wish to rent out land space for your permanent tiny home fixture. You cannot always build a tiny home or accessory dwelling unit (ADU) on another property, even if you or someone you know owns that property. Depending on your state and county, it may be illegal to build or place a tiny home on someone else's land without paying zoning fees—it could even be unlawful to buy land and only build a tiny house on it. Other zoning laws might dictate the amount of time your tiny home can stay on a property. On top of zoning regulations, building codes provide safety guidelines regarding how to build a tiny house. Building codes differ based on your location, so make sure that you abide by the building codes set by your state.
The cost of land. Buying land offers security and the freedom to customize your living area. However, if you live in an area that allows you to build a tiny home on purchased land, you'll need to consider the cost of land. In general, more rural areas tend to have cheaper land, while the price per acre increases exponentially the closer you get to urban areas.
If you have a tiny house on wheels, you may want to look into renting land at a tiny home community. Another option is a mobile home or RV park; many allow tiny home rentals. Or you can engage in what is known in the tiny home community as the WWOOF program. WWOOF, which stands for World Wide Opportunities on Organic Farms, allows people to exchange farm labor for land lodging.
How Much Does it Cost to Build a Tiny House?
The average cost to build a tiny house, if you build it yourself, is between $10,000 and $30,000. If you hire builders, it could range from $20,000 to $60,000. Although tiny homes tend to cost more per square foot than a traditional home, your overall investment for a tiny home will be much less.
The cost to build a tiny house also depends on the structural components that go into the build. The more expensive the materials, the higher the price of your tiny home.
Finally, don't overlook the cost of where you place it. Buying land requires a larger initial investment but may save you money over time, while renting land lodging space is cheaper in the short term but may end up costing much more over time. It all depends on your specific needs and values. If adventure and the call of the wild are important parts of your decision to build a tiny home, you'll probably want to have a mobile tiny home to take with you. If pairing community with a minimalist lifestyle is part of your tiny home plan, you may consider building your house on a permanent foundation.
What are the Steps to Building a Tiny Home?
Now that you have the land and budget in mind, you're ready to learn how to build a tiny house step by step.
1. Figure out your floor plan.
If you are building a DIY tiny house, it can be helpful to categorize your building plan based on each part of your new home build.
First, create your floor plan. Tiny home floor plans vary, so it's important to figure out what kind of floor plan best fits your and your family's needs. Think about where you spend the most time (reading in bed, cooking in the kitchen, working at a desk), how much storage you require, sleeping arrangements if you have kids or pets, and so on. Once you have a good idea of what you think your floor plan should look like, try mapping out the life-size version of it somewhere. From there, alter your working floor plan as needed.
Pro tip: Whether you're building your house on your own or getting the help of an architect and tiny house builders, you can often find free or inexpensive tiny house building plans online.
2. Choose your materials and fixtures.
After solidifying the floor plan, choose which structural components you'd like to use for framing, roofing, flooring, siding, and insulation. Next, select necessary items, like your electrical and plumbing systems, windows, toilet, shower, refrigerator, water heater, air conditioning, heating system, fasteners. Finally, pick out paint colors and fixtures like lighting, hardware, storage cubbies and shelves, and curtains or blinds.
3. Begin the build.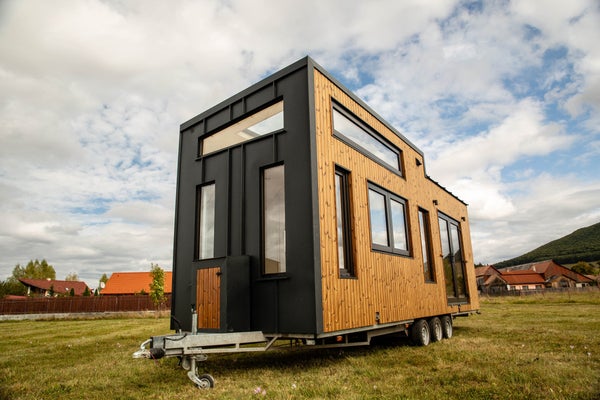 When building a small house on wheels, you'll need to take into account how much weight the trailer can accommodate. Homes on wheels need to be more reinforced than those on the ground to account for transportation. First, insulate and frame the floor of the trailer, then move onto the walls and roof.
For a tiny home built on a permanent foundation, begin by laying the foundation and building the floor frame. Then, attach metal deck flashing, add insulation and a water barrier, and install the subfloor. From here, you can move on to the walls, windows, and roof framing.
After the foundation, tiny home builds tend to look approximately the same, with sheathing, window and door openings, plumbing and electrical installation, and so on. If you're not an experienced builder, it's probably a good idea to hire a tiny house builder who can help you each step of the way.
4. Consider using a tiny house building kit.
If you don't want to hire a contractor but are still intimidated by the thought of building entirely from scratch, you may want to look into tiny house building kits. These range from kit homes with necessary blueprints, a trailer, and a supply list; tiny house shells; or even shipping container home builds. Many companies offer thorough breakdowns of building plans and tiny home building lessons and training. It all depends on how much or how little help you desire.
How Do You Prepare for Tiny Home Living?
A dwelling is consider a tiny home if it has less than 600 square feet of living space, but the average tiny home is just around 225 square feet. It can be daunting to make such a significant lifestyle change by moving from a larger living space to something so minimal.
Here are some helpful steps for preparing for tiny home living:
Begin by downsizing. Minimize your possessions as much as possible. It can be helpful to adopt a minimalist mindset by determining what matters to you in life (think hobbies, lifestyle, etc.). Once you've downsized your possessions, think about how to maximize space best and take advantage of storage capabilities.

Spend time in a tiny home. It can be helpful to spend time in a smaller living space before beginning the tiny home build process to make sure that you really know what it's like to live in small quarters. Try renting a tiny home for a week to see if you can adapt.

Locate your tiny home community. Even if you plan to live off the grid, it can still be helpful to find a network of fellow tiny home builders and enthusiasts so that you have a community to rely on for learning more about tiny homes. If something confuses you in the tiny home building process, you know who to turn to.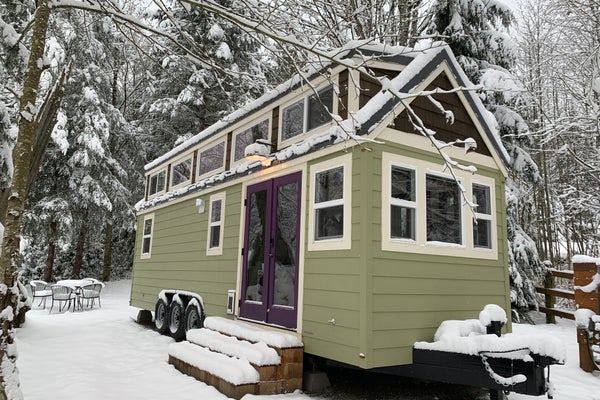 Building a home can be an overwhelming process, and building your own tiny house is no different. With these tools of the tiny home trade, you can be confident in the build process and rest assured that your needs and lifestyle can fit in perfectly—even with less square footage.
Though an American Home Shield® home warranty does not cover tiny houses, it does cover a variety of other homes. Check out our pricing and plans today.