Your bathroom should be a place for relaxation, primping, and a little luxury. If it's not a place you currently want to spend much time in, that's an easy fix!
American Home Shield® has tips for a bathroom remodel project, including small touches for a limited budget.
1. Update your floors.
New flooring can go a long way toward modernizing your bathroom and giving it a facelift. Tile has always been a tried-and-true bathroom flooring material—it comes in a variety of colors, styles, and price points and is ideal for floors that are routinely exposed to water.
Another great idea for a bathroom remodel is waterproof laminate flooring, which allows you to bring the timeless look of wood into your bathroom.
Budget-friendly tip: Do you want a change but are restricted because you're renting? Give temporary flooring a try, which may include peel-and-stick vinyl sheets or waterproof vinyl planks. These temporary options are a great solution if new flooring isn't in the budget or if you want to test the look before committing.
2. Refresh your vanity.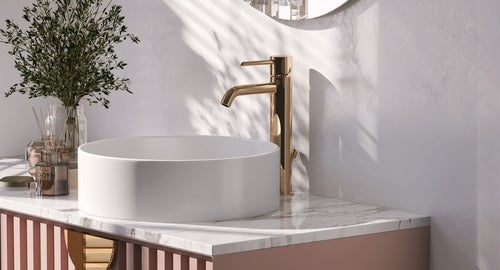 Natural stone or wood is a great option for bathroom countertops and comes in all shapes and sizes. If you share your bathroom, consider treating yourself and purchasing a double mirror and sink.
Budget-friendly tip: If you want to refresh and not replace your vanity, consider covering it with contact paper that looks like marble or granite. Then, complete your simple bathroom remodeling project by painting the cupboards below the vanity.
3. Upgrade your shower and bathtub.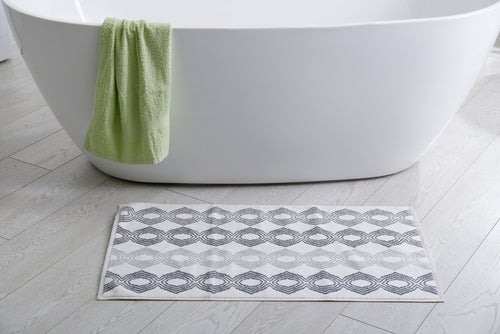 Are you looking for bathtub and shower makeover ideas? Freestanding soaking tubs are beautiful and help turn your bathroom into a relaxing oasis and having a separate shower stall is both chic and practical. With endless styles, you're bound to find something that fits your aesthetic.
If you don't have enough space for a separate shower and bathtub, consider upgrading the tile in the shower area to fit your style better. Choose large tiles for a small bathroom remodel to create a less-cluttered, more spacious feeling.
Budget-friendly tip: If you're looking for an affordable way to relax in the tub, add a portable whirlpool jet spa. This way, you can still relax without the hassle and cost of replacing your tub.
4. Choose the right décor.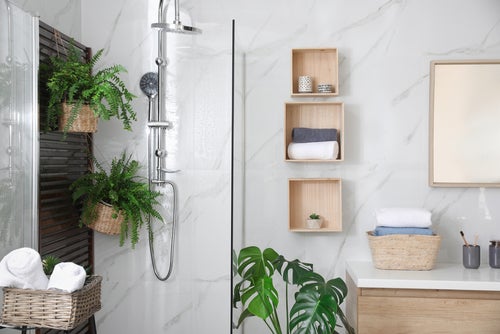 You may be ready for a bathroom remodel, but sometimes the budget needs time to catch up. Compromise by adding décor. When decorating, use a classy spa as your bathroom remodel inspiration. Add a rack filled with rolled-up, soft towels; a glass tray holding your favorite candles; and some greenery.
If you decide to incorporate live plants, look for species that need low light and like warm and moist environments. However, you can save money by using faux greenery. Visit your nearest dollar store and make your own plant arrangements to help lower your bathroom remodel cost.
5. Purchase low-flow fixtures.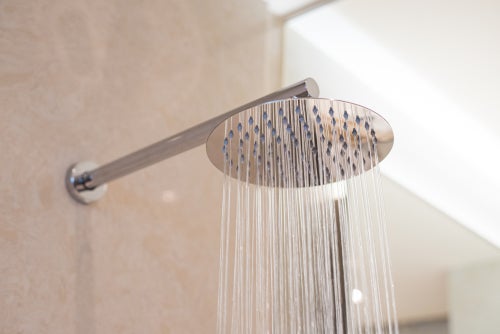 Low-flow fixtures, like faucets and showerheads, are an easy way to conserve water and save money on your water bill. No matter how big or small your bathroom project is, make sure to incorporate these eco-friendly bathroom remodel ideas.
6. Add built-in entertainment to your next bubble bath.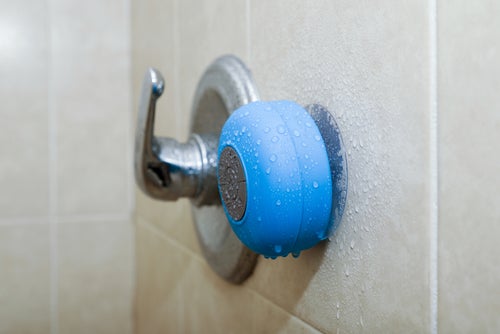 What is more luxurious than an entertainment system in your bathroom? If you like to listen to music or podcasts while you shower or get ready for the day, installing a waterproof speaker system is an investment you'll love.
Budget-friendly tip: A bathtub tray, waterproof tablet, and a waterproof portable speaker give you the luxury of bathroom entertainment at a reasonable price.
7. Add warm touches.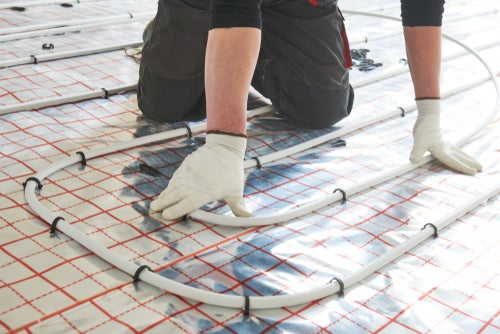 In-floor heating provides comfort for your feet in the colder months. It's relatively easy to install when undertaking a bathroom remodel, and it can be a very valuable and affordable investment.
Budget-friendly tip: If you can't afford to install in-floor heating, buy plush bathroom rugs to keep your feet warm, and invest in a heated toilet seat and towel rack.
8. Overhaul the lighting.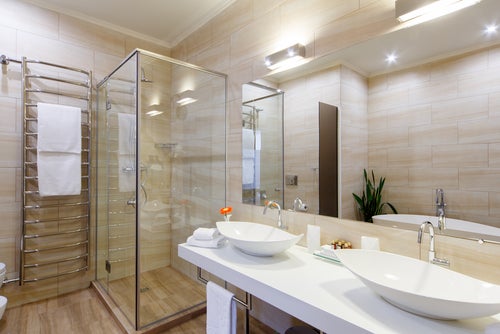 The lights in your bathroom need to be versatile: you'll want a crisp white light for the vanity and softer lighting for your bathtub area. One bathroom update idea is to add dimmer switches so harsh lighting doesn't put a damper on a relaxing nighttime soak.
9. Be cautious with trends.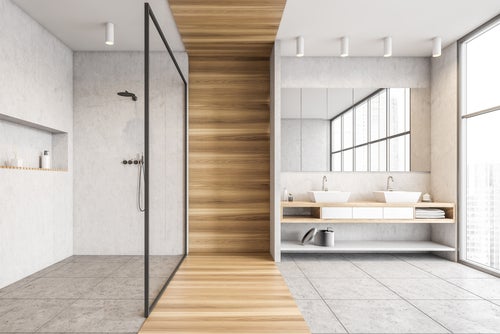 When choosing bathroom remodel ideas, be careful with trends and ensure the updates work with your space.
For instance, one trend is doorless showers. While this is a cool idea, in theory, it won't be so cool if your kids use the shower often and decide to spray water everywhere. A doorless shower typically requires a minimum of seven feet by four feet, so your bathroom will need to be big enough to hold the shower, plus the toilet and vanity.
When bathroom remodeling, keep in mind that the goal is not to have to remodel it again for years to come. You can incorporate trends while still ensuring that the bathroom is timeless and works with your space.
Learn how to avoid bathroom remodel nightmares.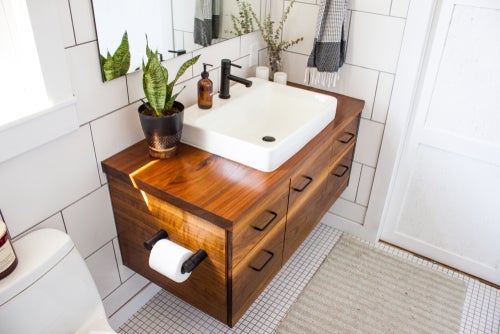 After completing a bathroom remodel, make sure that you have home warranty coverage to protect your home investment. An American Home Shield® home warranty covers parts of up to 23 home systems and appliances that you use every day. For example, our built-in exhaust fan warranty coverage can help cover the cost to repair or replace your bathroom exhaust fan if it malfunctions due to normal wear and tear. Do you have a leaky faucet? We cover that, too. Our home systems warranty coverage also includes interior plumbing and electrical lines, toilets, and valves.

See how a home warranty can work for your budget and household. Check out our pricing and plans today.
AHS assumes no responsibility, and specifically disclaims all liability, for your use of any and all information contained herein.