As many companies move their workforce to remote environments, some employees are quickly realizing that their home network may not be equipped for the virtual demands of doing business.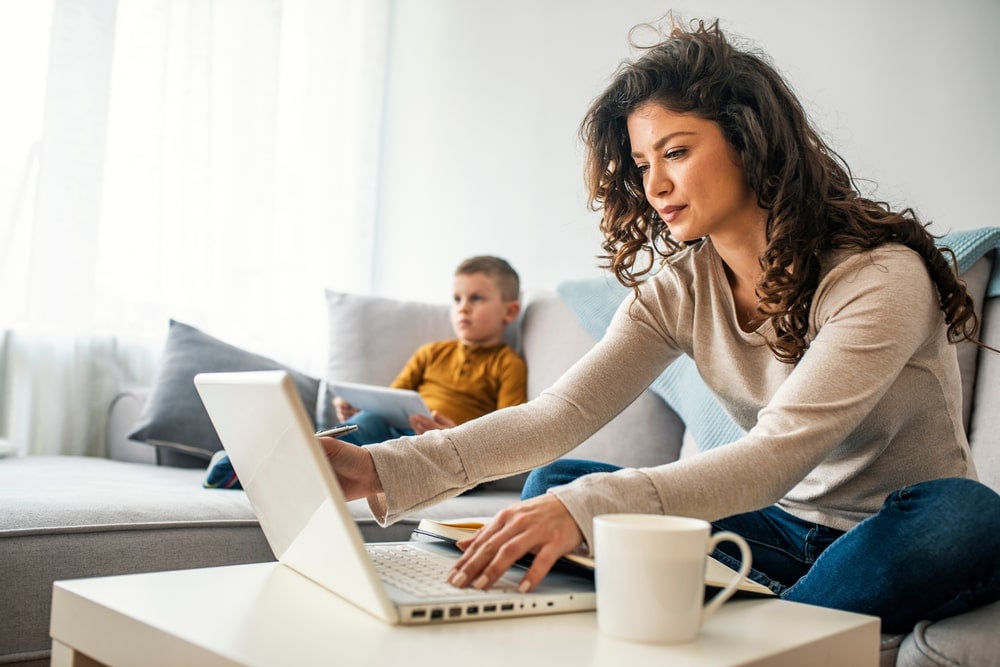 Connecting work devices, participating in video conference calls, document storage – it takes a high-speed internet connection to handle these tasks. And, if you've got kids participating in virtual learning, someone else working from home, multiple streaming services – the list goes on – you could be putting a great deal of strain on your system.
If you're dealing with a slow connection, read on to learn some ways to speed up your WiFi.
First, test your internet speed
It's important to understand your internet usage – how you use, when you use – to know if you're getting the most out of your WiFi.
The standard measure of internet speed is Mbps – megabits per second. This term is used in reference to download and upload speeds. When internet providers talk about their plans, they'll use Mbps as benchmarks for different levels.
For most streaming television services, you need 10 Mbps (25 Mbps for Ultra 4K content).
The Federal Communications Commission (FCC) recommends 12-25 Mbps for families with multiple internet users.
If your household is streaming multiple devices at once and relies on the internet for a majority of the day, you may need up to 200 Mbps.
To figure out your current internet speed:
Connect your computer to your router using an Ethernet cable.
Make sure you're connected to the internet
Go to www.speedtest.net
Click "Go"
If, after the test, you feel like you need to increase your Mbps, then you should reach out to your internet provider about upgrade options. If you feel like your system falls within a normal, necessary range, but you're still experiencing problems, there are some ways to try and boost the speed. See below.
If, after the test, you feel like your system falls within a normal, necessary range, but you're still experiencing problems, there are some ways to try and boost the speed.
How do I make my internet faster?
If you're experiencing poor audio and video during conference calls, slow load times, sluggish email folder updates or dead zones, here are some reasons your connection may be lagging:
Your modem and router need a reset. Simply shut both the modem and router down for about a minute, then reconnect. Try this every few months as a best practice.
Your router needs to be moved into a new space. If you keep your router in a closet, behind a piece of furniture or in a corner of a room, it's best to move it to a location close to your computer and free from physical barriers. Walls and other obstructions can block the signal. If you still can't position your workstation in a close proximity to the router, consider purchasing a Wi-Fi extender. Extenders receive the wireless signal from your router and amplify it into other areas of your home.
You need personalized tech assistance. Sometimes you need to run the problem by a professional who can troubleshoot connectivity problems. For example, American Home Shield® has partnered with HelloTech to offer tech installation and set up support at an exclusive discount.
You're using outdated devices. If you're using WiFi with older technology, this may be preventing the internet from running smoothly. Make sure your devices have the latest software installed and that you've closed out any unused applications or add-ons. You may even consider updating your devices if they're several years old.
Your router or modem needs an upgrade. Technology upgrades quickly, and even if it's only a few years old, your current router or modem may not be the right fit for your house size or data needs. Do some research to find the right fit, then install in your home.The Amazon Eero Mesh WiFi system and the Google WiFi system are great places to start your research. If you're not sure how to set up a new system, contact the professionals available through HelloTech for advice and installation assistance.
Finally, if all else fails, consider changing internet providers.
A home technology partner
At American Home Shield, we understand that many workers are now finding themselves in an unfamiliar situation. Working from home may be a bigger challenge than you expected, and you could use someone to help you navigate this new normal.
From routers to modems to secure networks, it can be tough learning the tech lingo and troubleshooting your own issues. But you don't have to go it alone. Through our partnership with the experts at HelloTech, we're proud to offer installation and set-up support to our members, and at an exclusive 15% discount. We'll always be here when you need us.

AHS assumes no responsibility, and specifically disclaims all liability, for your use of any and all information contained herein.