If you want to keep cool in the toastiest of times, you are likely well aware of the importance of reliable air conditioning. However, keep in mind that not all air conditioning units are created equally. Different types of A/C units offer different levels of coolness, pressure, and air quality, so it's important to understand which A/C unit is best for your specific household.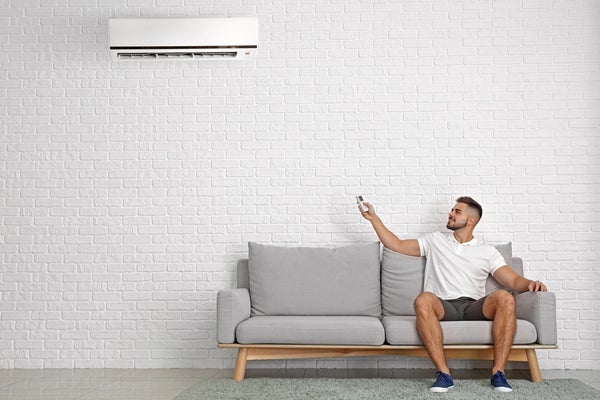 Types of Air Conditioners
Air conditioner systems vary depending on the size of your home and your individual needs, so before you invest in a new unit, let's cover the different types of air conditioners.
Portable A/C unit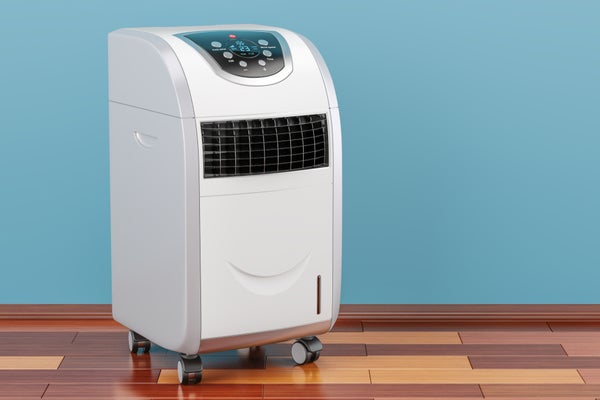 If you live in a smaller home—whether a townhouse, condo, tiny home, ADU/guest house, flat, or simply a house with little space—you'll probably want to use a portable A/C unit for your air conditioning needs. Portable A/C units usually have wheels, meaning that you can roll them into whatever room you need to keep cool. If you have a larger home but tend to relax in just one room at a time, a portable A/C unit could be a great solution, so you don't have to cool your entire house.
After making sure that the room has a double-hung or sliding window, you can attach the hose and window adapter, plug in the unit, and enjoy the pleasant chill. Portable A/C units usually provide effective cooling between 60 and 90 degrees for rooms up to 400 square feet, although units and coverage may vary. If your home does not require as much cooling in the more temperate months, you can use the unit as a fan. A portable A/C unit is the best choice if you only need to cool a small space because they're easy to install, to clean, and to move.
Pros:
Inexpensive initial investment

Easy to install

Mobile/able to move with you
Cons:
Only works in small spaces

Not sustainable over long periods of time
Window A/C unit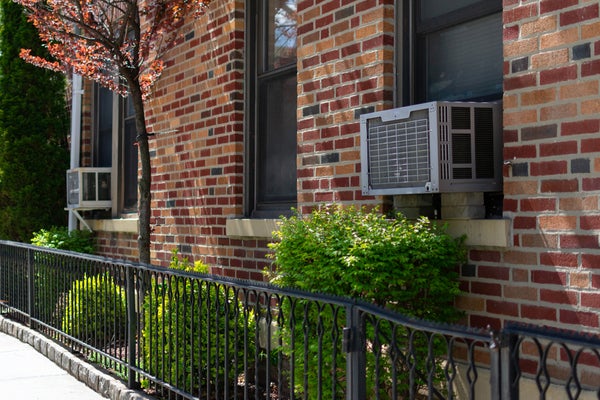 A window A/C unit is a single unit that you install in a window of your house. A window air conditioner unit removes heat and humidity from your home by circulating room air through refrigerant coils. It's like a portable A/C unit but with just a few more installation steps, and you can take a window A/C unit with you when you move.
Pros:
Cons:
Central A/C unit
Central air conditioner systems move cool air through supply-and-return air duct systems. The two types of central air conditioner units are split systems and packaged systems.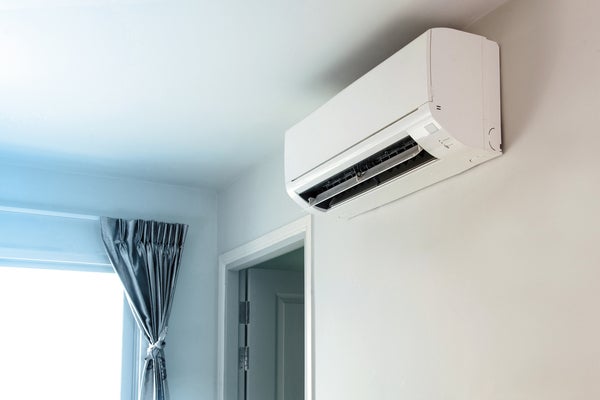 With a split-system air conditioner, an outdoor heat exchanger/blower, fan, and compressor are installed in an indoor or outdoor cabinet. Usually, the outdoor cabinet will house the condenser and compressor, while the indoor cabinet will house the evaporator coil. It's called a split system because copper tubing moves cold air from the outdoor cabinet to the inside of the house.
Pros of a split-system air conditioner:
Cons: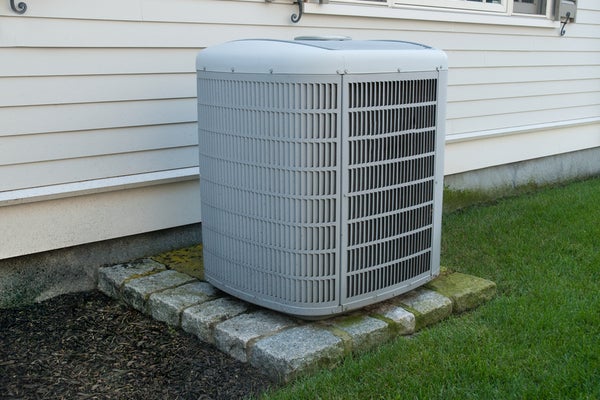 With a packaged unit, the entirety of your A/C system—evaporator coil, condenser, and compressor—is housed in one metal cabinet. A packaged unit is usually installed on your home's ceiling or just outside your home on a cement slab and typically includes heating, ventilation, and A/C (HVAC).
Packaged A/C unit pros:
Simple to install and use if your home already has ductwork

Very quiet compared to other A/C units

Provides even distribution of cool air throughout the home
Packaged A/C unit cons:
Can be challenging to install if your home doesn't have ductwork

Difficult to control climates in different rooms

May undergo harsh weather conditions, causing maintenance issues
Geothermal A/C unit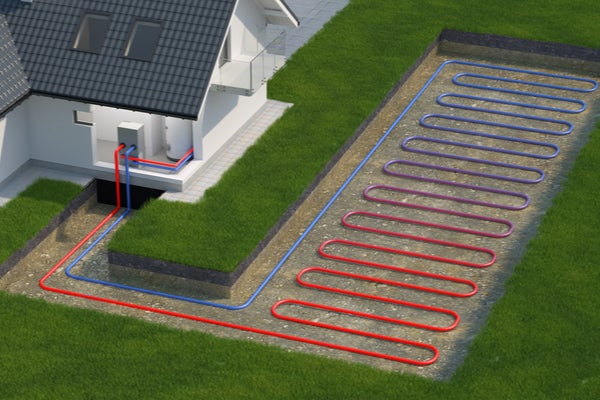 This type of heating and cooling system uses the near-constant temperature experienced just below the earth's surface to heat or cool air circulating throughout your home. With a geothermal A/C unit, your heat pump will remove heat from the air and transfer it into the ground through fluid. You will feel cool air blowing through the unit after the heat is removed from circulated air, transferred to the ground, and then returned to your home.
Pros:
Extremely efficient—no wasted electricity

May save you money over time due to high efficiency
Cons:
What Factors to Consider When Buying Air Conditioning
To choose the best A/C unit for your home, consider your home's size, where you live, your budget, and your family's needs. Next, you should account for the air conditioning unit's British thermal unit (BTU) rating, which is a measure of the amount of energy it takes for the unit to cool your home. If an A/C unit is too large or too small for the room it's installed in, it can cause a variety of issues ranging from over-humidification, high electric bills, or simply improper cooling.
Here is a simple way of calculating how many BTUs you need (not accounting for your region's cooling or heating needs):
150–350 square feet: 5,000–8,000 BTU

350–550 square feet: 9,000–12,000 BTU

550–1,000 square feet: 14,000–18,000 BTU

1,000–1,400 square feet: 21,000–23,000 BTU

1,500 square feet or more: at least 24,000 BTU
Once you've determined how many BTUs your home needs, think about any structural restrictions that might impact the type of A/C unit you choose. Some apartment and condo complexes do not allow A/C units that can be seen from the outside or require structural modifications. If you live in an older house, you may not be able to upgrade to a ducted air conditioner system without damaging the home's existing structure.
Finally, consider your own needs and desires for your A/C unit. For example, you might prefer features such as a programmable timer, smartphone technology, noise reduction, air purification, or dehumidification capabilities. The bottom line is that the best A/C unit is the one that works best for your home.
Once you have figured out your budget, BTU requirements based on room/home size, structural restrictions, and any extras you want out of your A/C unit, it's time to choose the brand.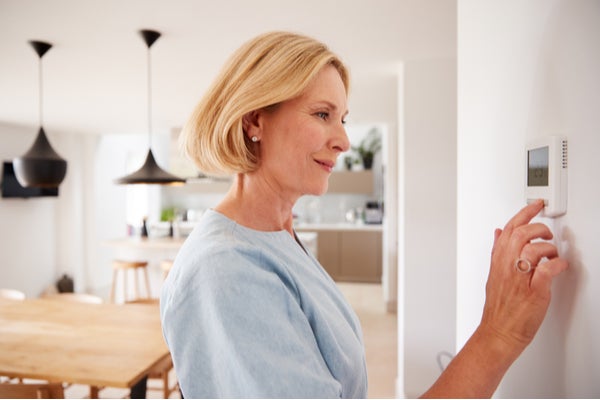 How Do You Protect Your A/C Unit Investment?
Once you choose and buy an A/C unit for your house, you'll want to do everything in your power to protect your investment.
Your air conditioner's filters, coils, fins, and drains will naturally degrade over time, so be sure to conduct regular air conditioner maintenance. Routinely replace or clean the filters, check and clean the evaporator and condenser coils, use a fin comb to unblock your coil fins, and check the condensate drains.
For comprehensive HVAC protection, signing up for a home warranty plan is the safest bet. Be on the lookout for plans that offer home warranty coverage for cooling and heating units—particularly ones that offer coverage for ductwork.
American Home Shield® home warranty plans cover major components of your air conditioner, whether it's a wall air conditioner, mini-split, or ducted central electric split and package units. Unlike many other home warranty companies, we even offer coverage for geothermal systems. When your air conditioning encounters a covered issue, we'll repair or replace the air conditioner unit that's malfunctioning due to normal wear and tear, subject to your contract limitations and exclusions. Plus, we offer seasonal HVAC tune-ups to ensure that your system is in tip-top shape year-round. Check out our pricing and plans.