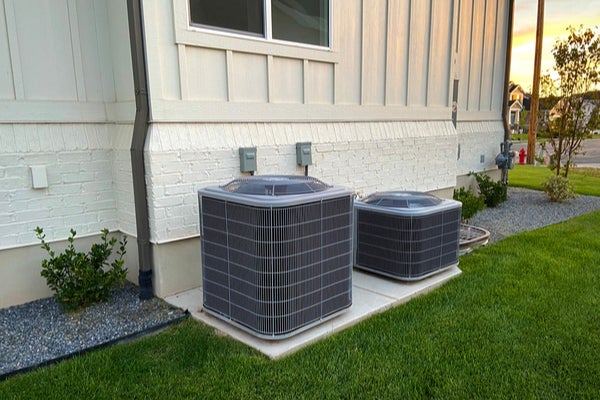 If your home has air conditioning, conducting regular A/C maintenance can help keep it running properly throughout the year—especially in the summer when it's vital to keep cool.
At least once a year—preferably in the spring, before you start using the unit for cooling—it's a good idea to perform your own inspection or hire a professional for a tune-up. Doing so can help prevent potential hiccups down the road.
As you navigate how and when to do routine home maintenance, it's important to put conducting a DIY HVAC inspection at the top of the list. American Home Shield® is here to give you the scoop on A/C maintenance to help keep your unit in tip-top shape.
1. Turn off all power to the unit.
Since A/C unit maintenance usually involves opening it up and poking around, it's always a good idea to cut the power before beginning. Turn off the power at the breaker box and the exterior shut-off box near the unit, if applicable.
2. Start by checking the outside unit.
After a long winter, it's important to check the outside unit for any problems. It should:
Be clean and free of obstructions, like dirt, debris, leaves, and grass clippings.

Be level on the ground.

Have at least two feet of clearance around it.

Have insulation around the refrigerant lines that isn't torn or compromised.
3. Check the outside fan blades and wiring.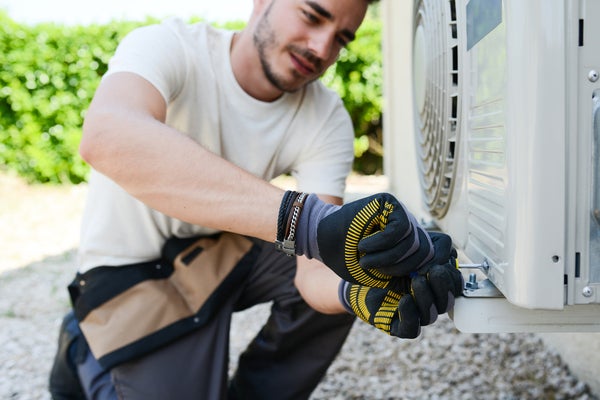 Remove the access panel on the unit to check the wiring for any signs of overheating, which may include melted insulation on the wires and blackened or burned-looking wires. If everything looks good, replace the access panel.
Next, remove the fan cage at the top of the outside unit with a screwdriver or wrench. Remove any leaves and debris using your hands (we recommend wearing gloves) or a wet/dry vacuum. If the outside unit needs to be cleaned, you can use a garden hose to spray the unit from the inside out. Do not use a pressure washer.
Examine the fan blades for any cracks or chips. If you notice that any of the "fins" surrounding the unit are bent, carefully straighten them with a butter knife. Make any other necessary changes to ensure the unit is level and has the proper clearance and insulation around the refrigerant lines. Once everything is clean and straightened, secure the fan cage and head back inside.
If you come across any issues during your home A/C maintenance that you can't easily resolve, such as melted wiring or choosing the correct replacement fan blades, you'll need to contact a professional to conduct an A/C maintenance service.
4. Change the air filter.
Now it's time to check the inside A/C unit. If you haven't done it recently, follow the manufacturer's instructions for switching out the air filter. This should be done every one to three months for optimal efficiency.
5. Examine your thermostat.
At this point in your air conditioner maintenance process, it should be safe to turn the power to the unit back on. Adjust the temperature settings until the unit kicks in and starts cooling the air. The vents should have noticeably cold air blowing out of them, and you shouldn't hear any strange noises coming from the system.
Over the next few days, check to ensure your thermostat is working properly by keeping your home at the right temperature.
6. Let a home warranty do some of your A/C maintenance work for you.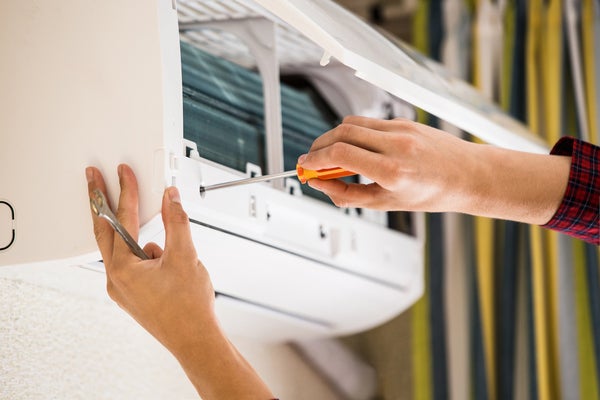 If you have performed your central air conditioner maintenance and the unit is making strange noises or not working properly in other ways, you may need a professional to service your unit. Thankfully, an American Home Shield® home warranty can help.
Don't get stuck paying expensive, out-of-pocket A/C maintenance costs without home warranty coverage. Our air conditioning warranty covers ducted central electric split and package units, geothermal units, wall air conditioners, and mini-splits. When your system encounters a covered issue due to wear and tear, we'll help repair or replace the part, subject to the limitations and exclusions of your contract.
Enjoy added coverage with our ShieldPlatinum™ plan. It includes one complimentary HVAC tune-up per contract term, unlimited refrigerant, double the appliance coverage limits, and roof leak repair. Compare home warranty plans today to find the best coverage for your household and budget.
Learn more about HVAC maintenance tips for the winter.
AHS assumes no responsibility, and specifically disclaims all liability, for your use of any and all information contained herein.