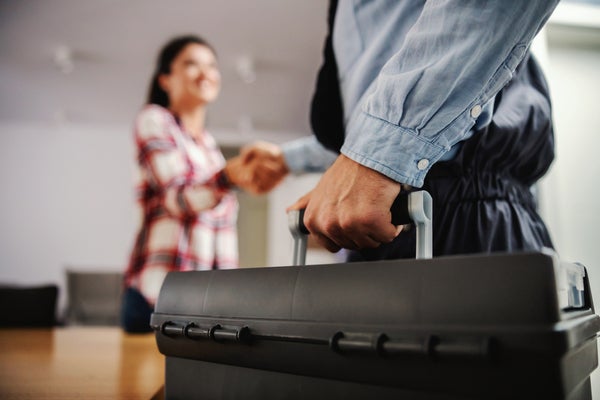 As a homeowner, you know routine care for your home systems is essential. Unfortunately, no matter how well you maintain them, they'll eventually succumb to wear and tear. With the American Home Shield® ShieldSilver™ plan, your budget is protected when you inevitably need to repair or replace parts of your hardworking covered systems.
We know how frustrating household breakdowns can be. That's why we offer a home warranty plan that gives you confidence in your home. Our ShieldSilver™ plan can help you repair or replace parts of 14 major covered home systems, subject to the limitations and exclusions of your plan:
Heating and Cooling Systems: When your HVAC system grinds to a halt, repairing or replacing it can take a chunk of your savings. The AHS® ShieldSilver™ plan covers major components of air conditioners, heating units, and ductwork.

Electrical Systems: The convenience of electricity is one of those things we tend to take for granted—until we're left sitting in the dark. AHS® home warranty plans cover wear and tear on the fuse panel box and the main breaker; built-in vent, attic, and exhaust fans; ceiling fans; garage door openers, doorbells and chimes; and interior electrical lines.

Plumbing Systems: With AHS coverage, you don't have to worry if a pipe or faucet in your home springs a leak. The ShieldSilver™ home warranty plan includes coverage for water heaters; valves, toilets, and faucets; interior plumbing lines; and whirlpool tub motors and components.
You can even customize your American Home Shield® ShieldSilver™ plan with additional coverage for roof leak repairs (not available in Hawaii), septic and well pumps, and pools and spas. Do you have a guest unit? We offer additional coverage for that, too! We also have an Electronics Protection Plan, which covers tablets, TVs, laptops, and more. The variety of plans we offer allows you to select the coverage you need to fit your budget and home.
If you also want coverage for the appliances you use every day, the ShieldGold™ plan covers all of the systems included in the ShieldSilver™ plan plus nine appliances. Learn about the ShieldGold™ Plan. For the ultimate coverage, we offer the ShieldPlatinum™ plan. This American Home Shield® warranty plan covers parts of up to 23 systems and appliances, as well as extras—like roof leak repair, unlimited A/C refrigerant, and one free HVAC tune-up per contract term—for ultimate budget protection and convenience. Learn more about the ShieldPlatinum™ Plan and compare plans today.
When you need to protect your key home systems, purchase the AHS® ShieldSilver™ plan. Having an American Home Shield® plan means having peace of mind and coverage you can count on.
Service fees, limitations and exclusions apply. See plan for details.
AHS assumes no responsibility, and specifically disclaims all liability, for your use of any and all information contained herein.