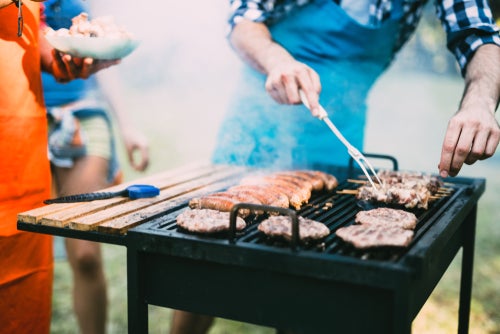 For many people, summer means it is finally BBQ season. Nothing tastes better than delicious meats and veggies grilled to perfection. When you add your favorite sides, drinks, and people into the mix, you have a great way to relax and make some memories.
Before running out and buying a new grill, it's important to remember that, while grilling can be a lot of fun, it can also be dangerous—especially if it's your first time manning the spatula.
Luckily, American Home Shield® has helpful BBQ tips so you can operate your grill safely.
TRUE/FALSE QUIZ
How much of a Grill Master are you? Take this quiz to find out your grilling safety IQ.
It's ok to put lighter fluid on lit briquets. True/False

For a charcoal grill, arrange briquets flat across the grill before lighting them. True/False

A gas or charcoal grill should be placed at least 10 feet from your home. True/False

Grilling in the garage is fine as long as the garage door is open. True/False

Clean your grill after each use to prevent grease buildup. True/False

If a grease fire occurs while you're grilling, pour a bucket of water on it. True/False

You can use kitchen spatulas to BBQ. True/False

Leaving grilled food out is fine while you're having a backyard party. True/False

Always put cooked food in the fridge within two hours after grilling. True/False
Calculate Your Results
1. False
2. False
3. True
4. False
5. True
6. False
7. False
8. False
9. True
Did you get Mostly False Answers?
Based on your answers, you have a good grill safety IQ and are a Grill Master! Keep reading to learn more BBQ safety tips.
Did You Get Mostly True Answers?
Based on your answers, you could use some tips for better grill safety and to enhance your grilling skills. Keep reading to learn more grilling tricks and BBQ safety tips.
What is the proper way to light a standard charcoal grill?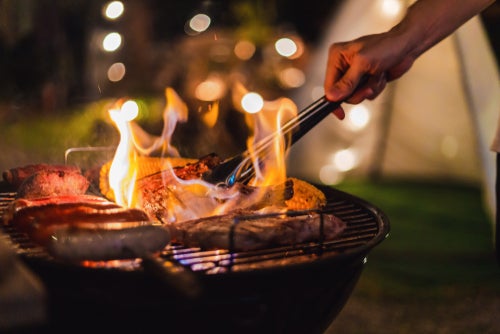 Here are safe and efficient ways to fire up your charcoal grill, according to Kingsford:
If you're using lighter fluid, carefully read the instructions on how much to use (if you have pre-infused lighter fluid charcoal, it will save you a step).
Use a long match or grill lighter to start the flame immediately after spraying with the lighter fluid.

You should never spray lighter fluid on lit briquets—doing so is one of the dangers of charcoal grilling. It can make the fire get out of control and cause serious injury.

Once the lighter fluid burns off and the briquets turn into an ashy gray color, it's time to grill.
Read about gas grill safety tips.
How far should your grill be away from your home?
According to the U.S. Consumer Product Safety Commission, your grill should be at least 10 feet from your home. Don't forget to factor in overhangs and porch roofs when doing your calculations.
Barbecuing on a wooden deck is also a no-go when it comes to grilling safety. You should also never place a grill inside your home or in your garage—whether the garage door is open or not. Stray sparks or carbon monoxide pose too much of a threat.
Is a dirty grill a safety hazard?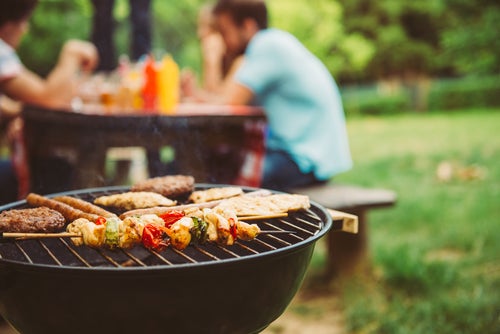 Keeping your BBQ clean is an essential part of grill safety. A dirty grill can harbor bacteria and carcinogens that can be harmful. Grease is also extremely flammable, so it's never a good idea to let it build up.
How do you extinguish a grill fire?
One of the most important grill safety tips is to avoid using water to extinguish a grill fire. Throwing water on a grease fire can splatter and spread the flames. If turning off the burners and covering the flames with the lid isn't a safe option, use baking soda, sand, or salt to snuff it out.
Can you use kitchen cooking utensils on the grill?
It may be tempting to grab the kitchen spatula to give your burgers a quick flip, but that puts your hand closer to the flame. For the ultimate BBQ safety, invest in grilling accessories and utensils that are long enough to keep you out of harm's way and can withstand high temperatures.
How long can food be left safely out before there's a risk of spoilage?
According to the Centers for Disease Control and Prevention, food needs to be refrigerated within two hours of cooking to prevent the buildup of bacteria. However, it all depends on the temperature. If you're enjoying a BBQ summer party and grilling in hot weather, you shouldn't leave food out for more than an hour.
It may feel impolite to pack everything up if your guests are still grazing, but it's important to prioritize grilling safety and your guests' health.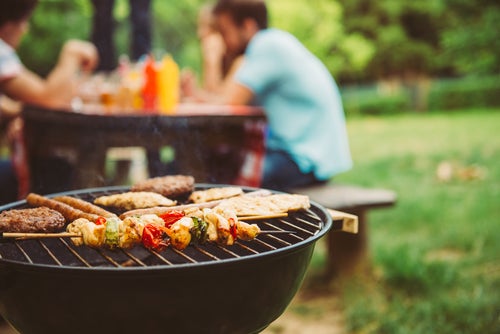 When preparing for your next backyard pool party, make sure to reference this list of grilling safety tips.

Also, consider getting home warranty coverage from American Home Shield® to keep your hardworking home systems running smoothly all summer long—and throughout the year.
AHS assumes no responsibility, and specifically disclaims all liability, for your use of any and all information contained herein.