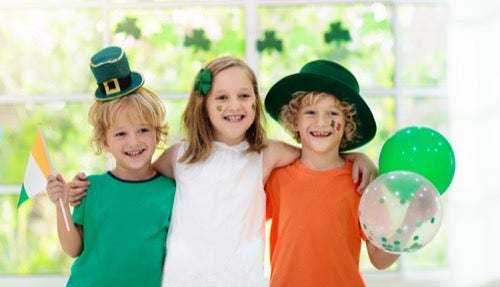 When you think about St. Patrick's Day, the first thoughts that pop into your head might involve parades, people dressed in kelly green, lots of glitter, and green beer. Of course, there's more to St. Patrick's Day than a basic drinking holiday. There are boatloads of ways for families to find joy and celebrate St. Patty's Day with good cheer and a little love for the Irish.
St. Patrick's Day DIY Activities
This year, choose to do something different from St. Patrick's Day. Consider St. Patrick's Day DIY home projects and activities that are good fun for the whole family.
This might be a day to break out a family favorite board game while indulging in classic St. Patty's Day treats like Irish potatoes, Irish soda bread, or even a homemade Shamrock Shake.
Get crafty with the kids! Good Housekeeping has a bunch more ideas to keep everyone busy. Plus, you'll need a playlist to set the tone for the day.
Looking for a few more kid-friendly craft ideas? HGTV, The Pioneer Woman, and Indy with Kids have you covered.
If you're staying in for the day, don't forget to find creative ways to get some exercise. Learning a few Irish dance steps might be just what you need to keep your energy up and keep the kids occupied.
St. Patrick's Day Snacks
With all these arts and crafts activities you and your family are going to work up an appetite!
Between meals, you're going to need some tasty snacks and apps, and more apps!
Feel free to fall down a TikTok rabbit hole while you cook up a series of St. Patrick's Day snacks.
A fun easy snack is Guinness pretzel bites. It's easy to adjust this recipe to make it your own and improve upon. So you want to make it super easy? Get a box of Red Lobster Cheddar Bay Biscuits, add some fresh finely shredded mild cheddar and some Guinness into the mix. You can kick up the heat by dicing up some jalapeno and blending that in as well.
2023's Best St. Patrick's Day Home Decor
There is so much to consider when decorating for St. Patrick's Day! It goes without saying that you're going to be seeing a lot of green around the house—especially kelly green. JOANN is offering slashed prices on a variety of decor.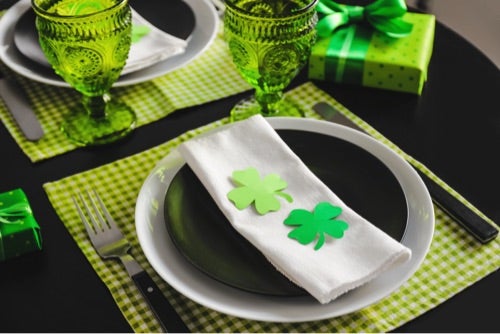 Forget West Elm, DIY mid-century modern decor is in! DIY St. Patrick's Day decor can be a breeze. Hit your local thrift stores and consignment shops for items with a rustic and back to the earth feel. Then, you can paint or otherwise alter these decorations for a St. Patrick's Day vibe.
If you want to take your decor to the next level, here are a few considerations.
2023 St. Patrick's Day Home Decor Must-Haves:
Something that says "Kiss Me I'm Irish" (throw pillow?)
Glitter clover garland to hand over archways
"I'm feeling lucky" has to make an appearance
Leprechaun hats
Celtic designs
A homemade family crest
If you have a lot of guests coming over, then consider little party favors and tiny touches you can make around your home to really get in the spirit.
When considering preparations and clean-up, here's a few ways to Go Green for St. Patrick's Day 2023.
Traditional and Not So Traditional takes on Irish Cuisine
Traditional Irish cooking can be tasty and educational.
Here's a great list of recipes that'll bring a smile to your kid's face.
Start your St. Patrick's Day off with an Irish Fry consisting of fried eggs, bacon, fried tomatoes, soda bread, and a pot of tea.
Try your hand at the boxty. Many cultures have a variation on a potato pancake. The boxty is a blend between latke and mashed potatoes. It's generally crunchy on the outside and soft on the inside.
Consider a play on corned beef and cabbage. These ingredients can make for a great sandwich, panini, quesadilla, stir fry, or stew.
You may have come across Irish nachos at your local pub. The big difference is that instead of corn or flour tortilla chips the base is potato chips. Then you layer on the classic ingredients for super nachos including a healthy (or maybe not so healthy) helping of creamy cheddar cheese sauce. Consider having fun with this recipe and converting it into a sheet pan dish. Roast diced potato instead of potato chips to limit fried food.
Colcannon is a traditional Irish dish that is perfect for your St. Patrick's Day 2023 celebration. This dish combines creamy mashed potatoes and green vegetables. Typically chives, scallions, or leeks are included. Some recipes will suggest adding kale or cabbage.
Irish beef stew can be as simple or as complicated as you want. Some will tell you it's essential to add a dash of Guinness to properly Irish it up.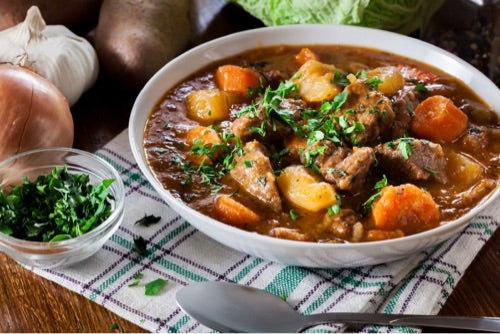 Planning on Cooking a Little More than Usual?
Sometimes appliances, like your oven, may smoke, malfunction, or have other unexpected problems when you are using them more than usual. Taking extra time and care to clean your oven and other home appliances that will be used more frequently during a holiday is a sensible way to avoid mishaps. Appliances breakdown even when you do your due diligence to care for them. American Home Shield (AHS) offers home warranty coverage for parts of your major appliances for this very reason. Often, folks don't realize what is covered by their home warranty plan. Before you get to cooking, consider checking on your policy to make sure this St. Patrick's Day is all about fun and games.
To learn more about American Home Shield home warranty coverage, review our pricing and plan options. We consult with our customers to ensure you obtain the most sensible coverage based on your particular lifestyle. We look forward to providing you with exceptional service.