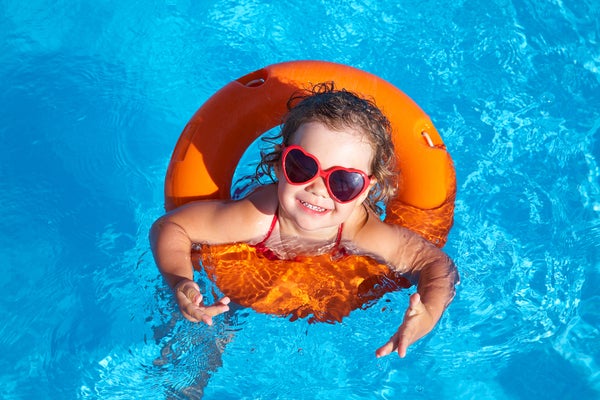 Keep Your Pool Safety in Check
As a pool owner, safety is always number one. Simply follow these pool safety guidelines to make sure your family and friends are protected around your pool:

• Completely surround your pool or spa with a 4-foot or taller pool safety fence and use a self-closing, self-latching gate
• If your house serves as a fourth side of a fence around your pool, install door alarms
• Place an pool safety cover on the pool or hot tub when not in use and remove any ladders or steps used for access
• Install and use a lockable pool safety cover on your spa
• Always completely remove the pool or spa cover when in use to avoid someone becoming stuck underneath it
Check Your Pool Chemicals IQ
Play It Safe in the Water
Warm weather and swimming go hand in hand. While swimming should be a fun activity, it's important to always be safe with these pool safety tips:

• Consider installing pool and gate alarms that go off if anyone enters the pool
• Make sure your pool or spa has anti-vortex main drain covers to prevent children from being trapped by the suction of the drain
• Keep your pool or hot tub water clean and clear and maintain proper chemical levels, circulation and filtration
• Designate a responsible person to watch the water when people are in the pool—never allow anyone to swim alone
• Ensure everyone in the home knows how to swim well and take water safety, first aid and CPR courses
• Have young children or inexperienced swimmers wear U.S. Coast Guard-approved life jackets around water
• Keep appropriate equipment, such as reaching or throwing equipment, a cell phone, life jackets and a first aid kit on hand
• Wear sunscreen with an SPF of at least 15 and reapply every few hours
• Drink plenty of water regularly, even if you're not thirsty
Common Safety Rules for Swimming Pool:
• No running
• No diving
• No pushing or horseplay
• Never swim alone
• No glass in pool area
• Children not permitted without adult supervision
• Keep gate locked at all times
• Always wear sunscreen
Contact your local Red Cross for information on learning how to swim, water safety, home pool safety, first aid and CPR classes.
Make Your Pool Party a Splashin' Success
Why have a backyard pool if you're not going to throw a few awesome pool parties? Here are some general tips to make sure your pool party goes swimmingly:

• Make sure you have some extra towels for guests who forget their own
• Provide a room for guests to change into their suits and leave their clothes
• Place your pool furniture around the edge of the pool with tables in between
• Put out umbrellas for guests who prefer the shade
• Have lots of inflatable pool toys ready to play with in the pool
• Mark the depth of your pool with waterproof tape for your guests' safety
• Have sunscreen and bug spray on hand for guests to use
• Use plastic drinking cups to avoid the hazard of broken glass
• Light citronella candles or torches to add ambiance and keep the bugs away at nighttime
• Give out fun favors like flip-flops, beach balls and sunscreen for guests to take home
Cool Pool Party Themes
• Hawaiian luau
• "Dive-In" movie night
• Classic black and white
• Mexican fiesta
• Beach barbecue
• Under the sea
• Pirate adventure
• Patriotic

Sources:
http://www.poolsafely.gov/pool-spa-safety/staying-safe-pools-spas/residential-swimming-pools/
http://www.redcross.org/prepare/disaster/water-safety/home-pool-safety
http://safety.lovetoknow.com/Backyard_Pool_Safety
http://www.realsimple.com/holidays-entertaining/entertaining/food-drink/host-dipping-party/toys-summer
http://autopilot.com/blog/post/244-What-are-The-Appropiate-Levels-for-Chemicals-in--a-Swimming-Pool-
AHS assumes no responsibility, and specifically disclaims all liability, for your use of any and all information contained herein.