Try these vision board ideas to get from inspiration to manifestation
How many of us, come January 1, even remember the New Year's resolutions we made the year before? It's all too easy for our goals to get crowded out by the demands of everyday life. Somewhere between the dreaming and the doing, we get bogged down.
More and more people are making vision boards to help them bridge that gap between inspiration and manifestation. National Vision Board Day is January 14th – and January is the perfect month to begin your vision board journey; holiday hoopla has given way to a slower pace of life that allows more opportunities for contemplation and creativity.
What is a vision board, and how does it work?
A vision board is a tangible expression of your goals that you can see every day and use to guide your decisions and priorities. By making a vision board, you harness the power of visualization, a strategy that mental health experts say can have a big impact on your chances for success. A 2004 study* found that visualization practices in athletes impacted performance almost as much as physical training; elite athletes like Tiger Woods have for years used visualization techniques to take their abilities to the next level. When you make a vision board, you're creating an important tool to help you continually visualize the life you want – and thus greatly increasing your chances of achieving it.
Many influential people – including Oprah, Deepak Chopra, and Reese Witherspoon – have gone on record as saying they believe that making a vision board is an important first step toward manifesting life goals.
Vision board manifestation, step 1: location
It's important to carefully choose the place where your vision board is going to live; make sure it's a place that you will see many times throughout the day. While you may be tempted to tuck your vision board away in a private spot, consider: there can be real value in sharing your aspirations with others. Making your goals known can help keep you accountable, and sharing with the right person could help you refine your vision or strategize. What's more, a 2019 study in the Journal of Applied Psychology found that sharing your goals with someone whose opinion you respect can increase chances for success.
Choosing a location will tell you what size your vision board can be, and help you plan what materials to use.
Work from home? Cover the back of your office or workspace door with your vision board.
Have a job that requires a lot of time in your car? Make a portable vision board to help you visualize throughout the day.
Make a vision board around a mirror that you use often. Technically, you've made a vision frame, but the effect will still be the same.
Vision board manifestation, step 2: inspiration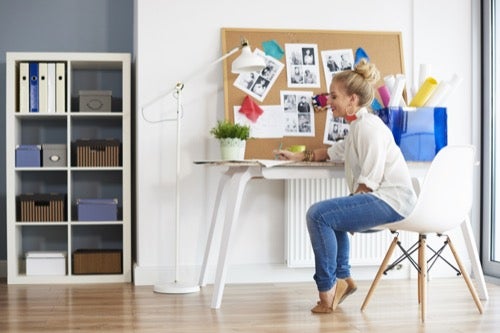 The hardest part about making a vision board is determining your goal and refining it into something actionable. Here are some tips to help with vision board inspiration:
DON'T think too broadly. The more specific you are in framing your goal, the easier it will be to visualize it – and the better your chances of manifesting it. For example, don't make a vision board to "find a better job" when what you really want is to "become partner in a law firm before the age of 40."
DO think boldly – and don't let potential pitfalls prevent you from dreaming big. Want to start your own personal training business? Hike the Appalachian Trail? Buy and refurbish a neglected midcentury modern bungalow? It's only unrealistic if you believe it to be.
DON'T think merely in terms of accomplishments. Maybe you want to be more adventurous, or more mindful and "in the moment," or just kinder to yourself; a vision board can be a great way to change the way you think.
DO limit your timeframe; focus on what you want out of life in the next few years. You'll get overwhelmed if you try to make this a roadmap for the rest of your life – and your vision may change over time.
Vision board manifestation, step 3: creation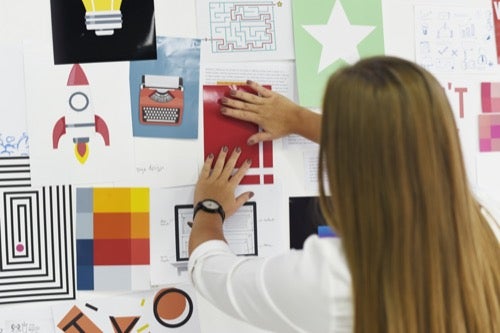 Now for the fun part – bringing your vision to life! You can use almost anything to make a vision board; poster board is fine, but foam core board is more durable, and you want this to last. Consider repurposing something you already have, like an old bulletin board, whiteboard, or a piece of wall art you no longer love. Still have one of those early 2000s fabric and ribbon boards for displaying pictures? You were right to hold onto it after all! You can even use a wall as a vision board – think of it like an accent wall. Just be sure to use something gentle, like washi tape or sticky tack, to mount your visuals.
Next, round up items that have visual impact and are related to your goal. Look for things like photos that evoke possibility, or make you feel empowered…pictures of people who inspire you…magazine clippings, inspirational quotes and phrases, book covers and illustrations, travel mementos, notes of encouragement, stickers, flowers, fabric, concert tickets, clothing, album covers, product labels – the sky's the limit. If it inspires you – and you can find a way to affix it to your board – go for it!
Need more vision board inspiration? Pinterest is loaded with creative vision board ideas and layouts, and they even have vision board kits and downloadable visuals.
Now that you're a vision board veteran….
You can branch out and create vision boards for all the areas of your life: relationships, travel, living environment, etc. A vision board that you use to conceptualize the living space you want is sometimes called a mood board, and it can help you capture the look and "vibe" you want your habitat to have, and how you want to feel when you are there.
Chances are that your vision for your home will not include anything going awry. Having a home warranty plan can be an easy way to protect against problems around the house that do crop up. For more than 50 years, American Home Shield™ has provided homeowners with the peace of mind that comes from having a home warranty. Check out our pricing and plans here.
Just think: this time next year, instead of looking back on resolutions unmet, you could be reflecting on how you manifested your goal by making a vision board – and getting ready to create a new one.
*Source | 2004 Study: https://pubmed.ncbi.nlm.nih.gov/14998709/
AHS assumes no responsibility, and specifically disclaims all liability, for your use of any and all information contained herein.