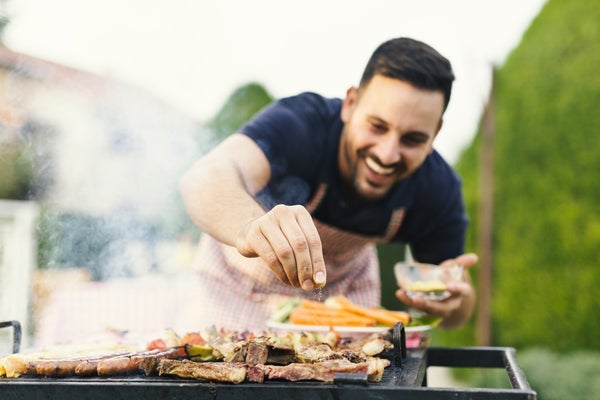 The summer barbecue is a classic seasonal tradition. Why not take yours to the next level? While you don't need more than fuel, food, and flames to cook up a great burger, you can still spice things up with summer's hottest grilling accessories.
1. iGrill
Hate standing in the heat while your steaks are cooking? There's an app for that. Apple's iGrill mini, a smart grilling thermometer, lets you check the temperature of your food while you're inside—up to 150 feet away! The device works with any Apple device, including iPhone, iPad, and iPod touch.
Check it out
.
2. Flexible Grilling Skewers
If you want to kick your grilling strategy up a notch without breaking the bank, pick up a few flexible grilling skewers. Not only do they hold more food than your average wooden skewer, but their metal composition also means that they're dishwasher safe!
Check it out.
3. Grillbot
It's important to make sure your grill grates are clean—food will taste better and there's far less risk of unhealthy gunk making its way into your dinner. Grillbot is a scrubbing robot that promises to scour your grill clean at the touch of a button. Think of it as the Roomba of grills. Grillbot even has a timer that lets you know when it finishes the job!
Check it out.
4. Stuff-a-Burger Press
Want a classic dinner with a twist? Channel your inner gourmet chef with the Stuff-A-Burger Press. Put avocado and cheese in the mold with ground beef for a quick Southwest burger, or try caramelized onions and bleu cheese for a gourmet treat. Whatever flavors you like, the possibilities are endless.
Check it out.
5. Himalayan Salt Plate
Okay, maybe this isn't necessarily high-tech, but a himalayan salt plate is a great way to add subtle flavor to thinner cuts of meat or seafood. Just set it on the grill and let it work its magic. Added bonus: himalayan salt is a natural antimicrobial, which means they require only minimal cleaning—just scrub off any food residue and rinse with water.
Check it out.
6. Personalized Branding Iron
Want everyone to know exactly who's responsible for their delicious dinner? Stamp the answer directly onto the meat with a personalized branding iron in the shape of your initials. They'll think of you with every bite.
Check it out.
Next
>
Amp Up Your Curb Appeal
AHS assumes no responsibility, and specifically disclaims all liability, for your use of any and all information contained herein.