Enjoy this year's football season in a safely with plenty of snacks. These tried-and-true recipes are easy to prepare, and they're sure to be a hit on game day.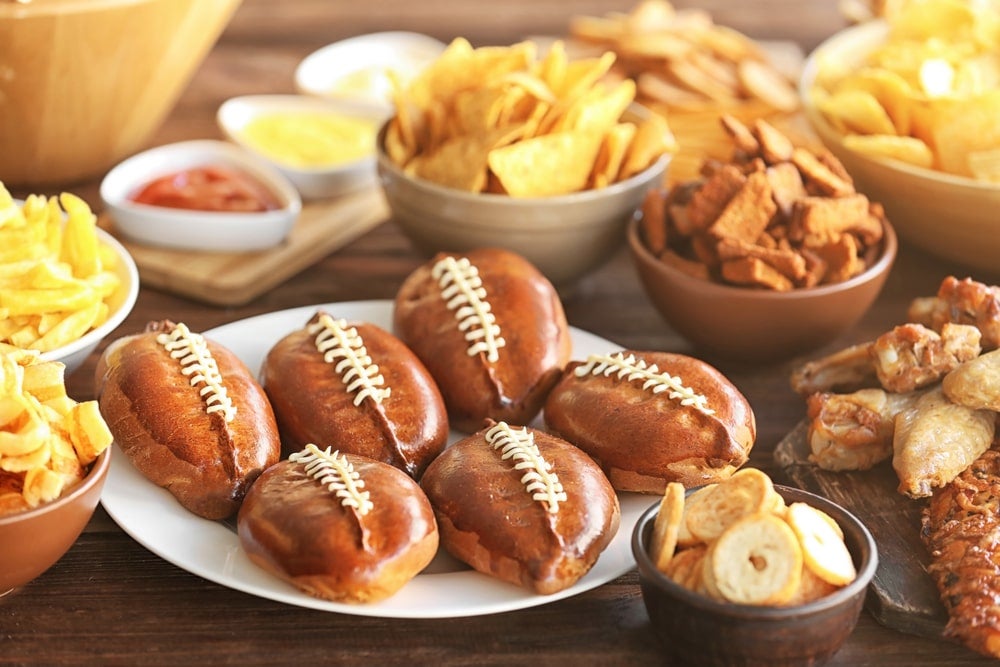 Fall is in the air, and football is happening. Despite the COVID-19 pandemic, many teams are still hitting the field, providing some competition and a sense of normalcy for fans across the country. The stadiums might not be as full as they are during a regular season, but many of us are tuning in to cheer on our favorite teams from the comfort of our homes. These tried-and-true recipes are easy to prepare, and they're sure to be a hit on game day.
Buffalo Chicken Dip
This classic dip is hard to pass up. There are hundreds of recipes and almost endless variations, but the basic makeup typically includes shredded or cubed chicken, ranch or bleu cheese dressing, cream cheese, hot sauce and plenty of shredded cheese. You can bake this in the oven or use a slow cooker and serve it with corn chips, tortilla chips or fresh vegetables.
Grape Jelly Meatballs
These meatballs are another game day favorite that's easy to prepare and always popular with partygoers. Even better, this is a slow cooker recipe, so you can throw it together and let it cook while you finish getting ready for your guests. Frozen meatballs, barbecue sauce and grape jelly combine to create an irresistible, tangy and sweet appetizer.
Bacon Bow Tie Crackers
This recipe only has two ingredients, but it's an absolute winner. Wrap some buttery crackers with bacon slices, pop them in the oven until the bacon is crisp, then watch them disappear as your guests devour one after the other.
Rotel Dip
Rotel dip is the perfect slightly spicy, cheesy dip for your game day spread. This is another classic that has tons of variations and recipes. Most include processed cheese (yes, you read that correctly) like Velveeta, a can of Rotel tomatoes (diced tomatoes with green chiles) and cream cheese. Some also include ground beef, sausage or chorizo. It's typically served with tortilla chips or corn chips.
Chicken Wings
You might think chicken wings are a messy, high-maintenance snack to prepare, but the truth is, they're pretty easy to make if you bake them in your oven. Coat some chicken wings with a little bit of oil and your favorite hot sauce or ranch dressing mix, then stick them in the oven for about an hour. You can serve these with some carrots, celery and a side of ranch or bleu cheese dressing.
Spinach Artichoke Dip
This dip is easy to throw together, and it can even be prepared a day in advance and stored in the fridge before baking. Plus, it's a meat-free option for any vegetarians on your guest list. Serve it with pita chips, pita wedges or fresh vegetables.
Football-Shaped Desserts
No watch party spread is complete without dessert, and it's easy to make something sweet with a fun game-day theme. Think of football-shaped cookies, Rice Krispy treats or cake.
AHS assumes no responsibility, and specifically disclaims all liability, for your use of any and all information contained herein.