Super Bowl Party Cheat Sheet & Tips
Any good home chef knows the value of shortcuts, especially when it comes to a day big as the Super Bowl. No one said you can't buy a few frozen packs of creamed spinach as a base starter for your spinach artichoke dip or spinach crab dip. Add a couple blocks of softened cream cheese, some chopped-up canned artichoke, or a package of imitation crab flake (Alaskan Pollock) and you're pretty much good to go. You can still say you made this Super Bowl snack from scratch.
The Veggie Platter with Assorted Dips
You can choose to chop up all those veggies on your own or you can grab them pre-sliced from your local supermarket. If you want to step up your game, then hit up Whole Foods. With organic and high quality ingredients, your dishes are destined to outperform your neighbors appetizer dish.
You can make your own fancy dips but your friends will probably be just as happy with twists on the classics:
Take the Stress Out of Hosting a Super Bowl Watch Party?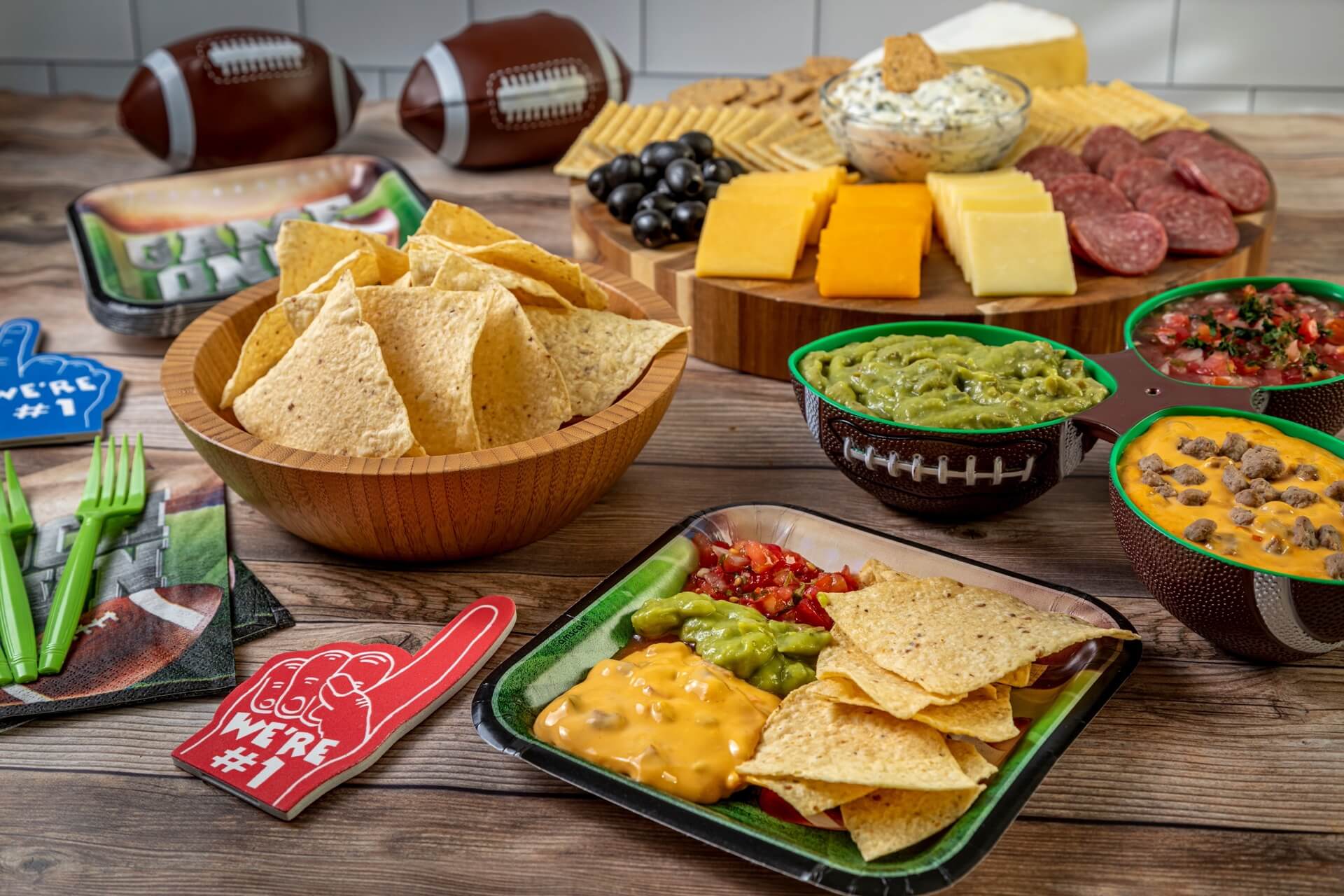 Hosting a Super Bowl watch party is a great way to spend time with friends. Since this only happens once a year, you want to ensure everyone has a good time. Limit the potential for fumbles by using the Super Bowl watch party recipes below.
Here's a selection of the best choices for Super Bowl Sunday snacks:
Something worth keeping in mind is that these easy, transportable, watch-party recipes are among the best tailgating snacks.
Kick It Up a Notch with Superior Game Day Recipes
If you really want to leave a lasting impression, consider memorable game day recipes that are a slight twist on what people might expect. No one is suggesting you order a sushi boat (unless that's just how your friends roll).
House Speciality Drinks
Decadent Desserts
Super Bowl Party Tips
If you're taking this year's Super Bowl to the next level and holding a party, you want to make sure you have a solid game plan. That means snacks, drinks, appetizers, and all the little things that make clean-up easier. No one wants to run to the store during half-time after realizing they forgot to buy enough red Solo cups and paper plates. Buy extra microwave popcorn and a couple of large serving bowls to make sure there are always enough snacks to go around. Definitely make sure to have plenty of napkins and paper towels on hand.
When it comes to food and drinks, it's important to manage expectations. While you can prepare exotic Super Bowl recipes or fancy sangria or margaritas, if your guests are expecting pizza and wings, they may be disappointed. To avoid this, try to gauge what your guests are expecting and plan accordingly.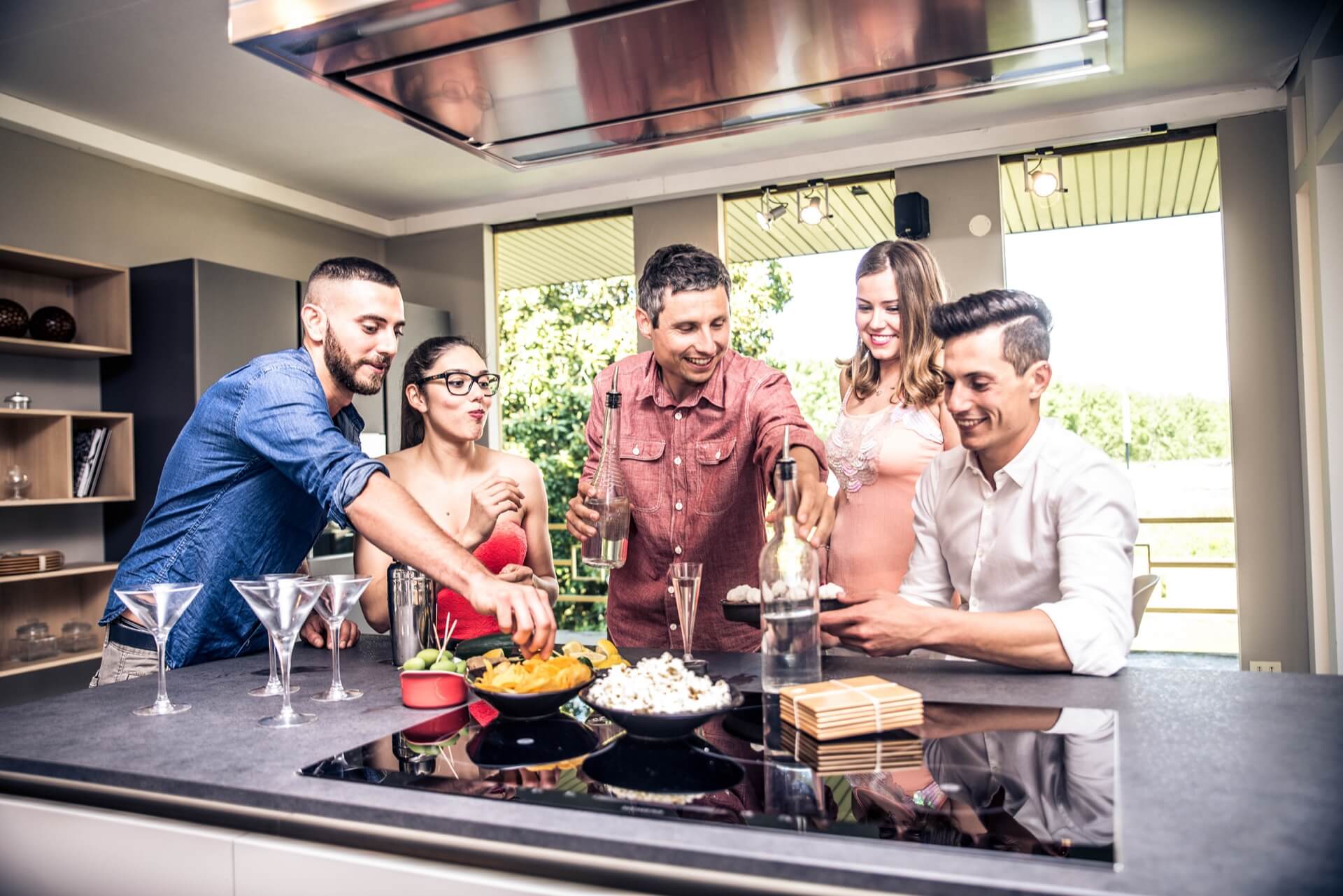 Keep a cooler by the couch. No one wants to get up from the couch to get beer and miss the biggest play of the game. Don't forget to buy extra ice just in case.
Don't skimp on the beer, but do provide alternative options. Grab a couple of 12-packs of La Croix, Polar, Vintage, or store-brand seltzer. Snag two cases of water. Make sure to procure mixers for mocktails.
What to Avoid while Preparing for the Super Bowl?
Unnecessary headaches. If you haven't cleaned your oven in a while and you're about to put together a big feast; make sure you take a little time to clean it and scrape off the little burned bits that can result in a smoking oven. Smoke pouring out of your oven is most definitely not normal — check out this article to get to the bottom of why your oven may be smoking and what to do.
Don't Make Yourself Crazy Trying to Get It Just Right
Not everyone is super focused on presentation. When thinking about The Big Game, some folks are simply there to eat good food and have a fun time. They're not going to notice if you put in extra hours making everything look just right. Do you need football-themed cups? You can get as wild as you want with gear from Party City and subtle touches but, at the end of the day, your friends might just call you out as being extra. There's no harm in straight up asking them, "What are your favorite dishes for game day?"
At the end of the day, keep in mind, a Super Bowl party is an excuse to have a good time with friends and loved ones. Prepare in advance and don't stress too much about the details. Once the game starts, try to let yourself off the hook for anything that didn't go precisely as planned so you can focus on enjoying the game (and even the ads) with the people in your life that matter to you.
American Home Shield® is there for you when things don't always go as planned, too. With our coverage on up to 23 major home systems and appliances, you'll be able to stress less and get back to the moments that matter most. To learn more about AHS home warranty coverage before you run into any unwanted mishaps, check out our pricing and plans for optimum coverage based on your individual needs and budget.