With COVID-19 case numbers still rising, there's no promise schools will start as normal in the fall. Use these tips for homeschool success.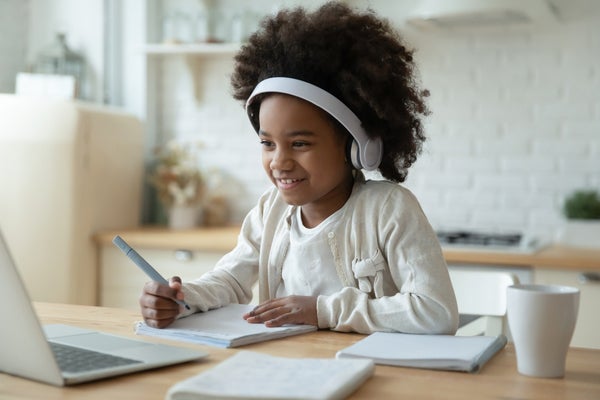 It's a strange time to have school-age children. Due to the COVID-19 pandemic, many parents don't yet know if school is going to be reopening for their kids in the fall or if they'll have to keep homeschooling. Plenty of parents have already decided that they're going to make homeschooling work for the safety of their kids and the safety of those families who need to send their children to school if they can.
Homeschooling is always challenging. You'll still need to help your kids maintain discipline and a schedule, and stay on top of any academic help they require. And if you're concerned that your district isn't going to offer online school this year, you'll need to prepare a homeschool curriculum. Here are 10 tips to help make homeschooling work for your family.
1. Check Your Local Regulations
Different states have different rules about homeschooling. In some states, you'll be required to report to the district supervisor, get lesson plans officially approved and keep detailed records of daily lessons. In other places, the rules are more lax. Make sure you know what's expected of you legally if you decide to homeschool.
2. Don't Feel Obligated to Recreate the Classroom Experience
If you have no experience with homeschooling, you might be surprised to learn that it doesn't necessarily replicate the classroom experience. A homeschool day doesn't have to last for eight hours, rely on chalkboards or whiteboards, involve hours of sitting, or take place from 8:00 a.m. to 3:00 p.m. As long as your kids are learning what they need to learn, you can adjust the schedule, start later, take shorter days, and let kids spend more time learning and exploring their own interests.
3. Get Advice
Try to connect with more experienced homeschool parents who are willing to answer questions, share tips, and maybe participate in some Zoom lessons or socially distant field trips with your family. Homeschooling doesn't mean keeping kids isolated; many homeschooling families get together for group lessons and social events. Connecting in person might be hard, but a sense of community and support — even if it's virtual — can make things easier.
4. Create a Fixed Schedule
A sense of routine can help everyone, especially kids, during what may be anxious times. Plus, it's just easier to fit homeschooling into your life if you can set aside specific hours each day to commit to it. Go ahead and incorporate family chore time into your planned lessons, since this can help kids develop motor skills and learn how to take care of a house. Kid-friendly DIY projects also present a good opportunity for hands-on learning.
5. Prep Your Space
Many homeschooling families have a dedicated "classroom" in the home where lessons are taught. If you want to recreate a school-like atmosphere and draw clear boundaries around homeschooling time, a classroom might be for you.
However, you don't necessarily need a dedicated space. Many homeschool families teach lessons all over the house, and even outdoors. If you're busy, it might be easier to teach the kids in whatever room you need to be in. Multitask by finding ways to turn everyday chores into lessons. Teaching kids to measure ingredients for a recipe can be a math lesson, for example — they'll learn fractions and see how the stuff they learn in school really does apply to real life. Even if you don't have a classroom space, though, find somewhere to organize textbooks and supplies, and set up an area where kids can work.
6. Choose an Approach
There are several different approaches to homeschooling. The classical method, the unit method, school-at-home, unschooling and the Charlotte Mason method are all popular. Obviously, you'll want to choose the method that speaks to your childrens' abilities and learning styles the best. As with traditional classroom teaching, each child learns differently.
7. Get a Curriculum
If your state requires you to follow its curriculum, then this choice has been made for you. You can buy the same books and materials that public school teachers buy. Otherwise, you may want to buy a curriculum tailored to one of the popular approaches listed above. Or, if you have training or experience as an educator, you might want to develop your own curriculum.
8. Be Patient
Obviously, your goal is to help your children keep up with their peers academically, so their education doesn't suffer due to the pandemic. But these aren't normal circumstances, for homeschooling or anything else, and even at the best of times, it's normal for kids to go at their own speed during the first year of homeschooling. Lots of other kids around the country will be in the same boat, so try not to stress. Young kids can catch up later, and older kids can learn to use the resources at their disposal to learn what they need to in order to stay on track for future plans.
9. Round Out the Curriculum
Academics aren't the only thing kids learn at school. Your children also need to learn life and social skills, get physical activity, spend time outside, and pursue artistic and athletic interests. Extracurricular activities may or may not be available in your area, but you can help kids participate in virtual activities with friends and encourage them to continue practicing a musical instrument, teach them how to exercise, and foster solitary interests like art, writing, and reading.
10. Work with Your Kids' Learning Styles
Different kids have different learning styles. Some learn by reading, some by doing, some by watching and some by listening. Many also have a combined learning style. As you work with your kids, try to cater to different learning styles and figure out how they learn best, then tweak your curriculum accordingly.
It's always a challenge to transition to a homeschool curriculum, even in the best of times. But while current circumstances might be stressful, homeschooling your children doesn't have to add to the tension. It could give them — and you — the chance to learn in new ways and explore interests that don't typically have a place in the classroom. Years from now, your kids could look back on their COVID-19 homeschooling experience as one of the best periods of their lives.