Growing your own organic vegetables and herbs may seem like a lot of work, but it's really not that difficult. Here are some simple steps you can take to grow your own organic garden at home and help ensure that the food in your family's garden is free of harmful chemicals and pesticides.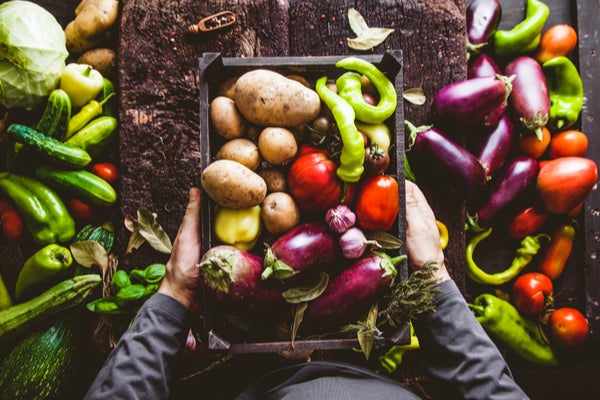 1. Test the Soil
The first step before organic gardening at home is to test the soil in your garden to see if it has the proper nutrients to support your plants. You also want to be sure the soil is free of harmful contaminants like lead or chemicals that can get into your food. You can check the quality of your soil by using a home testing kit, or send a sample to your local agricultural extension office and indicate that you are planting an organic garden. For a nominal fee, you'll get a breakdown of the soil as well as treatment suggestions. Make sure the materials you add to fertilize or balance the soil are organic and chemical-free.
2. Plant Organic Seeds
If you're starting an organic garden at home, it makes sense that the seeds or seedlings you plant be organic as well. Look for seeds that are certified organic and have the USDA seal on the packets. You can typically find them at your local farmers' market. You can also purchase them through seed catalogs that specialize in organic seeds. Help plants thrive in your garden by choosing a location that provides plenty of light and high-quality soil.

By grouping your plants together, you can help reduce weeds, conserve water and make it easier for plants to get the right nutrients. Make sure to leave enough air between rows to improve air circulation and discourage fungus growth.
3. Control Pests
Pests can take over your garden if you don't pay attention; fortunately there are a number of natural ways you can fight back. If it's practical, you can start by placing a few natural predators in the garden such as frogs, toads and lizards. Not only will they eat the offending bugs but will also delight any small children who spot them. Birds will also pick off the pests, so consider putting a birdbath in the yard to welcome them.

Another way to control pests is to plant sunflowers. The nectar in the plant can attract helpful insects like ladybugs, ground beetles and lacewings. Once they arrive, they'll gladly eat the slugs, mites and aphids that munch on your plants. Other flowers that will also attract them include marigolds and coneflowers and herbs like cilantro, chamomile and dill.

If you do decide to use pest control products, make sure that they are on the Organic Materials Review Institute's (OMRI) list of approved substances. Just because it is labeled as safe doesn't mean it meets organic standards.
4. Water When Needed
Proper watering is important to any garden, so try not to over or under do it. In most cases, about a total of about one inch per week including rain should be fine. Try to water your plants early in the morning when the temperature is cooler to reduce evaporation and enhance absorption. It's also best to focus on the roots and use water that's close to the air temperature so delicate plants won't be shocked.
5. Stay On Top of Weeds
Every garden has weeds; the important thing is to control them so they don't take too many of the nutrients away from your plants. The safest way to remove weeds is to pull them out by hand and use a trowel to get the roots. Once you've removed the weeds, you can help minimize new ones by spreading organic mulch such as grass clippings, straw or wood chips on the garden bed. This will also help the soil retain water and will enrich it as it breaks down. Weeds are tenacious, so no matter what mulch you use, you'll still have to pull them out when new ones pop up.
Growing organic food at home can be fun and hassle-free with these five simple steps! Discover even more lawn and garden tips from the home experts at American Home Shield here.

Next > From the Ground Up: 10 Rules to Grow Your Best Veggie Garden
AHS assumes no responsibility, and specifically disclaims all liability, for your use of any and all information contained herein.