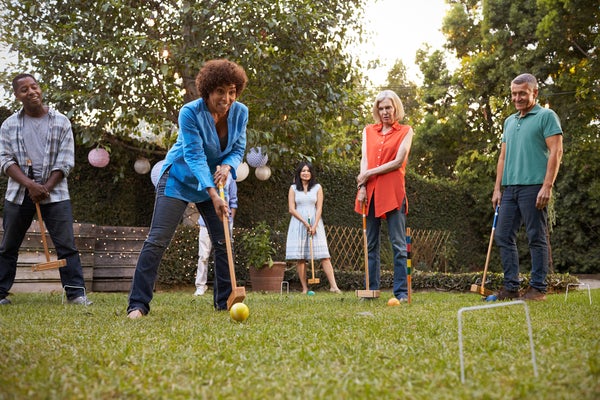 Nothing beats running around outside and enjoying summer as a kid. Even though you've grown a little older, you don't have to sacrifice your playful spirit! Instead of sitting around and admiring your backyard, why not have fun playing outdoor games with family and friends? Here are some crafty and inexpensive games and activities you can incorporate into your backyard.
1. Glow in the Dark Soccer Bowling
Krystle Cook at Home Jobs by Mom contributed this fun, unique game. All you need is 8-10 water bottles, glow sticks and a soccer ball. After it gets dark, fill the bottles with water and place a glow stick or two in each and screw tightly closed. Set the bottles up like bowling pins and take turns kicking the soccer ball using standard bowling rules to keep score. Krystle says, "both my four and eight year old boys loved this game. It was a huge hit!"
2. Lawn Twister
Looks fun right? Buy four cans of four different color spray paint and you are ready to go. Since you're not confined to a mat, you can decide how big or small you would like for your twister board to be. Be sure to use chalk spray paint so you will not ruin your grass – you can wash away the mess later with water!
3. Hopscotch
Playing this classic game will bring back memories and give you a bit of a workout! Hopscotch can also teach your little ones how to count too. All you need is 10 patio pavers and paint. You can paint them to match your outdoor decor, or you can let each person design their own paver for a personal touch. If you want to step up the intensity, use more pavers for a longer game!
4. Bowling
Who says bowling has to be an indoor sport? Building this setup can be as involved or simple as you like. Use bricks, wood, or cardboard boxes to block off the sides and create your own bowling lane. Plastic bottles and cans are the perfect size for pins. You can even paint the pins different colors and assign different point values to change it up.
5. Full Size Angry Birds
Hop off your phone and play Angry Birds in real life. It's one of the most popular games played on mobile devices, and it will be a hit with your friends too. Creating a life-size angry birds will most definitely put your gaming skills to the test. All you need is a few boxes, stuff animals, a sling shot and bean bags, and you will be ready to go.
6. Football Target Practice
This game is perfect for football season and will tap into your competitive spirit. Take a tarp and cut a desired number of squares and circles, with a corresponding point value. You can split into teams and see who scores the most points. The tarp can easily be transported for tailgates and other gameday activities!
Next
>
Get Out! 7 Outdoor Kitchen Ideas and Tips to Inspire Al Fresco Dining
AHS assumes no responsibility, and specifically disclaims all liability, for your use of any and all information contained herein.