Home Systems Warranty Coverage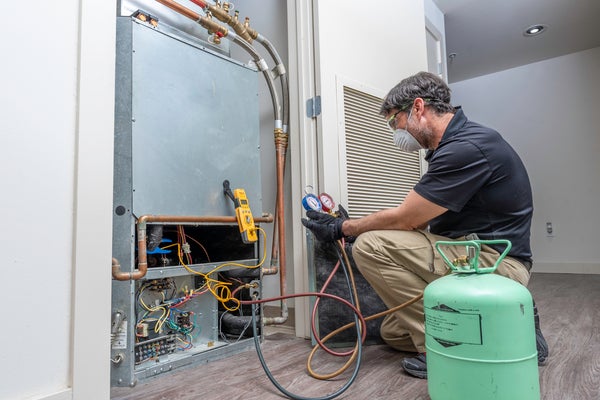 An American Home Shield® home warranty provides protection against those seemingly inevitable covered household breakdowns. Unlike homeowners insurance, which protects your home against fire, natural disasters and theft, a home warranty protects your budget against those more commonplace problems. When a pipe leaks, the air conditioner unit fails, or your water heater goes cold, your homeowners insurance policy won't come to your aid. However, your AHS home systems warranty will help you with the covered repair or replacement of a failing home system.
When you invest in a home protection plan, you will enjoy robust coverage of major components of several important home systems. With a home warranty in place, you don't have to deal with your malfunctioning unit -- and the resultant expenses -- without any help. We'll connect you to a licensed, professional service contractor, who will diagnose your system malfunction and recommend a repair or replacement.
Discover the home systems that can benefit from an AHS warranty.
Enjoy system warranty coverage for:
Garage Door Openers
A broken garage door opener makes it difficult to access your garage -- and perhaps your vehicle. An AHS home warranty covers most components and parts, excluding the doors and door track assemblies, of your garage door opener system. Learn more about:
Garage Door Openers Home Warranty Coverage
Air Conditioning and Ductwork
Even with regular maintenance, A/C systems can experience a number of common malfunctions. When the cool air goes out, American Home Shield can help. Your home service plan covers major components of your air conditioning system, along with the ductwork. Learn more about:
Air Conditioning and Ductwork Home Warranty Coverage
Heating and Ductwork
Your heating system is just as important as your air conditioning system, and is also subject to the occasional malfunction. That's why your heating system is included in your AHS home service plan. Coverage extends to both major components of your heating system and its ductwork. Learn more about:
Heating and Ductwork Home Warranty Coverage
Electrical
Electrical issues can crop up, no matter the age of your home. When they do, an AHS home service plan helps you to resolve these issues quickly. Coverage includes direct current wiring, and built-in exhaust, vent and attic fans. Learn more about:
Electrical Home Warranty Coverage
Plumbing (including stoppages)
Your home's plumbing system is extensive, and it can certainly experience occasional problems. From leaky pipes to malfunctioning toilets, plumbing issues require expert repair. Your AHS home warranty covers many plumbing issues in your home. Learn more about:
Plumbing (including stoppages) Home Warranty Coverage
Water Heaters
Don't experience an unwelcome lapse in hot water in your home. When you invest in an AHS home warranty, you enjoy thorough coverage of your water heater's major components and parts. Learn more about:
Water Heaters Home Warranty Coverage
Doorbells
A malfunctioning doorbell is a hassle, and you might not be quite sure how to repair it yourself. With an AHS home warranty, you don't have to. Most components and parts of your doorbell are covered by your home service plan. Learn more about:
Doorbells Home Warranty Coverage
Ceiling Fans
Ceiling fans are practical additions to any home, but they might experience occasional problems. When they do, you can contact AHS to schedule a repair or replacement of your failing fan. Learn more about:
Ceiling Fans Home Warranty Coverage