A routine roof check is an essential homeowner box to check. A damaged or leaking roof can cause a lot of problems and even make your A/C work overtime. Use these tips to inspect your roof safely.
Your roof is one of the most important parts of your home. A well-maintained roof in good repair protects your home from water intrusion, which is why it's so important to inspect your roof regularly. Use these five tips for how to perform a roof inspection on your own time.
1. Look for Algae, Moss, or Piles of Leaves
If you have binoculars, you can begin your DIY roof checkup from the ground. Start by walking around your house and checking your roof for piles of leaves or other growth or debris, all of which can cause serious damage to a roof. They can trap moisture, which can seep into the sheathing below your shingles and even into the structural elements of the roof itself. You should clear these away immediately.
Moss is especially dangerous because it soaks up rainwater like a sponge. The moisture can cause the wooden structure underneath your roof to mold and decay, which can compromise the structural integrity of your roof.
So, how do you get rid of pesky moss? You can apply moss killer and brush the offending moss away with a broom or brush, especially if the infestation is new. When you have your roof re-shingled, consider buying moss- and algae-resistant shingles—they may be more expensive than the regular shingles, but they can keep moss away for the lifetime of the roof.
2. Look for Buckled or Curled Shingles
Hot air in your attic can cause your shingles to warp, buckle, or curl. (This is typically an issue with asphalt shingles.) Misshapen shingles can compromise the integrity of your roof, letting in water and causing poor ventilation, so they should be replaced. If more than one-third of your shingles are curling during your roof inspection and repair process, it's time to re-shingle the entire roof.
3. Check for Damaged, Missing, or Old Shingles
Missing or damaged shingles can also let water seep through your roof. If you have wooden shingles or wood shake shingles, inspect them for signs of dry rot, either from the ground or from a ladder (don't walk on a wooden shingle or shake roof). Asbestos, slate, or clay tile roofs can suffer from breakage, so look for cracked, chipped, broken, or altogether missing shingles. If you're performing a metal roof inspection, check for signs of corrosion, rust, stress wrinkling, or other wear.
If you have asphalt shingles, check for signs of wear as you clean your gutters. Asphalt contains gravel-like granules. As the shingles age, these granules will break free and find their way into your gutters. If you see a lot of asphalt granules in your gutters, check the roof carefully for damaged or missing shingles.
4. Inspect the Roof Up Close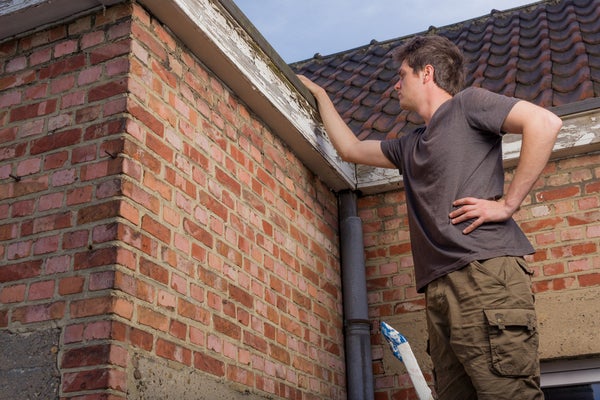 If you can, get up on a ladder and perform your roof inspection up close. While you're up there, look for damage to the flashings around the chimney, dormers, and vent pipes. (Flashings are the metal materials on your roof that redirect water.) Damaged or corroded flashings can let water into the interior structure of your roof and could contribute to rot in the structure of your roof and the walls of your home. If you see damage, you'll probably need to replace the flashings.
5. Investigate Your Attic
If your home has an attic, it's important to get in there and look for signs of water leakage through your roof, especially after heavy rain. Doing so can help you spot damage that may not have been visible from the ground or your ladder. While running through your roof check, inspect your rafters and the wooden interior of your roof for signs of moisture, mold, and rot. If you see any water damage, you may need to fix your leaking roof.
Your roof is your home's first line of defense against the elements. Even if you can't afford to have a professional roof contractor inspect your roof twice a year, you can safely and cautiously check it yourself for signs of damage and wear. Regular DIY roof inspections will also help you get to know your roof, so you'll be able to recognize problems before they get too serious.
How Much Does a Roof Inspection Cost?
On average, roof inspection costs can range from $75 to $675. The total cost may depend on your roofing materials, if a drone or thermal technology needs to be involved, and local inspection rates.
But if money is tight or you can't find a contractor to come out and inspect your roof, you can safely do it yourself using our roof inspection checklist.
How Often Should You Have a Roof Inspected?
You should perform a roof inspection twice a year.
It's a good idea to perform a roof inspection in the spring or early summer to ensure that it hasn't been damaged by winter storms, snow, ice, or hail. Before winter hits, consider storm-proofing your roof and learning how to prepare your house for extreme cold.
You should check the roof again in the fall for damage done by summer thunderstorms, falling tree limbs, and other hazards.
Final Thoughts
Homeowners insurance usually covers roof damage from natural disasters, but additional roof repair coverage may be needed for specific roofing needs like wear and tear. Learn more about the differences in our Homeowners Insurance vs. Home Warranty blog post. Protect your home by getting roof leak repair coverage from American Home Shield. Take a peek at our home warranty guide as well as our pricing and plans to see what type of coverage makes the most sense for your household and your budget.
AHS assumes no responsibility, and specifically disclaims all liability, for your use of any and all information contained herein.