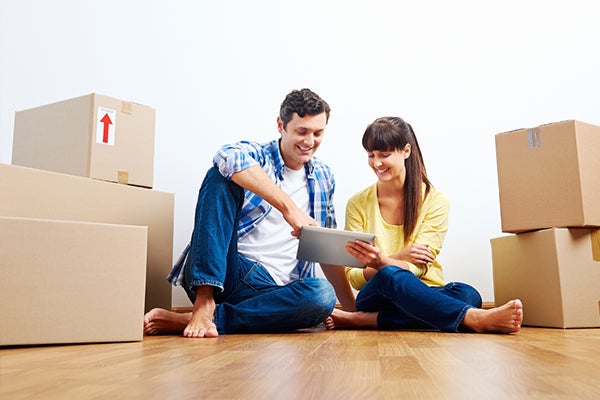 Whether you're moving across the street or across the country, hiring professional movers requires detailed logistical planning and an abundance of caution to ensure your belongings get from point A to point B without damage. Knowing the right questions to ask professional movers can lead you to the best company for the job—whether they are local movers, long-distance movers, or even international movers.
Let's look at some tips for hiring movers as well as questions to ask moving companies to ensure that your move is as smooth as possible.
Where do I begin?
If you're looking to hire movers for your next move, a good place to start is the Federal Motor Carrier Safety Administration (FMCSA). Here, you'll find moving assistance, hints for identifying suspect packers and movers, and general responses to common moving concerns—all of which will help you choose a moving company that's right for you. If your stuff is already in storage, don't be surprised if you start receiving solicitations from moving companies. Although you should do your own research and due diligence, many of these solicitations include coupons that might be worth considering.
What if my move is interstate?
If the move is between different states, then it's likely an interstate move governed by the FMCSA. When an interstate mover registers with the FMCSA, you have access to their safety rating and insurance requirements. An important question to ask moving companies is what their safety ratings are so you know that your belongings will be in good hands. To see if a specific mover is registered, begin at the Household Goods Program, where you can search by company or by state. If you can't find the information there, call the company yourself and ask if they are registered.
Can you give me the basics?
The basics are general questions any mover should be able to answer easily, whether they are local furniture movers or a national moving company. The ability to answer these questions is one indication that the moving company is reliable.
Do they have references? Search online and get a feel for what people are saying. Referrals by family and friends are even better.
Do they recommend doing an in-home estimate? Why or why not? In-home estimates are a good way to get the most accurate assessment of the costs of your move, especially in a larger home.
Is there a cap on how much you'll pay above the in-home estimate? Don't forget, the key word in an in-home estimate is "estimate." It's just a guess as to how much professional movers cost in the long run. It's important to know if the movers institute a maximum in case there's a limit to costs or hours spent.
Does the company contract out their moving services? If there is an outside contract, it shouldn't be an automatic deal-breaker. You'll just want to make sure the contracted company has high ratings and reviews. It's a good idea to ask the contracting party some of the questions listed here, so you're better informed about your moving day and less likely to be surprised.
Does the move include any transfers to other trucks? Again, not a deal-breaker, but the more times your things are moved, the more opportunities there are for your items to get lost or damaged. It's important to know how the professional movers catalog your belongings to avoid loss.
What happens if your belongings are lost or damaged? The FMCSA has a portal to address disputes and complaints. Hopefully, though, you're able to resolve any dispute with your mover without involving a third party. Knowing their policies before the move can help you down the line if any issues arise.
Do they calculate cost by weight? Many long-distance moves will include costs by weight, while local movers typically charge by the hour. Weighing your belongings provides an objective measure as to professional movers' costs. But before you go weighing your refrigerator, estimate the weight of some of your items by using online moving calculators.
Do they charge extra for blankets or shrink wrap? Blankets and shrink wrap should be provided at no extra cost. It's in the moving company's best interest to take every precaution to protect your valuables.
Do they move in the rain or snow? Will they contact you with plenty of lead time if the elements are bad enough to delay or cancel the move? If the weather prevents a move, you should ask about the company's rescheduling policy and make sure there are no extra fees for something that's out of your control. Most reputable moving companies—whether they are local movers or long-distance movers—will do everything within their power to make sure you are safely moved on the day that is scheduled.
Do I need extra insurance?
While it should still be one of your questions to ask moving companies, generally, if you have a homeowners or renters insurance policy, your belongings are protected should anything happen. Be cautious and contact your insurance agent to confirm what kind of protection you have because replacing all your stuff at once is definitely not the type of shopping spree you're after.
It's always a good idea to move your most cherished possessions and important documents yourself. Keeping your personal identification and important pieces of paperwork with you, rather than storing them in a box, can also help you avoid identity theft.
Should I tip the crew?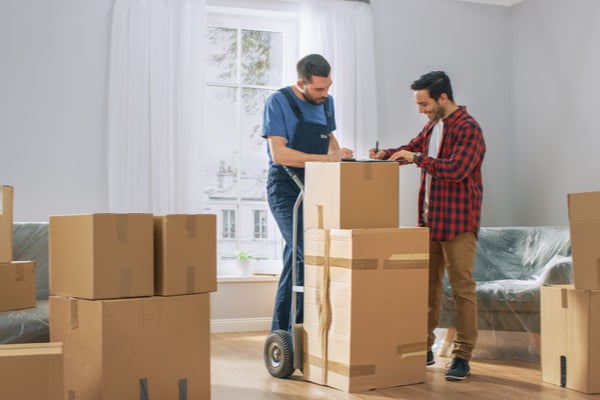 Just as with any other service-based situation, tipping is optional but highly recommended. These are trained professionals that are lifting heavy items and facilitating the move of your treasured belongings. If you feel that the moving crew has done a good job, Moving.com suggests tipping about $20 per mover. Use this amount as a rule of thumb. It may change depending on typical tip rates in your area as well as the conditions of the move. Was their inclement weather on moving day? Did the team have to lift exceptionally heavy items like a piano or workout equipment? Was the move long-distance? The more involved the move, the more you should tip.
If you're going to hire movers, getting answers to these questions from potential movers should give you the peace of mind you need during a sometimes-stressful process. Moving can be enjoyable and hassle free when you're comfortable with the crew transporting your most prized possessions.
With a reliable moving company, you can worry less about the safety of your items and more about finally getting into your new home. Read about more tips for moving into a new home. Once your professional movers have helped you settle in your new home, set up your utilities right away, and be sure to protect your home with a home warranty from American Home Shield.
AHS assumes no responsibility, and specifically disclaims all liability, for your use of any and all information contained herein.