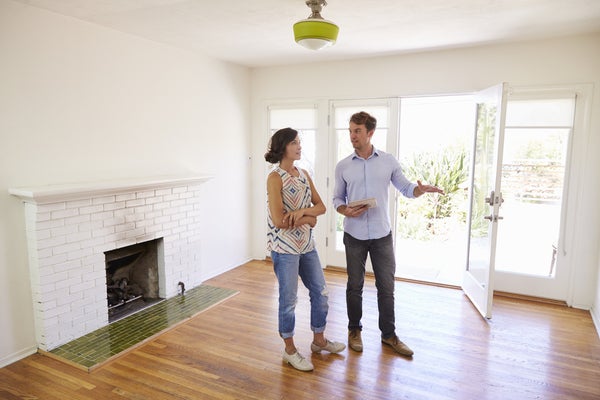 Are you ready to purchase a home but need to find a REALTOR®? With so many local REALTOR®s to choose from, the thought may be intimidating. American Home Shield understands that finding a real estate professional who will advocate for you is one of the most important steps in the homebuying process. Learning the right questions to ask while interviewing candidates could help save you time and money.
Here are some important questions to ask when choosing a REALTOR® to buy a house. These questions can help you make sure they are the best person to guide you toward buying the right home.
1. How long have you been in the business, and when was your last successful transaction for a home buyer?
When buying a house, there's nothing more valuable than working with a REALTOR® who has the experience and knowledge you need to find your dream home. One good way to find that out is to ask them how many homes they have closed on in the last year.
It's also imperative that the REALTOR® is currently licensed and active in the business and aware of the latest market trends and legalities to help educate the buyer.
2. What special qualifications or certifications do you have?
Did you know there's a difference between a real estate professional and a REALTOR®? There are a number of REALTOR® certifications out there, and it's a good idea to know the difference. This will help provide additional insight as to whether or not you want to select a real estate agent or a REALTOR®.
3.What can you tell me about the current state of the real estate market and the local areas of interest?
A REALTOR® should be familiar with the current real estate market trends, interest rates, and other market information to help guide you during the process. You can easily confirm what they've said by researching further online.
Find out what specific areas or neighborhoods they primarily work in. Whether you live in a small town or a big city, you want a REALTOR® who is familiar with the desired location for your new home. Even if the area you're considering isn't a primary location where the REALTOR® has sold most of their homes, there's a chance they could still have additional insight and information about the preferred neighborhood you're interested in.
4.What would you say is the first, most important step for the home buying process?
If your REALTOR® suggests you go out looking for a home—no matter the sales price or location—then they are potentially leading you down a long, exhaustive path. The most efficient and logical thing to do is to get pre-approved for a mortgage so you can get a true idea of what to look for within your designated budget. Once you're pre-approved, the search can officially begin. Following these steps can help save time and narrow down your list of potential houses, ultimately avoiding the heartbreak of falling in love with a home you may not be able to afford.
5. Do you charge any upfront fees?
Typically, REALTORS® will not (and some would argue that they should not) charge any upfront fees. Some states even consider this practice illegal. Most real estate agent fees are included within the down payment at closing. Talking to them about the REALTOR® fees for the buyer can help you get a feel for their character and decide if you trust them to get you the best deal. If the REALTOR® suggests an upfront fee, you may want to look elsewhere or get a referral from family and friends.
6. What method of communication do you utilize most, and how flexible is your schedule?
Timely responses, communication, and organization are critical when it comes to the home buying process. The last thing you want is to lose your shot at your dream home because your REALTOR® isn't as responsive or organized as they need to be.
The same is true for your lender. It's important that their schedule is somewhat flexible so they can plan accordingly to accommodate your schedule. You also may want to ask them how many clients they are currently working with to understand how attentive they can be.
7. How long does the home buying process usually take for you and your clients?
Knowing the projected home buying process timeline upfront is useful for the overall planning. Just remember that the current market in your area will have an impact on how long it might take to buy a home.
Since you're usually selling your house or ending a rental lease to move, knowing the approximate amount of time will help you plan out living arrangements in case there are any gaps. Delays may invariably happen through no fault of the REALTOR®, but it's important that all potential delays are communicated clearly throughout the process and in a timely manner.
8.Will you represent the buyer and the seller during the transaction?
Although it's not illegal for REALTORS® to represent both parties, this is a good question to ask your real estate agent. It's more beneficial for you as the buyer if the agent only represents you. It's less hectic for them, and even the most scrupulous REALTOR® may have a hard time getting both parties the best deal. This way, you can rest easy knowing the REALTOR® has your back and is acting in your best interest.
9. Will you provide referrals and recommendations for lenders, home inspectors, contractors, etc.?
If the REALTOR® has been in the industry long enough, it's likely they will have a number of resources in a variety of fields. Often, REALTORS® have lasting relationships with these professionals and have worked well together for some time. This can help make the home buying process go smoother and possibly yield cheaper rates for certain services. Just make sure you research the companies' backgrounds and work if you're not as familiar with the names your agent recommends.
10. Are you active on social media, and if so, on what platforms?
Social media plays a huge role for many REALTORS®. Be sure to check out their LinkedIn, Facebook, and Instagram pages and website. There's a good chance they'll share their REALTOR® success stories on these channels, and you can find out the types of clients they've worked with in the past, get an idea of the types of homes they've sold, and even find out the average price ranges for homes they generally sell.
Also, see if you can find any reviews online for the REALTOR® you're considering. Online reviews are a great way to learn more about a potential REALTOR®, but when in doubt, a referral from friends and family is usually the best way to select an agent.
Is the thought of a 20% down payment making you feel queasy? Information on the Homeowners Protection Act may put your mind at ease and reassure the seller, too.
We're here to help you purchase a house with checklists that can keep you on track and feel empowered to ask the right questions. Check out our other tips for first-time buyers and more advice before you buy.
And when you've finally taken the plunge and moving day is in sight, our new homeowner checklist can make the transition to your new home as easy as, well, picking a paint swatch.