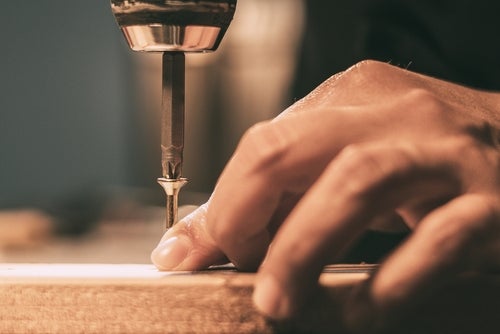 You have probably encountered a situation in which you're hanging artwork or putting a piece of furniture together, and suddenly the screw won't come out. It can be frustrating to tackle house projects when a stripped screw is involved. This problem is normal and can happen if you tighten the screw too much or use a screw that is old and has been used for years. Luckily, American Home Shield® has some tips on removing a stripped screw with ease.
How to remove a stripped screw head often depends on the severity of the strip and the material it is stuck in. Here are some different methods that may work depending on size, type, and surface:
The plier method. If the screw isn't completely screwed in, grab a pair of pliers from your homeowner's tool kit and see if they will fit between the screw head and the surface. If they fit, use the pliers to grab ahold of the screw, twist, and remove.

The rubber band method. If you don't have extractor tools like pliers, this is the easiest and often most effective method when trying to figure out how to remove a screw with a stripped head. Cut a thin, wide rubber band and lay it flat over the stripped screw top. Then, push your screwdriver into the rubber band and attempt to unscrew it as normal. If you're lucky, the rubber will give you enough traction to remove the screw.
The hot glue or duct tape method. Apply duct tape or hot glue to the top of the screw, then push in your screwdriver and see if it will turn. If using hot glue, stick the screwdriver in before the glue cools or hardens. These multipurpose tools will hopefully give you some traction to remove the screw.

Use a bigger or different type of screwdriver. One of the reasons why screws are prone to damage is because they're made of soft metal. Luckily, you can use that to your advantage. Grab a screwdriver that is slightly bigger (or has a different-shaped head) and use a hammer to make new grip points. The soft metal will yield to the new shape and give you some traction to rotate and remove the screw.
Are you wondering how to remove a stripped Allen screw? Vice grips may be the answer. Put the top of the screw head into vice grips and twist to remove the pesky screw.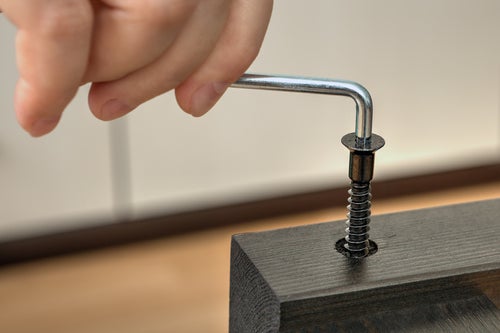 Taking on DIY projects can help you become more emotionally invested in your home and save you money. To further protect your budget, consider investing in an American Home Shield® home warranty. Our pricing and plans help cover the cost to repair or replace home systems and appliances that break down from everyday wear and tear. We also offer home services, like rekeying your locks, HVAC tune-ups, and more, to help make routine maintenance a breeze. See the plan contract for coverage details, including service fees, limitations and exclusions. Charges for non-covered items may apply.
FAQs About How to Remove a Stripped Screw
How do I remove a stripped screw from metal?
Figuring out how to take out a stripped screw from wood surfaces is hard enough, but what about removing one from metal? Lubrication is the solution. Try using a little lubricating oil on the part of the screw embedded in the metal. The oil should loosen the screw enough to pop it out of there. If it is still stuck, try removing the screw using pliers, a rubber band, hot glue, duct tape, or a different type of screwdriver.
How do I remove a stripped screw from a laptop?
When determining how to remove small stripped screws from electronics like laptops, your best bet is to invest in a screw extractor kit. The methods noted in this article may be too harsh for delicate electronics, and the screwdriver may slip and cause damage. Screw extractors are affordable and can be easily stashed in your workshop or with your painting tools.
How do I remove a stripped screw from plastic?
To remove a stripped screw from plastic, it's best to use a gentle method—plastic is softer than wood or metal and can be damaged more easily. Before using pliers or hammering the screw to create new notches, try using the rubber band, hot glue, or duct tape methods.
AHS assumes no responsibility, and specifically disclaims all liability, for your use of any and all information contained herein.