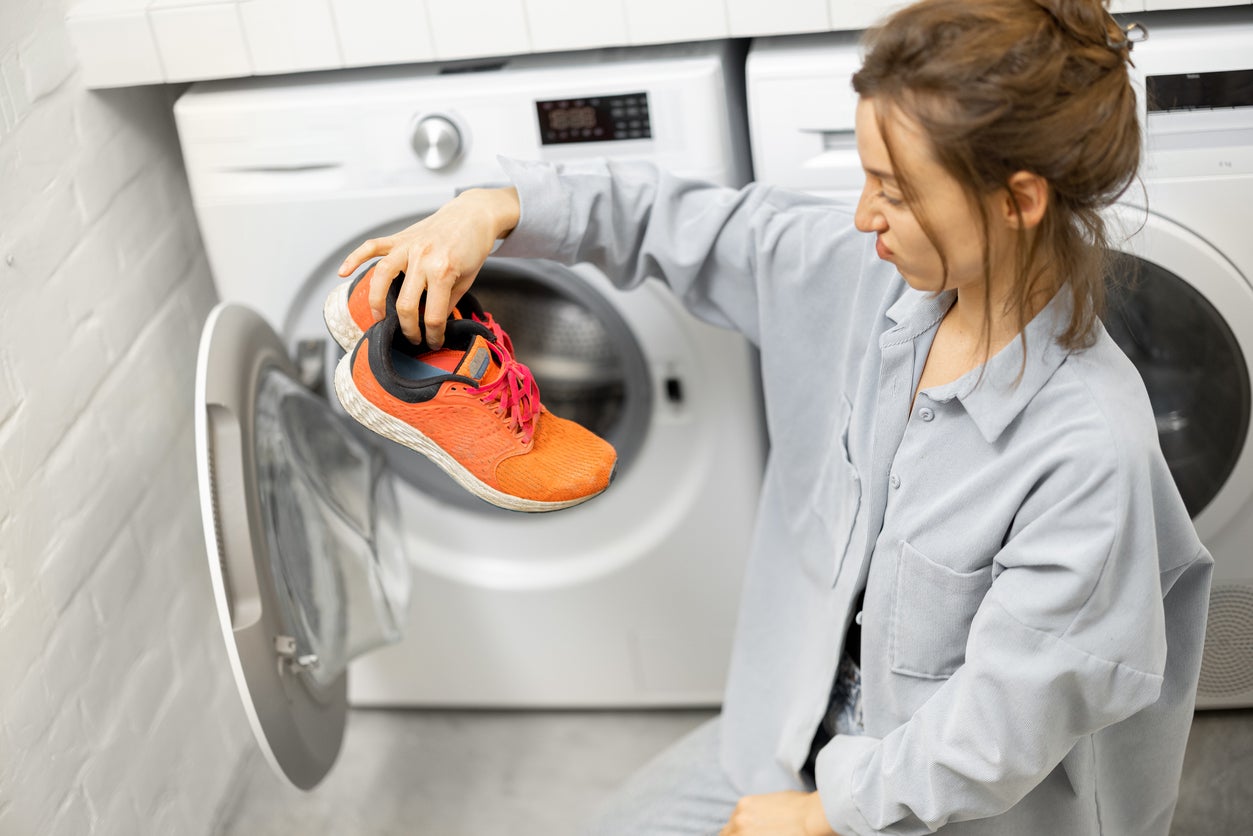 If you've ever stared down at your feet while wearing a particularly well-loved (read: dirty) pair of sneakers, you've probably wondered if cleaning your shoes could be as simple as popping them in the washer. Because they bear the brunt of any active lifestyle, shoes can very quickly become a home for dirt, bacteria, and odor.
When your favorite pair of shoes is getting a little funky, it is okay to put them in the washer and let a machine do your dirty work for you? We're here to talk you through how to clean your shoes in the washer the right way – so you can avoid damage to your shoes, your washing machine, and your pride (if you have to call someone out to fix your appliance).
What Causes Shoes to Smell?
Before explaining how to clean your shoes in the washer, it's helpful to understand what causes smelly shoes. There are several reasons why your shoes might be getting a bit funky, with the first and most obvious being frequent wear. Shoes absorb sweat from your feet, and if they're not allowed to dry out properly, you'll start to notice an unpleasant odor. Try to rotate between several pairs to allow your favorites to properly air out.
Other reasons shoes may smell include not wearing socks (which help absorb sweat), fungus like athlete's foot, or poor ventilation. If you've noticed that your shoes are frequently funky, what they're made from could be contributing to the stink factor. Certain materials, such as leather, simply don't allow your feet to breathe and can trap the sweat that causes odors.
Best Tips for Cleaning Shoes in the Washer
When it comes to cleaning your shoes in the washer, it's not as simple as just chucking them in and letting the machine do its thing. Like regular laundry, there are steps you can take to protect your shoes and increase the likelihood of a squeaky-clean outcome. We've answered some common questions that you might have if you're nervous about machine-washing your shoes for the first time.
What type of shoes can I put in the washing machine?
It may seem like common sense, but certain types of shoes just don't belong in the washer. Your sneakers and tennis shoes are made from fabrics that will agree with the rigors of machine washing. Much like garments made from these materials, your favorite pair of leather or suede shoes should never go in the washer.
How can I best prepare my shoes for machine washing?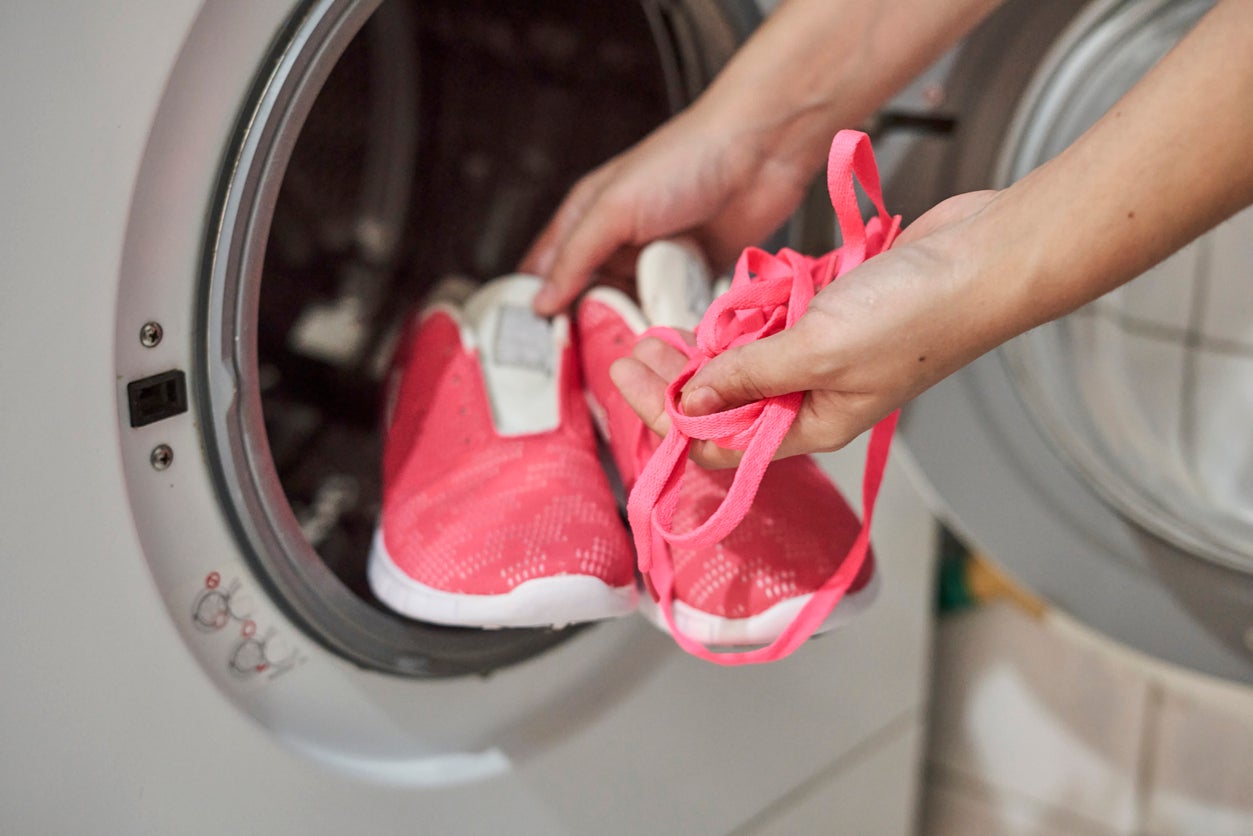 One crucial step to take before surrendering your shoes to the washing machine is removing the laces and insoles. To keep your laces from getting tangled, remove them from the shoes and put them in a separate bag or pillowcase to go in the washer. Your insoles, however, should be washed by hand. Take them out and use a solution of warm water and detergent to remove stains and odors. Allow them to air dry completely before you return them to their rightful place.
What setting should I wash my shoes on?
The key to keeping your items safe during this process is to be gentle and mild. Use liquid detergent and a cold water setting to wash your shoes. A cold cycle will reduce the risk of colors running through the fabric of the shoes, as well as mitigate any shrinkage or warping. You should also choose a cycle with a low spin speed if possible. These are usually the delicate cycles. Using a low spin speed will help ensure your washer stays balanced.
What can I do to protect my washer (and my shoes) during this process?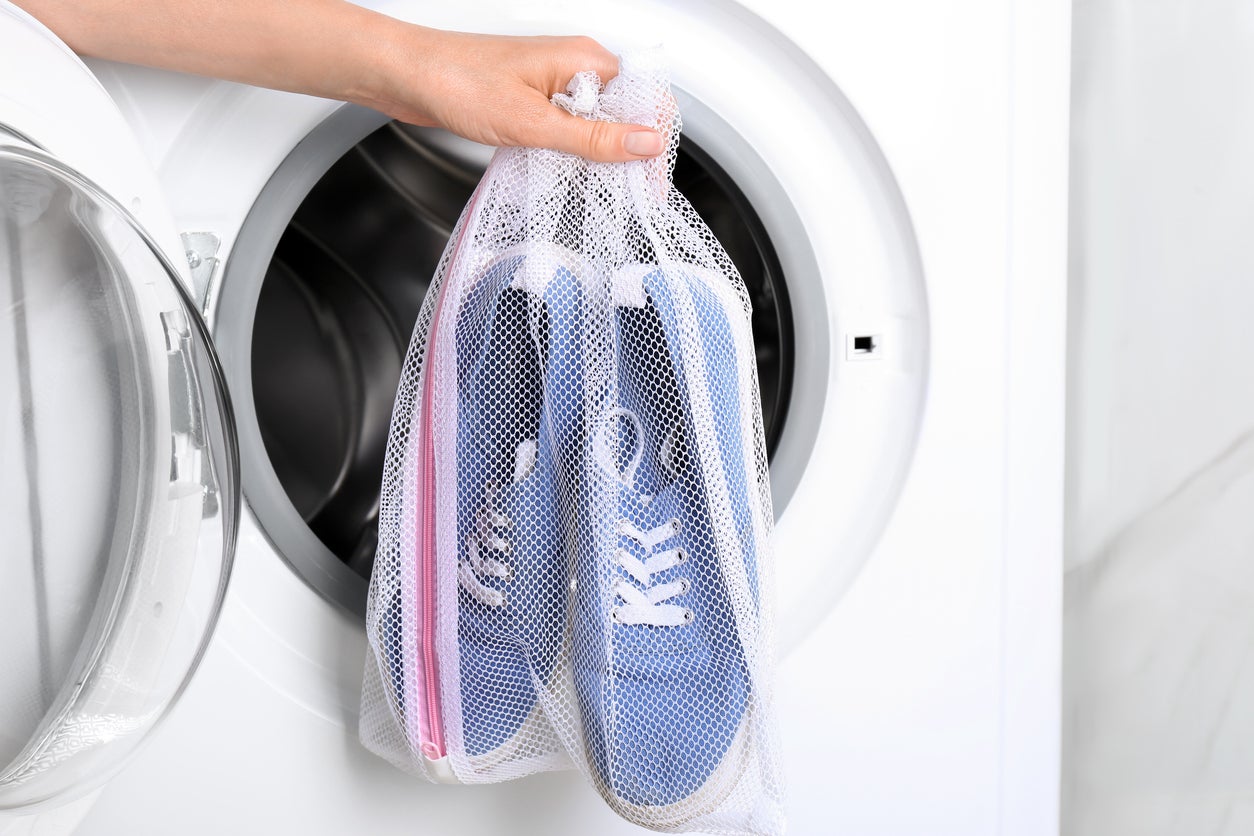 Before you throw your shoes in the washer, add 4-6 old towels. This will keep the load balanced and help prevent your shoes from banging around while the cycle runs. You may also want to put your sneakers in a mesh laundry bag for extra protection.
Do I need to add disinfectant to my wash cycle?
This is a matter of personal preference, but if your shoes are particularly pongy and you are prone to suffering from fungal infections like athlete's foot, it's a wise move. To prevent nasty bacteria and fungi, try adding a pine oil disinfectant at the beginning of the wash cycle. The disinfectant needs to be at least 80% pine oil, and you'll need to run the washer on warm water in order for it to be effective.
Top Load vs. Front Load: Which is Better for Washing Shoes?
Ah, the age-old battle between top loaders and front loaders – which one reigns supreme for your footwear?
When it comes to washing your shoes by machine, the case for a front loader is stronger. Front loader washing machines tend to be gentler, which means both your shoes and your appliance will cop less of a rough time. Front loaders also have better controls on spin and temperature, so you can achieve the previously mentioned cold water/low speed combination with ease.
Most top loader models of washing machines clean by agitation, and the clue is in the name – this method is rougher on your clothes. The exception is impeller models, which don't feature a central column (the agitator). Impellers tend to be quite rare, but they are gentler. This isn't to say you should ban your shoes from your top loader – if you use your best judgment and stick to a delicate cycle with cold water, you should be fine.
Can Shoes Go in the Dryer?
After the wash cycle is done, it's time to dry your shoes. A word of warning, though – don't put your shoes in the dryer. The high temperatures can damage the glue that holds them together and may even cause certain fabrics or materials to shrink. Using the dryer can also permanently warp your shoes, which will affect their fit and performance.
So then, how do you dry shoes after washing? To properly dry your shoes, find a cool and well-ventilated space to let them air dry. Generally, you should only wash your shoes when you can allow enough time for them to air dry completely, otherwise, you are just creating a moist environment for bacteria to thrive in. If you need to speed things up a bit, you can put a fan on them. Stuffing some small towels inside your shoes will help them keep their shape as they dry.
When In Doubt, Follow the Manufacturer's Instructions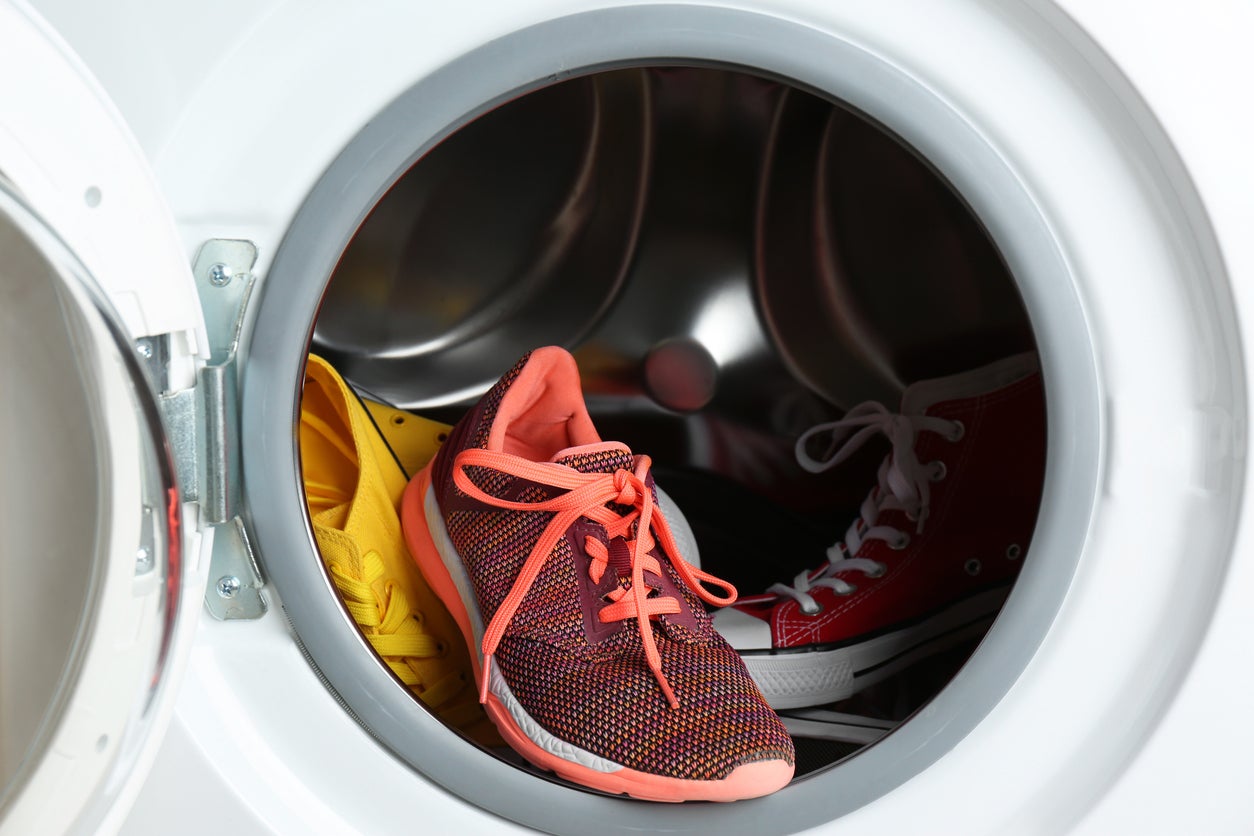 Before you wash your shoes, play it safe and check the tags (usually found under the tongue of the shoe) or the manufacturer's website for recommended cleaning steps. Some shoes simply aren't made to go in the washing machine, and throwing them in there may ruin them. Likewise, certain materials require specific handwashing methods. If you follow the recommended steps and use the tips above, you'll keep your favorite pair fitting great and smelling fresh for months to come.
What NOT to do When Cleaning Shoes in the Washer
While cleaning your shoes in the washing machine may seem deceptively simple, there are several things you must avoid at all costs during the process. This is a quick summary of the main things to steer clear of.
Do not put fabrics like leather or suede in the washing machine, ever.

Do not use warm or hot water cycles – this can warp the shoes, damage the fabric, and cause colors to run.

Do not use a powder detergent – these can get caught in your shoes and not dissolve properly.

Do not put your shoes in the washer without removing the laces and insoles first. Insoles should be hand-washed, while laces should be kept in a separate laundry bag or pillowcase.

Do not put your shoes in the dryer – this can damage the glue and warp the shape.
---

---
Alternative Methods to Wash your Shoes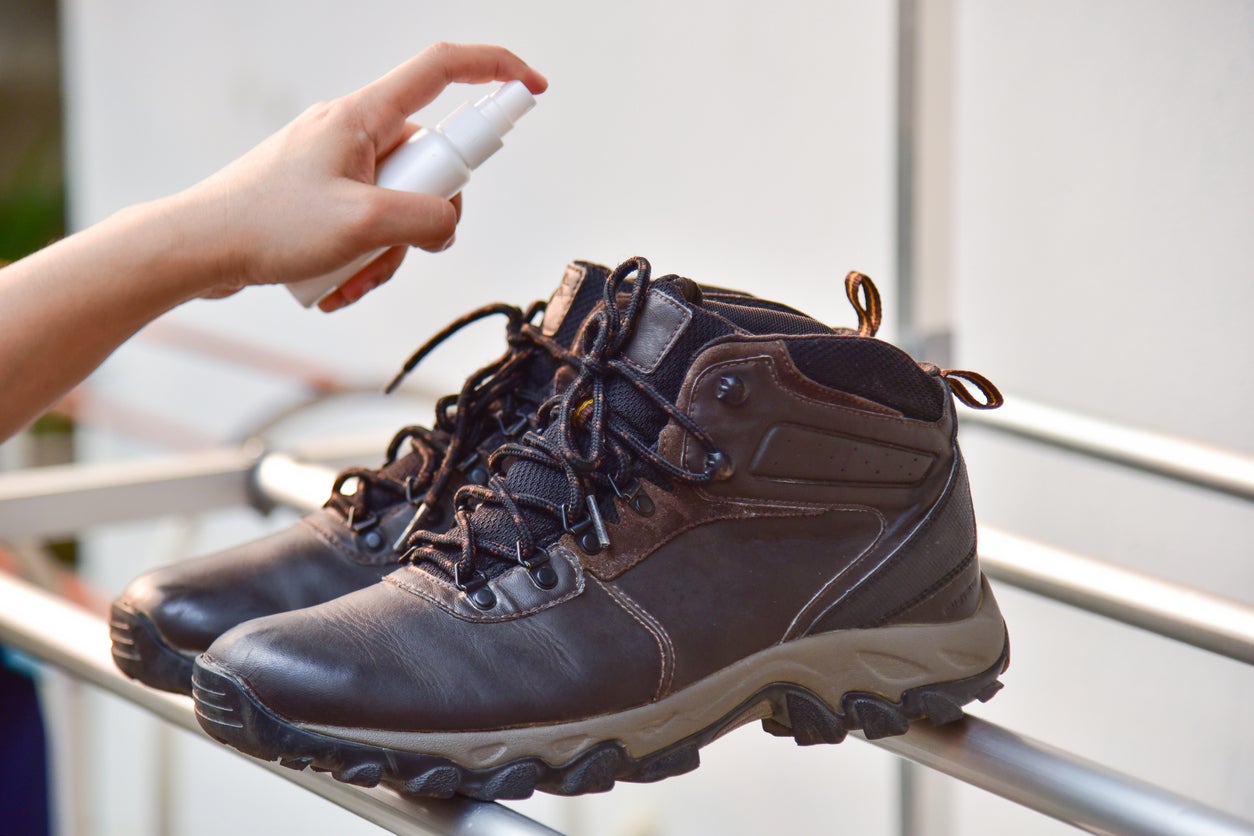 Still, feeling a bit apprehensive about putting your shoes in the washing machine? If your shoes aren't washer-friendly, or you simply don't want to risk damaging them, don't fret. There are a few easy ways for you to clean your shoes by hand. Try one of the following methods:
Hand wash fabric shoes – You can use a solution made of one teaspoon of dishwashing liquid and two cups of warm water to hand wash fabric shoes. Simply scrub the shoes using the solution and a toothbrush, then wipe them off with a paper towel to dry. You can wash your insoles using the same solution.
Use vinegar on leather – If you're dealing with leather shoes, you'll want to use equal parts cool water and distilled white vinegar. Dip a cloth in the solution, then wipe your shoes down and let them air dry.
Deodorize – There are also easy ways to tackle shoe odor. Sprinkle your shoes with baking soda and let them sit overnight to eliminate odors.
Final Thoughts on Cleaning your Shoes in the Washing Machine
When it comes down to it, using your washer to make your shoes squeaky clean is an easy option – but it doesn't come without its risks. As long as you are mindful of things like the material of the shoes, the wash cycle that you use, and appropriate drying methods, there is no reason for you to be afraid of embracing the convenience of "shoe laundry". If you are ever in doubt about whether or not to take the plunge, consult the shoe manufacturer directly – and failing that, play it safe with some spot-cleaning or hand-washing.
Sources:
https://www.bustle.com/articles/140440-7-reasons-your-shoes-can-make-your-feet-stink-how-to-stop-the-smell-from
https://www.usatoday.com/story/tech/reviewedcom/2017/03/15/how-to-clean-dirty-sneakers-in-the-washing-machine/99162918/
https://www.thespruce.com/how-to-wash-tennis-athletic-shoes-2147002
https://www.sears.com/content/shc/sears/articles/appliances/washers-dryers/how-to-wash-sneakers-at-home.html/
https://www.thespruce.com/how-to-clean-your-shoes-4164257
---