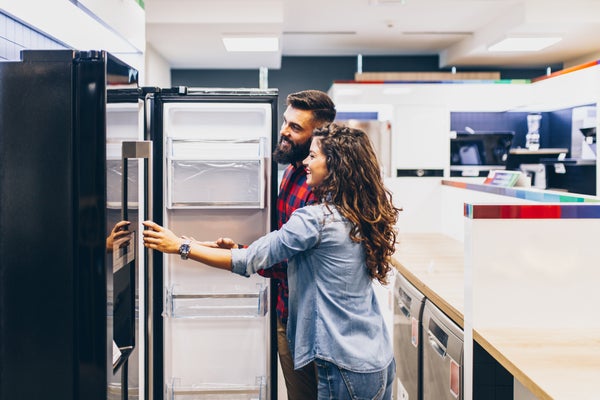 In the market for a new fridge? The sheer variety of refrigerator sizes, types, and features can make for a complicated shopping experience. But don't be overwhelmed by the number of options out there! We're here to give you the tips and tools to choose the right refrigerator for you and your family, so let's dive in.
To pick the fridge that's right for your situation, it's important to identify your needs. Here are some criteria to keep in mind while fridge shopping.
Refrigerator Size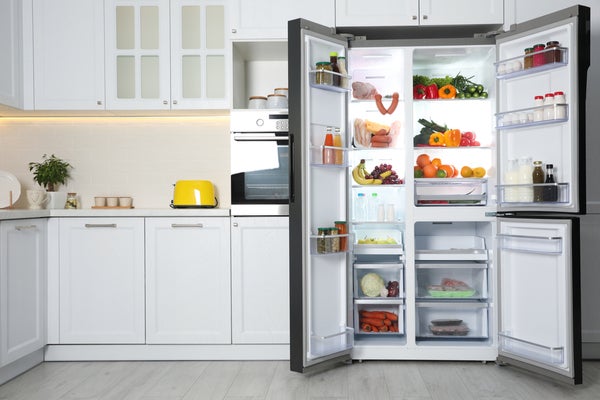 How much kitchen space do you have? Aim to purchase a fridge that can fit in your kitchen while leaving a few inches around each side. This lets the fridge operate efficiently. Account for cabinet space and be sure to consider how wide the fridge doors can swing open and in what direction, too.
So, how do you choose a refrigerator size? It depends on the space you have available. A standard size refrigerator ranges from 28 to 40 inches wide, 61 to 71 inches high, and 28 to 34 inches deep. The different fridge sizes correlate with the different types of refrigerators, which we'll describe later.
Need an apartment-size refrigerator? No problem. There are fridges that are specifically made for smaller spaces. These types of refrigerators are typically 7 to 10 inches smaller in all dimensions than standard fridges.
Eating Habits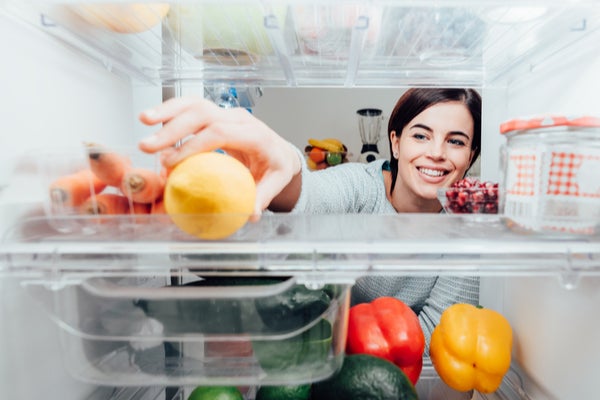 Do you eat more fresh foods or frozen foods? Select a fridge type that caters to your dining habits. If you consume mainly fresh foods, consider a bottom-mount fridge (freezer on the bottom). A top-mount fridge may work better if you prepare more frozen meals because it typically has about 1 cubic foot more space than a bottom-mount fridge.
If you'd like something in between, side-by-side refrigerators offer a more even split between the fridge and freezer spaces.
Family Size and Ages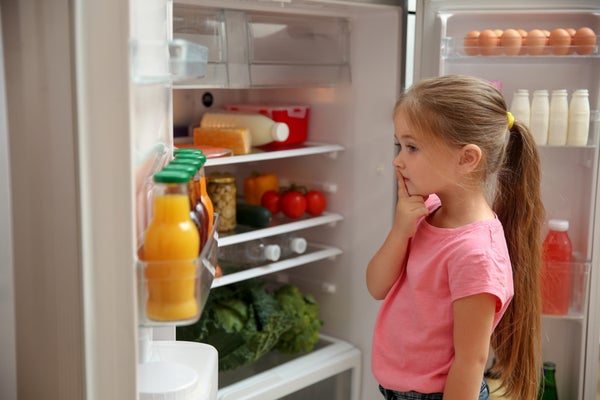 How many people do you have in your home? If you're eating solo, consider purchasing a smaller refrigerator. If a few roommates or family members share your space, you might opt for a French door fridge style that makes it easy to store and organize food in different compartments.
If you have kids or older adults in your home, pick a fridge that provides easy access to food items. A side-by-side unit allows you to place food on lower or upper shelves, depending on who needs to reach it.
Types of Refrigerators
Refrigerator types prioritize size, food types, access, and appearance. There are benefits to most refrigerator styles. It's up to you to select the one that best matches your needs.
Top mount. The freezer is on the top, and the refrigerator is on the bottom. Top-mount fridges are the most common and typically the least expensive. These models prioritize refrigerator space, but the drawback is the limited capacity (about 18 cubic feet on the smaller end).
Bottom mount. The refrigerator is on the top, and the freezer is on the bottom. In these units, the freezer typically consists of a pullout shelf. These refrigerators often feature French-door refrigerator door hinge types.
Side-by-side. The refrigerator and freezer compartments run from the top to the bottom of the unit. These models provide the same or similar amount of freezer and refrigeration capacity. The pros and cons of these types of fridges are that while they take up less space with the doors open, the compartments are relatively narrow (so you might have to get creative to fit that large, frozen pizza).
Counter-depth models. These provide a built-in look, as the fridge sits flush with your cabinetry. For the sake of that perfect fit, you may have to sacrifice storage capacity. The counter-depth refrigerator size is usually more shallow in depth (by about 6 inches) than a standard refrigerator.
Finally, there are several options when it comes to color and finish. Stainless steel is an appealing option, but fingerprints leave smudges and require constant wiping, especially if you have little ones at home. White refrigerators are also a popular and classic option that keep the look of your kitchen bright. For easier refrigerator maintenance, consider a faux-stainless finish or fingerprint-resistant stainless steel, saving you from the never-ending cleanup.
If you want a consistent look and feel in your kitchen, try to match the color and finish of your other appliances to your refrigerator. As a member of American Home Shield, you have access to discounted pricing for top appliances, brands, and current models so you can upgrade or match your appliances.
Refrigerator Features
Most types of refrigerators come with standard features, including shelves, crisper drawers, and on-door compartments. If you're looking for more than the basics, here are additional features to consider.
Ice and water dispensers:

This helpful feature makes it so that you don't have to keep a large water filter in your fridge or ice cube trays in your freezer. But they may eat up more energy. While models with these features are the most popular, they also require the most repairs.

Adjustable shelving:

Refrigerators with this feature make cleaning your shelves convenient (simply pull them out and wipe them down!), but they also allow you to choose how to organize your food. If you need to store a tall container now and then, simply adjust the shelves.

Beverage-can dispenser:

Organize your cans easily with built-in or movable dispensers made specifically to hold drink cans.

Moisture control:

Some

fridge

styles

include a moisture control feature to manage humidity levels in the crispers, where fresh fruits and vegetables are more prone to drying out, wilting, or going bad without enough moisture.

Air filtration system:

You'll find this handy feature in modern

refrigerator styles

. Refrigerator air filters help deodorize your fridge. Have an older model? A box of baking soda should still do the trick.

Programmable control pad:

With this feature, you can set the temperature, lock ice and water dispensers, preset the amount of water to dispense, and more.

Energy-saving models:

Certain refrigerator models can use up to 20 percent less energy, saving you money on utility bills. To purchase the

most energy-efficient refrigerator style

, look for Energy Star-certified units.
To ensure you're extending your fridge's life span while lowering your monthly costs, check out our tips to save energy.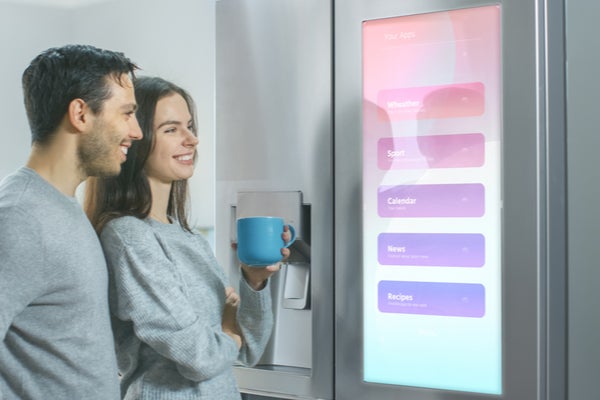 If these features don't quite meet your standards, consider buying a smart refrigerator, which takes your fridge game up a few notches. Here are some smart fridge features that vary by brand:
Built-in cameras. This feature allows you to view those hard-to-see containers in the back without even opening the doors.
Digital screen. If you want to be able to check your foods' nutritional values and expiration dates, create shopping lists and meal plans, receive alerts based on your preferences and settings, and more, a fridge with a digital screen may be the option for you.
Smartphone connectivity. This gives you the ability to check or change the internal temperature, receive alerts if the fridge door is open, and more from the convenience of your phone.
Finding the right type of refrigerator doesn't have to be a challenge. Start with your needs, narrow down the options, and purchase intelligently. Go ahead and pick out that refrigerator you've been eyeing with complete confidence!
No matter which refrigerator style you choose for your kitchen, it's a good idea to consider a home warranty from American Home Shield® to cover those inevitable issues that your fridge will experience over the years.
And if you are already an American Home Shield member, you know that we make choosing a home warranty simple with several options to choose from based on your budget and household needs. Our home service plans will not only protect your refrigerator but also many other appliances you use every day, such as your dishwasher, clothes washer and dryer, garbage disposal, oven, and more. The best part is that no appliance is too old. You can get protection regardless of the age or appearance of your covered items. Any breakdowns become our problem, not yours.