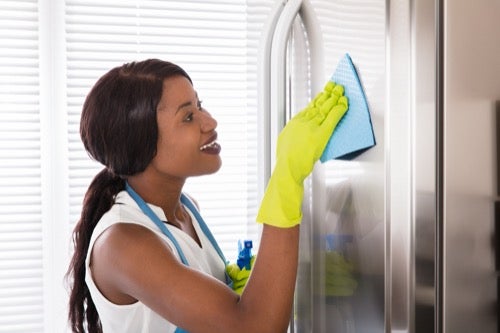 There's nothing like the classic look of shiny stainless-steel appliances. There's also nothing like trying to keep that shiny surface clean. Stainless steel smudges easily; fingerprints and water stains show up seemingly out of nowhere; and if you don't regularly clean stainless-steel appliances, rust can and will develop. Yes, you heard that right, stainless steel can rust.
What's a person to do to ensure clean, stainless-steel appliances? Well, let's start with a few basics.
Stainless steel cleaning basics
What to wipe with – it's best to use a microfiber cloth to wipe down your appliances. Why? Microfiber is made up of many tiny, split fibers that create more surfaces that hook onto dirt, dust, and even bacteria. However, lint-free cloth, paper towels, or commercial stainless-steel cleaning wipes will work, just not as effectively. Never use steel wool pads, abrasive cleaners, or those scrubber pads to clean stainless steel, they can scratch the surface.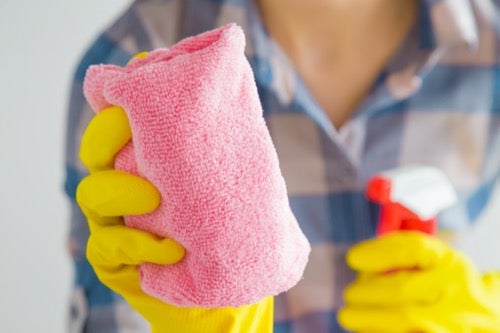 How to wipe – to avoid streaking and smearing, it's very important to move your cloth in one direction and go with the grain of the stainless. How do you determine that? Look closely. You can actually see the brushed-on grain in stainless finishes. It will either be running horizontally or vertically.
A note on tap water – if your tap water is on the hard side, it may easily leave stains and spots on stainless steel even when trying to clean. Consider using bottled water for cleaning purposes instead.
Two types of stainless-steel cleaning solutions
There are basically two types of stainless-steel appliance cleaners: commercial store-bought cleaners and DIY cleaners. No matter what kind of cleaner you are thinking about using, you should always avoid cleaners that contain chlorides or chlorine. They can strip the protective chrome oxide barrier from stainless steel. This barrier is what makes stainless steel so durable.
1. Store-bought cleaners
Commercial sprays, wipes, and polishes labeled as "stainless steel cleaner" are certainly one option. There are many great choices in the running for being the best stainless steel cleaner. However, as with all commercial products, some work better than others and they all have pros and cons.
Weiman Stainless Wipes is a great option and is one of the easiest to use since it comes with its own wiping sheets.
Another good choice is Bar Keeper's Friend Stainless Steel Cleaner and Polish. It contains no harsh abrasives or fumes and is formulated specifically to clean stainless steel without scratching or dulling surfaces.
What about using a spray-on window cleaner like Windex? It depends. Many of those solutions have ammonia in them. It's not recommended to use ammonia on stainless steel. However, ammonia-free window cleaners like Safely Glass Cleaner can be used. Simply spray it on a dry cloth and then wipe the surface clean. Buff with a clean dry cloth.
2. At-home, DIY cleaners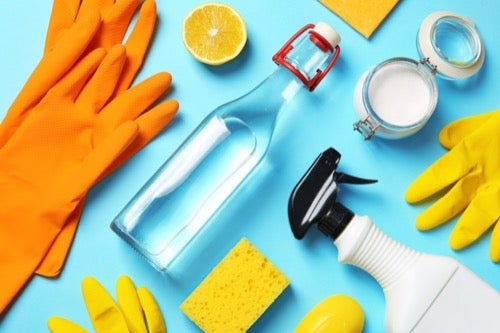 You can mix up an effective stainless steel appliance cleaner using ingredients you already have at home! Here are a few.
Vinegar and oil method.
Yes, the classic salad dressing also makes a tried-and-true stainless cleaner! Distilled white vinegar, olive oil, and two microfiber cloths are all you need. There are two steps to this process.
Step one is using vinegar to remove dirt. First, spray the vinegar onto the surface then wipe it off using the microfiber cloth ... remember always in the direction of the grain.
Step two is applying olive oil to add shine. Then, polish the surface with a few drops of oil (you don't need much) using the second cloth. This simple procedure will clean, protect, and shine your stainless steel quickly and easily.
Dish soap and baby oil
Just like vinegar and oil, this method is a repeat of the two-step process, but you use dish soap as the cleaner and baby oil for the polishing.
Rubbing alcohol and water
A simple solution of water and 70% isopropyl alcohol is an effective stainless cleaner, with the added advantage of disinfecting the surface. Rubbing alcohol is the key to shiny stainless steel because it evaporates quickly without leaving a residue.
Making the solution is easy. Mix a 1:1 equal part solution of water and alcohol. Then spray it on the surface and wipe it off with a microfiber cloth in the same direction as the stainless grain. The spray also helps prevent appliances from picking up future smudges and fingerprints.
A shiny protection plan
Proper care and maintenance will help you avoid permanent damage and corrosion to your stainless-steel appliances. With just a little effort, you can keep them looking shiny and new more often.
That being said, no matter how often you clean the stainless, appliances can and will break down. Repair costs can be expensive, and it is wise to protect yourself financially.
American Home Shield® home service plan can take the stress away from appliance breakdowns, including ovens. We offer home warranty protection that includes oven coverage along with other appliances and home systems. Coverage includes access, diagnosis, and repair or replacement. of any covered appliance. American Home Shield makes it easy to get started and shop for plans.
See the plan contract  for coverage details, including service fees, limitations and exclusions. Charges for non-covered items may apply.