Our list of top home hacks will help you organize your home and get the most out of each room.
Photo by: Shutterstock
Life is a lot less hectic when you find ways to keep your home organized, simplify storage and find DIY solutions that are affordable and easy. Here are some of our favorite clutch tips for your home.

via The Sweetest Occasion
1. Kitchen
Add personality to every meal with customized dishware that you can make yourself in minutes. You don't need to be an artist or have special art supplies. Just grab a Sharpie® and draw your design freehand (or use a stencil for more intricate patterns) on your dishware or mug. Clean, white enamelware works well. You can personalize your creation with a name, signature monogram or even a favorite quote. To make it permanent, bake your finished design at 350 degrees for 30 minutes. Tip: Start with a cold oven to allow the dishware to gradually come up to temperature. Also, hand washing will help your artwork last.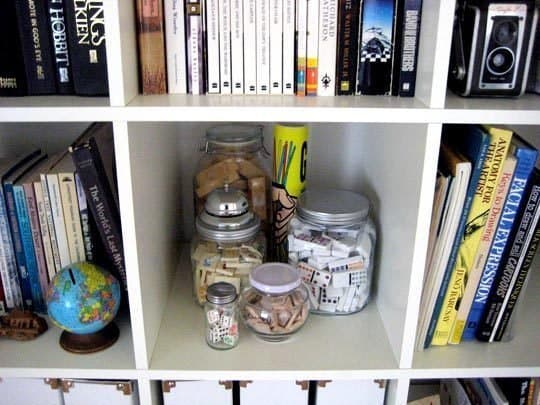 via Storage Talk
2. Family Room
Family rooms often have to do double duty as a playroom and entertainment hub. But finding room to store all your playthings without compromising your sophisticated style can be challenging. This hack meets that challenge head on: Simply store your puzzles, dice and other game pieces in decorative jars. They're even fun to look at and provide a unique storage solution so you don't have to make room for bulky game or puzzle boxes. Choose jars in different sizes, shapes and colors to add visual interest and to match your decor. Mason jars, apothecary jars, etched glass jars or pressed glass jars are all great options.
3. Bedroom
Seems you can never have enough storage, especially in the bedroom. This hack lets you add storage and a decorative wall detail at the same time. Just create instant shelves from old drawers. Vary shapes and sizes for an eclectic look. Line the bottom of the drawers with patterned paper or paint for added color. Look for dressers with unusual curved drawer fronts or undulating profiles. Tip: You can often find reasonably priced dressers/drawers at garage sales, resale shops, vintage stores or estate sales.
via Make Space
4. Clothes Closet
It can be frustrating fighting to find your favorite jeans in a
cluttered closet
. If you're not ready to slim down your wardrobe, have no fear. This hack lets you retain all your perfectly worn-in pairs, but in a more organized manner: Hang your jeans on shower hooks. Saves a ton of closet space and makes finding your favorite pair a snap!
5. Bathroom
Sure bathroom hooks are essential for hanging wet towels or robes, but no one says you have to use standard hooks that are purely functional without any decorative appeal. Instead, use old doorknobs as hooks. This super simple hack adds a ton of character to your bathroom while it maximizes wall space. Tip: For a cool shabby-chic vibe, use a grouping of vintage doorknobs that have finishes with a little wear and tear.
6. Laundry Room
Bet you didn't know that you could easily conquer dryer static with just some ingenuity and aluminum foil. It's true! It turns out balled-up aluminum foil can minimize dryer static. Here's how: When you're ready to dry your washed laundry, just throw three aluminum foil balls (about 3 inches in diameter each) in your dryer and tumble dry your load as normal. These anti-static wonders are easy to make, economical, reusable for up to 6 months, recyclable and help you avoid toxic chemicals found in dryer sheets. Tip: Heavy-duty foil works best. Wrap a tennis ball in foil. This will help you use even less foil to make a sizable ball and the tumbling tennis ball helps fluff your laundry as it dries.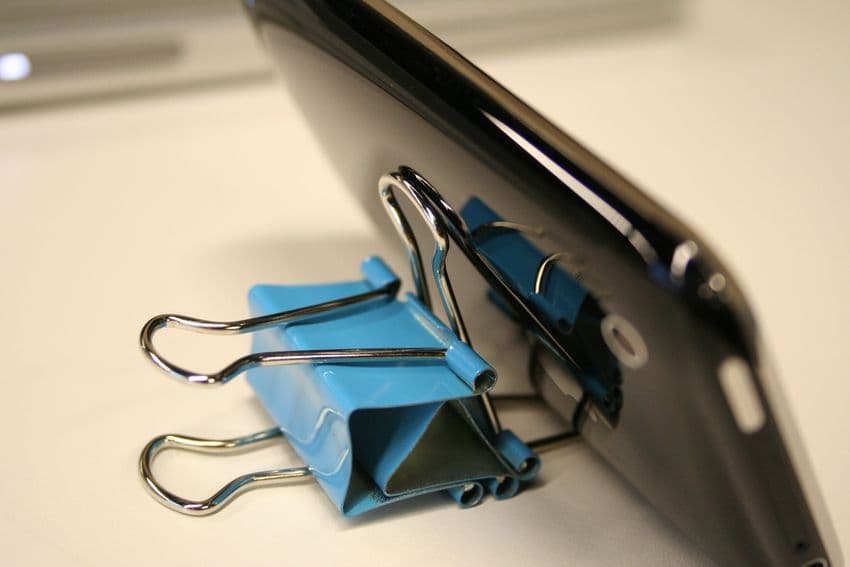 via Mashable
7. Home Office
Smartphone accessories, like a phone stand, can be kind of pricey…unless, of course, you know how to make it yourself with inexpensive office supplies. This hack makes good use of binder clips, which you probably already have at home. When positioned in just that right way, your binder clips can make a quick and functional phone stand. When you're done using your ingenious phone stand, just slip the clips back in your desk drawer. Job well done!
8. Garage
Rusty tools are the bane of any true handyman or handywoman. Here's a great way to make sure you won't have to worry about that: Use blackboard chalk to prevent your tools from rusting. Just place several pieces in your toolbox. The chalk traps dampness, which helps keep your tools rust-free, giving you one fewer excuse to not be handy around the house.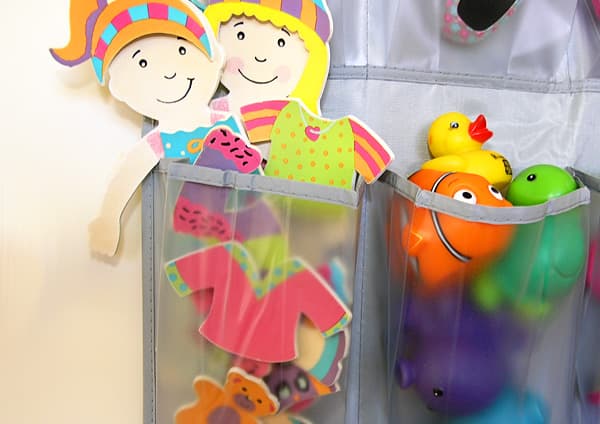 via Childhood 101
9. Playroom
Playrooms can be a messy prospect, but they don't have to be with this awesome household hack. Just use an over-the-door shoe organizer for toys or art supplies. The clear compartments make for easy access and easy clean up. So simple, it's like child's play.
10. Dining Room:
Chances are if you're hosting and elegant party in your dining room, you'll want to break out the good china and silver. That means making sure your silver sparkles and shines. Here's how with just some baking soda and hot water. Line a pot or your kitchen sink with foil. Fill it with very hot water and mix in about 1 cup of baking soda. Add your tarnished items and let soak for about 30 minutes or until you see the black residue lifting off the surface. Then just rinse and dry (or first clean with a mild dish detergent) to use right away! Et voilà, dinner is served!
Sources:
•
The Sweetest Occasion
•
Storage Talk
•
Buzzfeed
Next
>
Resolve To Add More Green To Your Routine
AHS assumes no responsibility, and specifically disclaims all liability, for your use of any and all information contained herein.