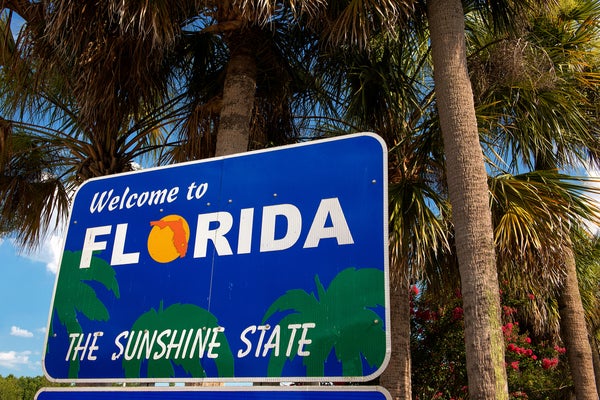 Thinking of ditching your boots, heavy winter jacket, and mittens to head south and bask in the Sunshine State? You're not alone. Florida receives around 1,000 new people a day, searching for more space, lower taxes, and warm weather all year long. Living in this tropical part of the U.S. may feel like a different world, depending on where you're coming from.
Here are eight things to know when moving to Florida.
1. Taxes are lower. One of the benefits of living in Florida is that Floridians do not have to pay individual income taxes. That means more money in your pocket to visit Walt Disney World® Resort and enjoy some of the best seafood in the country (conch fritters, we're lookin' at you). This is also good news for many retirees who are on a fixed income.
2. Watch out for wildlife. The hot, humid, and wet climate of Florida is desirable for both people, wildlife, and certain insects—from multiple species of ants to assassin bugs and triatomine bugs, also known as kissing bugs (before you get all warm and fuzzy, they're called this because they often bite you around your mouth and can spread disease). Did we mention Florida also has alligators, sharks, panthers, and snakes? Florida homes are susceptible to alligator visits, especially in pools, but there are ways to protect your property from these creatures.
3. Real estate is affordable. According to Ramsey Solutions, Florida homes are competitively priced, with the state average slightly lower than the national average for home prices. House prices in the Orlando, Tampa, and Jacksonville metro areas are well below the national average, so these cities should be on your radar if you're thinking of buying a house in Florida.
4. The cost of living in Florida is higher. Even though real estate is generally more affordable than in other states, the cost of living here is higher than elsewhere in the United States. Florida falls at 102.8 on the cost-of-living index, making it a bit higher than the U.S. average. Be prepared to pay a little more for goods and services, as the statewide sales tax is 6 percent, as well as property tax for your home or business. The property tax load in Florida ranks 24 of 50 states.
5. You'll have your pick of coasts. Florida has more than 1,000 miles of coastline along the Gulf of Mexico and the Atlantic Ocean, which means you can spend a significant portion of your free time relaxing on the beach with a margarita in your hand. (Fun fact: The first Margaritaville was built in Key West, Florida, and its headquarters are in Orlando.) Ocean breeze, warm sand between your toes, and an icy-cold drink. Talk about relaxing.
6. You may thrive living near the beach, but your house may not. All of that wet, salty sea air may do wonders for your skin, but your home appliances are a different story. Humidity can cause damage to your electronics and appliances. And the one thing we forget about until we go to the beach is that the sand gets everywhere. If you purchase one of the many beach houses in Florida, that means you'll be tracking in all that sand, which can affect your pipes, A/C, and more. Having a home warranty in Florida is essential. Luckily, American Home Shield offers three home warranty plans in Florida that cover normal wear and tear of your systems and appliances.
7. Watch out for hurricanes and tropical storms. Living in a tropical climate can be paradise until the storms roll in. Every state has its weather challenges, but hurricanes can be devastating for houses in Florida. Peak hurricane season starts in August and lingers until the end of November. Officials do everything in their power to be prepared and have action plans in place, but sometimes you just can't control Mother Nature. Hurricanes are always a threat when buying a house in Florida. Make sure you prepare your home for hurricane season and create an emergency plan for your family.
8. Moving to Florida can be a breeze. Wondering how to move to Florida? Getting a house may be easier than you think; the state leads the country in number of homes for sale, according to Inspection Support Network. But what about landing a job? Tourists contributed almost $100 billion to Florida's economy in 2019 and supported 1.6 million jobs, so if your specialty falls under the tourism or travel sectors, it may be easier for you to get a job once you arrive. Though the COVID-19 pandemic drastically affected national and global tourism, the hope is that these numbers get back to pre-pandemic levels.
Once both your job and your new home are settled, all you have to do is find a moving company, know what to ask professional movers, and switch your utilities when moving.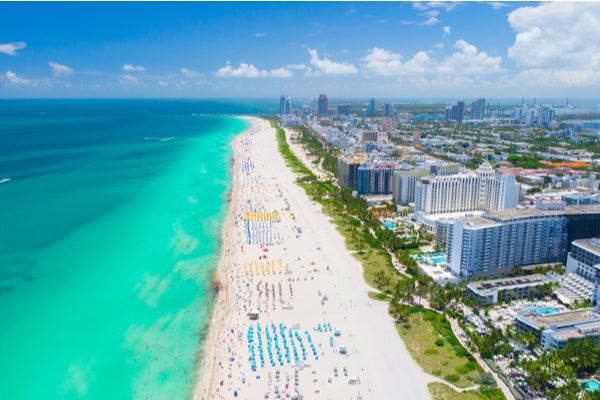 Florida is a breathtaking and diverse state; it's no wonder so many people consider moving there. Before your move, research American Home Shield® home warranties to make sure you know what coverage is available and what add-ons you might need for your new home. We have affordable home warranty plans and costs to help protect your house in Florida.
AHS assumes no responsibility, and specifically disclaims all liability, for your use of any and all information contained herein.