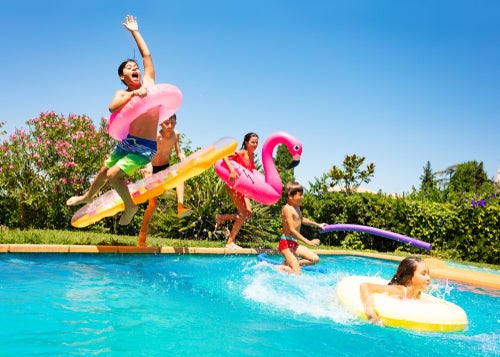 If you live in a warm climate, a pool is the ultimate luxury to help you get through the hot summer days. The occasional dip is a great way to cool yourself off and relax after a long day at work or on a lazy weekend. However, pools have many moving parts and can be a lot of work to maintain. Unexpected breakdowns of your pool pump, sweep, or other components can put your pool out of commission.
Save yourself some frustration by making sure you have a home warranty with pool coverage, which can help ease your worries and protect your budget when covered parts of your pool malfunction.
What are the American Home Shield® home warranty plans?
A home warranty from American Home Shield is designed to meet the needs of every homeowner. Choose from the following plans based on your budget and household:
The ShieldSilver™ plan covers 14 parts of major systems, including plumbing, heating and cooling, and electrical.

The ShieldGold™ plan covers everything in the ShieldSilver™ plan, plus 9 kitchen and laundry appliances that you rely on to keep your home running smoothly.

The ShieldPlatinum™ plan is the most thorough plan. It protects almost everything, covering parts of 23 major systems and appliances, plus roof leak repair, a $6,000 coverage limit for appliances, one free pre-season HVAC tune-up, unlimited A/C refrigerant, and coverage for modifications, code requirements, and permits.
Learn more about what's covered under a home warranty.
What type of home warranty pool coverage does AHS offer?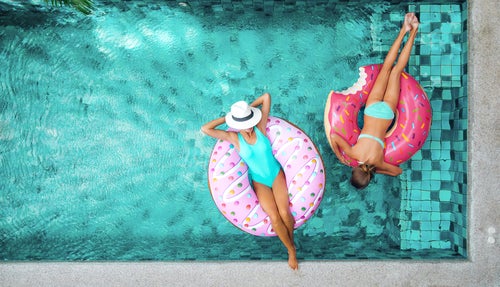 Home warranty pool coverage is available as add-on coverage to any of our plans. We provide pool and spa coverage for aboveground components and parts of the heating, pumping, and filtration system, including:
Pool sweep motor and pump

Pump motor

Blower motor and timer

Plumbing pipes and wiring

Plumbing and electrical
We understand that homeowners often inherit pool and spa systems, as well as other covered appliances and home systems from the home's previous owner and likely do not have a record of prior maintenance repairs. Unlike some other home warranty providers, American Home Shield does not require homeowners to keep meticulous maintenance records of their pool, and we will cover it no matter its age.
Read our guide for pool maintenance and learn about the right pool chemicals to use.
Does an American Home Shield® home warranty cover pool leaks?
If the leak is due to the malfunction of a covered, above-ground component, your add-on coverage will help cover the cost to repair or replace that component. However, if your pool leak is due to a malfunction of the liner or other structural elements of the pool that aren't covered by your home warranty, you will need to pay for those repairs yourself. When your pool has a leak, it's important to find it as soon as possible, so it doesn't become a big problem. Read these tips on how to find a pool leak.
The structural features of your pool may be covered under a builder's warranty for a specified period of time after your pool is constructed. For example, many fiberglass pool shells are guaranteed for at least 25 years, while the gel surface coat is often guaranteed for about 15 years.
If your pool has a vinyl liner, you could have both a manufacturer's warranty on the liner itself and a workmanship guarantee on the quality of the installation. Concrete pools are typically covered by a workmanship guarantee since the builder usually pours the concrete.
What's not covered under my American Home Shield® pool coverage?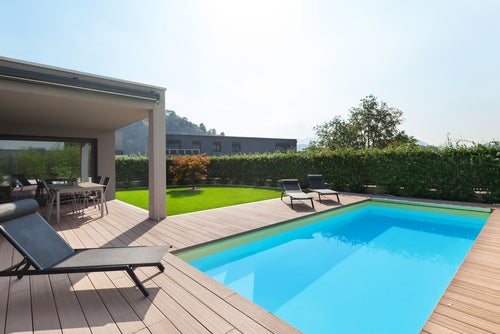 Spa and pool systems are complex, and even the best home warranty for pool coverage doesn't cover everything. Some components of your pool and spa are not covered, including liners, jets, lights, ornamental waterfalls, fountains and their pumps, heat pumps, dehumidifiers, and fuel storage tanks. Portable or aboveground spas are not covered. For more specific details about what is and isn't covered, visit our Pools & Inground Spas Coverage page.
What if I already have home insurance that covers my pool?
Homeowners insurance with pool coverage does not usually cover issues like breakdowns due to natural wear and tear. If you have a pool, a home warranty is necessary for peace of mind when components inevitably malfunction. An American Home Shield® home warranty helps cover what homeowners insurance doesn't. Learn more about the difference between homeowners insurance and a home warranty.
Final Thoughts
Get ready to reopen your pool for the summer with the peace of mind that it's protected with home warranty pool coverage. Enjoy your pool all summer long without worrying about expensive, surprise pool repair bills that can impact your budget. Learn more about American Home Shield® pools and spa warranty coverage and compare home warranty costs and plans today
AHS assumes no responsibility, and specifically disclaims all liability, for your use of any and all information contained herein.