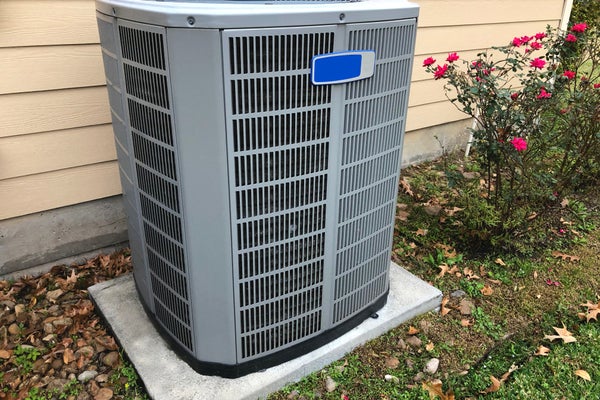 Many homeowners rely on their HVAC system year-round, especially during the summer and winter months. The thought of it breaking down and having to replace it can be nerve-racking, especially during a hot or cold spell. If you have a unit that is becoming undependable, or if you need an HVAC repair or HVAC replacement right now, you're in the right place.
We'll dive into all the things you need to know about HVAC replacement, from cost ranges to insights that can help you determine if a replacement is necessary.
How Much it Cost to Replace an HVAC System?
The average HVAC replacement cost for both a heating and cooling system is $6,837*. Conversely, the average HVAC repair cost is $841.
The cost to replace an A/C unit alone will be about $3,663, while a repair is $427 on average. You can expect to pay about $3,219 to replace your heating unit and about $417 to repair it.
So, if it looks like you need an entirely new HVAC unit, it's a pretty sure bet you'll be spending thousands. Some factors that influence your overall HVAC system costs include:
The type and size of the unit that you need
The type of fuel that is required for the unit
Whether you need additional HVAC repairs, replacements, or additions (such as ductwork)
The energy efficiency of the unit
HVAC service costs are one of the priciest when it comes to heating unit or A/C replacement. Expect about a third of the price of installing a new unit to go to labor. Depending on where you live, you may be able to save on HVAC installation costs in the winter, when fewer people are having air conditioners installed (or in the summer for heating units).
How Do You Know if You Should Replace Your HVAC System?
It may be obvious that it's time to replace your HVAC system. Your unit may be making unnatural sounds or has needed several repairs over the past couple of years. Or maybe it's not so obvious: Your energy bills may be costing more than they usually do this time of year, or you're finding yourself constantly adjusting the thermostat. This can be especially frustrating when trying to stay cool during a heat wave or warm during the winter.
Even if you perform regular DIY HVAC inspections, it's not always easy to know when exactly your HVAC system needs an upgrade. But there are some common signs that it's time for an HVAC replacement, or at the very least, an HVAC tune-up:
Weak airflow from the vents
Grinding, squealing, grating, or other weird sounds
Blowing warm air instead of cool or cool air instead of hot air
Moisture where it shouldn't be, either from a leak in the outdoor unit or increased humidity in the ductwork
Smelly ductwork. Mildew or mold smells are common if the ductwork is getting moist, but burning smells are also a warning signal that your A/C or heating unit could be dangerously malfunctioning.
How Often Should You Replace Your HVAC?
In terms of a typical HVAC life span, ENERGY STAR recommends that homeowners replace HVAC systems every 10 to 15 years. That's typically how long it takes for major components in modern systems to show wear to the point where it's more cost-effective to replace them. And when you're staring at that big HVAC replacement bill, remember that newer systems are more efficient, so at least your power bill should be lower.
How Often Should You Replace Your HVAC Filter?
Generally, HVAC filters should be replaced anywhere from every 30 days to every six months, depending on the type of filter. The frequency of your HVAC filter replacement also depends on the air quality where you live, if you have pets, and the size of your home.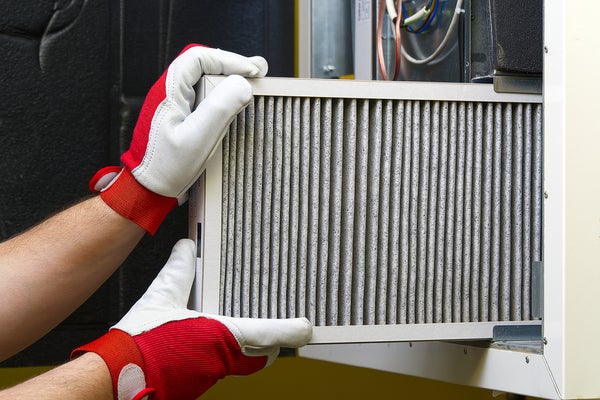 What to Look For When Buying a New HVAC Unit
With so many options out there, deciding which unit to purchase can be overwhelming. Here are some important considerations:
Use the right professional contractor. Your new HVAC unit's efficiency can be determined by its installation, so it's imperative that you work with a reputable contractor. Interview several candidates and get detailed quotes from each.

Determine the correct unit size. The best way to get an accurate size estimate is to have your home professionally evaluated. Make sure your contractor performs a load calculation, which takes into account the size of your house, the climate, roof material, the orientation of the unit, the number of units, and more. An HVAC installation professional will consider factors like whether or not your home has a crawlspace or basement, how much insulation there is in the attic, how many floors it has, the number of people living there, what kind of doors and windows it has, how high the ceilings are, and what your desired indoor temperature is. Most homes will need a new HVAC unit sized around 20 BTUs per square foot.

Don't ignore the SEER rating. The higher the Seasonal Energy Efficiency Ratio (SEER) rating, the more efficient the unit. Although a unit with a higher SEER rating may be more expensive, it could end up saving you more money in the long run.
How to Save Money on a New Heating Unit or Air Conditioner
If you expect to have a tax bill for 2021, it might be a good year to get an A/C replacement, especially if your unit is on its last leg anyway.
Air conditioner units labeled ENERGY STAR Most Efficient meet the requirements for the tax credit. You need to get either a split or packaged system that meets specific energy efficiency requirements. For a split system, you would need a SEER rating of 16 or higher or an Energy Efficiency Ratio (EER) rating equal to 13 or higher. For a package system, you would need a SEER rating of 14 or higher and an EER rating of 12 or higher. You can also get federal tax credits for high-efficiency heating units, heat pumps, boilers, and biomass stoves.
To further offset some of your HVAC replacement costs, there are often residential efficiency tax credits and rebates available on the state level. You also may be able to get money back for your installation of a new A/C or heating unit in the form of a rebate from your local utility company.
Is it Cheaper to Replace the Heating Unit and A/C Together?
Heating units usually last longer than air conditioners— the average A/C unit lasts 10 to 15 years, while the average heating unit lasts 15 to 20 years—so one might wear down sooner than the other. If your heating unit still has plenty of life left when your A/C needs replacing, consider keeping it for a while.
Based on our earlier coverage of average costs, replacing both a heating unit and an A/C together will cost more than just the cost to replace the A/C unit itself. But, if you do have the budget to replace both, you could save the headache of unmatched systems. If you're installing a new, high-efficiency A/C, it's a good idea to pair it with a high-efficiency heating unit.
What to Keep in Mind After the HVAC Replacement
Nothing says "investment" like a home system that you paid a pretty penny for. Unfortunately, regardless of how much you end up spending on your HVAC replacement, it can still have some hiccups in performance every once in a while. So why not protect your investment—and your budget—from those unexpected costs? When you're looking for the best home warranty for HVAC coverage, look no further.
With an American Home Shield® home warranty plan, your budget is protected when your HVAC gives you trouble from normal wear and tear—no matter its age. Your HVAC system will be covered because each of our home service plans includes air conditioning warranties and home heating warranties. If the covered problem can't be repaired, we'll replace your HVAC unit, subject to contract limitations and exclusions. Learn more about a home warranty & costs with American Home Shield.
*Repair/Replacement costs ranges are the twentieth and eightieth percentile of U.S. costs as reported in A Study of Homeowners' Appliance and Home Systems Service Experiences, a nationwide survey of homeowners conducted in 2019 by ClearVantage for American Home Shield. Further reproduction or use is expressly prohibited.